Abstract
Faced with global climate change, local elites are confronted with the main dilemma of a developing country: development requires economic growth, but this effort also requires consideration of environmental factors and sustainable patterns of production and consumption. Based on empirical evidence from qualitative research on businesses and political elites in Chile—a paradigmatic South American middle-income country—this paper explores the extent to which local elites are aware of the severity of challenges posed by global climate change and identify main climate change concerns in their discourse. The degree to which domestic elites are aware of the paradigm shift they must assume toward clean industrial production is a key issue of environmental governance that involves private non-governmental actors. This paper gives clues to a better understanding of what is happening with strategic actors in developing nations and their understanding of their decision-making capacity concerning environmental policy and investments for facing global climate change. The main conclusion of the research is that awareness of climate change in local elites' discourse is relative. It is not accompanied by a full acceptance of their agency and is not leading to a paradigm shift toward a clean model of development because of domestic elites' position within globalization processes.
Access options
Buy single article
Instant access to the full article PDF.
US$ 39.95
Tax calculation will be finalised during checkout.
Subscribe to journal
Immediate online access to all issues from 2019. Subscription will auto renew annually.
US$ 79
Tax calculation will be finalised during checkout.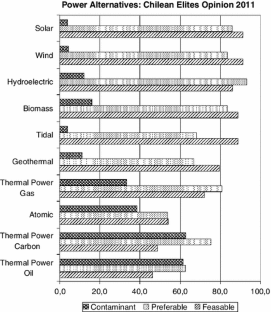 Notes
1.

By "local elites" or "domestic elites," we are referring to national level elites.

2.

Chile hosts at least seven major climatic sub-types, ranging from desert in the North to alpine tundra and glaciers in the East and Southeast, humid sub-tropics in Easter Island, an Oceanic climate in the South and a Mediterranean climate in central Chile.

3.

Additionally, the probable intensification of the El Niño and La Niña phenomenon will increase periods of drought in both the North and central areas. This may not only provoke an increase of pulmonary infections caused by hantaviruses, but also generate an increase in sea levels and temperatures that directly impact the coastline, particularly the fishing industry.

4.

In the global context, Chile is not a significant emitter of GHG according to international statistics (International Energy Agency (IEA); World Resources Institute (WRI)), which consider only CO2 emissions and statistics whose calculations are based on CO2 equivalents, including carbon capture related to forestry and changing land use. Its contribution is about 0.2 % of global emissions, and this percentage has remained stable in recent years. Furthermore, Chile appears in 90th place with respect to CO2 emissions per capita in the world by the year 2004, with a value of 3.9 t of CO2/inhabitant, according to the Human Development Report 2007–2008 (UNDP 2007).

5.

Studies have shown that it is not population growth that drives the increase in GHG emissions, but rather the growth in consumerism (Satterthwaite 2009). In the global context, Chile exemplifies how the growth of the middle class and demand in emerging economies (particularly countries where main exports go like Brazil and China) stimulates economic growth, which affects the environment. In South America, Chile has the second highest CO2 emissions per capita and its emissions of GHG are significantly increasing (CONAMA 2006, 2008). This fact may be explained by the growing middle class in Chile, which has higher purchasing power given that the country has a small population (only 17 million inhabitants) and a growing export sector.

6.

A review of the existing literature on CC attitudes and perceptions shows that levels of concern and awareness about worldwide CC have been steadily rising over the past 20 years in many nations. However, CC remains of lower importance than other global or personal issues (Leiserowitz et al. 2011; Pidgeon 2010; World Bank 2010b; Lorenzoni and Pidgeon 2006). For Chile and other Latin American countries, we have observed the same tendency in environmental and CC attitudes in the World Value Survey (WVS) database and in much empirical data of research conducted locally (WVS n.d.; Corporación Latinobarómetro 2011; Parker 2008, 2011a, b; Parker and Muñoz 2012).

7.

We define agency as the capability of the subject (social actor) to act efficiently of his/her own will. This capability is updated (in praxis) by (a) the cognitive belief structure, (b) the perceptions held by the society and the individual and (c) the favorable circumstances (mainly structures) of the environment in which the actor is involved.

8.

In this respect, the contributions of Haas (1992) and Cross (2012) on epistemic communities are valuable because they conceptualize how the intellectual elites, bureaucrats or technocrats have influenced the implementation of measures, institutions and laws in Latin America. Nevertheless, our study does not focus on this type of elites.

9.

Some of the opinions of elites included the statement that pollution, strains on ecosystems and destruction of forests were the unavoidable price of material progress, and that, in the case of Bolivia, claims made by environmentalists were exaggerated (Mansilla and Collo 1997).

10.

The process of disembedding analyzed by Giddens refers mainly to symbolic tokens (money) or expert systems in rationalized organizations. These mechanisms depend upon abstract trust. In the case of CC, it is clear that the definition of the phenomenon depends highly on an expert system: the science of climate change. But the way actors—elites in our case—decode this science depends precisely on their own vision of their capacities as agents with power to interfere with the predicted events (see Giddens 1990).

11.

We must remember that the term environmental governance emerged in the neoliberal era (Baud et al. 2011).

12.

The majority of writings within the field of political ecology in Latin America highlights inequalities and power relations as a point of departure of environmental analysis. Access, production and consumption of natural resources reinforce or reduce existing social and economic inequalities (Bryant and Bailey 1997, pp. 28–29). The political ecology of Latin America has made major contributions to the understanding of the natural resource component of the conditions of coloniality and the construction of modernity (Leff 1994; Alimonda 2011) and to the ideologies and struggles of current environmental movements.

13.

Indeed, a main motive for Giddens to introduce a focus on strategic action was what he considered the predominantly one-sided focus on homogenizing 'institutional analysis,' leading to the relative neglect of the 'analysis of the strategic conduct' (Giddens 1984: 373).

14.

In the final sample, all parties were represented besides the (independent democratic league (UDI), a rightist party whose members refused to speak on CC issues.

15.

The final sample included 26 individuals representing top members of the ultra elite of the country, 22 men and four women: within them ten political leaders (parliamentarians), 12 top-level businessmen and four national environmental or social leaders. The sample of our qualitative study is appropriate given the fact that the total population of possible interviewees is small, and that judgment was used to establish the logic and pertinent quotas for each strata of the ideal theoretical sample (Curtis et al. 2000; Devers and Frankel 2000). Additionally, we stress that the appropriate sample size for a qualitative study is one that adequately answers the research question (Aberbach and Rockman 2002).

16.

The interviews were conducted in the interviewers' workplace. Each interview took between 25 and 60 min with a mean of 45 min. The interview followed the standard ethical protocols and the interviewees had to sign a standard informed consent form.

17.

The empirical qualitative data were additionally triangulated with another previous study with a sample of qualified informants (mostly advisors, technicians, government officials and businesspeople of small high-technology environmental industries) (Parker 2011b), and secondary data provided by the media, documents from the institutions related to the interviewees, information provided by stakeholders and previous studies.

18.

19.

All the indicators and final questions of the open-ended questionnaire and closed questionnaire were drawn from this framework.

20.

Indeed, following different authors, we can mention the following factors that make public understanding of CC difficult: (a) geographic and demographic scale; (b) time scale; (c) complexity of the climate system; (d) complexity of models and their uncertainty; (e) personal and daily reality including effects, imagery and values; (f) personal beliefs: spiritual or philosophical beliefs or ideology; (g) economic and financial interests; (h) risk perceptions (see Neimeyer et al. 2004; Leiserowitz 2006; Scerri 2009; Ross and Warren 2008; Pidgeon 2010; Akerlof and Maibach 2011).

21.

All quotations are translations from the original Spanish, language in which the interviews were carried out.

22.

It is well known that in industrialized countries, especially in the United States, there has been debate on the science of CC and shifting attitudes toward measures to face CC (Lashof 2011; World Bank 2010b; Gore 2009; Kellstedt et al. 2008; Maassarani 2007; Riley 1991). These international campaigns that deny the scientific consensus on CC have had only a moderate influence on Chilean local elites.

23.

Although this comparison gives a general idea, it must be taken with caution because we compare statistical random samples with a qualitative small sample.

24.

In the recent history of CC, it has been established that developed industrialized countries are responsible for most GHG that remains in the atmosphere. Currently, industrialized countries, with 20 % of the world's population, account for 46.4 % of global emissions of GHG, while developing countries, where 80 % of world population lives, cause 53.6 % of global emissions (Netzer 2011: 10; Rogner et al. 2007; Cutlip and Fath 2012).

25.

The interpretation of these views should not obscure the fact that in Chile, there are environmental institutions and legislation, and all business projects must undergo environmental impact assessments (EIA). In this context, only this 10 % of businesses that have taken significant measures can be taken as an indicator of real changes in the modes of production toward real sustainability in relation to CC (Parker 2011b).

26.

In 2007 a survey of businesspeople worldwide found that CC was an important issue for executives. They see both opportunities and risk in it. Nearly 60 % of the executives from different areas (mining, transport, energy, manufacturing and finance) perceived CC as an important issue to consider in the companies' overall strategy, including corporate reputation and brands. However, few companies translated the importance they placed on CC into corporate action (Enkvist and Vanthournout 2007: 2).

27.

Some studies have found that among the major drivers for corporate environmental responsibility, government legislation or the threat of legislation is the number one driver. It has even been established that business leaders support more government intervention in the form of policies, including legislative, to encourage or force greater corporate environmental responsibilities (Dummet 2006).

28.

In fact, the greater energy investments over the past few years in the country have been in coal thermal mega power plants.

29.

30.

This fact is consistent with national policies. In general terms, the majority of Chilean representatives in fact support a non-environmentalist policy. In the 2012 Chilean budget, the items oriented to support the national plan to face CC—mainly resources in the energy saving plan and the incentives for renewable energies—decreased by 5.2 % compared to the 2011 budget.

31.

Social representations of CC are framed by mental patterns that are socially constructed (Berger and Luckmann 1966) within common language influenced by education and mass media. Social communication can be understood as a process of transmission of framed information and knowledge—that is, the scientific facts are assumed to speak for themselves with their relevance and policy significance interpreted by all audiences in similar ways. However, what recent research has discovered is that unfortunately, quality news coverage is only likely to reach a small audience of already informed and engaged citizens. Just as in other debates, such as over stem cell research, abortion or gun control, the rest of the public either ignores the coverage or reinterprets competing claims based on partisanship or self-interest, a tendency confirmed across several decades by public opinion research (Nisbet 2009).

32.

Formal education is a key element in the professionalization and quality of the activities performed. On average, the current educational level of top businesspeople and politicians in Latin America is high. For the parliamentarian elite of the continent the evidence shows that nine out of ten have a university degree and a third have done some graduate study (Martínez 2006). The Chilean case is marked by the high qualifications of its legislatures. In our sample, 19 % of the interviewed hold a PhD, 15 % hold Masters degrees and the rest have completed university studies. In our sample, only a few of those who have studied at a doctoral level had better knowledge about CC and were slightly more ecologically oriented. This fact was not found to be significant.

33.

In the interviewed sample, 4 % were between 20 and 30 years old; 15 % between 31 and 40; 23 % between 41 and 50; 31 % between 51 and 60; 19 % between 61 and 70; and 8 % over 70 years old. As for the gender variable, it could not be tested because a low percentage of women were in our sample.

34.

35.

It is a fact that the measures implemented to cope with CC worldwide are insufficient. The UNDP declares that: "The financing needed for development—including for environmental and social protection—will have to be many times greater than current official development assistance. Today's spending on low-carbon energy sources, for example, is only 1.6 % of even the lowest estimate of need, while spending on climate change adaptation and mitigation is around 11 % of estimated need." (UNDP 2011a: p. V).
References
Aberbach, J. D., & Rockman, B. A. (2002). Conducting and coding elite interviews. PS: Political Science and Politics, 35(4), 673–676.

Acquatella, J. (2008). Energía y cambio climático: Oportunidades para una política energética integrada en América Latina y el Caribe. Santiago de Chile: Naciones Unidas, CEPAL, ATZ.

AIDA (Asociacion Interamericana para la Defensa del Ambiente). (2011). Principal human rights impacts of climate change in Latin America. A report by the Interamerican Association for Environmental Defense. http://www.aida-americas.org/en/project/human-rights-impacts-climate-change-latin-america.

Akerlof, K., & Maibach, E. W. (2011). A rose by any other name …? What members of the general public prefer to call "climate change". Climatic Change Letters, 1, 21. http://www.climatechangecommunication.org/images/files/Akerlof_Maibach_2011.pdf.

Alimonda, H. (2011). La naturaleza colonizada, ecología política y minería en América Latina. Buenos Aires: Ciccus, CLACSO.

Arroyo, G., & Suarez, A. (2006). Responsabilidad social corporativa, Una Mirada global. Santiago de Chile: Universidad Alberto Hurtado.

Barthes, R. (1966). Introduction à l'analyse structurale des récits. Communications, 8(8), 1–27.

Baser, H., & Morgan, P. (2008). Capacity, change and performance—Study report. Maastricht: European Centre.

Baud, M., de Castro, F., & Hogenboom, B. (2011). Environmental governance in Latin America: Towards an integrative research agenda. European Review of Latin American and Caribbean Studies, 90, 79–88.

Berger, P., & Luckmann, T. (1966). The social construction of reality: A treatise in the sociology of knowledge. New York: Anchor Books.

Berry, J. M. (2002). Validity and reliability issues in elite interviewing. PS: Political Science and Politics, 35(4), 679–682.

Binger, A., Georgieva, K., Khosla, A., Makram-Ebeid, M., Savane, M. A., & Umaña, A. (2002). Capacity 21: Evaluation report, 1993–2001. New York: UNDP.

Brammer, S., Jackson, G., & Matten, D. (2012). Corporate social responsibility and institutional theory: New perspectives on private governance. Socio-Economic Review, 10(1), 3–28.

Braun, R. (2010). Social participation and climate change. Environment, Development and Sustainability, 12, 777–806.

Brenner, L., & Job, H. (2012). Challenges to actor-oriented environmental governance: Examples from three Mexican biosphere reserves. Tijdschrift voor Economische en Sociale Geografie, 103(1), 1–19.

Brinkmann, S. (2007). Could interviews be epistemic? An alternative to qualitative opinion polling. Qualitative Inquiry, 13, 1116–1138.

Bryant, R. L., & Bailey, S. (1997). Third world political ecology. New York: Routledge.

Bull, B. (2010). The global elite, public–private partnerships and multilateral governance. In J. Clapp & R. Wilkinson (Eds.), Global governance, poverty and indequality (pp. 209–234). London: Routledge.

Bull, B., & Sundt Næsse, L. N. (2012). Changing elites, institutions and environmental governance. Analytical framework report. Amsterdam: ENGOV, Proyect 266710, FP7-SSH-2010-3; D.3.1. Available in http://www.engov.eu/files/ENGOV_AFR_WP3_SUM.pdf.

Carroll, A. B. (1999). Corporate social responsibility: Evolution of a definitional construct. Business & Society, 38(3), 268–295.

Cashore, B. (2002). Legitimacy and the privatization of environmental governance: How Non-State Market-Driven (NSMD) governance systems gain rule-making authority. Governance: An International Journal of Policy, Administration, and Institutions, 15(4), 503–529.

CEPAL (Comisión Económica para América Latina y el Caribe). (2009). La Economía del Cambio Climático en América Latina y el Caribe, Síntesis 2009. Santiago de Chile: Naciones Unidas.

Clapp, J. (1998). The privatization of global environmental governance: ISO 14000 and the developing world. Global Governance, 4(3), 295–316.

CONAMA (Comisión Nacional del Medio Ambiente). (2006). Cambio Climático: Amenazas y Oportunidades para Chile, Estrategia nacional de cambio climático. Santiago de Chile: Gobierno de Chile, CONAMA.

CONAMA (Comisión Nacional del Medio Ambiente). (2008). Plan de Acción Nacional de Cambio Climático 2008–2012. Santiago de Chile: Gobierno de Chile, CONAMA.

Corporación Latinobarómetro. (2011). Informe 2011. Santiago de Chile: Corporación Latinobarómetro. Available at www.latinobarometro.org.

Cross, M. K. D. (2012). Rethinking epistemic communities twenty years later. Review of International Studies, 1–24. FirstView Article/October . Available on CJO 2012. doi:10.1017/S0260210512000034.

Cubillos, A., & Estenssoro, F. (Eds.). (2011). Energía y Medio Ambiente: Una ecuación difícil. Santiago de Chile: Ed. USACH.

Curtis, S., Gesler, W., Smith, G., & Washburn, S. (2000). Approaches to sampling and case selection in qualitative research: Examples in the geography of health. Social Science and Medicine, 50, 1001–1014.

Cutlip, L., & Fath, B. D. (2012). Relationship between carbon emissions and economic development: Case study of six countries. Environment, Development and Sustainability, 14, 433–453.

Devers, K. J., & Frankel, R. M. (2000). Study design in qualitative research—2: Sampling and data collection strategies. Education for Health, 13(2), 263–271.

DeWit, A., & Tetsunari, I. (2011). The "power elite" and environmental-energy policy in Japan. The Asia-Pacific Journal: Japan Focusl, 9(4), 1–17.

Dummet, K. (2006). Drivers for corporate environmental responsibility. Environment, Development and Sustainability, 8, 375–389.

Dunlap, R. E., & van Liere, K. D. (1984). Commitment to the dominant social paradigm and concern for environmental quality. Social Science Quarterly, 65, 1013–1028.

Elites Parlamentarias de América Latina. (2012). Salamanca: OIR, Observatorio de élites parlamentarias en América Latina. http://americo.usal.es/oir/Elites/bases_de_datos.htm. Accessed February 20, 2012.

Enkvist, P., & Vanthournout, H. (2007). How companies think about climate change: A McKinsey global survey. McKinsey Quarterly. https://www.mckinseyquarterly.com/How_companies_think_about_climate_change_A_McKinsey_Global_Survey_2099.

Estenssoro, F. (2008). Medio Ambiente e Ideología, la discusión pública en Chile, 1992–200. Santiago de Chile: Ariadna-USACH.

Fairweather, J., & Rinne, T. (2012). Clarifying a basis for qualitative generalization using approaches that identify shared culture. Qualitative Research, 12(4), 473–485.

Ferreira da Costa, L. (org). (2011). A Quesatao Ambiental na América Latina. Campinas, SP: Ed. Unicamp.

Ford, L. H. (2003). Challenging global environmental governance: Social movement agency and global civil society. Global Environmental Politics, 3(2), 120–134.

Giddens, A. (1984). The constitution of society: Introduction of the theory of structuration. Berkeley: University of California Press.

Giddens, A. (1990). The consequences of modernity. Stanford: Stanford University Press.

Gore, A. (2009). Our choice. New York: Melchor Media.

Greimas, A. J. (1966a). Sémantique Structurale. Paris: Larousse.

Greimas, A. J. (1966b). Éléments pour une théorie de l'interprétation du récit mythique. Communications, 8(8), 28–59.

Greimas, A. J. (1976). Sémiotique et Sciences Sociales. Paris: Du Seuil.

Haas, P. M. (1992). Introduction: Epistemic communities and international policy coordination. International Organization, 46(1), 1–35. http://links.jstor.org/sici?sici=0020-8183%28199224%2946%3A1%3C1%3AIECAIP%3E2.0.CO%3B2-%23.

Harvey, W. S. (2011). Strategies for conducting elite interviews. Qualitative Research, 11(4), 431–441.

Hogenboom, B., & Fernández, A. E. (2009). The new left and mineral politics: What's new? Revista Europea de Estudios Latinoamericanos y del Caribe, 87, 93–102.

Inglehart, R. (1995). Public support for environmental protection: Objective problems and subjective values in 43 countries. PS: Political Science and Politics, 28, 57–72.

IPCC (International Panel on Climate Change). (2007). Climate change, synthesis report. Geneva: IPCC, OMM, PNUMA. http://www.ipcc.ch/pdf/presentations/briefingbonn-2007-05/mitigation-substainable-development.pdf.

ITC-ILO (International Training Center, International Labor Organization). (2010). Innovative regional strategies for more green jobs. Turin: ITC, ILO.

Joignant, A., & Guell, P. (Eds.). (2011). Notables, Tecnócratas y Mandarines, Elementos de sociología de las elites en Chile, (1990–2010). Santiago de Chile: Ediciones Universidad Diego Portales.

Kellstedt, P. M., Zahran, S., & Vedlitz, A. (2008). Personal efficacy, the information environment, and attitudes toward global warming and climate change in the United States. Risk Analysis, 28(1), 113–126.

Korveboja, T. (1993). The environmental problems and politics of power. Review on the African elite. Nordic Journal of African Studies, 2(1), 140–153.

Krosnick, J. A., MacInnis, B. (2011). National survey of American public opinion on global warming. Stanford University with Ipsos and Reuters. Available online at http://woods.stanford.edu/docs/surveys/Global-Warming-Survey-Stanford-Reuters-September-2011.pdf.

Kuhn, T. S. (1996). The structure of scientific revolutions (3rd ed.). Chicago: University of Chicago Press.

Lashof, D. A. (2011, October 23). Shifting attitudes on global warming. The New York Times, Letters to the Editor.

Leff, E. (1994). Ecología y capital: Racionalidad ambiental, democracia participativa y desarrollo sustentable. México: Siglo XXI.

Leiserowitz, A. (2006). Climate change risk perception and policy preferences: The role of affect, imagery, and values. Climatic Change, 77, 45–72.

Leiserowitz, A., Maibach, E., Roser-Renouf, C., Smith, N., & Hmielowski, J. D. (2011). Climate change in the American Mind: Americans' global warming beliefs and attitudes in November 2011. Yale Project on Climate Change Communication. New Haven, CT: Yale University and George Mason University. http://environment.yale.edu/climate/files/ClimateBeliefsNovember2011.pdf.

Lorenzoni, I., & Pidgeon, N. F. (2006). Public views on climate change: European and USA perspectives. Climatic Change, 77, 73–95.

Maassarani, T. (2007). Redacting the science of climate change: An investigative and synthesis report. Washington, DC: Government Accountability Project. http://www.whistleblower.org/doc/2007/Final%203.28%20Redacting%20Climate%20Science%20Report.pdf.

Mansilla, H. C. F., & Collo, M. J. (1997). Economic growth and the environment: Elite perceptions of development in Bolivia. Journal of Third World Studies, XIV(1), 133–162.

Marshall, M. N. (1996). Sampling for qualitative research. Family Practice, 13, 522–525.

Martínez, M. (2006). La carrera parlamentaria, ¿la calidad importa? In M. A. Sáez (Ed.), Partidos Políticos en América Latina (pp. 175–214). Madrid: Fund. Carolina, Siglo XXI.

McCarthy, J. (2004). Pivatizing conditions of production: Trade agreements as neoliberal environmental governance. Geoforum, 35, 327–341.

Mikecz, R. (2012). Interviewing elites addressing methodological issues. Qualitative Inquiry, 18(6), 482–493.

Mohai, P., Simões, S., & Brechin, R. S. (2010). Environmental concerns, values and meanings in the Beijing and Detroit metropolitan areas. International Sociology, 25, 778–817.

Mumme, S. P., Bath, C. R., & Assetto, V. J. (1988). Political development and environmental policy in Mexico. Latin American Research Review, 23, 7–34.

Nath, P. K., & Behera, B. (2011). A critical review of impact of and adaptation to climate change in developed and developing economies. Environment, Development and Sustainability, 13, 141–162.

Neimeyer, S., Petts, J., Hobson, K., & McGregor, G. (2004). Understanding thresholds in human behavior and responses to rapid climate change. Working paper 04/01. Edgbaston: The University of Birmingham.

Netzer, N. (2011). El nuevo Acuerdo Ecológico Global (Green New Deal Global) ¿Gestión de crisis o cambio sostenible de paradigma?. Berlin: Friedrich-Ebert-Stiftung.

Nisbet, M. C. (2009). Communicating climate change: Why frames matter for public engagement. Environment: Science and Policy for Sustainable Development, 51(2), 12–23.

Omer, A. M. (2011). Energy and environment: Applications and sustainable development. British Journal of Environment & Climate Change, 1(4), 118–158.

Paavola, J. (2007). Institutions and environmental governance: A reconceptualization. Ecological Economics, 63, 93–103.

Parker, C. (2008). Science and technology in undergraduate students' worldview, shaped by globalization: The Chilean case. Perspective on Global Development and Technology, 7, 69–90.

Parker, C. (2010). An overview of the IPCC Report in Latin America and the Chilean case. In M.O.R.E. 23/1st CC+I—Seminar of The Geneva Association, Working Paper Series, 356, 1–17. http://genevaassociation.org/PDF/Working_paper_series/(1)_GA_E&D_356.02_PARKER_Climate_change.pdf.

Parker, C. (2011a). Global warming, elites and energy in Latin America: The Chilean case. Journal of Environmental Science & Engineering, 5(12), 1702–1714.

Parker, C. (2011b). Calentamiento global y elites: Entre las energías convencionales y las energías alternativas. In A. Cubillos & F. Estenssoro (Eds.), Energía y Medio Ambiente : Una ecuación difícil (pp. 103–124). Santiago de Chile: Ed. USACH.

Parker, C., & Muñoz, J. (2012). Elites universitarias y cambio climático. Ambiente & sociedade, 15(2), 195–218.

Payne, G., & Williams, M. (2005). Generalization in qualitative research. Sociology, 39(2), 295–314.

Peritore, N. P. (1993). Environmental attitudes of Indian elites: Challenging western postmodernist models. Asian Survey, 33(8), 804–818.

Pidgeon, N. (2010). International dimensions of climate change, report 5: Public understanding of and attitudes towards climate change. Cardiff: Cardiff University, Government Office for Science, UK Government.

Pirages, D. C. & Ehrlich, P. R. (1974) Ark II: Social response to environmental imperatives. San Francisco, CA: W. H. Freeman.

Ramus, C. A., & Montiel, I. (2005). When are corporate environmental policies a form of greenwashing? Business & Society, 44, 377–414.

Richards, D. (1996). Elite interviewing: Approaches and pitfalls. Politics, 16, 199–204.

Riley, E. D. (1991). Public opinion in the 1980s: Clear consensus, ambiguous commitment. Environment, 33(8), 10–37.

Rogner, H. H., Zhou, D., Bradley, R., Crabbé, P., Edenhofer, O., Hare, B., et al. (2007). Introduction. In B. Metz, O. R. Davidson, P. R. Bosh, & L. A. Meyer (Eds.), Climate change 2007: Mitigation contribution of working group III to the fourth assessment report of the Intergovernmental Panel on Climate Change. Cambridge: Cambridge University Press.

Ross, R. M., & Warren, D. A. (2008). Public awareness. Encyclopedia of global warming and climate change. SAGE. http://www.sage-reference.com/globalwarming/Article_n532.html.

Samaniego, J. (2009). Cambio climático y desarrollo en América Latina y el Caribe: una reseña. Santiago de Chile: CEPAL, GTZ, Naciones Unidas.

Satterthwaite, D. (2009). The implications of population growth and urbanization for climate change. Environment and Urbanization, 21, 545–567.

Scerri, A. (2009). Paradoxes of increased individuation and public awareness of environmental issues. Environmental Politics, 18(4), 467–485.

Silva, P. (2010). En el nombre de la razón. Tecnócratas y política en Chile. Santiago de Chile: Ediciones Universidad Diego Portales.

Stern, N. (2006). Review report on the economics of climate change. UK: HM Treasury. http://webarchive.nationalarchives.gov.uk/+/http://www.hm-treasury.gov.uk/sternreview_index.htm.

Taylor, S. J., & Bodgan, R. (1992). Introducción a los Métodos Cualitativos de Investigación. Barcelona: Paidós.

Tironi, E. (1999). La irrupción de las masas y el malestar de las élites. Santiago de Chile: Editorial Grijalbo.

Tomich, D. (2008). The order of historical time: The longue durée and micro-history. Colloquium the longue durée and world-systems analysis. Binghamton: Fernand Braudel Center, Binghamton University, October 24–25.

Tong, Y. (2007). Bureaucracy meets the environment: Elite perceptions in six Chinese cities. China Quarterly, 189, 100–121.

UNDP (United Nations Development Programme). (2007). Human development report 2007–2008, fighting climate change: Human solidarity in a divided world. New York: UNDP. http://hdr.undp.org/en/reports/global/hdr2007-2008/.

UNDP (United Nations Development Programme). (2011a). Human development report 2011, sustainability and equity: A better future for all. New York: UNDP.

UNDP (United Nations Development Programme). (2011b). Environment and energy and capacity development, practitioner's guide: Capacity development for environmental sustainability 2011. New York, United Nations Plaza: UNDP.

UNEP (United Nations Environment Programme) (2010). UNEP year book, new science and developments in our changing environment, 2010. Nairobi: Division of Early Warning and Assessment (DEWA), United Nations Environment Programme, 1–12. http://www.unep.org/yearbook/2010. Accessed February 9, 2012.

UNEP (United Nations Environment Programme). (2011). Towards a green economy: Pathways to sustainable development and poverty eradication—A synthesis for policy makers. UNEP. www.unep.org/greeneconomy.

Van Dijk, T. (2003). Racismo y discurso de las élites. Barcelona: Gedisa.

Van Dijk, T. (2008). El Discurso como estructura y proceso. Barcelona: Gedisa.

World Bank. (2008). Desarrollo y cambio climático Marco estratégico para el Grupo del Banco Mundial, Borrador de consulta. Washington, DC: World Bank.

World Bank (2010a). Informe sobre Desarrollo Mundial 2010, Desarrollo y Cambio Climático, Panorama general un nuevo clima para el desarrollo. Washington, DC: World Bank.

World Bank. (2010b). Public attitudes toward climate change: Findings from a multi-country poll. Washington, DC: World Development Report, World Bank.

WVS. (no date). World value survey. Available online at: http://www.worldvaluessurvey.org/.

Zuckerman, H. (1972). Interviewing an ultra-elite. Public Opinion Quarterly, 36(2), 159–175.
Acknowledgments
The authors want to acknowledge the support of FONDECYT (National Fund for Science and Technology, Government of Chile) for its contribution to the research on which this paper is based and the International Research Project ENGOV, Environmental Governance in Latin America and the Caribbean: Developing Frameworks for Sustainable and Equitable Natural Resource, EUROPEAN UNION, ENGOV, FP7-SSH-2010-3, Project, 2011–2015, of which the authors are the Chilean partners. The main results of this paper come from the project FONDECYT No. 1090797; others comes from the project FONDECYT No. 1120662. Some conceptual frameworks' inputs for this paper are driven from the International Research Project ENGOV from its WP3 and WP4. We thank Cristián Cuevas, Claudia Oliva, Rodrigo Guerra, Gabriela Flores, Rigoberto Muñoz, Claudio Peralta and Luis Peña, who made valuable contributions to the research. We specially thank Benedicte Bull for helping in the conceptualization of elites and the environment and the anonymous advisors that read the manuscript. Their comments have been of real value.
About this article
Cite this article
Parker, C., Letelier, M. & Muñoz, J. Elites, climate change and agency in a developing society: the Chilean case. Environ Dev Sustain 15, 1337–1363 (2013). https://doi.org/10.1007/s10668-013-9444-2
Received:

Accepted:

Published:

Issue Date:
Keywords
Climate change

Elites

Environmental governance

Sustainable development

Agency

Developing country