Abstract
In the context of software startups, project failure is embraced actively and considered crucial to obtain validated learning that can lead to pivots. A pivot is the strategic change of a business concept, product or the different elements of a business model. A better understanding is needed on different types of pivots and different factors that lead to failures and trigger pivots, for software entrepreneurial teams to make better decisions under chaotic and unpredictable environment. Due to the nascent nature of the topic, the existing research and knowledge on the pivots of software startups are very limited. In this study, we aimed at identifying the major types of pivots that software startups make during their startup processes, and highlighting the factors that fail software projects and trigger pivots. To achieve this, we conducted a case survey study based on the secondary data of the major pivots happened in 49 software startups. 10 pivot types and 14 triggering factors were identified. The findings show that customer need pivot is the most common among all pivot types. Together with customer segment pivot, they are common market related pivots. The major product related pivots are zoom-in and technology pivots. Several new pivot types were identified, including market zoom-in, complete and side project pivots. Our study also demonstrates that negative customer reaction and flawed business model are the most common factors that trigger pivots in software startups. Our study extends the research knowledge on software startup pivot types and pivot triggering factors. Meanwhile it provides practical knowledge to software startups, which they can utilize to guide their effective decisions on pivoting.
Access options
Buy single article
Instant access to the full article PDF.
US$ 39.95
Tax calculation will be finalised during checkout.
Subscribe to journal
Immediate online access to all issues from 2019. Subscription will auto renew annually.
US$ 79
Tax calculation will be finalised during checkout.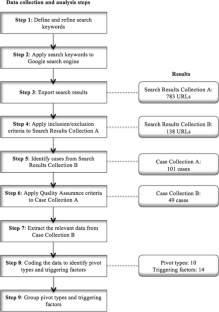 References
Blank S (2005) The four steps to the epiphany. 1st edn. CafePress

Blank S (2013) Why the lean start-up changes everything. Harv Bus Rev 91(5):64+

Bosch J, Olsson HH, Björk J, Ljungblad J (2013) The early stage software startup development model: a framework for operationalizing lean principles in software startups, Lecture Notes in Business Information Processing (LNBIP), pp 1–15

Boslaugh S (2007) An introduction to secondary data analysis. In: Secondary data sources for public health: a practical guide. Cambridge University Press

Carlson (2011) The real history of Twitter. http://businessinsider.com/how-twitter-was-founded-2011-4/. Accessed 2 Nov 2015

Cruzes DS, Dybå T, Runeson P, Höst M (2015) Case studies synthesis: a thematic, cross-case, and narrative synthesis worked example. Empir Softw Eng 20(6):1634–1665

Eisenmann, T, Ries, E, Dillard, S (2012) Hypothesis-driven entrepreneurship: the lean startup. Harvard Business School Entrepreneurial Management Case No. 812–095

Giardino C, Wang X, Abrahamsson P (2014) Why early-stage software startups fail: a behavioral framework. ICSOB, pp 27–41

Giardino C, Bajwa SS, Wang X, Abrahamsson P (2015) Key challenges in early-stage software startups. XP, Helsinki, Finland, LNBIP, pp 52–63

Giardino C, Paternoster N, Unterkalmsteiner M, Gorschek T, Abrahamsson P (2016) Software development in startup companies: the greenfield startup model. In: IEEE Transactions on Software Engineering (forthcoming)

Hirvikoski K (2014) Startups pivoting towards value. Data and value-driven software engineering with deep customer insight. Proceedings of the seminar no. 58314308. Jürgen Münch (ED.) University of Helsinki, Finland, pp 1–7

Jerkovic JI (2010) SEO warrior: essential techniques for increasing web visibility. O'Reilly Media

Kelly SM (2013) Gaming empire supercell: we pop champagne every time we fail. http://mashable.com/2013/11/13/supercell-apps-success/#FkbCo9dnpkqZ. Accessed 14 Nov 2015

Kitchenham B (2007) Guidelines for performing systematic literature reviews in software engineering. EBSE Technical Report. EBSE-2007-01. Software Engineering Group, School of Computer Science and Mathematics, Keele University, Keele, UK and Department of Computer Science, University of Durham, Durham, UK

Linberg KR (1999) Software developer perceptions about software project failure: a case study. J Syst Softw 49(2):177–192

Macmillan IC, Zemann L, Subbanarasimha P (1987) Criteria distinguishing successful from unsuccessful ventures in the venture screening process. J Bus Ventur 2(2):123–137

Marmer M, Bjoern LH, Dogrultan E, Berman R (2011) Startup genome report a new framework for understanding why startups succeed

Maurya A (2012) Running lean: iterate from plan a to a plan that works, 2nd edn. O'Reilly Media

McGrath A (2011) Failed by design, https://hbr.org/2011/04/failing-by-design. Accessed 8 April 2016

Mendoza A, Carroll J, Stern L (2010) Software appropriation over time: from adoption to stabilization and beyond. Australas J Inf Syst 16(2)

Nazar J (2013) 14 Famous business pivots, http://www.forbes.com/sites/jasonnazar/2013/10/08/14-famous-business-pivots/. Accessed 2 Nov. 2015

Nobel C (2011) Why companies fail and how their founders can bounce back. Working Knowledge, Harvard Business School, Boston. http://hbswk.hbs.edu/item/6591.html. Accessed 14 Nov 2015

Paternoster N, Giardino C, Unterkalmsteiner M, Gorschek T, Abrahamsson P (2014) Software development in startup companies: a systematic mapping study. Inf Softw Technol 56(10):1200–1218

Richardson A (2011) STOP CELEBRATING FAILURE, Harvard Business Review, http://www.businessinsider.com/stop-trying-to-celebrate-failure-2011-3?IR=T. Accessed 8 April 2016

Ries E (2011) The lean startup: how constant innovation creates radically successful businesses. Penguin Group, London

Runeson P, Höst M (2009) Guidelines for conducting and reporting case study research in software engineering. Empir Softw Eng 14(2):131–164

Savolainen P, Ahonen JJ, Richardson I (2011) Software development project success and failure from the supplier's perspective: a systematic literature review. Int J Proj Manag 30(4):458–469

Shepherd DA, Wiklund J, Haynie JM (2009) Moving forward: balancing the financial and emotional costs of business failure. J Bus Ventur 24(2):134–148

Sutton SM (2003) The role of process in software start-up. IEEE Softw 17(4):33–39

Terho H, Suonsyrjä S, Karisalo A, Mikkonen T (2015) Ways to cross the rubicon: pivoting in software startups. SSU'15 workshop, PROFES'15, pp 555–568

Trzesniewski KH, Donnellan MB, Lucas RE (2011) Secondary data analysis: an introduction for psychologists. Washington, DC, US: American Psychological Association Secondary data analysis: An introduction for psychologists

Van der Van JS, Bosch J (2013) Pivots and architectural decisions: two sides of the same medal? What architecture research and lean startup can learn from each other. In Proceedings of Eight International Conference on Software Engineering Advances (ICSEA'13), Venice, Italy, pp 310–317

Vartanian TP (2011) Secondary data analysis. Oxford, New York

Wang X, Conboy K, Cawley O (2012) "Leagile" software development: an experience report analysis of the application of lean approaches in agile software development. J Syst Softw 85(6):1284–1299

Womack JP, Daniel TJ, Roos D (1990) The machine that changed the world. Free Press, USA

Yin RK (2003) Case study research: design and methods. Sage Publications Inc

Yin RK, Heald KA (1975) Using the case survey method to analyze policy studies. Adm Sci Q 20(3):371–381

Yu YW, Chang YS, Chen YF, Chu LS (2012) Entrepreneurial success for hightech start-ups - case study of taiwan high-tech companies, Palermo, Italy, pp 933–937
Additional information
Communicated by: Magne Jørgensen, Mika Mäntylä, Paul Ralph and Hakan Erdogmus
About this article
Cite this article
Bajwa, S.S., Wang, X., Nguyen Duc, A. et al. "Failures" to be celebrated: an analysis of major pivots of software startups. Empir Software Eng 22, 2373–2408 (2017). https://doi.org/10.1007/s10664-016-9458-0
Keywords
Pivot

Software startups

Lean startup

Validated learning

Pivoting factor

Side project