Abstract
Using official statistics and tax laws, we outline and discuss the evolution of the personal income tax in Austria since the beginning of the Second Republic in 1955. Focusing on the tax tariff and its progressivity properties, we identify a period of high (and increasing) progressivity before 1989, followed by a period of diminished progressivity since 1989. While still being a powerful revenue instrument, the Austrian income tax seems to have lost both redistributive impact and political allure.
Access options
Buy single article
Instant access to the full article PDF.
USD 39.95
Price excludes VAT (USA)
Tax calculation will be finalised during checkout.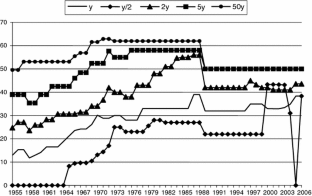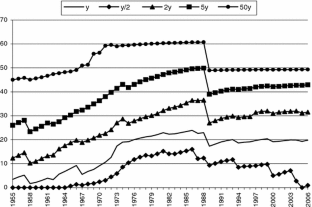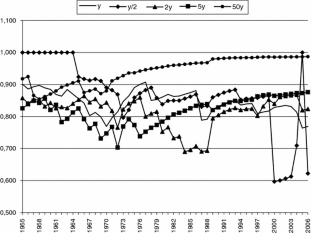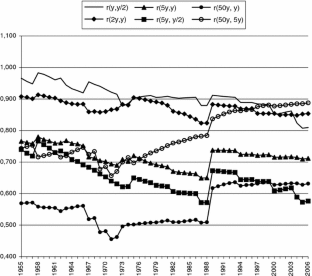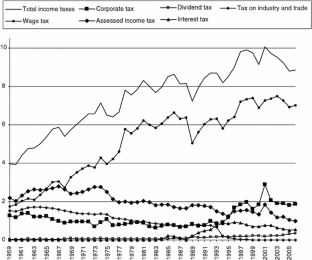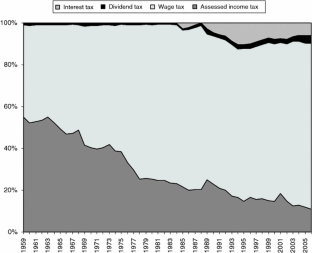 Notes
The next income tax reform is envisaged for 2010.

The divergence in the factual evolution of the German and the Austrian income tax is remarkable also against the backdrop that the tax systems in both countries have a common origin (dating from 1938) and, despite some more recent deviations especially in the area of personal income taxation, continue to be quite similar (Doralt and Ruppe 2007, pp. 15ff).

Also in the German income tax, there are several digressions from a comprehensive system: the taxation of only half the dividend income and of capital gains within the progressive tax tariff as well as the exemption of capital gains from income taxation after a holding period on one year. From 2009 on, a final withholding tax of 25% will be levied on all kinds of capital income (dividend income, interest income, and capital gains).

By contrast, Germany—as one of meanwhile very few western countries—since 1958 applies a system of marriage subsidization in its income tax code by allowing full income splitting for spouses.

The sole earner's tax credit replaced the sole earner's tax allowance, which had been introduced in 1967.

The general tax credit was abolished with the latest income tax reform and integrated into the income tax tariff.

The implication of the preferential taxation of holiday and Christmas bonuses is substantial: it brings the effective top income tax rate for employees down from 50% to about 43%. The total tax relief produced by this provision amounted to € 5.3 billion in 2006, compared to total wage tax revenues (including payments by pensioners) of about € 18.1 billion.

Reforms were effective as of 1955, 1958, 1962, 1967, 1969, 1971, 1973, 1975, 1979, 1983, 1989, 2000, and 2005; changes that do not affect the tax schedule (as variations of tax allowances, for example, or the introduction of the final withholding tax for interest and dividend incomes) are not considered.

The average growth of GDP amounted to 7% per year between 1955 and 2006; nominal wages per employee increased by 6.1% per year.

The tax-free income threshold (basic allowance) was increased in 2005 from € 8,800 to 10,000.

The top marginal tax rate according to the 1955 income tax tariff was 63.72% for single taxpayers (between 2 and 5.139 million Austrian Schilling) and 61.36% (for taxable incomes above 5.139 million Austrian Schilling), respectively. It was reduced to 55.46% in 1957 and reached its maximum at 62.88% in 1971. The 1973 tax reform decreased the top income tax rate to 62%, its current level of 50% was introduced with the 1988 tax reform.

In the 1970s, considerably higher marginal tax rates were discussed in Austria. E.g., Genser and Holzmann (1979) analyze a then popular proposal by trade unions to tax top income earners at marginal rates of 80%. However, they find that this proposal (which was never implemented) would have remained without any significant distributional impact.

To the authors' knowledge, no empirical studies exist that disentangle the income and substitution effects of (income) tax reforms on labor supply in Austria. While estimates of wage rate elasticities of labor supply for Austria are available, approximating the effects of income tax changes through such wage elasticities would, however, be misleading in the presence of a progressive income tax tariff.

This phenomenon is sometimes ridiculed as "Mittelstandsbauch" (middle class belly) in the German literature.

This definition differs from the formula used in Corneo (2005). He defines tax progressivity by R(y, y′) < y/y′, where R(y, y′) = r(y, y′) y/y′. This progressivity assessment is equivalent to ours, but using r(y, y′) facilitates comparisons for different income pairs (since, e.g., proportionality is given when r = 1, independently of the levels of y or y′).

Above the top income threshold of € 51,000 the tax reduction in absolute terms amounts to € 165 per year in 2005 against 2003.

This includes the introduction of a minimum corporate tax for companies without taxable profits. In addition, the Austrian National Bank is liable for corporate income taxation since 1994, which also increased corporate income tax revenues.

The peak in 2001 can be explained by a special effect due to the introduction of interest charges on tax arrears, which influenced the temporal distribution of corporate tax revenues (the same effect can be observed for the assessed income tax). In 2005 the corporate tax rate was cut from 34 to 25%, accompanied by a very moderate broadening of the tax base and the introduction of a group taxation, which will curb revenues also in the following years.

This happened although the number of tax brackets has been reduced over time (see Section 3.1), which generally eases the problem of bracket creeping. However, as the marginal tax rate in the lowest tax bracket is rather high and the income threshold above which the top tax rate is applied has not been increased since 1989, cold progression still has considerable effects.

Before 1989 such an effect is not so obviously detectable from the graphs as during this period the increase in tax revenues went parallel to an increase in marginal and average tax rates.

These permanent tax reliefs were complemented by several temporary measures, e.g., tax reliefs for incremental investment.
References
Auer R (n.y.) Steuerrechtliche Tabellensammlung (loose leaf; current issue: July 2008). LexisNexis ARD ORAC, Vienna

Breuss F, Kaniovski S, Schratzenstaller M (2004) The tax reform 2004/05—measures and macroeconomic effects. Austrian Econ Q 9:127–142

Bundesministerium der Finanzen (2008) Die wichtigsten Steuern im internationalen Vergleich (2007 edition). Bundesministerium der Finanzen, Berlin

Corneo G (2005) The rise and likely fall of the German income tax, 1958–2005. CESifo Econ Stud 51:160–186

Doralt W, Ruppe H-G (2007) Grundriss des österreichischen Steuerrechts, vol I, 9th edn. Manz, Vienna

Genser B (1986) Steuerprogression: Konzepte und empirischer Befund für Österreich. Forschungsbericht 8602, Ludwig Boltzmann Institut für Analysen wirtschaftspolitischer Aktivitäten, Vienna

Genser B (1996) Austria's steps towards a dual income tax. In: Muten L, Sorensen PB, Hagen KP (eds) Towards a dual income tax?. Kluwer, London, pp 69–89

Genser B, Holzmann R (1979) Einkommensteuerreform. Eine quantitative Analyse. Reihe Volkswirtschaft Nr. 21, Institut für Wirtschaftswissenschaften, University of Vienna

Lehner G (1973) Zur Reform der Einkommensteuer. WIFO Monatsberichte 46:49–58

Lehner G (1974) Zur Lohn- und Einkommensteuersenkung 1975. WIFO Monatsberichte 47:360–366

Lehner G (1975) Zur Lohn-und Einkommensteuersenkung 1975. WIFO Monatsberichte 48:360–366

Lehner G (1981) Analyse der Einkommensteuertarife 1957 bis 1983. WIFO Monatsberichte 54:561–578

Lehner G (1988) Die Steuerreform 1988. WIFO Monatsberichte 61:610–622

Lehner G (1998) Familienförderung neu geregelt. WIFO Monatsberichte 71:865–871

Lehner G, Breuss F, Mooslechner P, Puwein W, Schebeck F, Wüger M (1993) Die zweite Etappe der Steuerreform. Austrian Institute of Economic Research, Vienna

Mooslechner P (1984) Die Einführung einer Zinsertragsteuer (ZESt) in Österreich. WSI-Mitteilungen 37:719–725

Mooslechner P (1994) Steuerreform und Finanzmärkte: Kapitalertragsbesteuerung und Kreditsteuer. WIFO Monatsberichte 67:42–49

Neill JD (1985) Die Lohnsteuer und ihre Aushöhlung. Eine Analyse über Zusammensetzung, Ausmaß und Kosten der Erosion des österreichischen Lohnsteuertarifes zwischen 1964 und 1985. Dissertation, Vienna

OECD (2008) Taxing wages 2006–2007. OECD, Paris

Schratzenstaller M (2004) Towards dual income taxes—a country-comparative perspective. CESifo DICE Report 2(3):23–30

Schratzenstaller M (2007) Unternehmensbesteuerung in der Europäischen Union—aktuelle Entwicklungen und Implikationen für die deutsche Steuerpolitik. DIW Vierteljahrshefte zur Wirtschaftsforschung 76(2):21–38

Statistik Austria (2007) Statistik der Lohnsteuer 2006. Statistik Austria, Vienna
Acknowledgments
We thank Dietmar Klose for valuable research assistance and Otto Farny, Hans Pitlik, Anton Rainer, Peter Rosner, and an anonymous referee for helpful suggestions.
About this article
Cite this article
Schratzenstaller, M., Wagener, A. The Austrian income tax tariff, 1955–2006. Empirica 36, 309–330 (2009). https://doi.org/10.1007/s10663-008-9087-y
Published:

Issue Date:

DOI: https://doi.org/10.1007/s10663-008-9087-y
Keywords
JEL Classification