Abstract
This paper investigates the determinants of the survival, between 2001 and 2004, of 622 small firms in England. Seventy one percent of these firms were less than 5 years old in 2001. Prior work by industrial economists has primarily focussed upon factors such as profitability and exit barriers. In contrast, this paper adopts a more managerial approach by examining whether the human capital of the business owner and organisational variables explain survival and non-survival. Our results suggest the founder's education and bank finance promote firm survival. Firms which compete on price, or report being financially constrained at start-up, are much less likely to survive.
Access options
Buy single article
Instant access to the full article PDF.
US$ 39.95
Tax calculation will be finalised during checkout.
Subscribe to journal
Immediate online access to all issues from 2019. Subscription will auto renew annually.
US$ 79
Tax calculation will be finalised during checkout.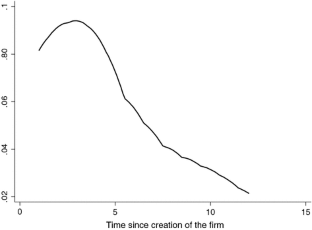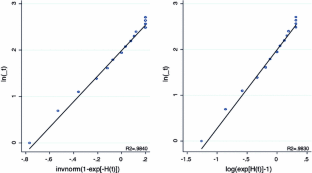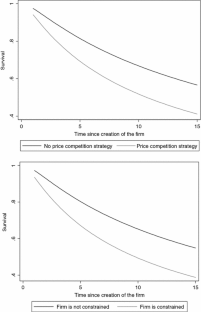 Notes
1.

The response rate of the survey was 73%. Full details are provided in Capelleras et al. (2008).

2.

Using the measure of new VAT Registrations per 10,000 population the rates for Tees Valley, Shropshire and Buckinghamshire in 2001 were 18, 32 and 52 respectively. The English average was 33. Equally importantly, as shown by Greene et al. (2004), whilst formation rates do vary with the economic cycle, Tees Valley is always low, Shropshire is always average and Buckinghamshire is always high, over the period 1980–2001.

3.

In the vast majority of cases the interviewee was the business owner. Where this was not the case the interview only took place when information on the founder/owner could be provided by the interviewee.

4.

The survival time is not collinear with calendar time because we have variation in the year in which the firms started.

5.

For more information see Jenkins (2005).

6.

Frankish et al. (2006) using a large data set of 6,850 new firms find a "valley of death" with 6 month closure rates rising to a peak of 12% after 18 months and then falling away to 6% after 4 years.

7.

Although not presented here, we also used more detailed information on the financial constrained variable by using a set of dummies indicating whether the firm had a serious financial problem or a not very serious financial problem in its first year. The results suggest that only firms with serious financial problems are less likely to survive.

8.

Frankish et al. (2006) find that whilst education does not influence business survival rates over 2 years they do find that less educated founders had lower survival rates in the first 6 months. This they attribute to such individuals lacking the necessary basic skills of business management.
References
Audretsch D, Mahmood T (1995) New firm survival: new results using a hazard function. Rev Econ Stat 77(1):97–103

Barney J (1991) Firm resources and sustained competitive advantage. J Manage 17(1):99–120

Bruderl J, Preisendorfer P, Ziegler R (1992) The survival chances of newly founded business organisations. Am Sociol Rev 57(2):227–242

Bryson JR, Daniels PW (1998) Business link, strong ties, and the walls of silence: small and medium sized enterprises and external business service expertise. Environ Plan C Gov Policy 16(2):265–280

Carroll GR, Hannan MT (2000) The demography of corporations and industries. Princeton University Press, Princeton, NJ

Calvo JL (2006) Testing Gibrat's law for small, young and innovating firms. Small Bus Econ 26(2):103–116

Capelleras J-L, Greene F, Mole KM, Storey DJ (2008) Do more heavily regulated economies have poorer performing new firms? J Int Bus Stud (Forthcoming)

Caves RE (1998) Industrial organization and new findings on the turnover and mobility of firms. J Econ Lit 36(4):1947–1982

Cefis E, Marsili O (2006) Survivor: the role of innovation in firms' survival. Res Policy 35(5):626–641

Evans D (1987) The relationship between firm growth, size, and age: estimates for 100 manufacturing industries. J Ind Econ 35(4):567–581

Frankish J, Storey DJ, Roberts RG (2006) Charting the 'Valley of Death' closure rates among new businesses. ISBE conference paper, Cardiff

Gimeno J, Folta TB, Cooper AC, Woo C (1997) Survival of the Fittest? Capital and the persistence of underperforming firms. Adm Sci Q 42(4):750–783

Greene F, Mole K, Storey DJ (2004) Does more mean worse? Three decades of enterprise policy in the tees valley. Urban Stud 41(7):1207–1228

Hamilton BH (2000) Does entrepreneurship pay? An empirical analysis of the returns to self-employment. J Polit Econ 108(3):604–631

Honjo Y (2000) Business failure of new firms: an empirical analysis using a multiplicative hazards model. Int J Indust Organ 18:557–574

Jenkins S (2005) Survival analysis, unpublished manuscript, University of Essex

Lee E, Wang J (2003) Statistical methods for survival data analysis, 3rd ed. Wiley, New York

Lucas RE (1978) Size distribution of business firms. Bell J Econ 9(2):508–523

Mata J, Portugal P (1994) Life duration of new firms. J Indust Econ 42(3):227–245

Mole KF, Bramley G (2006) Making policy choices in non-financial business support: an international comparison. Environ Plan C Gov Policy 24(6):885–908

Morton FMS, Podolny JM (2002) Love or money? The effects of owner motivation in the California wine industry. J Indust Econ 50(4):431–456

Stearns T, Carter N, Reynolds P, Williams M (1995) New firm survival: industry, strategy and location. J Bus Venturing 10:23–42

Storey DJ (2006) Evaluating SME policies and programmes: technical and political dimensions, Chapter 10. In: Casson M, Yeung B, Basu A, Wadeson N (eds) Oxford Handbook of Entrepreneurship. Oxford University Press, pp 248–280

Storey DJ, Wynarczyk P (1996) The survival and non-survival of micro firms in the UK. Rev Indust Organ 11:211–229

Taylor M (1999) Survival of the Fittest? An analysis of self-employment duration in Britain. Econ J 109(454):C140–C155

Thompson P (2005) Selection and firm survival: evidence from the shipbuilding industry, 1825–1914. Rev Econ Stat 87(1):26–36

Troske K (1989) The life cycle of firms and the expansion and contraction of industries, mimeo, University of Chicago

Wagner J (1994) The post-entry performance of new small firms in German manufacturing industries. J Ind Econ 42(2):141–154

Yasuda T (2005) Firm growth, size, age and behaviour in Japanese manufacturing. Small Bus Econ 24:1–15
Additional information
This article befitted substantially from comments provided by Miguel Manjón and an anonymous referee. We would also like to thank Isabel Canette, Priscila Ferreira, Francis Greene, Rebeca Muñoz Torres, Paul Westhead and the participants of the International Comparisons in the Financing of SMEs in Developed Countries Conference, the 2006 European Association of Research in Industrial Economics Conference, the 29th Institute for Small Business and Entrepreneurship and the workshop on Entrepreneurship, Demography and Industrial Location for helpful comments and discussions. All remaining errors are ours.
Appendix
Appendix
About this article
Cite this article
Saridakis, G., Mole, K. & Storey, D.J. New small firm survival in England. Empirica 35, 25–39 (2008). https://doi.org/10.1007/s10663-007-9049-9
Keywords
Firms

Business failure

Duration
JEL Classification