Abstract
Countries located on the Black Sea coast perform most of their sea trade through the Istanbul Strait (IS). Approximately 50,000 ships pass through the IS each year, with crude oil tankers making up the majority. Thus, the aim of the study is to determine the acute toxic effect of oil pollution that may occur as a result of crude oil tanker accidents in the IS. By utilising data related to accidents that have occurred in the IS, locations of concentrated tanker accidents, or "hot spots," were determined by Kernel Density Analysis. Subsequently, the distribution of potential leaks following an oil tanker accident, within these hot spots, is modelled with GNOME software. Finally, acute toxicity caused by oil pollution in the marine ecosystem is determined by Aliivibrio fischeri luminescent bacteria toxicity test. In this research, 5 hot spots are identified, where the maximum calculated amount of oil that can reach the coastline after 72 h is 3096 metric tons. Similarly, oil pollution can affect a total coastline of 30–35 km. Furthermore, it was determined that after the oil was diluted in seawater, at a ratio of 1:200,000, the toxic effects decrease (EC50 above 100 mg/L), yet the chronic effects may still continue. The results of this study may serve as a reference for coastal state authorities to develop emergency response plans. Having this valuable knowledge of where high-risk accidents are most concentrated, where the accidents occur intensely, which areas can be affected by the pollution, the duration of the pollution effects, and the distance between the areas, will help determine the number of intervention stations to be installed, their locations, and equipment to be installed to the stations.
Graphical abstract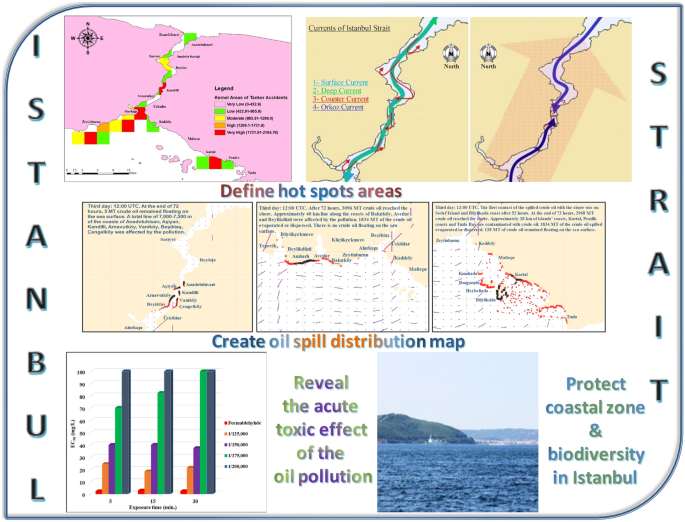 Access options
Buy single article
Instant access to the full article PDF.
USD 39.95
Price excludes VAT (USA)
Tax calculation will be finalised during checkout.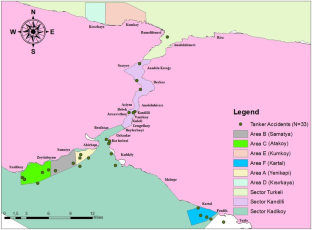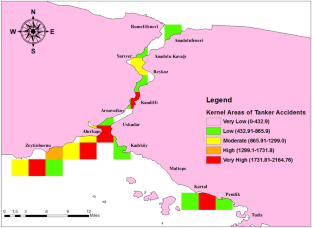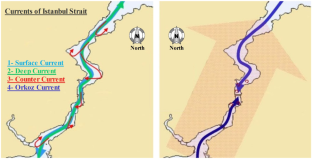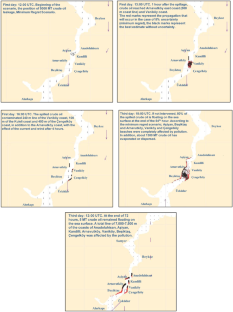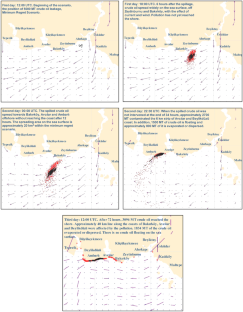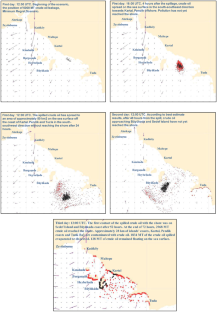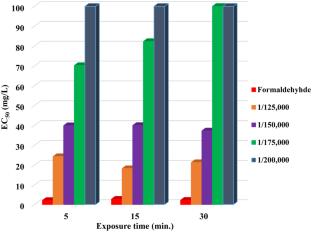 Data availability
The datasets used during the current study are available from the corresponding author on reasonable request.
References 
Acharya, T. D., Yoo, K. W., & Lee, D. H. (2017). GIS-based spatio-temporal analysis of marine accidents database in the coastal zone of Korea. Journal of Coastal Research, 79, 114–118.

Akten, N. (2004). Analysis of shipping casualties in the Bosphorus. The Journal of Navigation, 57(3), 345–356.

Al Muzaini, S., Beg, M., & Ali, L. (1997). Microtox assay for assessment of marine pollution in industrial discharge zone of Kuwait. Environmental Toxicology and Water Quality: An International Journal, 12(2), 109–115.

Anderson, T. K. (2009). Kernel density estimation and K-means clustering to profile road accident hotspots. Accident Analysis & Prevention, 41(3), 359–364.

Arslan, N. (2018). Assessment of oil spills using Sentinel 1 C-band SAR and Landsat 8 multispectral sensors. Environmental Monitoring and Assessment, 190(11), 637.

Arslan, O., & Turan, O. (2009). Analytical investigation of marine casualties at the Strait of Istanbul with SWOT–AHP method. Maritime Policy & Management, 36(2), 131–145.

Aruldoss, J. A. (1996). Toxicity testing of refinery wastewater using microtox.

Ateş, Ö. (2018). Forensic fingerprinting in oil spill source identification at the Turkish Straits sea area. Oil Spill along the Turkish Straits, 121.

Aydogdu, Y. V. (2014). A comparison of maritime risk perception and accident statistics in the Istanbul Straight. The Journal of Navigation, 67(1), 129–144.

Aydogdu, Y. V., Yurtoren, C., Park, J.-S., & Park, Y.-S. (2012). A study on local traffic management to improve marine traffic safety in the Istanbul Strait. The Journal of Navigation, 65(1), 99–112.

Başar, E. (2010). Weathering and oil spill simulations in the aftermath of tanker accidents at the junction points in the Marmara Sea. Fresenius Environmental Bulletin, 19(2), 260–265.

Basar, E., Sivri, N., Uğurlu, Ö., & Sönmez, V. Z. (2018). Potential impacts of oil spill damage around the planned oil rigs at the Black Sea. Indian Journal of Geo Marine Sciences, 47(11), 2198–2206.

Beegle-Krause, C. (1999). GNOME: NOAA's next-generation spill trajectory model, Oceans' 99. MTS/IEEE. Riding the crest into the 21st century. Conference and exhibition. Conference proceedings (IEEE Cat. No. 99CH37008). IEEE, pp. 1262–1266.

Beegle-Krause, C., Callahan, J., & O'Connor, C. (2003). NOAA model extended to use nowcast/forecast currents, International Oil Spill Conference. American Petroleum Institute, pp. 991–994.

Beiras, R., & Alvarez, S. L. (2006). Toxicity of seawater and sand affected by the Prestige fuel-oil spill using bivalve and sea urchin embryogenesis bioassays. Water, Air, and Soil Pollution 177, 457–466.

Bolstad, P. (2005). GIS Fundamentals. White Bear Lake, USA. 

Bonnier, A., Finné, M., & Weiberg, E. (2019). Examining land-use through GIS-based kernel density estimation: A re-evaluation of legacy data from the Berbati-Limnes Survey. Journal of Field Archaeology, 44(2), 70–83.

Bopp, S. K., & Lettieri, T. (2007). Gene regulation in the marine diatom Thalassiosira pseudonana upon exposure to polycyclic aromatic hydrocarbons (PAHs). Gene, 396(2), 293–302.

Bozkurtoğlu, Ş. N. E. (2017). Modeling oil spill trajectory in Bosphorus for contingency planning. Marine Pollution Bulletin, 123(1–2), 57–72.

Bubbico, R., Di Cave, S., & Mazzarotta, B. (2009). Preliminary risk analysis for LNG tankers approaching a maritime terminal. Journal of Loss Prevention in the Process Industries, 22(5), 634–638.

Chang, S. E., Stone, J., Demes, K., & Piscitelli, M. (2014). Consequences of oil spills: A review and framework for informing planning. Ecology and Society, 19(2), 1–26.

Chauvin, C., Lardjane, S., Morel, G., Clostermann, J.-P., & Langard, B. (2013). Human and organisational factors in maritime accidents: Analysis of collisions at sea using the HFACS. Accident Analysis & Prevention, 59, 26–37.

Cheng, Y., Liu, B., Li, X., Nunziata, F., Xu, Q., Ding, X., Migliaccio, M., & Pichel, W. G. (2014). Monitoring of oil spill trajectories with COSMO-SkyMed X-band SAR images and model simulation. IEEE Journal of Selected Topics in Applied Earth Observations and Remote Sensing, 7(7), 2895–2901.

Cizek, P., Härdle, W. K., & Weron, R., (2005). Kernel density estimation, humboldt university of berlin, Berlin. http://sfb649.wiwi.huberlin.de/fedc_homepage/xplore/tutorials/xlghtmlnode33.html

Coleman, R. N., & Qureshi, A. A. (1985). Microtox and Spirillum volutans tests for assessing toxicity of environmental samples. Bulletin of Environment Contamination and Toxicology, 35(4), 443–451.

de la Huz, R., Lastra, M., Junoy, J., Castellanos, C., & Viéitez, J. M. (2005). Biological impacts of oil pollution and cleaning in the intertidal zone of exposed sandy beaches: Preliminary study of the it Prestige oil spill. Est. Coast. Shelf Sci., 65(1–2), 19–29.

Demiray, N. (2006). Sintine sularından kaynaklanabilecek deniz kirliliğinin değerlendirilmesi. Fen Bilimleri Enstitüsü, Süleyman Demirel Üniversitesi.

Doğan, E., & Burak, S. (2007). Ship-originated pollution in the Istanbul strait (Bosphorus) and Marmara Sea. Journal of Coastal Research, 23(2(232)), 388–394.

Dong, C.-D., Thi-Hong-Hanh Nguyen, T.-H., Hou, C.-C.T., & Tsai, C.-C. (2019). Integrated numerical model for the simulation of the ts taipei oil spill. Journal of Marine Science and Technology, 27(4), 359–368.

DTGM. (2019). Türk Boğazları gemi geçiş istatistikleri, Ankara/Turkey. https://atlantis.udhb.gov.tr/istatistik/gemi_gecis.aspx

Eisman, M. P., Landon-Arnold, S., & Swindoll, C. (1991). Determination of petroleum hydrocarbon toxicity with Microtox reg sign. Bulletin of Environmental Contamination and Toxicology, 47(6), 811–816.

Erdogan, S., Yilmaz, I., Baybura, T., & Gullu, M. (2008). Geographical information systems aided traffic accident analysis system case study: City of Afyonkarahisar. Accident Analysis & Prevention, 40(1), 174–181.

ESRI. (2017). ArcMap 10.5, ESRI, Redlands, CA: Environmental Systems Research Institute. https://desktop.arcgis.com/en/arcmap/

Exchange, S. (2020). How does changing the kernel density search radius affect the units expressed in the map legend?, Geographic Information Systems Stack Exchange, Available at: https://gis.stackexchange.com/questions/62627/how-does-changing-the-kernel-density-search-radius-affect-the-units-expressed-in?noredirect=1&lq=1. Accessed: 26.10.2020.

Farzingohar, M., Ibrahim, Z. Z., & Yasemi, M. (2011). Oil spill modeling of diesel and gasoline with GNOME around Rajaee Port of Bandar Abbas. Iran. Iranian Journal of Fisheries Sciences, 10(1), 35–46.

Fotheringham, A. S., Brunsdon, C., & Charlton, M. (2000). Quantitative geography: Perspectives on spatial data analysis. Sage Publications.

GISIS. (2019). GISIS: marine casualties and incidents, International Maritime Organization, Web. https://gisis.imo.org/Public/MCI/Search.aspx

Giziakis, K., Kanellopoulos, N., & Gialoutsi, S. (2013). Spatial analysis of oil spills from marine accidents in Greek waters. SPOUDAI-Journal of Economics and Business, 63(3–4), 60–74.

GNOME. (2017). GNOME 1.3.11, NOAA Office of Response Restoration, US. https://response.restoration.noaa.gov/oil-and-chemical-spills/oil-spills/response-tools/gnome.html

Goldsmith, V., McGuire, P. G., Mollenkopf, J. B., & Ross, T. A. (1999). Analyzing crime patterns: Frontiers of practice. Sage Publications.

GOODS. (2020). GOODS, NOAA Office of Response Restoration, US. https://gnome.orr.noaa.gov/goods

Güneş, Ş. (2007). Türk Boğazları. ODTÜ Gelişme Dergisi, 34, 217–250.

Halsey, S. D., & Abel, R. B. (2002). Coastal ocean space utilization. CRC Press.

IBM. (2013). IBM SPSS Statistics for Windows. IBM Corp, New York/US.

IMO. (2006). LC/SG 29/2, International Maritime Organization, 29th Meeting, United Kingdom.

IMO. (2008). Casualty Investigation Code: Code of the International Standards and Recommended Practices for a Safety Investigation into a Marine Casualty or Marine Incident. International Maritime Organization Publishing.

Ince, A., & Topuz, E. (2004). Modelling and simulation for safe and efficient navigation in narrow waterways. The Journal of Navigation, 57(1), 53–71.

Ingerslev, L. (2005). Considerations and strategies behind the design and construction requirements of the Istanbul Strait immersed tunnel. Tunnelling and Underground Space Technology, 20(6), 604–608.

Jiang, Z., Huang, Y., Xu, X., Liao, L., Shou, L., Liu, J., Chen, Q., Zeng, J., (2010). Advance in the toxic effects of petroleum water accommodated fraction on marine plankton. Acta Ecologica Sinica, 30(1), 8–15. https://doi.org/10.1016/j.chnaes.2009.12.002

Jones, M. C., Marron, J. S., & Sheather, S. J. (1996). A brief survey of bandwidth selection for density estimation. Journal of the American Statistical Association, 91(433), 401–407.

Kaptan, M. (2021). Risk Assessment for Transporting Ammonium Nitrate-Based Fertilizers with Bulk Carriers. Journal of ETA Maritime Science, 9(2), 130–137.

Kaptan, M., Sivri, N., Blettler, M. C., & Uğurlu, Ö. (2020). Potential threat of plastic waste during the navigation of ships through the Turkish straits. Environmental Monitoring and Assessment, 192(8), 1–7.

Kaptan, M., Uğurlu, Ö., & Wang, J. (2021). The effect of nonconformities encountered in the use of technology on the occurrence of collision, contact and grounding accidents. Reliability Engineering & System Safety 107886.

KAIK. (2018). Kaza Araştırma ve İnceleme Kururulu, TC Ulaştırma Denizcilik ve Haberleşme Bakanlığı, Türkiye. http://www.kaik.gov.tr/

KEGM. (2020). Konuşlandırılması Düşünülen Acil Müdahale İstasyonları, Directorate General of Coastal Safety, Web. http://www.kiyiemniyeti.gov.tr/acil_mudahale?

Khursigara, A. J., Ackerly, K. L., & Esbaugh, A. J. (2019). Oil toxicity and implications for environmental tolerance in fish. Comparative Biochemistry and Physiology Part c: Toxicology & Pharmacology, 220, 52–61.

Koldemir, B. (2011). İstanbul Boğazı Trafiğinde Seyir Güvenliği Sorunu Olan Bölgelerin Belirlenmesi için Bir Yöntem. Pamukkale Üniversitesi Mühendislik Bilimleri Dergisi, 12(1), 51–57.

Kosyan, R. D., & Velikova, V. N. (2016). Coastal zone–Terra (and aqua) incognita–Integrated coastal zone management in the Black Sea. Estuarine, Coastal and Shelf Science, 169, A1–A16.

Krisp, J. M., Peters, S., Murphy, C. E., & Fan, H. (2009). Visual bandwidth selection for kernel density maps. Photogrammetrie-Fernerkundung-Geoinformation 2009 (5), 445–454.

Liu, Y., Luan, T. G., Lu, N. N., & Lan, C. Y. (2006). Toxicity of fluoranthene and its biodegradation by Cyclotella caspia alga. Journal of Integrative Plant Biology, 48(2), 169–180.

Maranho, L., Garrido-Pérez, M., DelValls, T., & Martín-Díaz, M. (2015). Suitability of standardized acute toxicity tests for marine sediment assessment: Pharmaceutical contamination. Water, Air, & Soil Pollution, 226(3), 65.

Microtox. (1992). Microtox® Manual. Microbics Corporation.

Morales-Bautista, C. M., Adams, R. H., Guzmán-Osorio, F., & Marín-García, D. (2013). Dilution-extrapolation hydrometer method for easy determination of API gravity of heavily weathered hydrocarbons in petroleum contaminated soil. Energy and Environment Research, 3(1), 115.

Mowat, F., & Bundy, K. (2002). Experimental and mathematical/computational assessment of the acute toxicity of chemical mixtures from the Microtox® assay. Advances in Environmental Research, 6(4), 547–558.

Öz, M., & Demirel, N. (2018). The anticipated effects of oil spill on fish populations in case of an accident along the Turkish Straits System—A review of studies after several incidents from the world, Oil Spill Along the Turkish Straits Sea Area; Accidents, Environmental Pollution, Socio-economic Impacts and Protection, p. 464.

Ozhan, K., & Bargu, S. (2014a). Distinct responses of Gulf of Mexico phytoplankton communities to crude oil and the dispersant Corexit EC9500A under different nutrient regimes. Ecotoxicology, 23, 370–384.

Ozhan, K., & Bargu, S. (2014b). Can crude oil toxicity on phytoplankton be predicted based on toxicity data on benzo(A)pyrene and naphthalene? Bulletin of Environmental Contamination and Toxicology, 92, 225–230.

Ozhan, K., Parsons, M. L., & Bargu, S. (2014). How were phytoplankton affected by the Deepwater Horizon oil spill?. BioScience, 64(9), 829–836.

Öztürk, B., & Balcıoğlu, E.B. (2017). Notes on the fisheries compensation for the Independenta/Evriali incident in the Istanbul Strait, Turkey. Notes 23 (2).

Öztürk, B., Poyraz, Ö., & Özgür, E. (2006). The Turkish Straits: Some considerations, threats and future. Turkish Straits-Maritime Safety, Legal and Environmental Aspects (Eds: Oral, N. and Öztürk, B.) Turkish Marine Research Foundation. İstanbul. Publication, 25, 116–132.

Pelot, R., & Plummer, L. (2010). Spatial analysis of traffic and risks in the coastal zone, Coastal and Marine Geospatial Technologies, Springer, pp. 227–238.

Pizon, F. X. (2020). Nautical characteristics of the Turkish Straits, Afcan, Web. https://www.afcan.org/dossiers_techniques/tsvts_gb.html

Prasad, S., Nair, B., Francis, P., & Vijayalaksmi, T. (2014). Hindcasting and validation of Mumbai oil spills using GNOME. International Research Journal of Environment Sciences, 3(12), 18–27.

Prasannakumar, V., Shiny, R., Geetha, N., & Vijith, H. (2011). Spatial prediction of soil erosion risk by remote sensing, GIS and RUSLE approach: A case study of Siruvani river watershed in Attapady valley, Kerala. India. Environmental Earth Sciences, 64(4), 965–972.

Saeed, T., & Beg, M. (2007). Relative toxicity of seawater-soluble fractions of kuwait crude oil and different petroleum products. Science International-Lahore, 19(4), 277.

Safeopedia. (2020). Acute Effect, Safeopedia, Web. https://www.safeopedia.com/definition/211/acute-effect

Silverman, B.W. (1986). Density estimation for statistics and data analysis. CRC press, Chapman & Hall, Florida, USA.

Sönmez, V. Z., & Sivri, N. (2016). Interlaboratory precision of acute toxicity tests using reference toxicant formaldehyde. Journal of Anatolian Environmental and Animal Sciences, 1(3), 96–99.

Steenberghen, T., Dufays, T., Thomas, I., & Flahaut, B. (2004). Intra-urban location and clustering of road accidents using GIS: A Belgian example. International Journal of Geographical Information Science, 18(2), 169–181.

SWAN. (2020). Istanbul Strait wind and speed direction, Turkish State Meteorological Service, Web. https://www.mgm.gov.tr/deniz/swan.aspx?b=06&t=rz&s=00&g=p#sfB

Şenol, Y. E., Şahin, B., & Kum, S. (2013). Marine accident analysis by using pairwise comparison. Journal of ETA Maritime Science, 1(2), 59–64.

Taş, S., Okuş, E., Ünlü, S., & Altiok, H. (2011). A study on phytoplankton following 'Volgoneft-248'oil spill on the north-eastern coast of the Sea of Marmara. Journal of the Marine Biological Association of the United Kingdom, 91(3), 715–725.

Topakoğlu, L. (2004). İstanbul Boğazı'nda Deniz Yolu ile Petrol Taşımacılığının Çevresel Risk Değerlendirmesi. Fen Bilimleri Enstitüsü.

Tosun, C. (2007). Designation of the compensation of the environmental damage caused by oil spills with toxicity.

Uğurlu, Ö., Köse, E., Yıldırım, U., & Yüksekyıldız, E. (2015a). Marine accident analysis for collision and grounding in oil tanker using FTA method. Maritime Policy & Management, 42(2), 163–185.

Uğurlu, Ö., Nişancı, R., Köse, E., Yıldırım, U., & Yüksekyıldız, E. (2015b). Investigation of oil tanker accidents by using GIS. International Journal of Maritime Engineering, 157(2), 113–124.

Uğurlu, Ö., Erol, S., & Başar, E. (2016). The analysis of life safety and economic loss in marine accidents occurring in the Turkish Straits. Maritime Policy & Management, 43(3), 356–370.

Uğurlu, Ö., Yıldız, S., Loughney, S., Wang, J., Kuntchulia, S., & Sharabidze, I. (2020). Analysing of collision, grounding and sinking accident occurring in the Black Sea utilizing GIS. HFACS and Bayesian Networks. Risk Analysis, 40(12), 2610–2638.

Ulusçu, Ö. S., Özbaş, B., Altıok, T., Or, I., & Yılmaz, T. (2009). Transit vessel scheduling in the Strait of Istanbul. The Journal of Navigation, 62(1), 59–77.

UNCTAD. (2019). Review of Maritime Transport 2019, United Nations Conference On Trade And Development (UNCTAD). United Nations Publication.

Wang, L., Zheng, B., & Meng, W. (2008). Photo-induced toxicity of four polycyclic aromatic hydrocarbons, singly and in combination, to the marine diatom Phaeodactylum tricornutum. Ecotoxicology and Environmental Safety, 71(2), 465–472.

Wei, M., Liping, W., & Binghui, Z. (2007). Photoinduced toxicity single and binary mixtures of four polycyclic aromatic hydrocarbons to the marine diatom Skeletonema costatum. Acta Oceanologica Sinica, 26(6), 41–50.

Wise, D. L. (1994). Process engineering for pollution control and waste minimizaestuariestion. CRC Press.

Wu, W. B., & Mielniczuk, J. (2002). Kernel density estimation for linear processes. Annals of Statistics, 30(5), 1441–1459.

Xie, Z., & Yan, J. (2008). Kernel density estimation of traffic accidents in a network space. Computers, Environment and Urban Systems, 32(5), 396–406.

Yu, J., Zhihong, W., Xiurong, H., Lei, Z., & Xiulin, W. (2002). Toxicity of polycyclic aromatic hydrocarbons (PAHs) to marine algae. Marine Sciences, 26(1), 46–50.
Funding
This study has received funding from the International Association of Maritime Universities (IAMU) "Research Project Grant FY 2020-Young Academic Staff "as a project entitled "Maritime Risk Evaluation and Safety Optimization in Narrow Straits: A Case Study in Istanbul Strait and English Channel".
Additional information
Publisher's Note
Springer Nature remains neutral with regard to jurisdictional claims in published maps and institutional affiliations.
About this article
Cite this article
Yildiz, S., Sönmez, V.Z., Uğurlu, Ö. et al. Modelling of possible tanker accident oil spills in the Istanbul Strait in order to demonstrate the dispersion and toxic effects of oil pollution. Environ Monit Assess 193, 538 (2021). https://doi.org/10.1007/s10661-021-09339-w
Received:

Accepted:

Published:

DOI: https://doi.org/10.1007/s10661-021-09339-w
Keywords
Oil pollution

Acute toxicity

Istanbul Strait

Marine accidents

Geographic Information System