Abstract
The discharge of solid and liquid waste from domestic, municipal, and hospital premises pollutes the soil and river ecosystems. However, the diversity and functions of the microbial communities present in these polluted environments are not well understood and may contain harmful microbial communities with specialized metabolic potential. In this present study, we adapted the Illumina sequencing technology to analyze microbial communities and their metabolic capabilities in polluted environments. A total of 1113884 sequences of v3–v4 hypervariable region of the 16S rRNA were obtained using Illumina sequencing and assigned to the corresponding taxonomical ranks using Greengenes databases. Proteobacteria and Bacteroidetes were dominantly present in all the four studied sites (solid waste dumping site (SWD); Chite river site (CHR), Turial river site (TUR), and Tuikual river site (TUKR)). It was found that the SWD was dominated by Firmicutes, Actinobacteria; CHR by Acidobacteria, Verrucomicrobia, Planctomycetes; TUR by Verrucomicrobia, Acidobacteria; and TUKR by Verrucomicrobia and Firmicutes, respectively. The dominant bacterial genus present in all samples was Acinetobacter, Flavobacterium, Prevotella, Corynebacterium, Comamonas, Bacteroides, Wautersiella, Cloacibacterium, Stenotrophomonas, Sphingobacterium, and Pseudomonas. Twenty-seven putative bacterial pathogens were identified from the contaminated sites belonging to Salmonella enterica, Pseudomonas aeruginosa, Escherichia coli, and Staphylococcus aureus. Functional analysis showed a high representation of genes in the KEGG pathway involved in the metabolism of amino acids and carbohydrates and identified several genes associated with antibiotic resistance and xenobiotic degradation in these environments, which can be a serious problem for human health and environment. The results from this research will provide a new understanding of the possible management practices to minimize the spread of pathogenic microorganisms in the environment.
Access options
Buy single article
Instant access to the full article PDF.
USD 39.95
Price excludes VAT (USA)
Tax calculation will be finalised during checkout.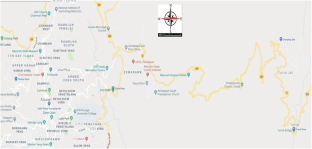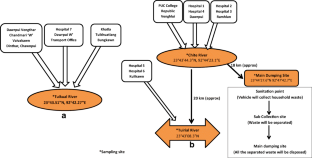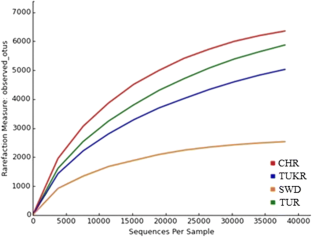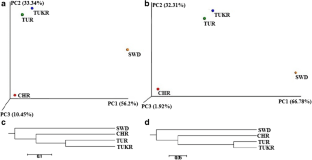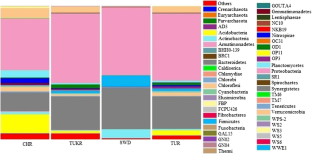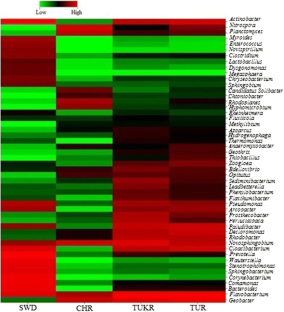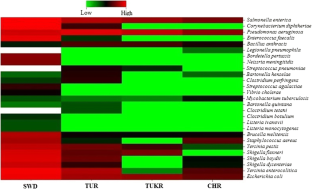 References
Allen, T. D., Lawson, P. A., Collins, M. D., Falsen, E., & Tanner, R. S. (2006). Cloacibacterium normanense gen. nov., sp. nov., a novel bacterium in the family Flavobacteriaceae isolated from municipal wastewater. International Journal of Systematic and Evolutionary Microbiology, 56(6), 1311–1316. https://doi.org/10.1099/ijs.0.64218-0.

Allen, H. K., Moe, L. A., Rodbumrer, J., Gaarder, A., & Handelsman, J. (2009). Functional metagenomics reveals diverse Β-lactamases in a remote Alaskan soil. ISME Journal, 3(2), 243–251. https://doi.org/10.1038/ismej.2008.86.

Banskar, S., Bhute, S. S., Suryavanshi, M. V., Punekar, S., & Shouche, Y. S. (2016). Microbiome analysis reveals the abundance of bacterial pathogens in Rousettus leschenaultii guano. Scientific Reports, 6. https://doi.org/10.1038/srep36948.

Blomström, A.-L., Lalander, C., Komakech, A. J., Vinnerås, B., & Boqvist, S. (2016). A metagenomic analysis displays the diverse microbial community of a vermicomposting system in Uganda. Infection ecology & epidemiology, 6, 32453. https://doi.org/10.3402/IEE.V6.32453.

Brooke, J. S. (2012). Stenotrophomonas maltophilia: an emerging global opportunistic pathogen. Clinical Microbiology Reviews. https://doi.org/10.1128/CMR.00019-11.

Caccavo, F., Lonergan, D. J., Lovley, D. R., Davis, M., Stolz, J. F., & McInerney, M. J. (1994). Geobacter sulfurreducens sp. nov., a hydrogen- and acetate-oxidizing dissimilatory metal-reducing microorganism. Applied and Environmental Microbiology, 60(10), 3752–3759.

Cai, L., & Zhang, T. (2013). Detecting human bacterial pathogens in wastewater treatment plants by a high-throughput shotgun sequencing technique. Environmental Science and Technology, 47(10), 5433–5441. https://doi.org/10.1021/es400275r.

Caporaso, J. G., Kuczynski, J., Stombaugh, J., Bittinger, K., Bushman, F. D., Costello, E. K., et al. (2010). QIIME allows analysis of high-throughput community sequencing data. Nature Methods. https://doi.org/10.1038/nmeth.f.303.

Coates, J. B., Chakraborty, R., Lack, J. G., O'Connor, S. M., Cole, K. A., Bender, K. S., & Achenbach, L. A. (2001). Anaerobic benzene oxidation coupled to nitrate reduction in pure culture by two strains of Dechloromonas. Nature, 411(6841), 1039–1043. https://doi.org/10.1038/35082545.

De Bentzmann, S., & Plésiat, P. (2011). The Pseudomonas aeruginosa opportunistic pathogen and human infections. Environmental Microbiology, 13(7), 1655–1665.

De Mandal, S., Chatterjee, R., & Kumar, N. S. (2017). Dominant bacterial phyla in caves and their predicted functional roles in C and N cycle. BMC Microbiology, 17(1), 90.

DeSantis, T. Z., Hugenholtz, P., Larsen, N., Rojas, M., Brodie, E. L., Keller, K., et al. (2006). Greengenes, a chimera-checked 16S rRNA gene database and workbench compatible with ARB. Applied and Environmental Microbiology, 72(7), 5069–5072. https://doi.org/10.1128/AEM.03006-05.

Devpura, N., Jain, K., Patel, A., Joshi, C. G., & Madamwar, D. (2017). Metabolic potential and taxonomic assessment of bacterial community of an environment to chronic industrial discharge. International Biodeterioration and Biodegradation, 123, 216–227. https://doi.org/10.1016/j.ibiod.2017.06.011.

Doumith, M., Dhanji, H., Ellington, M. J., Hawkey, P., & Woodford, N. (2012). Characterization of plasmids encoding extended-spectrum β-lactamases and their addiction systems circulating among Escherichia coli clinical isolates in the UK. Journal of Antimicrobial Chemotherapy, 67(4), 878–885. https://doi.org/10.1093/jac/dkr553.

Edgar, R. C. (2010). Search and clustering orders of magnitude faster than BLAST. Bioinformatics, 26(19), 2460–2461. https://doi.org/10.1093/bioinformatics/btq461.

Edgar, R. C., Haas, B. J., Clemente, J. C., Quince, C., & Knight, R. (2011). UCHIME improves sensitivity and speed of chimera detection. Bioinformatics, 27(16), 2194–2200. https://doi.org/10.1093/bioinformatics/btr381.

Elander, R. P. (2003). Industrial production of beta-lactam antibiotics. Applied Microbiology and Biotechnology, 61(5–6), 385–392. https://doi.org/10.1007/s00253-003-1274-y.

Erickson, A. R., Cantarel, B. L., Lamendella, R., Darzi, Y., Mongodin, E. F., Pan, C., Shah, M., Halfvarson, J., Tysk, C., Henrissat, B., Raes, J., Verberkmoes, N. C., Fraser, C. M., Hettich, R. L., & Jansson, J. K. (2012). Integrated metagenomics/metaproteomics reveals human host-microbiota signatures of Crohn's disease. PLoS One, 7(11). https://doi.org/10.1371/journal.pone.0049138.

Fàbrega, A., & Vila, J. (2012). Yersinia enterocolitica: Pathogenesis, virulence and antimicrobial resistance. Enfermedades Infecciosas y Microbiologia Clinica, 30(1), 24–32. https://doi.org/10.1016/j.eimc.2011.07.017.

Fritah, S., Lhocine, N., Golebiowski, F., Mounier, J., Andrieux, A., Jouvion, G., et al. (2014). Sumoylation controls host anti-bacterial response to the gut invasive pathogen Shigella flexneri. EMBO Reports, 15(9), 965–972. https://doi.org/10.15252/embr.201338386.

Galvão, T. C., Mohn, W. W., & De Lorenzo, V. (2005). Exploring the microbial biodegradation and biotransformation gene pool. Trends in Biotechnology. https://doi.org/10.1016/j.tibtech.2005.08.002.

García, A., Fox, J. G., & Besser, T. E. (2010). Zoonotic enterohemorrhagic Escherichia coli: A One Health perspective. ILAR Journal / National Research Council, Institute of Laboratory Animal Resources, 51(3), 221–232 http://www.ncbi.nlm.nih.gov/pubmed/21131723.

Giannella, R. (1996). Salmonella - Medical Microbiology - NCBI Bookshelf. Medical Microbiology.

Goossens, H., Ferech, M., Vander Stichele, R., & Elseviers, M. (2005). Outpatient antibiotic use in Europe and association with resistance: a cross-national database study. Lancet, 365(9459), 579–587. https://doi.org/10.1016/S0140-6736(05)17907-0.

Guerrero, L. A., Maas, G., & Hogland, W. (2013). Solid waste management challenges for cities in developing countries. Waste Management, 33(1), 220–232. https://doi.org/10.1016/j.wasman.2012.09.008.

Ibekwe, A. M., Leddy, M., & Murinda, S. E. (2013). Potential human pathogenic bacteria in a mixed urban watershed as revealed by pyrosequencing. PLoS One, 8(11). https://doi.org/10.1371/journal.pone.0079490.

Ivanek, R., Gröhn, Y. T., Wells, M. T., Lembo, A. J., Sauders, B. D., & Wiedmann, M. (2009). Modeling of spatially referenced environmental and meteorological factors influencing the probability of Listeria species isolation from natural environments. Applied and Environmental Microbiology, 75(18), 5893–5909. https://doi.org/10.1128/AEM.02757-08.

Joshi, N., & Fass, J. (2011). Sickle: a sliding-window, adaptive, quality-based trimming tool for FastQ files (Version 1.33) [Software]. Available at https://github.com/najoshi/sickle.

Kenneth, J. R., & Ray, C. G. (2004). Sherris Medical Microbiology. Vasa. https://doi.org/10.1036/0838585299

Klindworth, A., Pruesse, E., Schweer, T., Peplies, J., Quast, C., Horn, M., et al. (2013). Evaluation of general 16S ribosomal RNA gene PCR primers for classical and next-generation sequencing-based diversity studies. Nucleic Acids Research, 41(1), e1–e1.

Kwon, S., Moon, E., Kim, T.-S. S., Hong, S., & Park, H.-D. D. (2011). Pyrosequencing demonstrated complex microbial communities in a membrane filtration system for a drinking water treatment plant. Microbes Environ, 26(2), 149–155. https://doi.org/10.1264/jsme2.ME10205.

Lamendella, R., Santo Domingo, J. W., Ghosh, S., Martinson, J., & Oerther, D. B. (2011). Comparative fecal metagenomics unveils unique functional capacity of the swine gut. BMC Microbiology. https://doi.org/10.1186/1471-2180-11-103.

Langille, M., Zaneveld, J., Caporaso, J. G., McDonald, D., Knights, D., Reyes, J., et al. (2013). Predictive functional profiling of microbial communities using 16S rRNA marker gene sequences. Nature Biotechnology, 31(9), 814–821. https://doi.org/10.1038/nbt.2676.

Liu, J., He, X., Lin, X., Chen, W., Zhou, Q., Shu, W., & Huang, L. (2015). Ecological effects of combined pollution associated with E-waste recycling on the composition and diversity of soil microbial communities. Environmental Science & Technology, 49(11), 6438–6447. https://doi.org/10.1021/es5049804.

Liu, J., Chen, X., Shu, H. Y., Lin, X. R., Zhou, Q. X., Bramryd, T., et al. (2018). Microbial community structure and function in sediments from e-waste contaminated rivers at Guiyu area of China. Environmental Pollution, 235, 171–179. https://doi.org/10.1016/j.envpol.2017.12.008.

Lovley, D. R., Giovannoni, S. J., White, D. C., Champine, J. E., Phillips, E. J. P., Gorby, Y. A., & Goodwin, S. (1993). Geobacter metallireducens gen. nov. sp. nov., a microorganism capable of coupling the complete oxidation of organic compounds to the reduction of iron and other metals. Archives of Microbiology, 159(4), 336–344. https://doi.org/10.1007/BF00290916.

Lozupone, C., & Knight, R. (2005). UniFrac: a new phylogenetic method for comparing microbial communities. Applied and Environmental Microbiology, 71(12), 8228–8235. https://doi.org/10.1128/AEM.71.12.8228-8235.2005.

Lucker, S., Wagner, M., Maixner, F., Pelletier, E., Koch, H., Vacherie, B., et al. (2010). A Nitrospira metagenome illuminates the physiology and evolution of globally important nitrite-oxidizing bacteria. Proceedings of the National Academy of Sciences, 107(30), 13479–13484. https://doi.org/10.1073/pnas.1003860107.

Manchanda, V., Sanchaita, S., & Singh, N. (2010). Multidrug resistant acinetobacter. Journal of Global Infectious Diseases, 2(3), 291–304. https://doi.org/10.4103/0974-777X.68538.

Mwaikono, K. S., Maina, S., Sebastian, A., Schilling, M., Kapur, V., & Gwakisa, P. (2016). High-throughput sequencing of 16S rRNA gene reveals substantial bacterial diversity on the municipal dumpsite. BMC Microbiology, 16(1). https://doi.org/10.1186/s12866-016-0758-8.

Nojiri, H., Shintani, M., & Omori, T. (2004). Divergence of mobile genetic elements involved in the distribution of xenobiotic-catabolic capacity. Applied Microbiology and Biotechnology. https://doi.org/10.1007/s00253-003-1509-y.

Panda, A. K., Bisht, S. S., Kumar, N. S., & De Mandal, S. (2015). Investigations on microbial diversity of Jakrem hot spring, Meghalaya, India using cultivation-independent approach. Genomics Data, 41, 156–157.

Qiu, G., Song, Y. H., Zeng, P., Duan, L., & Xiao, S. (2013). Characterization of bacterial communities in hybrid upflow anaerobic sludge blanket (UASB)-membrane bioreactor (MBR) process for berberine antibiotic wastewater treatment. Bioresource Technology, 142, 52–62. https://doi.org/10.1016/j.biortech.2013.04.077.

Shen, C., Ge, Y., Yang, T., & Chu, H. (2017). Verrucomicrobial elevational distribution was strongly influenced by soil pH and carbon/nitrogen ratio. Journal of Soils and Sediments, 17(10), 2449–2456. https://doi.org/10.1007/s11368-017-1680-x.

Sohn, J. H., Kwon, K. K., Kang, J. H., Jung, H. B., & Kim, S. J. (2004). Novosphingobium pentaromativorans sp. nov., a high-molecular-mass polycyclic aromatic hydrocarbon-degrading bacterium isolated from estuarine sediment. International Journal of Systematic and Evolutionary Microbiology, 54(5), 1483–1487. https://doi.org/10.1099/ijs.0.02945-0.

Song, L., Wang, Y., Tang, W., & Lei, Y. (2015). Bacterial community diversity in municipal waste landfill sites. Applied Microbiology and Biotechnology, 99(18), 7745–7756. https://doi.org/10.1007/s00253-015-6633-y.

Tanaka, S., Yoshida, M., Murakami, Y., Ogiwara, T., Shoji, M., Kobayashi, S., et al. (2008). The relationship of Prevotella intermedia, Prevotella nigrescens and Prevotella melaninogenica in the supragingival plaque of children, caries and oral malodor. Journal of Clinical Pediatric Dentistry, 32(3), 195–200. https://doi.org/10.17796/jcpd.32.3.vp657177815618l1.

Van Kessel, M. A. H. J., Speth, D. R., Albertsen, M., Nielsen, P. H., Op Den Camp, H. J. M., Kartal, B., et al. (2015). Complete nitrification by a single microorganism. Nature, 528(7583), 555–559. https://doi.org/10.1038/nature16459.

Watson, S. C. L., Paterson, D. M., Queirós, A. M., Rees, A. P., Stephens, N., Widdicombe, S., & Beaumont, N. J. (2016). A conceptual framework for assessing the ecosystem service of waste remediation: In the marine environment. Ecosystem Services. https://doi.org/10.1016/j.ecoser.2016.06.011.

Welch, D. B. M., & Huse, S. M. (2011). Microbial diversity in the deep sea and the underexplored "rare biosphere". In Handbook of Molecular Microbial Ecology II: Metagenomics in Different Habitats (pp. 243–252). https://doi.org/10.1002/9781118010549.ch24.

Yan, J., Ritalahti, K. M., Wagner, D. D., & Löffler, F. E. (2012). Unexpected specificity of interspecies cobamide transfer from geobacter spp. to organohalide-respiring dehalococcoides mccartyi strains. Applied and Environmental Microbiology, 78(18), 6630–6636. https://doi.org/10.1128/AEM.01535-12.

Yang, W., Chen, P., Villegas, E. N., Landy, R. B., Kanetsky, C., Cama, V., Dearen, T., Schultz, C. L., Orndorff, K. G., Prelewicz, G. J., Brown, M. H., Young, K. R., & Xiao, L. (2008). Cryptosporidium source tracking in the potomac river watershed. Applied and Environmental Microbiology, 74(21), 6495–6504. https://doi.org/10.1128/AEM.01345-08.
Funding
This research was supported by the Bioinformatics Infrastructure Facility (BTISNeT) sponsored by Department of Biotechnology, Govt. of India, New Delhi. The grant has enabled us to establish computational facility to work on Metagenomics pipeline, and the Advanced State Biotech Hub grant has helped in sampling and generate NGS data. The DeLCON facility has enabled for study design, analysis, and interpretation of data.
Ethics declarations
Conflict of interest
The authors declare that the research was conducted in the absence of any commercial or financial relationships that could be construed as a potential conflict of interest.
Additional information
Publisher's note
Springer Nature remains neutral with regard to jurisdictional claims in published maps and institutional affiliations.
Electronic supplementary material
About this article
Cite this article
De Mandal, S., Mathipi, V., Muthukumaran, R. et al. Amplicon sequencing and imputed metagenomic analysis of waste soil and sediment microbiome reveals unique bacterial communities and their functional attributes. Environ Monit Assess 191, 778 (2019). https://doi.org/10.1007/s10661-019-7879-0
Received:

Accepted:

Published:

DOI: https://doi.org/10.1007/s10661-019-7879-0
Keywords
Waste discharge

Bacterial community

Pathogen

Antibiotic-resistant gene

Xenobiotic