Abstract
Plant–disperser relationship is a mutual approach that regulates the species composition and habitat diversity. Here, we unfold the dispersal profile of India and provide comprehensive information on plant–disperser relationships, emphasising on plant longevities (annual, biennial, and perennial), plant life forms (tree, shrub, herb, liana), and vegetation types. The floral data were collected from a national database, and the dispersal information of 3301 geo-tagged plant species was gathered. The plant dispersal types were mainly (1) abiotic (hydrochory—water, anemochory—wind) and (2) biotic (endozoochory—internal gut, epizoochory—adherence to external surface, anthropochory—human, ornithochory—bird, myrmecochory—insect, and chirepterochory—bat) that included five dispersal modes, i.e. monochory (single), dichory (double), trichory (triple), quadrichory (four), and quintuchory (five). The generalised linear model was utilised to evaluate plant–disperser relationships. Monochory could explain variances of 56.8%, 51.2%, and 45.1% in perennials, annuals, and biennials, and 45.3%, 46.3%, 39.4%, and 47.7% for trees, shrubs, herbs, and lianas, respectively. Monochory has more significant influence on all major vegetation types, with at least 40% variance explanation. Anemochory, the dispersal by wind factor, was found to exercise by most plants. The life form wise analytics revealed inclination of multiple modes of dispersal for herbs with abiotic factors might be due to lighter weight, followed by trees with biotic dispersers could be owing to large size seeds. The same trend was reported from herb-dominant grassland where abiotic factors mostly contribute to dispersal, whereas the tree-dominant vegetation types exhibit dispersal primarily due to biotic means. This study provides a synoptic diagnosis to understand the dispersal profile of India, which has been an understudied domain.
Access options
Buy single article
Instant access to the full article PDF.
US$ 39.95
Tax calculation will be finalised during checkout.
Subscribe to journal
Immediate online access to all issues from 2019. Subscription will auto renew annually.
US$ 119
Tax calculation will be finalised during checkout.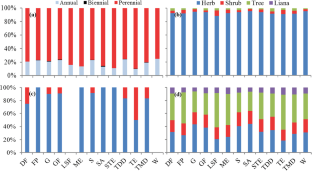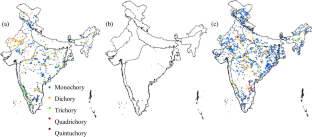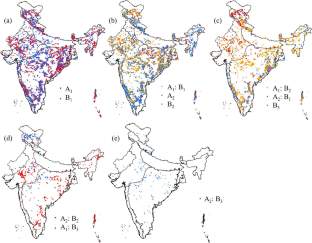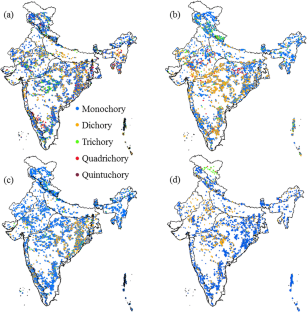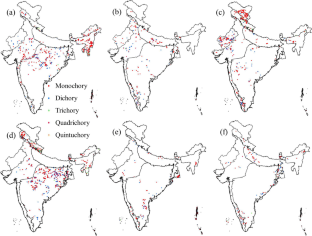 References
Arnold, J. F. (1955). Plant life-form classification and its use in evaluating range conditions and trend. Journal of Range Management, 8(4), 176–181.

Baeten, L., Davies, T. J., Verheyen, K., Van Calster, H., & Vellend, M. (2015). Disentangling dispersal from phylogeny in the colonization capacity of forest understorey plants. Journal of Ecology, 103(1), 175–183.

Baker, H. G. (1972). Seed weight in relation to environmental conditions in California. Ecology, 53(6), 997–1010.

Bascompte, J., Jordano, P., & Olesen, J. M. (2006). Asymmetric coevolutionary networks facilitate biodiversity maintenance. Science, 312(5772), 431–433.

Bawa, K. S. (1995). Pollination, seed dispersal and diversification of angiosperms. Trends in Ecology & Evolution, 10(8), 311–312.

Bhatt, P., Pradhan, N. M., & Wegge, P. (2011). Seed dispersal by megaherbivores: do Asian elephants disperse Mallotus philippinensis, a main food tree in northern India and Nepal? Journal of Natural History, 45(15–16), 915–921.

Champion, H. G., & Seth, S. K. (1968). A revised survey of forest types of India. New Delhi: Manager of Publications, Government of India.

Chatterjee, S., & Basu, P. (2015). Avian frugivory and seed dispersal of a large fruited tree in an Indian moist deciduous forest. Acta Oecologica, 65, 32–40.

Chust, G., Pérez-Haase, A., Chave, J., & Pretus, J. L. (2006). Floristic patterns and plant traits of Mediterranean communities in fragmented habitats. Journal of Biogeography, 33(7), 1235–1245.

Comita, L. S., Uriarte, M., Thompson, J., Jonckheere, I., Canham, C. D., & Zimmerman, J. K. (2009). Abiotic and biotic drivers of seedling survival in a hurricane-impacted tropical forest. Journal of Ecology, 97(6), 1346–1359.

Cook, L. G., & Crisp, M. D. (2005). Directional asymmetry of long-distance dispersal and colonization could mislead reconstructions of biogeography. Journal of Biogeography, 32(5), 741–754.

David, J. P., Manakadan, R., & Ganesh, T. (2015). Frugivory and seed dispersal by birds and mammals in the coastal tropical dry evergreen forests of southern India: a review. Tropical Ecology, 56(1), 41–55.

de Jager, M., Kaphingst, B., Janse, E. L., Buisman, R., Rinzema, S. G., & Soons, M. B. (2019). Seed size regulates plant dispersal distances in flowing water. Journal of Ecology, 107(1), 307–317.

Dexter, K. G. (2010). The influence of dispersal on macroecological patterns of Lesser Antillean birds. Journal of Biogeography, 37(11), 2137–2147.

Dogan, H. M., & Dogan, M. (2006). A new approach to diversity indices–modeling and mapping plant biodiversity of Nallihan (A3-Ankara/Turkey) forest ecosystem in frame of geographic information systems. Biodiversity and Conservation, 15(3), 855–878.

Drezner, T. D., Fall, P. L., & Stromberg, J. C. (2001). Plant distribution and dispersal mechanisms at the Hassayampa River Preserve, Arizona, USA. Global Ecology and Biogeography, 10(2), 205–217.

Eriksson, O., & Bremer, B. (1991). Fruit characteristics, life forms, and species richness in the plant family Rubiaceae. The American Naturalist, 138(3), 751–761.

Forget, P. M., Dennis, A. J., Mazer, S. J., Jansen, P. A., Kitamura, S., Lambert, J. E., et al. (2007). Seed allometry and disperser assemblages in tropical rainforests: a comparison of four floras on different continents (Seed dispersal: theory and its application in a changing world) (pp. 5–36). Wallingford: CAB International Publishing.

Gallagher, R. V., Beaumont, L. J., Hughes, L., & Leishman, M. R. (2010). Evidence for climatic niche and biome shifts between native and novel ranges in plant species introduced to Australia. Journal of Ecology, 98(4), 790–799.

Getzin, S., Wiegand, T., Wiegand, K., & He, F. (2008). Heterogeneity influences spatial patterns and demographics in forest stands. Journal of Ecology, 96(4), 807–820.

Harms, K. E., Condit, R., Hubbell, S. P., & Foster, R. B. (2001). Habitat associations of trees and shrubs in a 50-ha neotropical forest plot. Journal of Ecology, 89(6), 947–959.

Hart, R. (1977). Why are biennials so few? The American Naturalist, 111(980), 792–799.

Heinken, T., & Raudnitschka, D. (2002). Do wild ungulates contribute to the dispersal of vascular plants in central European forests by epizoochory? A case study in NE Germany. Forstwissenschaftliches Centralblatt vereinigt mit Tharandter forstliches Jahrbuch, 121(4), 179–194.

Holmes, M. A., & Matlack, G. R. (2019). Spatial structure develops early in forest herb populations, controlled by dispersal and life cycle. Oecologia, 1–20.

Howe, H. F., & Smallwood, J. (1982). Ecology of seed dispersal. Annual Review of Ecology and Systematics, 13(1), 201–228.

Hubbell, S. P. (2001). The unified neutral theory of biodiversity and biogeography (MPB-32). Princeton University Press.

Hubbell, S. P. (1997). A unified theory of biogeography and relative species abundance and its application to tropical rain forests and coral reefs. Coral reefs, 16(1), S9-S21.

Jara-Guerrero, A., De la Cruz, M., Espinosa, C. I., Méndez, M., & Escudero, A. (2015). Does spatial heterogeneity blur the signature of dispersal syndromes on spatial patterns of woody species? A test in a tropical dry forest. Oikos, 124(10), 1360–1366.

Mahanand, S., & Behera, M. D. (2018). Understanding the Indian mainland–island biogeography through plant dispersal mechanism. Biodiversity and Conservation, 1–22.

Mahanand, S., Behera, M. D., & Roy, P. S. (2017). Plant dispersal profile of Indian tropical sub-continent on the basis of species commonality. Tropical Ecology, 58(2), 357–368.

Mittermeier, R. A. (1997). Megadiversity: Earth's biologically wealthiest nations. Agrupacion Sierra Madre.

Moles, A. T., Falster, D. S., Leishman, M. R., & Westoby, M. (2004). Small-seeded species produce more seeds per square metre of canopy per year, but not per individual per lifetime. Journal of Ecology, 92(3), 384–396.

Montoya, D., Zavala, M. A., Rodríguez, M. A., & Purves, D. W. (2008). Animal versus wind dispersal and the robustness of tree species to deforestation. Science, 320(5882), 1502–1504.

Muñoz, J., Felicísimo, Á. M., Cabezas, F., Burgaz, A. R., & Martínez, I. (2004). Wind as a long-distance dispersal vehicle in the Southern Hemisphere. Science, 304(5674), 1144–1147.

Nathan, R., Horn, H. S., Chave, J., & Levin, S. A. (2002). Mechanistic models for tree seed dispersal by wind in dense forests and open landscapes. Seed dispersal and frugivory: Ecology, evolution and conservation, 69–82.

Nautiyal, M., Nautiyal, B., & Prakash, V. (2001). Phenology and growth form distribution in an alpine pasture at Tungnath, Garhwal, Himalaya. Mountain Research and Development, 21(2), 168–175.

Nelder, J. A., & Wedderburn, R. W. (1972). Generalized linear models. Journal of the Royal Statistical Society: Series A (General), 135(3), 370–384.

Nepstad, D. C., Uhl, C., Pereira, C. A., & Da Silva, J. M. C. (1996). A comparative study of tree establishment in abandoned pasture and mature forest of eastern Amazonia. Oikos, 25–39.

Osuri, A. M., Chakravarthy, D., Mudappa, D., Raman, T. S., Ayyappan, N., Muthuramkumar, S., et al. (2017). Successional status, seed dispersal mode and overstorey species influence tree regeneration in tropical rain-forest fragments in Western Ghats, India. Journal of Tropical Ecology, 33(4), 270–284.

Page, N. V., & Shanker, K. (2018). Environment and dispersal influence changes in species composition at different scales in woody plants of the Western Ghats, India. Journal of Vegetation Science, 29(1), 74–83.

Penn, H. J., & Crist, T. O. (2018). From dispersal to predation: a global synthesis of ant–seed interactions. Ecology and Evolution, 8(18), 9122–9138.

Ram, J., & Arya, P. (1991). Plant forms and vegetation analysis of an alpine meadow of Central Himalaya, India. Proceedings of the Indian National Science Academy. Part B Biological sciences, 57(5), 311–318.

Raunkiær, C., & Stowe, E. (1936). Recherches statistiques sur les formations végétales: United States Forest Service, Division of Silvics.

Roy, P., Kushwaha, S., Murthy, M., Roy, A., Kushwaha, D., Reddy, C., et al. (2012). Biodiversity characterisation at landscape level: national assessment. Indian institute of remote sensing, Dehradun, India.

Roy, P. S., Behera, M. D., Murthy, M., Roy, A., Singh, S., Kushwaha, S., et al. (2015). New vegetation type map of India prepared using satellite remote sensing: comparison with global vegetation maps and utilities. International Journal of Applied Earth Observation and Geoinformation, 39, 142–159.

Silvertown, J. W. (1981). Seed size, life span, and germination date as coadapted features of plant life history. The American Naturalist, 118(6), 860–864.

Smith, H. B. (1927). Annual versus biennial growth habit and its inheritance in Melilotus alba. American Journal of Botany, 14(3), 129–146.

Tabarelli, M., & Mantovani, W. (1999). A regeneração de uma floresta tropical montana após corte e queima (São Paulo-Brasil). Revista Brasileira de Biologia, 59(2), 239–250.

Tabarelli, M., & Peres, C. A. (2002). Abiotic and vertebrate seed dispersal in the Brazilian Atlantic forest: implications for forest regeneration. Biological Conservation, 106(2), 165–176.

Team, R. C (2013). R: a language and environment for statistical computing.

Thomas, H., Thomas, H. M., & Ougham, H. (2000). Annuality, perenniality and cell death. Journal of Experimental Botany, 51(352), 1781–1788.

Thompson, P. L., & Gonzalez, A. (2017). Dispersal governs the reorganization of ecological networks under environmental change. Nature Ecology & Evolution, 1(6), 0162.

Trakhtenbrot, A., Nathan, R., Perry, G., & Richardson, D. M. (2005). The importance of long-distance dispersal in biodiversity conservation. Diversity and Distributions, 11(2), 173–181.

Vander Wall, S. B., Kuhn, K. M., & Beck, M. J. (2005). Seed removal, seed predation, and secondary dispersal. Ecology, 86(3), 801–806.

Westoby, M., French, K., Hughes, L., Rice, B., & Rodgerson, L. (1991). Why do more plant species use ants for dispersal on infertile compared with fertile soils? Australian Journal of Ecology, 16(4), 445–455.

Wiegand, T., Gunatilleke, S., & Gunatilleke, N. (2007). Species associations in a heterogeneous Sri Lankan dipterocarp forest. The American Naturalist, 170(4), E77–E95.
Acknowledgments
The plant species data utilised in the study acquired from a national-level project on 'Biodiversity characterisation at landscape level' is thankfully acknowledged.
Funding
The financial assistance received by S. Mahanand from the University Grants Commision (UGC), Govt. of India in form of Research Fellowship is highly acknowledged.
Additional information
Publisher's note
Springer Nature remains neutral with regard to jurisdictional claims in published maps and institutional affiliations.
This article is part of the Topical Collection on Terrestrial and Ocean Dynamics: India Perspective
Electronic supplementary material
About this article
Cite this article
Behera, M.D., Roy, P.S., Mahanand, S. et al. Angiospermic plant dispersal profile of India—a maiden analysis. Environ Monit Assess 191, 800 (2019). https://doi.org/10.1007/s10661-019-7703-x
Received:

Accepted:

Published:
Keywords
Dispersal

Monochory

Plant longevity

Plant life form

Vegetation type