Abstract
A citizen science microplastic monitoring method was developed to engage the public and quantify microplastic contamination at various sites along an approximately 550 km length of the Ottawa River from Lake Temiskaming to Hawkesbury, Ontario, Canada. The volunteers filtered 100 L of river water through a 100-μm mesh at their desired location along the Ottawa River. All but one of the river samples (n = 43) contained microplastics, with the vast majority of microplastics identified as microfibers. Microplastic concentrations ranged from 0.02 to 0.41 microplastic pieces per litre. We noted numerous advantages in working with citizen scientists including actively engaging citizens in the research, ease of recruiting volunteers within the established Ottawa Riverkeeper network, and expanded spatial coverage at minimal additional costs. Despite these important advantages, there are some important considerations with citizen scientist sampling including the rare events where volunteers mislabelled sample sheets (e.g. labelling as control instead of river sample) and the relatively low volume of water (100 L) that the volunteers could easily sample using our methodology. Recommendations for future citizen science projects for freshwater microplastic research include utilising an established and engaged network, running both field and lab control samples (blanks) to obtain estimates of contamination with microplastic fibres, and increasing the amount of water filtered to obtain more reliable estimates of microplastic pollution in our freshwater ecosystems.
Access options
Buy single article
Instant access to the full article PDF.
USD 39.95
Price excludes VAT (USA)
Tax calculation will be finalised during checkout.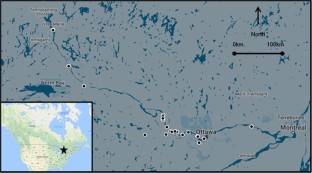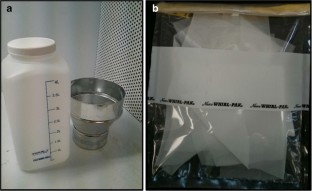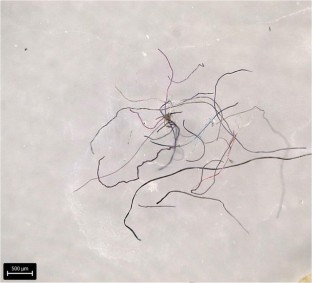 References
Anderson, P. J., Warrack, S., Langen, V., Challis, J. K., Hanson, M. L., & Rennie, M. D. (2017). Microplastic contamination in Lake Winnipeg, Canada. Environmental Pollution, 225, 223–231.

Barrows, A. P. W., Cristiansen, K. S., Bode, E. T., & Hoellein, T. J. (2018). A watershed-scale citizen science approach to quantifying microplastic concentration in a mixed land-use river. Water Research, 47, 382–392.

Bonney, R., Shirk, J. L., Phillips, T. B., Wiggins, A., Ballard, H. L., Miller-Rushing, A. J., & Parrish, J. K. (2014). Next steps for citizen science. Science, 243, 1427–1436.

Browne, M. A., Crump, P., Niven, S. J., Teuten, E., Tonkin, A., Galloway, T., & Thompson, R. (2011). Accumulation of microplastic on shorelines worldwide: sources and sinks. Environmental Science and Technology, 45, 9175–9179.

Canadian Consulting Engineer (C.C.E.). 2016. Gatineau has 1,300 combined sewer-stormwater overflows in a year [online]. Available at < https://www.canadianconsultingengineer.com/water-wastewater/gatineau-1300-combined-sewer-stormwater-overflows-year/1003403223/> [Accessed 11th April, 2018].

Campbell, S. H., Williamson, P. R., & Hall, B. D. (2017). Microplastics in the gastrointestinal tracts of fish and the water from an urban prairie creek. FACETS, 2, 395–409.

Castañeda, R. A., Avlijas, S., Simard, M. A., & Ricciardi, A. (2014). Microplastic pollution in St. Lawrence river sediments. Canadian Journal of Fisheries and Aquatic Sciences, 71(12), 1767–1771.

Conrad, C. C., & Hilchey, K. G. (2011). A review of citizen science and community-based environmental monitoring: issues and opportunities. Environmental Monitoring and Assessment, 176, 273–291.

Dehghani, S., Moore, F., & Akhbarizadeh, R. (2017). Microplastic pollution in deposited urban dust, Tehran metropolis, Iran. Environmental Science Pollution, 24(24), 20360–20371.

Estahbanati, S., & Fahrenfeld, N. L. (2016). Influence of wastewater treatment plant discharges on microplastic concentrations in surface water. Chemosphere, 162, 277–284.

Galgani, F., Hanke, G., & Maes, T. (2015). Global distribution, composition and abundance of marine litter. In M. Bergmann, L. Gutow, & M. Klages (Eds.), Marine Anthropogenic Litter (pp. 29–56). Berlin: Springer.

Geyer, R., Jambeck, J. R., & Law, K. R. (2017). Production, use, and fate of all plastics ever made. Science Advances, 3, e1700782.

Gillett, D. J., Pondella, D. J., II, Freiwald, J., Schiff, K. C., Caselle, J. E., Shuman, C., & Weisberg, S. B. (2012). Comparing volunteer and professionally collected monitoring data from the rocky subtidal reefs of Southern California, USA. Environmental Monitoring and Assessment, 184, 3239–3257. https://doi.org/10.1007/s10661-011-2185-5.

Google Maps. (2018). Ottawa River Valley. Available at https://www.google.com/maps/d/edit?mid=1keY6HFXuoc8qAhUtYCVnEmjw67jFoYMO&ll=46.33389666017136%2C-77.10651934999999&z=7. Accessed 14 Jul 2018.

Hidalgo-Ruz, V., & Thiel, M. (2013). Distribution and abundance of small plastic debris on beaches in the SE Pacific (Chile): a study supported by a citizen science project. Marine Environmental Research, 87–88, 12–18.

Hidalgo-Ruz, V., & Thiel, M. (2015). The contribution of citizen scientists to the monitoring of marine litter. In M. Bergmann, L. Gutow, & M. Klages (Eds.), Marine Anthropogenic Litter (pp. 29–56). Berlin: Springer.

Ho, K. F., Lee, S. C., Chow, J. C., & Watson, J. G. (2003). Characterisation of PM 10 and PM 2.5 source profiles for fugitive dust in Hong Kong. Atmospheric Environment, 37(8), 1023–1032.

Lebreton, L. C. M., van der Zwet, J., Damsteeg, J. W., Slat, B., Andrady, A., & Reisser, J. (2017). River plastic emissions to the world's oceans. Nature Communications. https://doi.org/10.1038/ncomms15611.

Leslie, H. A., Brandsma, S. H., van Velzen, M. J. M., & Vathaak, A. D. (2017). Microplastics en route: field measurements in the Dutch river delta and Amsterdam canals, wastewater treatment plants, North Sea sediments and biota. Environmental International, 101, 133–142.

Li, J., Liu, H., & Chen, J. P. (2017). Microplastics in freshwater systems: a review on occurrence, environmental effects, and methods for microplastics detection. Water Research, 137, 362–374.

Mason, S. A., Garneau, D., Sutton, R., Chu, Y., Ehmann, K., Barnes, J., Fink, P., Papzissimos, D., & Rogers, D. L. (2016). Microplasti pollution is widely detected in US municipal wastewater treatment plant effluent. Environmental Pollution, 218, 1045–1054.

Masura, J., Baker, J., Foster, G. & Arthur, C. 2015. Laboratory methods for the analysis of microplastics in the marine environment: recommendations for quantifying synthetic particles in waters and sediments. NOAA Technical Memorandum NOS-OR&R-48.

Murphy, F., Ewins, C., Carbonnier, F. & Quinn, B. (2016). Wastewater Treatment Works (WwTW) as a Source of Microplastics in the Aquatic Environment. Environmental Science & Technology 50(11), 5800-5808.

Ottawa Riverkeeper. (2018). Watershed Facts [online]. Available at https://www.ottawariverkeeper.ca/watershed-fact [Accessed 14th July 2018].

Plastics—the Facts. 2016. An analysis of European plastics production, demand and waste data [online]. PlasticsEurope, 35 p. Available at https://www.plasticseurope.org/application/files/4315/1310/4805/plastic-the-fact-2016.pdf. Accessed 12 Feb 2019.

Rech, S., Macaya-Caquilpán, V., Pantoja, J. F., Rivadeneira, M. M., Kroeger Campodónico, C., & Thiel, M. (2015). Sampling of riverine litter with citizen scientists — findings and recommendations. Environmental Monitoring and Assessment, 187. https://doi.org/10.1007/s10661-015-4473-y.

Sutton, R., Mason, S., Stanek, S. K., Willis-Norton, E., Wren, I. F., & Box, C. (2016). Microplastic contamination in the San Francisco Bay, California, USA. Marine Pollution Bulletin, 109, 230–235.

Talvitie, J., Mikola, A., Koistinen, A., & Setälä, O. (2017). Solutions to microplastic pollution – removal of microplastics from wastewater effluent with advanced wastewater treatment technologies. Water Research, 123, 401–407.

Vermaire, J. C., Pomeroy, C., Herczegh, S. M., Haggard, O., & Murphy, M. (2017). Microplastic abundance and distribution in the open water and sediment of the Ottawa River, Canada, and its tributaries. FACETS, 2, 301–314.

Wagner, M., & Lambert, S. (2018). Freshwater microplastics: emerging environmental contaminants? Frankfurt: Springer.

Wang, W., Ndungu, A. W., Li, Z., & Wang, J. (2017). Microplastics pollution in inland freshwaters of China: a case study in urban surface waters of Wuhan, China. Science of the Total Environment, 575, 1369–1374.

Windsor, F. M., Tilley, R. M., Tyler, C. R., & Ormerod, S. J. (2019). Microplastic ingestion by riverine macroinvertebrates. Science of the Total Environment, 646, 68–74.

Yeo, B. G., Takada, H., Taylor, H., Ito, M., Hosoda, J., Allinson, M., Connell, S., Greaves, L., & McGrath, M. (2015). POPs monitoring in Australia and New Zealand using plastic resin pellets, and International Pellet Watch as a tool for education and raising public awareness on plastic debris and POPs. Marine Pollution Bulletin, 101, 137–145.

Zalasiewicz, J., Waters, C. N., Ivar do Sul, J., Corcoran, P. L., Barnosky, A. D., Cearreta, A., Edgeworth, M., Gałuszka, A., Jeandel, C., Leinfelder, R., McNeill, J. R., Steffen, W., Summerhayes, C., Wagreich, M., Williams, M., Wolfe, A. P., & Yonan, Y. (2016). The geological cycle of plastics and their use as a stratigraphic indicator of the Anthropocene. Anthropocene, 13, 4–17.

Ziajahromi, S., Neale, P. A., Rintoul, L., & Leusch, F. D. L. (2017). Wastewater treatment plants as a pathway for microplastics: Development of a new approach to sample wastewater-based microplastics. Water Research, 112, 93–99.
Additional information
Publisher's note
Springer Nature remains neutral with regard to jurisdictional claims in published maps and institutional affiliations.
About this article
Cite this article
Forrest, S.A., Holman, L., Murphy, M. et al. Citizen science sampling programs as a technique for monitoring microplastic pollution: results, lessons learned and recommendations for working with volunteers for monitoring plastic pollution in freshwater ecosystems. Environ Monit Assess 191, 172 (2019). https://doi.org/10.1007/s10661-019-7297-3
Received:

Accepted:

Published:

DOI: https://doi.org/10.1007/s10661-019-7297-3
Keywords