Abstract
Along with rapid economic development and population growth, anthropogenic disturbances to natural ecosystems increase the progressively worsening environmental problems in and around water resources, making the potential ecological risks more severe and unpredictable. In order to cope with the increasingly serious issues related to the ecological environment and poverty alleviation, the Government of Yunnan in Southwest China launched a large-scale afforestation campaign (plantation forestry) on the Yunnan–Guizhou Plateau, which is the main source of several major river systems in Southeast Asia. In this study, we use GIS to investigate the impacts of a large-scale afforestation on the water storage balance of Southeast Asia. Results show an expansion of the arid zone in the Yunnan–Guizhou Plateau in recent years, and runoff from rivers has decreased year after year. In contrast to natural forests, planted forests are a characteristic of more water shortages, less rainfall, and higher evapotranspiration rates. Moreover, planted forests may exacerbate conflicts between humans and nature over water resources. Additionally, with respect to downstream populations affected by the government's afforestation policy, China has bore the brunt of the resultant water scarcity predicament (approximately 52.29%), followed by Vietnam (26.39%), Laos (6.78%), Cambodia (6.16%), Thailand (4.42%), and Myanmar (3.96%). To alleviate this problem and the potential crises that may result from it, the Government of China should change its policy from its focus on afforestation to promoting natural vegetation conservation practices.
Access options
Buy single article
Instant access to the full article PDF.
US$ 39.95
Tax calculation will be finalised during checkout.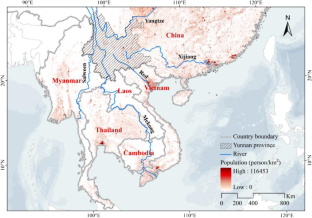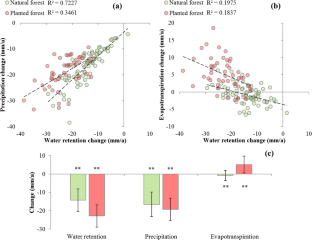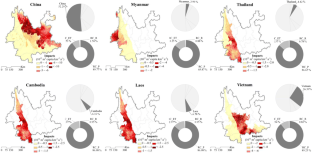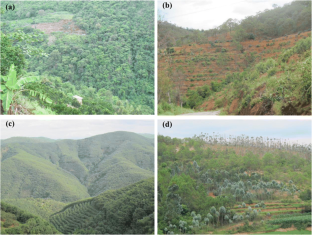 References
Amichev, B. Y., Kurz, W. A., Smyth, C., & Van Rees, K. C. J. (2012). The carbon implications of large-scale afforestation of agriculturally marginal land with short-rotation willow in Saskatchewan. Global Change Biology Bioenergy, 4, 70–87.

Cao, S. (2008a). Impact of spatial and temporal scales on afforestation effects: response to comment on "why large-scale afforestation efforts in China have failed to solve the desertification problem". Environmental Science & Technology, 42, 7724–7725.

Cao, S. (2008b). Response to comment on "why large-scale afforestation efforts in China have failed to solve the desertification problem". Environmental Science & Technology, 42, 8166–8166.

Cao, S. (2015). Evolution of a political industry with examples from Chinese history. Time & Society, 26, 384–398.

Cao, S., & Zhang, J. (2015). Political risks arising from the impacts of large-scale afforestation on water resources of the Tibetan Plateau. Gondwana Research, 28, 898–903.

Cao, S., Zhang, J., Chen, L., & Zhao, T. (2016). Ecosystem water imbalances created during ecological restoration by afforestation in China, and lessons for other developing countries. Journal of Environmental Management, 183, 843–849.

Chandrasekara, S., Prasanna, V., & Kwon, H. H. (2017). Monitoring water resources over the Kotmale reservoir in Sri Lanka using ENSO phases. Advances in Meteorology, 2017, 1–9.

Chen, X., Zhang, X., Zhang, Y., & Wan, C. (2009). Carbon sequestration potential of the stands under the grain for green program in Yunnan Province, China. Forest Ecology and Management, 258, 199–206.

Cheng, Q. (2007). Mapping singularities with stream sediment geochemical data for prediction of undiscovered mineral deposits in Gejiu, Yunnan Province, China. Ore Geology Reviews, 32, 314–324.

Gao, Y., Wang, Y., Zhang, G., Xia, J., Mao, L., et al. (2011a). An approach for assessing soil health: a practical guide for optimal ecological management. Environmental Earth Sciences, 65, 153–159.

Gao, Y., Zhong, B., Yue, H., Wu, B., & Cao, S. (2011b). A degradation threshold for irreversible loss of soil productivity: a long-term case study in China. Journal of Applied Ecology, 48, 1145–1154.

Herron, N., Davis, R., & Jones, R. (2002). The effects of large-scale afforestation and climate change on water allocation in the Macquarie River catchment, NSW, Australia. Journal of Environmental Management, 65, 369–381.

Kong, D., Miao, C., Borthwick, A. G. L., Duan, Q., Liu, H., Sun, Q., Ye, A., di, Z., & Gong, W. (2015). Evolution of the Yellow River Delta and its relationship with runoff and sediment load from 1983 to 2011. Journal of Hydrology, 520, 157–167.

Li, Z., & Fox, J. M. (2012). Mapping rubber tree growth in mainland Southeast Asia using time-series MODIS 250m NDVI and statistical data. Applied Geography, 32(2), 420–432.

Lu, C., Zhao, T., Shi, X., & Cao, S. (2016). Ecological restoration by afforestation may increase groundwater depth and create potentially large ecological and water opportunity costs in arid and semiarid China. Journal of Cleaner Production.

Luo, T. X. (1996). Patterns of net primary productivity for Chinese major forest types and its mathematical models. Chinese Academy of Sciences. (in Chinese)

Marey-Perez, M. F., & Rodriguez-Vicente, V. (2009). Forest transition in northern Spain: local responses on large-scale programmes of field-afforestation. Land Use Policy, 26, 139–156.

Miao, C., Ashouri, H., Hsu, K. L., Sorooshian, S., & Duan, Q. (2015). Evaluation of the PERSIANN-CDR daily rainfall estimates in capturing the behavior of extreme precipitation events over China. Journal of Hydrometeorology, 16, 1387–1396.

Miao, C., Sun, Q., Duan, Q., & Wang, Y. (2016). Joint analysis of changes in temperature and precipitation on the Loess Plateau during the period 1961–2011. Climate Dynamics, 47, 3221–3234.

Monteith, J. L. (1965). Evaporation and environment. Symposium of the society of experimental biology, 19, 205–224.

Moosdorf, N., & Oehler, T. (2017). Societal use of fresh submarine groundwater discharge: an overlooked water resource. Earth-Science Reviews, 171, 338–348.

Mu, Q., Zhao, M., & Running, S. W. (2011). Improvements to a MODIS global terrestrial evapotranspiration algorithm. Remote Sensing of Environment, 115, 1781–1800.

Ouyang, Z. Y., Zheng, H., Xiao, Y., et al. (2016). Improvements in ecosystem services from investments in natural capital. Science, 352(6292), 1455–1459.

Schoenbohm, L. M., Whipple, K. X., Burchfiel, B. C., & Chen, L. (2004). Geomorphic constraints on surface uplift, exhumation, and plateau growth in the Red River region, Yunnan Province, China. Geological Society of America Bulletin, 116, 895–909.

Stagge, J. H., & Moglen, G. E. (2017). Water resources adaptation to climate and demand change in the Potomac River. Journal of Hydrologic Engineering, 22, 04017050.

State Water Agency, (2001-2015). China Water Resources Bulletin. China Water Power Press, Beijing (In Chinese).

State Statistics Bureau, (2001-2015). China Statistical Yearbook. China Statistics Press, Beijing (In Chinese).

Sun, Q., Miao, C., & Duan, Q. (2016). Extreme climate events and agricultural climate indices in China: CMIP5 model evaluation and projections. International Journal of Climatology, 36, 43–61.

Sweet, S. K., Wolfe, D. W., DeGaetano, A., & Benner, R. (2017). Anatomy of the 2016 drought in the northeastern United States: implications for agriculture and water resources in humid climates. Agricultural and Forest Meteorology, 247, 571–581.

Vadell, E., de-Miguel, S., & Peman, J. (2016). Large-scale reforestation and afforestation policy in Spain: A historical review of its underlying ecological, socioeconomic and political dynamics. Land Use Policy, 55, 37–48.

Wang, Z. J., Jiao, J. Y., Su, Y., & Chen, Y. (2014). The efficiency of large-scale afforestation with fish-scale pits for revegetation and soil erosion control in the steppe zone on the hill-gully loess plateau. Catena, 115, 159–167.

Weyerhaeuser, H., Wilkes, A., & Kahrl, F. (2005). Local impacts and responses to regional forest conservation and rehabilitation programs in China's northwest Yunnan province. Agricultural Systems, 85, 234–253.

Wu, J., Miao, C., Zhang, X., Yang, T., & Duan, Q. (2017). Detecting the quantitative hydrological response to changes in climate and human activities. Sci Total Environ, 586, 328–337.

Xiao, Y., Ouyang, Z. Y., Xu, W. H., Xiao, Y., Zheng, H., & Xian, C. F. (2016). Optimizing hotspot areas for ecological planning and management based on biodiversity and ecosystem services. Chinese Geographical Science, 26(2), 256–269.

Xiao, Y., & Ouyang, Z. Y. (2018). Spatial-temporal patterns and driving forces of water retention service in China. Chinese Geographical Science, 1–12.

Yan, D. P., Zhou, M. F., Wang, C. Y., & Xia, B. (2006). Structural and geochronological constraints on the tectonic evolution of the Dulong-Song Chay tectonic dome in Yunnan Province, SW China. Journal of Asian Earth Sciences, 28, 332–353.

Zhao, T. Q. (2004). Research on China terrestrial ecosystem services and their valuation. Chinese Academy of Sciences. (in Chinese).

Zhang, L., Dawes, W. R., & Walker, G. R. (2001). Response of mean annual evapotranspiration to vegetation changes at catchment scale. Water Resources Research, 37(3), 701–708.

Zhang, J., Zhao, T., Jiang, C., & Cao, S. (2016). Opportunity cost of water allocation to afforestation rather than conservation of natural vegetation in China. Land Use Policy, 50, 67–73.

Zhu, F., Qu, L., Fan, W., Qiao, M., Hao, H., & Wang, X. (2011). Assessment of heavy metals in some wild edible mushrooms collected from Yunnan Province, China. Environmental Monitoring and Assessment, 179, 191–199.
Acknowledgements
We would like to thank Brian DOONAN for his help in editing this manuscript as well as the journal editors and anonymous reviewers for their comments on an earlier version.
Funding
This study was supported by key foundational research project of the Science and Technology Bureau of China (no. 2016YFC0502304).
Additional information
Publisher's Note
Springer Nature remains neutral with regard to jurisdictional claims in published maps and institutional affiliations.
About this article
Cite this article
Xiao, Y., Xiao, Q. Impact of large-scale tree planting in Yunnan Province, China, on the water supply balance in Southeast Asia. Environ Monit Assess 191, 20 (2019). https://doi.org/10.1007/s10661-018-7131-3
Received:

Accepted:

Published:
Keywords
Afforestation

Water storage

Southwest China

Southeast Asia

Evapotranspiration