Abstract
Water quality and bacterial contamination from 18 drinking water municipal plants in three locations at Giza governorate were investigated. The average total count of bacteria detected after four stages of treatments in the investigated plants was 32 CFU/1 mL compared to 2330 cfu/mL for raw water, with a reduction percentage of 98.6. Although there is a relatively high removal percent of bacterial contamination from the water sources, however, several bacterial pathogens were identified in the produced water prepared for drinking including Enterococcus faecalis, Escherichia coli, Pseudomonas aeruginosa, and Shigella spp. After 3 days of water incubation at 30 °C, the amount of bacterial endotoxins ranged from 77 to 137 ng/mL in the water produced from the municipal plants compared to 621–1260 ng/mL for untreated water. The main diseases reported from patients attending different clinics and hospitals during summer 2014 at the surveyed locations and assuredly due to drinking water from these plants indicated that diarrheas and gastroenteritis due to E. coli and Campylobacter jejuni constituted 65.7% of the total patients followed by bacillary dysentery or shigellosis due to Shigella spp. (7.9%) and cholera due to Vibrio cholera (7.2%). There was an increase in serum aspartate aminotransferase (AST), alanine aminotransferase (ALT), and alkaline phosphatase (ALP) as well as urea and creatinine values of guinea pigs consuming water produced from the non-governmental plants for 6 months indicating remarkable liver and kidney damages. Histological sections of liver and kidney from the tested animal revealed liver having ballooning degeneration of hepatocytes and distortion and fragmentation of the nuclei, while the section of the kidney showed irregularly distributed wrinkled cells, degenerated Bowman's capsule, congested blood vessels, and inflammatory cells.
Access options
Buy single article
Instant access to the full article PDF.
USD 39.95
Price excludes VAT (USA)
Tax calculation will be finalised during checkout.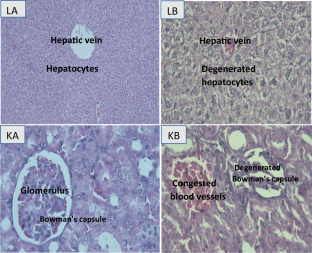 References
Abo-Amer, A. E., Soltan, E. L.-S. M., & Abu-Gharbia, M. A. (2008). Molecular approach and bacterial quality of drinking water of urban and rural communities in Egypt. Acta Microbiologica et Immunologica Hungarica, 55(3), 311–326.

Anderson, L. C. (1987). Guinea pig husbandry and medicine. Small Animal Practice, 17, 1045–1060.

APHA AWWA WEF (1995). Standard methods for the examination of water and wastewater (19th ed.). Washington DC: American Public Health Association.

APHA. (1998). Standard methods for the examination of water and wastewater. In 20th. Washington: DC.

APHA. (2005). Standard methods for the examination of water and waste water. Washington, DC: American Public Health Association.

Ashbolt, N. J. (2004). Microbial contamination of drinking water and disease outcomes in developing regions. Toxicology, 198(1-3), 229–238.

Aziz, R. K., Khalifa, M. M., & Sharaf, R. R. (2015). Contaminated water as a source of Helicobacter pylori infection: a review. Journal of Advanced Research, 6(4), 539–547.

Bancroft, J. D., Cook, H. C., & Turner, D. R. (1994). Manual of histological techniques and their diagnostic application (p. 457). Oxford: Churchill Livingston.

Barker, J., Humphrey, T. J., & Brown, M. W. R. (1999). Survival of Escherichia coli O157 in a soil protozoan: implications for disease. FEMS Microbiology Letters, 173, 291–295.

Bartels, H., & Böhmer, M. (1973). A kinetic method for measurement of creatinine in serum. Medical Laboratory (Stuttgart), 26, 209–215.

Calciati, E., Lafuente, S., De Simó, M., Balfagon, P., Bartolomé, R., & Caylà, J. (2012). A Campylobacter outbreak in a Barcelona school. Enfermedades Infecciosas y Microbiología Clínica, 30(5), 243–245.

Chena, Z., Kahn, M. E., Liu, Y., & Wang, Z. (2018). The consequences of spatially differentiated water pollution regulation in China. Journal of Environmental Economics and Management, 88, 468–485.

Chirsten, P., & Metzler, D. E. (1985). Transaminases. In E. Schmidt & F. W. Schmidt (Eds.), Aminotransferases in human pathology and clinical chemistry (pp. 587–624). New York: Wiley.

Cools, I., Uyttendaele, M., Caro, C., D'Haese, E., Nelis, H. J., & Debevere, J. (2003). Survival of Campylobacter jejuni strains of different origin in drinking water. Journal of Applied Microbiology, 94(5), 886–892.

Craun, G. F., McCabe, J. L., & Hughes, J. M. (1976). Waterborne disease outbreaks in the U.S.—1971-1975. Journal of American Water Works Association, 68, 420–424.

Eckmanns, T., Oppert, M., Martin, M., Amorosa, R., Zuschneid, I., Frei, U., Rüden, H., & Weist, K. (2008). An outbreak of hospital-acquired Pseudomonas aeruginosa infection caused by contaminated bottled water in intensive care units. Clinical Microbiology and Infection, 14(5), 454–458.

Edokpayi, J. N., Rogawski, E. T., Kahler, D. M., Hill, C. L., Reynolds, C., Nyathi, E., Smith, J., Odiyo, J., Samie, A., Bessong, P., & Dillingham, R. (2018). Challenges to sustainable safe drinking water: a case study of water quality and use across seasons in rural communities in Limpopo province, South Africa. Water, 2018(10), 159. https://doi.org/10.3390/w10020159.

El-Kowrany, S. I., El-Zamarany, E. A., El-Nouby, K. A., El-Mehy, D. A., Abo Ali, E. A., Othman, A. A., et al. (2016). Water pollution in the Middle Nile Delta, Egypt: an environmental study. Journal of Advanced Research, 7(5), 781–794.

Fawell, J., & Nieuwenhuijsen, M. J. (2003). Contaminants in drinking water: environmental pollution and health. British Medical Bulletin, 68(1), 199–208.

Ferguson, D. M., Moore, D. F., Getrich, M. A., & Zhowandai, M. H. (2005). Enumeration and speciation of enterococci found in marine and intertidal sediments and coastal water in Southern California. Journal of Applied Microbiology, 99(3), 598–608.

Fox, K. R. (1995). Turbidity as it relates to waterborne disease outbreaks. Cincinnati: M/DBP Information Exchange.

Frank, C. M. D. (1993). Clinical significance of tests available from Dupont. Wisconsin: Clinical Laboratories, University Hospitals, The University of Wisconsin.

Griffith, J. F., Weisberg, S. B., & McGee, C. D. (2003). Evaluation of microbial source tracking methods using mixed fecal sources in aqueous test samples. Journal of Water and Health, 1(4), 141–151.

Gruber, J. S., Ercumen, A., & Colford, J. M. (2014). Coliform bacteria as indicators of diarrheal risk in household drinking water: systematic review and meta-analysis. PLoS One, 9(9), e107429.

Gupta, R. P., Verma, P. C., & Chaturvedi, G. C. (1999). Experimental salmonellosis in guinea-pigs: haematological and biochemical studies. Veterinary Research Communications, 23, 415–424.

Jimenez, B., Maya, C., Sanchez, E., Romero, A., Lira, L., & Barrios, J. A. (2002). Comparison of the quantity and quality of the microbiological content of sludge in countries with low and high content of pathogens. Water Science and Technology, 46(10), 17–24.

Jorgensen, J. H., Lee, J. C., & Pahren, H. R. (1976). Rapid detection of bacterial endotoxins in drinking water and renovated wastewater. Applied and Environmental Microbiology, 32, 347–351.

Kaboré, S., Cecchi, P., Mosser, T., Toubiana, M., Traoré, O., Ouattara, A.S. et al. (2017). Occurrence of Vibrio cholerae in water reservoirs of Burkina Faso. Research in Microbiology, in press. https://doi.org/10.1016/j.resmic.2017.08.004.

Khalid, S., Murtaza, B., Shaheen, I., Ahmad, I., Ullah, M. I., Abbas, T., Rehman, F., Ashraf, M. R., Khalid, S., Abbas, S., & Imran, M. (2018). Assessment and public perception of drinking water quality and safety in district Vehari, Punjab, Pakistan. Journal of Cleaner Production, 181, 224–234.

Khan, K., Lu, Y., Saeed, M. A., Bilal, H., Sher, H., Khan, H., Ali, J., Wang, P., Uwizeyimana, H., Baninla, Y., Li, Q., Liu, Z., Nawab, J., Zhou, Y., Su, C., & Liang, R. (2018). Prevalent fecal contamination in drinking water resources and potential health risks in Swat, Pakistan. Journal of Environmental Sciences (China), 72, 1–12.

King, E. J., & King, P. R. N. (1954). Estimation of plasma phosphatase by determination of hydrolyzed phenol with amino-antipyrene. Journal of Chemical Education, 7, 322–326.

Kleinheinz, G. T., McDermott, C. M., Hughes, S., & Brown, A. (2009). Effects of rainfall on E. coli concentrations at door county, Wisconsin beaches. International Journal of Medical Microbiology, 2009, 876050 9 page.

Lee, H. K., Yeh, Y. Y., & Chen, W. M. (2006). Cancer risk analysis and assessment of trihalomethanes in drinking water. Stochastic Environmental Research and Risk Assessment, 21(1), 1–13.

Lim, J. Y., Yoon, J. W., & Hovde, C. J. (2010). A brief overview of Escherichia coli O157:H7 and its plasmid O157. Journal of Microbial Biotechnology, 20(1), 5–14.

Mead, P. S., Slutsker, L., Dietz, V., McCaig, L. F., Bresee, J. S., Shapiro, C., et al. (1999). Food-related illness and death in the United States. Emerging Infectious Diseases, 5, 607–625.

Mirchink, T. G. (1988). Soil mycology. Moscow: Moscow State University.

Moerman, A., Blokker, M., Vreeburg, J., & van der Hoek, J. P. (2014). Drinking water temperature modelling in domestic systems. Protein Engineering, 89, 143–150.

Momba, M. N. B., & Notshe, T. L. (2003). The effect of long storage and household containers on the microbiological quality of drinking water in rural communities of South Africa. Journal of Water Supply, 52, 67–76.

Mumtaz, M. W., Adnan, A., Mukhtar, H., Nawaz, K., Raza, A., & Ahmed, Z. (2010). Estimation of bacteriological levels in surface water samples to evaluate their contamination profile. Environmental Monitoring and Assessment, 4, 45–46.

Nawab, J., Khan, S., Ali, S., Sher, H., Rahman, Z., Khan, K., et al. (2016). Health risk assessment of heavy metals and bacterial contamination in drinking water sources: a case study of Malakand agency, Pakistan. Environmental Monitoring and Assessment, 188(5), 1–12.

Nguyen, T. V., Pham, Q. D., Do, Q. K., Diep, T. T., Phan, H. C., Ho, T. V., Do, H. T., Phan, L. T., & Tran, H. N. (2017). Cholera returns to southern Vietnam in an outbreak associated with consuming unsafe water through iced tea: a matched case-control study. PLoS Neglected Tropical Diseases, 11(4), e0005490.

Plate, D. K., Strassmann, B. I., & Wilson, M. L. (2004). Water sources are associated with childhood diarrhea prevalence in rural east-central Mali. Tropical Medicine & International Health, 9(3), 416–425.

Quadri, F., Svennerholm, A. M., Faruque, A. S. G., & Sack, R. B. (2005). Enterotoxigenic Escherichia coli in developing countries: Clin. Microbiological Reviews, 18(3), 465–483.

Quesenberry, K. E., & Rosenthal, K. L. (2004). Endocrine diseases. In K. E. Quesenberry & J. W. Carpenter (Eds.), Ferrets, rabbits and rodents clinical medicine and surgery (Second ed., pp. 79–90). Philadelphia: W.B. Saunders.

Reitman, S., & Frank, S. (1957). Transaminases. American Journal of Clinical Pathology, 28, 56–63.

Roslev, P., & Bukh, A. S. (2011). State of the art molecular markers for fecal pollution source tracking in water. Applied Microbiology and Biotechnology, 89, 1341–1355.

Sarwar, G., Khan, J., Iqbal, R., Afridi, A. K., Khan, A., & Sarwar, R. (2004). Bacteriological analysis of drinking water from urban and periurban areas of Peshawar. Journal of Postgraduate Medical Institute, 18, 64–69.

Shareef, K. M., Muhamad, S. G., & Shekhani, N. M. (2009). Physical and chemical status of drinking water from water treatment plants on Greater Zab River. Journal of Applied Sciences and Environmental Management, 13(3), 89–92.

Shen, H., Chen, J., Xu, Y., Lai, Z., Zhang, J., Yang, H., et al. (2017). An outbreak of shigellosis in a children welfare institute caused by a multiple-antibiotic-resistant strain of Shigella flexneri 2a. Journal of Infection and Public Health, S1876-0341(17), 30003–30005.

Smith, E., Hill, R. L., Ilehman, L. R., Lefkwitz, R. J., Handler, P., & White, A. (1988). Principles of biochemistry: mammalian biochemistry (seventh ed.). New York: McGraw-Hill.

Taylor, R., Sloan, D., Cooper, T., Morton, B., & Hunter, I. (2000). A waterborne outbreak of Salmonella Saintpaul. Communicable Diseases Intelligence, 24(11), 336–340.

Thom, S., Warhurst, D., & Drasar, B. S. (1992). Association of Vibrio cholerae with fresh water amoebae. Journal of Medical Microbiology, 36, 303–306.

Tietz, N. W. (1996). Fundamentals of clinical chemistry (fourth ed.). USA: W.B. Saunders Company.

Tsuji, K., Martin, P. A., & Bussey, D. M. (1984). Automation of chromogenic substrate Limulus amebocyte lysate assay method for endotoxin by robotic system. Applied and Environmental Microbiology, 48, 550–555.

UNEP (2001). GLOBIO. Global methodology for mapping human impacts on the biosphere' Report UNEP/DEWA/TR 25' United Nations Environmental Program' Nairobi.

Verheyen, J., Timmen-Wego, M. T., Laudien, R., Boussaad, I., Sen, S., Koc, A., Uesbeck, A., Mazou, F., & Pfister, H. (2009). Detection of adenoviruses and rotaviruses in drinking water sources used in rural areas of Benin, West Africa. Applied and Environmental Microbiology, 75(9), 2798–2801.

Wegelin, M., Canonica, S., Mechsner, K., Fleischmann, T., Pesaro, F., & Metzler, A. (1994). Solar water disinfection: scope of the process and analysis of radiation experiments. Aqua, 43, 154–169.

WHO Geneva (2008). Guidelines for drinking water quality (electronic resource), third edition incorporating first and second addenda, recommendations (Vol. 1). Geneva: WHO.

Wichmann, G., Daegelmann, C., Herbarth, O., Strauch, G., Schirmer, K., Wostemeyer, J., & Lehmann, I. (2004). Inflammatory activity in river-water samples. Environmental Toxicology, 19(6), 594–602.

World Bank (2002). Arab Republic of Egypt Cost Assessment of Environmental Degradation. Report No. 25175-EGT.

Yang, G. Z., Wu, X., Li, T., Li, M., Zhong, Y., Liu, Y., et al. (2011). Epidemiological survey and analysis on an outbreak of gastroenteristis due to water contamination. Biomedical and Environmental Sciences, 24(3), 275–283.

Zahoorullah, A. T., & Zai, S. (2003). Quality of drinking water in rural Peshawar. Pakistan Journal of Medical Research, 42, 85–89.

Zhao, L., Xiong, Y., Meng, D., Guo, J., Li, Y., Liang, L., Han, R., Wang, Y., Guo, X., Wang, R., Zhang, L., Gao, L., & Wang, J. (2017). An 11-year study of shigellosis and Shigella species in Taiyuan, China: active surveillance, epidemic characteristics, and molecular serotyping. Journal of Infection and Public Health, 10, 794–798.

Zlatanović, L. J., van der Hoek, L. P., & Vreeburg, J. H. G. (2017). An experimental study on the influence of water stagnation and temperature change on water quality in a full-scale domestic drinking water system. Water Research, 123, 761–772.

Zvidzai, C., Mukutirwa, T., Mundembe, R., & Sithole-Niang, I. (2007). Microbial community analysis of drinking water sources from rural areas of Zimbabwe. African Journal of Microbiology Research, 1(6), 100–103.
Ethics declarations
Competing interests
The authors declare that they have no competing interests.
Ethical approval
This manuscript received ethical clearance from the Ethic Committee of Cairo University, Egypt, and Egyptian Ministry of Health. Informed data were obtained from the patients, clinics, and hospitals.
About this article
Cite this article
Ouf, S.A., Yehia, R.S., Ouf, A.S. et al. Bacterial contamination and health risks of drinking water from the municipal non-government managed water treatment plants. Environ Monit Assess 190, 685 (2018). https://doi.org/10.1007/s10661-018-7054-z
Received:

Accepted:

Published:

DOI: https://doi.org/10.1007/s10661-018-7054-z
Keywords
Drinking water

Treatment plants

Contamination

Bacteria

Disease outbreak

Liver and kidney damage