Abstract
Laundry detergents, a mixture of different compounds, are used as washing agents in houses and cleaning agents in institutions and industries. As a result, industrial and domestic wastewater usually contains detergent contamination in variable amount. In many developing countries, untreated municipal and industrial wastewater is used for irrigation of crops. There is a possibility that laundry detergents and their ingredients present in irrigation water may affect plant growth as reported in several plant species. However, studies on the effects of laundry detergents on important cereal crops like maize can rarely be found in literature. Therefore, the present study was conducted to evaluate the effects of two commonly used commercial laundry detergents on germination, root-shoot length, fresh biomass, leaf number, leaf width, cell viability, cell injury, light-harvesting pigments, protein contents, and ion concentration in maize (Zea mays L.) seedlings. The obtained results revealed that both the detergents in the tested concentration range (1–500 mg L−1) did not significantly affect seed germination in maize. Similarly, shoot growth, leaf number, and leaf width were not significantly affected by detergents, while in the case of root, one detergent promoted root growth while the other one inhibited it. Both the detergents caused a slight increase in total soluble proteins, and this effect was significant at the highest tested one or two concentrations of detergents (100 and 500 mg L−1). Chlorophylls a and b and total carotenoids were very sensitive to detergent stress and significantly reduced at detergent concentration above 1 or 10 mg L−1. Both the detergents caused an increased cell leakage and reduced cell viability, and in most cases, this effect was statistically significant at detergent doses above 10 mg L−1. Exposure to detergents caused an increased accumulation of Na+, K+, and Ca2+ in maize seedlings. It can be concluded that detergents present in irrigation water at higher concentrations can adversely affect maize by impairing light-harvesting pigments and cell viability.
Access options
Buy single article
Instant access to the full article PDF.
US$ 39.95
Tax calculation will be finalised during checkout.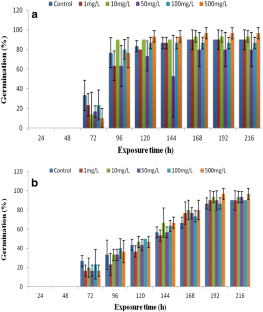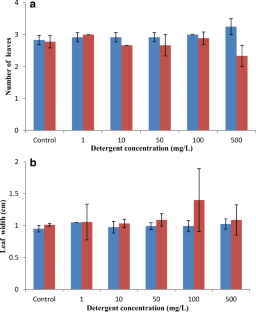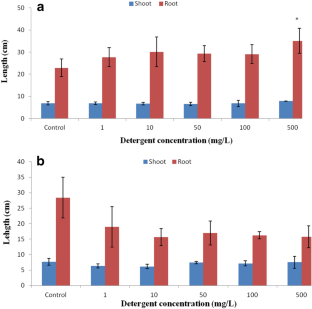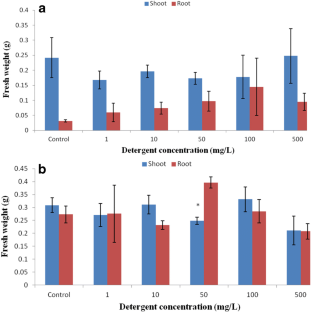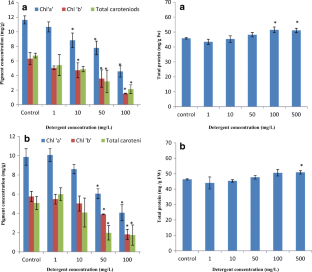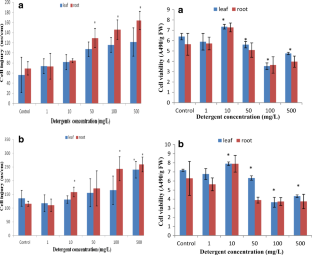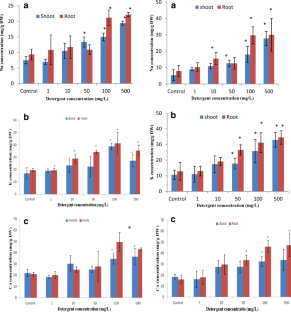 References
Aizdaicher, N. A., & Reunova, A. (2002). Effects of detergents on in vitro growth of diatom alga thalassiosira pseudonana. Russian Journal of Marine Biology, 28, 324–328.

Awan JA, Rehman SU (2005) Food analysis manual. Faisalabad: Unitech Communications.

Azevedo Neto, A. D., Prisco, J. T., Enéas-Filho, J., Lacerda, C. F., Silva, J. V., Costa, P. H., & Gomes-Filho, E. (2004). Effects of salt stress on plant growth, stomatal response and solute accumulation of different maize genotypes. Brazilian Journal of Plant Physiology, 16(1), 31–38.

Azizullah, A., Khattak, M. N. K., Richter, P., & Häder, D.-P. (2011a). Water pollution in Pakistan and its impact on public health — a review. Environment International, 37, 479–497.

Azizullah, A., Richter, P., & Häder, D.-P. (2011b). Toxicity assessment of a common laundry detergent using the freshwater flagellate Euglena gracilis. Chemosphere, 84, 1392–1400.

Azizullah, A., Richter, P., & Häder, D.-P. (2012). Chronic toxicity of a laundry detergent to the freshwater flagellate Euglena gracilis. Ecotoxicology, 21, 1957–1964.

Azizullah, A., Richter, P., Ullah, W., Ali, I., & Häder, D.-P. (2013). Ecotoxicity evaluation of a liquid detergent using the automatic biotest ECOTOX. Ecotoxicology, 22, 1043–1052.

Azizullah, A., Richter, P., & Häder, D.-P. (2014). Photosynthesis and photosynthetic pigments in the flagellate Euglena gracilis - as sensitive endpoints for toxicity evaluation of liquid detergents. Journal of Photochemistry and Photobiology B, 133, 18–26.

Azizullah, A., Shakir, S. K., Shoaib, S., Bangash, H., Taimur, N., Murad, W., & Daud, M. K. (2018). Ecotoxicological evaluation of two anti-dandruff hair shampoos using Lemna minor. Environmental Monitoring and Assessment, 190(5), 268.

Bat, L., Öztekin, A., Şahin, F., Arıcı, E., & Özsandıkçı, U. (2018). An overview of the Black Sea pollution in Turkey. Mediterranean Fisheries and Aquaculture Research, 1(2), 66–86.

Bilen, S., Barik, K. (2016). Effects of laundry detergent residues on some biochemical properties of the farming soil and seeds germination rates. American Society of Agronomy | Crop Science Society of America | Soil Science Society of America. 2016 meeting, November 6–9, Phoenix, AZ. Poster Number 346–212; https://scisoc.confex.com/crops/2016am/webprogram/Paper100210.html

Bradford, M. (1976). A rapid and sensitive method for the quantitation of microgram quantities of protein utilizing the principle of protein-dye binding. Analytical Biochemistry, 72, 248–254.

Briscoe, J., Qamar, U., Contijoch, M., Amir, P., & Blackmore, D. (2006). Pakistan's water economy: running dry. Karachi: Oxford University Press.

Cárdenas, L., Vidali, L., Domınguez, J., Pérez, H., Sánchez, F., Hepler, P. K., & Quinto, C. (1998). Rearrangement of actin microfilaments in plant root hairs responding to Rhizobium etli nodulation signals. Plant Physiology, 116(3), 871–877.

Chawla, G., Viswanathan, P. N., & Devi, S. (1987). Biochemical studies on the toxicity of linear alkylbenzene sulphonate to Scenedesmus quadricauda in culture. Environmental and Experimental Botany, 27, 311–319.

Chun, W. C., & You, H. Z. (2009). Nonionic surfactant Brij35 effects on toluene biodegradation in a composite bead bio-filter. African Journal of Biotechnology, 8, 5406–5414.

Dekker, J. P., Germano, M., van Roon, H., & Boekema, E. J. (2002). Photosystem II solubilizes as a monomer by mild detergent treatment of unstacked thylakoid membranes. Photosynthesis Research, 72, 203–210.

Ehilen, O. E., Obadoni, B. O., Imade, F. N., Eseigbe, D., & Mensah, J. K. (2017). The effect of detergents on the germination and growth of Amaranthus hybridus L. and Solanum lycopersicon L. Nigerian Annals of Natural Sciences, 16(1), 100–108.

El-Katony, T. M., Abou-Dobara, M. I., Hassan, N. M., & Ghozy, E. A. (2014). Availability of detergent, biodegraded by Bacillus subtilis, to Zea mays nutrition. Egyptian Journal of Botany, 54, 169–184.

Ensink, J.H.J., Vander, H.W., Matsuno, Y., Munir, S., Aslam, M.R. (2002). Use of untreated wastewater in peri-urban agriculture in Pakistan: Risks and opportunities. IWMI Research Report No. 64. International Water Management Institute (IWMI), Colombo, Sri Lanka.

Ensink, J. H. J., Mahmood, T., Vander, H. W., Raschid-Sally, L., & Amerasinghe, F. P. (2004). A nation-wide assessment of waste water use in Pakistan: an obscure activity or a vitally important one? Water Policy, 6, 1–10.

Fodorpataki, L., Marton, A. L., & Csorba, T. L. (2001). Stress-physiological investigation of algal cell cultures in polluted media. Contributii Botanice, 36, 101–108.

Gangaprasad, S., Sreedhar, R.V., Salimth, P.M., Ravikumar, R.L. (2004) Induction of male sterility in Niger (Guizotia abyssinica Cass.). In 4th International Crop Science Congress, September 2004 Brisbane, Australia.

Ghoochani, M., Shekoohiyan, S., Mahvi, A. H., Haibati, B., & Norouzi, M. (2011). Determination of detergent in Tehran ground and surface water. American-Eurasian Journal of Agricultural and Environmental Sciences, 10, 464–469.

Ghose, N. C., Saha, D., & Gupta, A. (2009). Synthetic detergents (surfactants) and organochlorine pesticide signatures in surface water and groundwater of greater Kolkata, India. Journal of Water Resource and Protection, 1, 290–298.

Grand View Research (2016). Soap and detergent market size, share & trends analysis report by product (Household detergents, Industrial soaps & detergents, Household soaps), competitive landscape, and segment forecasts, 2018 – 2025. Grand View Research. Accessed at https://www.grandviewresearch.com/industry-analysis/soap-detergent-market. Accessed date: 20 September 2018.

Heidari, H. (2012). Effect of irrigation by contaminated water with cloth detergent on plant growth and seed germination traits of maize (Zea mays). Life Science Journal, 9(4), 1587–1590.

Heidari, H. (2013). Effect of irrigation with contaminated water by cloth detergent on seed germination traits and early growth of sunflower (Helianthus annuus L.). Notulae Scientia Biologicae, 5(1), 86.

Islam, M. O., Khan, H. R., Das, A. K., Akhtar, M. S., Oki, Y., & Adochi, T. (2006). Impacts of industrial effluents on plant growth and soil properties. Soil and Environment, 25(2), 113–118.

Ivanković, T., & Hrenović, J. (2010). Surfactants in the environment. Archives of Industrial Hygiene and Toxicology, 61(1), 95–110.

Izgoren, S.F. (1992). Detergent pollution in Melez stream and correlation with nutrients, Master thesis. Ege University, The Institute of Natural Sciences, Turkey.

Jaramillo, M. F., & Restrepo, I. (2017). Wastewater reuse in agriculture: a review about its limitations and benefits. Sustainability, 9(10), 1734.

Jovanic, B. R,, Bojovic, S., Panic, B,, Radenkovic, B,, Despotovic, M. (2010). The effect of detergent as polluting agent on the photosynthetic activity and chlorophyll content in bean leaves. Health, 2(05):395.

Katerji, N., Van Hoorn, J. W., Hamdy, A., & Mastrorilli, M. (2004). Comparison of corn yield response to plant water stress caused by salinity and by drought. Agricultural Water Management, 65(2), 95–101.

Knievel, D. (1973). Procedures for estimating ratio of live to dead root dry matter in root core samples. Crop Science, 13, 124–126.

Kolber, Z., & Falkowski, P. G. (1993). Use of active fluorescence to estimate phytoplankton photosynthesis in situ. Limnology and Oceanography, 38, 1646–1665.

Korshenko, A., Gul, A.G. (2005). Pollution of the Caspian Sea. In: The Caspian Sea environment, Springer, Berlin, Heidelberg. pp. 109–142.

Lichtenthaler, H. K., & Wellburn, A. R. (1983). Determination of total carotenoids and chlorophylls 'a' and 'b' of leaf in different solvents. Biochemical Society Transactions, 11, 591–592.

Lightowlers, P. (2004). Still dirty: a review of action against toxic products in Europe. A report of WWF-UK.

Mikolajczyk, E., & Diehn, B. (1978). Morphological alteration in Euglena gracilis induced by treatment with CTAB (Cetyltrimethylammonium bromide) and Triton X-100: correlations with effects on photophobic behavioral responses. The Journal of Protozoology, 25, 461–470.

Minareci, O., Öztürk, M., Egemen, Ö., & Minareci, E. (2009). Detergent and phosphate pollution in Gediz River, Turkey. African Journal of Biotechnology, 8(15), 3568.

Misra, R. K., Patel, J. H., & Baxi, V. R. (2010). Reuse potential of laundry greywater for irrigation based on growth, water and nutrient use of tomato. Journal of Hydrology, 386(1–4), 95–102.

Murtaza, G., Zia, M.H. (2012). Wastewater production, treatment and use in Pakistan. In Second Regional Workshop of the Project 'Safe Use of Wastewater in Agriculture (pp. 16–18).

Nand, L., & Richa, M. (2003). Synthetic detergent in-duced changes in the seed inhibition pattern and dehydrogenese activity in mungbean (Vigna radiata). Ecology, Environment and Conservation Paper, 9, 379–383.

Nyberg, H., & Koskimies-Soininen, K. (1984). The phospholipid fatty acids of Porphyridium purpureum cultured in the presence of Triton X-100 and sodium desoxycholate. Phytochemistry, 23, 2489–2493.

Pandey, P., & Gopal, B. (2010). Effect of detergents on the growth of two aquatic plants: azolla pinnata and Hydrilla verticillata. Environment & We: An International Journal of Science and Technology, 5:107–14.

Pastewski, S., & Medrzycka, K. (2003). Monitoring surfactant concentrations in surface waters in Tricity agglomeration. Polish Journal of Environmental Studies, 12(5), 643–646.

Pavlic, Ž., Vidaković-Cifrek, Ž., & Puntarić, D. (2005). Toxicity of surfactants to green microalgae Pseudokirchneriella subcapitata and Scenedesmus subspicatus and to marine diatoms Phaeodactylum tricornutum and Skeletonema costatum. Chemosphere, 61(8), 1061–1068.

Pettersson, M., & Ekelund, N. G. A. (2006). Effects of the herbicides roundup and avans on Euglena gracilis. Archives of Environmental Contamination and Toxicology, 50, 175–181.

Pinto, U., Maheshwari, B. L., & Grewal, H. S. (2010). Effects of greywater irrigation on plant growth, water use and soil properties. Resources, Conservation and Recycling, 54(7), 429–435.

Polat, N., & Akkan, T. (2016). Assessment of heavy metal and detergent pollution in Giresun coastal zone, Turkey. Fresenius Environmental Bulletin, 25(8), 2884–2890.

Poongodi, N., & Sasikala, T. (2013). Effect of detergent on selected morphological and biochemical parameters of green gram (Vigna radiata L.). Biotechnology, 2(7), 9–10.

Ruban, A. V., Lee, P. J., Wentworth, M., Young, A. J., & Horton, P. (1999). Determination of the stoichiometry and strength of binding of xanthophylls to the photosystem II light harvesting complexes. The Journal of Biological Chemistry, 274, 10458–10465.

Sawadogo, B., Sou, M., Hijikata, N., Sangare, D., Maiga, A. H., & Funamizu, N. (2014). Effect of detergents from grey water on irrigated plants: case of okra (Abelmoschus esculentus) and lettuce (Lactuca sativa). Journal of Arid Land, 24, 117–120.

Singh, K. K., & Mishra, L. C. (1987). Effects of fertilizer factory effluent on soil and crop productivity. Water, Air, and Soil Pollution, 33(3–4), 309–320.

Smulders, E., von Rybinski, W., Sung, E., Rähse, W., Steber, J., Wiebel, F., & Nordskog, A (2009). Laundry Detergents. In M. Bohnet, C.J. Brinker, H. Clemens, B. Cornils, T.J. Evans, H. Greim, L.L. Hegedus, J. Heitbaum, W.A. Herrmann, U. Karst, et al. (Eds.), Ullmanns encyclopedia of industrial chemicals. Weinheim: Wiley-VCH Verlag GmbH.

Sobrino-Figueroa, A. (2018). Toxic effect of commercial detergents on organisms from different trophic levels. Environmental Science and Pollution Research, 25, 13283–13291.

Tanee, F. B., & Jude, K. (2017). Microcosm trial of the use of detergent for mitigation of crude oil toxicity for optimal growth of maize (Zea mays, L). Journal of Applied Sciences and Environmental Management, 21(1), 18–28.

Ullah, H., Khan, I., & Ullah, I. (2012). Impact of sewage contaminated water on soil, vegetables and underground water of peri-urban Peshawar, Pakistan. Environmental Monitoring and Assessment, 84, 6411–6421.

Wind, T., Werner, U., Jacob, M., & Hauk, A. (2004). Environmental concentrations of boron, LAS, EDTA, NTA and Triclosan simulated with GREAT-ER in the river Itter. Chemosphere, 54(8), 1145–1154.

Yahaya, T., Okpuzor, J., & Oladele, E. O. (2011). Investigation of toxicity of detergents. Journal of Environmental Science and Technology, 4(6), 638–645.

Yu, Q., Oomae, A., Futamata, H., Matsuda, S. (2016) Analysis of the origin of soluble COD in Lake Sanaru. InMATEC Web of Conferences (Vol. 60, p. 02005). EDP Sciences.
Acknowledgments
We acknowledge all staff at the Department of Botany, KUST for their help and support.
Ethics declarations
Conflict of interest
The authors declare that they have no conflict of interest. The work was a part of M.Phil thesis of Syeda Uzma submitted to the Department of Botany, KUST.
Ethical statement
This study did not involve any human or animal samples.
About this article
Cite this article
Uzma, S., Khan, S., Murad, W. et al. Phytotoxic effects of two commonly used laundry detergents on germination, growth, and biochemical characteristics of maize (Zea mays L.) seedlings. Environ Monit Assess 190, 651 (2018). https://doi.org/10.1007/s10661-018-7031-6
Received:

Accepted:

Published:
Keywords
Laundry detergents

Maize

Phytotoxicity

Cell injury

Cell viability

Chlorophyll