Abstract
The objective of this study was to identify Z. indianus in PEJC and PESCAN. Listed are the following methods: to isolate bacteria from the integument of the Z. indianus species collected and to check the resistance of microorganisms to antibiotics. Collections of Z. indianus were performed in four seasons of the two parks. The results obtained suggest that the low amount of Z. indianus collected can be justified by environmental factors such as high average temperature and low average humidity. It is noted that there is a predominance of bacteria of the Enterobacteriaceae family found in both the PEJC and the PESCAN. The antibiogram performed for the isolated PEJC bacteria shows statistical significance when comparing the edge and inside values of the park. Studies with fungi were also carried out, and it was evidenced that Trichophyton spp. was the genus that most inhabited the two environments studied. The ability of fluconazole and ketoconazole to inhibit fungal growth was also investigated, and considering the concentration tested may suggest that they have good action spectra. Plasmid profile data show that 60% of antibiotic-resistant bacteria have plasmids. The values found show that Z. indianus can act as vectors of microorganisms that affect the healthy animals and humans and that these organisms may be influenced by seasons.
This is a preview of subscription content, log in to check access.
Access options
Buy single article
Instant access to the full article PDF.
US$ 39.95
Price includes VAT for USA
Subscribe to journal
Immediate online access to all issues from 2019. Subscription will auto renew annually.
US$ 199
This is the net price. Taxes to be calculated in checkout.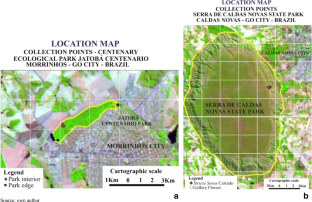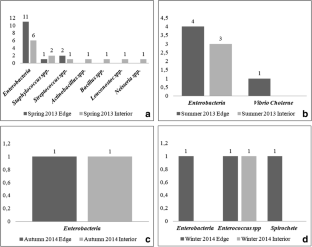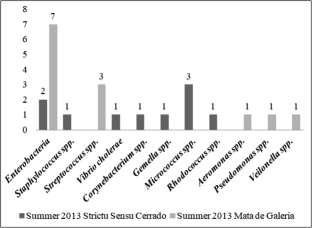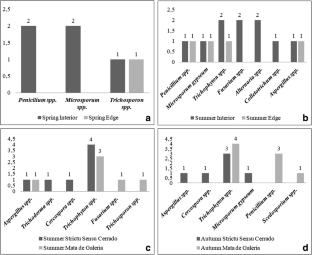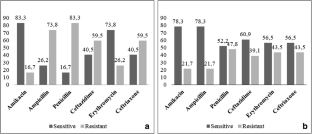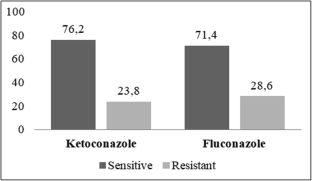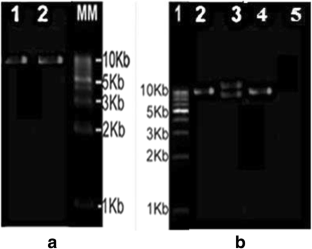 References
Agência ambiental de goiás (2005) Disponível em: http//www3.agenciaambienta.go.gov.br/site/conservação/parques.php?parque=0000000055. Access in: 10 feb. 2017.

Albazazi, R. I., & Bal, E. B. B. (2014). Microflora of digestive tract in poultry. KSU Journal Nature Science, 17(1), 39–42.

Alekshum, M. N., & Levy, S. B. (2007). Molecular mechanisms of antibacterial multidrug resistance. Cell Cambridge, 128(6), 1037–1050.

ANVISA - Agência Nacional de Vigilância Sanitária (2004) Descrição dos Meios de Cultura Empregados nos Exames Microbiológicos- Módulo IV.

Bennett, P. M. (2008). Plasmid encoded antibiotic resistance: Acquisition and transfer of antibiotic resistance genes in bacteria. British Journal of Pharmacology, 153(S1), S347–S357.

Cabral, J. P. S. (2010). Water microbiology. Bacterial pathogens and water. International Journal Environmental Residence Public Health, 7, 3657–3703.

Campos, S. R. C., Rieger, T. T., & Santos, J. F. (2007). Homology of polytene elements between Drosophila and Zaprionus determined by in situ hybridization in Zaprionus indianus. Genetic and Molecular Research, 6(2), 262–276.

Cleverton, J. C., Hochmüller, M. L. S., Valente, V. L. S., & Schmitz, H. J. (2010). The drosophilid fauna (Diptera, Drosophilidae) of the transition between the Pampa and Atlantic Forest Biomes in the state of Rio Grande do Sul, southern Brazil: First records. Papéis Avulsos de Zoologia, 50(19), 285–295.

CLSI, Clinical and Laboratory Standards Institute (2016) Normas de Desempenho para testes de sensibilidade antimicrobiana: 15 Suplemento Informativo. Documents M2 – M8 and M100 – S15, 24, 177.

Doge JS, Gaiesky VLSV, Hofmann PLP (2006) Variação temperoral e espacial e influência do desflorestamento e do efeito de borda e assembleias de drosofilídeos de uma área de Mata Atlântica em Santa Catarina, Brasil. Dissertação de Mestrado. Universidade Federal do Rio Grande do Sul.

Epsky, N. D., Gill, M. A., & Mangan, R. L. (2015). Grape juice as a bait for Anastrepha suspensa (Diptera: Tephritidae) and Zaprionus indianus (Diptera: Drosophilidae). Journal of Economic Entomology, 108, 2065–2073.

Ferreira LD, Lopes MG (2006) Carta de declividade da Serra de Caldas-GO. 96f Monografia (Graduação -Licenciatura Plena em Geografia) – Universidade Estadual de Goiás, Morrinhos.

Garcia, C. F., Hochmüller, C. J. C., Valente, V. L. S., & Schmitz, H. J. (2012). Drosophilid assemblages at different urbanization levels in the City of Porto Alegre, state of Rio Grande do Sul, Southern Brazil. Neotropical Entomology, 41(1), 32–41.

Gilmore, M. S., Clewell, D. B., Ike, Y., & Shankar, N. (2014). Enterococci from commensals to leading causes of drug resistant infection (pp. 1–35). Boston: Massachusetts Eye and Ear Infirmary.

Gomes, L. H., Echeverrigaray, S., Conti, J. H., Lourenço, M. V. M., & Duarte, K. M. R. (2003). Presence of the yeast Candida tropicalis in figs infected by the fruit fly Zaprionus indianus (Dip:. Drosophilidae). Brazililian Journal of Microbiology, 34, 125–130.

Gupta, J. P. (1970). Description of a new species of phorticella Zaprionus (Drosophilidae) from India. Proceedings the Indian national Science academy, 36(1), 62–65.

Hendriksen, R. S., Price, L. B., Schupp, J. M., Gillece, J. D., Kaas, R. S., Engelthaler, D. M., Bortalaia, V., Pearson, T., Waters, A. E., Upadhyay, B. P., Shrestha, S. D., Adhikari, S., Shakya, G., Keim, P. S., & Aarestrup, F. M. (2011). Population genetics of Vibrio cholerae from Nepal in 2010: Evidence on the origin of the Haitian outbreak. mBio, 2(4), 157–111.

Hoang, D., Kopp, A., & Chandler, J. Á. (2015). Interactions between Drosophila and its natural yeast symbionts—Is Saccharomyces cerevisiae a good model for studying the fly-yeast relationship? Peer Journal, 3, e1116.

Hochmüller, C. J., Lopes-da-Silva, M., Valente, V. L. S., & Schmitz, H. J. (2010). The drosophilid fauna (Diptera, Drosophilidae) of the transition between the Pampa and Atlantic Forest Biomes in the state of Rio Grande do Sul, southern Brazil: First records. Papéis Avulsos de Zoologia, 50, 285–295.

Joshi, N. K., Biddinger, D. J., Demchak, K., & Deppen, A. (2014). First report of Zaprionus indianus (Diptera: Drosophilidae) in commercial fruits and vegetables in Pennsylvania. Journal of Insect Science, 14(259), 1–4.

Koneman, E. M., Allen, S. D., Janda, W. M., Schreckenberger, P. C., & Winn Junior, N. C. (2010). Diagnóstico Microbiológico (6th ed.pp. 81–86). Rio de Janeiro: Guanabara Koogan.

Lima, T. A., Pinto, J. R. R., Lenza, E., & Pinto, A. S. P. (2010). Florística e estrutura da vegetação arbustivo-arbórea em uma área de cerrado rupestre no Parque Estadual da Serra de Caldas Novas, Goiás. Biota Neotroical, 10(2), 159–166.

Marchiori, C. H. (2014). Diptera of economic and sanitary importance collected on different substrates in southern Goiás, Brazil. International Journal of Advanced Technology and science, 1, 1–14.

Martins RA, Santos EV, Ferreira IM (2009) Atualização do mapa remanescentes florestal do município de Morrinhos – GO: utilizando imagem LANDSAT – TM. In: XI EREGEO. Simpósio regional de geografia. Anais Jataí. UFG, 252–261.

Mata, R. A., McGeoch, M., & Tidon, R. (2008). Drosophilid assemblages as a bioindicator system of human disturbance in the Brazilian savanna. Biodiversity and Conservation, 19, 2899–2916.

Matavelli, C., Carvalho, M. J., Martins, N. E., & Mirth, C. K. (2015). Differences in larval nutritional requirements and female oviposition preference reflect the order of fruit colonization of Zaprionus indianus and Drosophila simulans. Journal Insect Physiology, 82, 66–74.

Moura, A., Henriques, I., Smalla, K., & Correia, A. (2010). Wastewater bacterial communities bring together broad-host range plasmids, integrons and a wide diversity of uncharacterized gene cassettes. Research in Microbiology, 161(1), 58–66.

Ort, B. S., Bantay, R. M., Pantoja, N. A., & O'Grady, P. M. (2012). Fungal diversity associated with Hawaiian Drosophila host plants. PLoS One, 7(7), e40550.

Penariol, L. V., & Madi-Ravazzi, L. (2013). Edge-interior differences in the species richness and abundance of drosophilids in a semideciduous forest fragment. SpringerPlus, 2(1), 114.

Penariol LV, Ravazzi LM (2012) Traços quantitativos e abundância de drosofilídeos como indicadores de impacto ambiental em fragmentos de floresta estacional semidecidual. Tese (Doutorado) - Instituto de Biociência, Letras e Ciências Exatas, São José do Rio Preto.

Prabhakaran, P. M., & Sheeba, V. (2013). Insights into differential activity patterns of drosophilids under semi-natural conditions. The Journal of Experimental Biology, 216, 4691–4702.

Ravi, P., & Yadav, J. P. (1993). Geographical clinal variation at seven esterase-coding loci in Indian populations of Zaprionus indianus. Hereditas, 119, 161–170.

Rego, L. N. A. A., Souza, R. S., Oliveira, M. T. V. A., & Ravazzi, M. L. (2013). Spermatogenesis of Zaprionus indianus and Zaprionus sepsoides (Diptera, Drosophilidae): Cytochemical, structural and ultrastructural characterization. Genetics and Molecular Biology, 36(1), 50–60.5.

Renkema, J. M., Miller, M., Fraser, H., Légaré, J. P. H., & Hallett, R. H. (2013). First records of Zaprionus indianus Gupta (diptera: Drosophilidae) from commercial fruit fields in Ontario and Quebec, Canada. Journal Entomology Society Ontology, 144, 125–130.

Silva, N. A. P., Frizzas, M. R., & Oliveira, C. M. (2011a). Seasonality in insect abundance in the "Cerrado" of Goiás state, Brazil. Revista Brasileira de Entomologia, 55(1), 79–87.

Silva, R. F., Mendonça, S. C., Carvalho, L. M., Reis, A. M., Gordo, I., Trindade, S., & Dionisio, F. (2011b). Pervasive sign epistasis between conjugative plasmids and drug-resistance chromosomal mutations. PLoS Genetics, 7(7), e1002181.

Tzelepis, I., Kapsetaki, S. E., Panayidou, S., & Apidianakis, Y. (2013). Drosophila melanogaster: A first step and a stepping-stone to anti-infectives. Curr Opin Pharmacol, 13, 763–768.
Funding
The authors thank the National Council for Scientific and Technological Development (CNPq) for granting scholarship.
Ethics declarations
Conflict of interest
The authors declare that they have no conflict of interest.
About this article
Cite this article
da Cruz, G.A.F., de Jesus Pires, D., Bataus, L.A.M. et al. Cultivable microbiome and its resistance to antimicrobials isolated from Zaprionus indianus. Environ Monit Assess 190, 616 (2018). https://doi.org/10.1007/s10661-018-6974-y
Received:

Accepted:

Published:
Keywords
Bacteria

Biodiversity

Environmental

Microorganism

Resistance

Vector