Abstract
Fluorosis is a public health problem in India; to know its prevalence and severity along with its mitigation measures is very important. The present study has been undertaken with the aim to assess the F dose-dependent clinical and subclinical symptoms of fluorosis and reversal of the disease by providing safe drinking water. For this purpose, a cross-sectional study was undertaken in 1934 schoolgoing children, Nalgonda district. Study villages were categorized into control (category I, F = 0.87 mg/L), affected (category II, F = 2.53 mg/L, and category III, F = 3.77 mg/L), and intervention categories (category IV, F = < 1.0 mg/L). School children were enrolled for dental grading by modified Dean Index criteria. Anthropometric measurements (height and weight) were used to assess nutritional status of the children. The biochemical parameters like serum T3, T4, TSH, PTH, ALP, 25-OH vitamin D, and 1,25-(OH)2 vitamin D were analyzed. The results showed a positive correlation between the drinking water and urinary fluoride (UF) in different categories. However, there was a significant decrease in the UF levels in the intervention category IV compared to affected group (category III). Fluoride altered the clinical (dental fluorosis and stunting) and subclinical indices (urine and blood) of fluorosis in a dose-dependent manner. In conclusion, the biochemical indices were altered in a dose-dependent manner and intervention with safe drinking water for 5 years in intervention group-mitigated clinical and subclinical symptoms of fluorosis.
Access options
Buy single article
Instant access to the full article PDF.
US$ 39.95
Tax calculation will be finalised during checkout.
Subscribe to journal
Immediate online access to all issues from 2019. Subscription will auto renew annually.
US$ 119
Tax calculation will be finalised during checkout.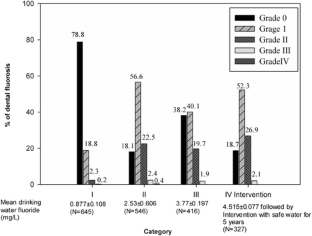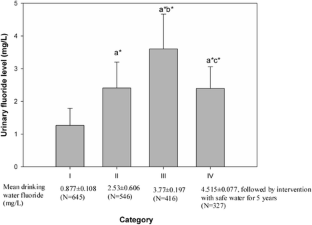 References
Ahmed, I., Rafique, T., Hasan, S. K., Khan, N., Khan, M. H., & Usmani, T. H. (2012). Correlation of fluoride in drinking water with urine, blood plasma, and serum fluoride levels of people consuming high and low fluoride drinking water in Pakistan. Fluoride, 45(4), 384–388.

Bowers, G. N., & Mc Comb, R. B. (1966). A continuous spectrophotometric method for measuring the activity of serum alkaline phosphatase. Clinical Chemistry, 12(2), 70–89.

Chen, S., Boling, L., Shao, L., Yixiang, H., Xinhua, Z., Min, Z., Yuan, X., Xiaoheng, F., Junyi, W., Syni-An, H., & Shouyi, Y. (2013). Change of urinary fluoride and bone metabolism indicators in the endemic fluorosis areas of southern China after supplying low fluoride public water. BMC Public Health, 13(1), 156. https://doi.org/10.1186/1471-2458-13-156

Correia Sampaio, F., Ramm von der Fehr, F., Arneberg, P., Petrucci Gigante, D., & Hatløy, A. (1999). Dental fluorosis and nutritional status of 6– to 11–year–old children living in rural areas of Paraíba, Brazil. Caries Research, 33(1), 66–73. https://doi.org/10.1159/000016497

Den Besten, P. K. (1999). Biological mechanisms of dental fluorosis relevant to the use of fluoride supplements. Community Dentistry and Oral Epidemiology, 27(1), 41–47.

Ge, Y., Ning, H., Wang, S., & Wang, J. (2005). DNA damage in thyroid gland cells of rats exposed to long term intake of high fluoride and low iodine. Fluoride, 38, 318–323.

Gupta, S. K., Khan, T. I., Gupta, R. C., Gupta, A. B., Gupta, K. C., Jain, P., & Gupta, A. (2001). Compensatory hyperparathyroidism following high fluoride ingestion—a clinico-biochemical correlation. Indian Pediatrics, 38(2), 139–146.

Johnson, W., Taves, D. R., & Jowsey, J. (1979). Fluoridation and bone disease in renal patients. In Continuing evaluation of the use of fluorides. AAAS selected symposium (pp. 275–293). Boulder: Westview Press.

Khandare, A. L., Harikumar, R., & Sivakumar, B. (2005). Severe bone deformities in young children from vitamin D deficiency and fluorosis in Bihar-India. Calcified Tissue International, 76(6), 412–418. https://doi.org/10.1007/s00223-005-0233-2

Koroglu, B. K., Ersoy, I. H., Koroglu, M., Balkarli, A., Ersoy, S., Varol, S., & Tamer, M. N. (2011). Serum parathyroid hormone levels in chronic endemic fluorosis. Biological Trace Element Research, 143(1), 79–86. https://doi.org/10.1007/s12011-010-8847-2

Kumar, S., Lata, S., Yadav, J., & Yadav, J. P. (2017). Relationship between water, urine and serum fluoride and fluorosis in school children of Jhajjar District, Haryana, India. Applied Water Science, 7(6), 3377–3384. https://doi.org/10.1007/s13201-016-0492-2

Liu, J. L., Xia, T., Yu, Y. Y., Sun, X. Z., Zhu, Q., He, W., Zhang, M., & Wang, A. (2005). The dose-effect relationship of water fluoride levels and renal damage in children. Wei Sheng Yan Jiu, 34(3), 287–288.

Majumdar, K. K. (2011). Health impact of supplying safe drinking water containing fluoride below permissible level on fluorosis patients in a fluoride-endemic rural area of West Bengal. Indian Journal of Public Health, 55(4), 303–308. https://doi.org/10.4103/0019-557X.92411

Majumdar, K. K., & Sundarraj, S. N. (2013). Health impact of supplying safe drinking water on patients having various clinical manifestations of fluorosis in an endemic village of West Bengal. Journal of Family Medicine and Primary Care, 2(1), 74–78. https://doi.org/10.4103/2249-4863.109953

Melse-Boonstra, A., & Mackenzie, I. (2013). Iodine deficiency, thyroid function and hearing deficit: a review. Nutrition Research Reviews, 26(2), 110–117. https://doi.org/10.1017/S0954422413000061

Patel, P. P., Patel, P. A., Zulf, M. M., Yagnik, B., Kajale, N., Mandlik, R., Khadilkar, V., Chiplonkar, S. A., Phanse, S., Patwardhan, V., Joshi, P., Patel, A., & Khadilkar, A. V. (2017). Association of dental and skeletal fluorosis with calcium intake and serum vitamin D concentration in adolescents from a region endemic for fluorosis. Indian Journal of Endocrinology and Metabolism, 21(1), 190–195. https://doi.org/10.4103/2230-8210.196013

Pettifor, J. M., Schnitzler, C. M., Ross, F. P., & Moodley, G. P. (1989). Endemic skeletal fluorosis in children: hypocalcemia and the presence of renal resistance to parathyroid hormone. Bone and Mineral, 7(3), 275–288. https://doi.org/10.1016/0169-6009(89)90084-6

Rocha-Amador, D., Navarro, M. E., Carrizales, L., Morales, R., & Calderon, J. (2007). Decreased intelligence in children and exposure to fluoride and arsenic in drinking water. Cadernos de Saúde Pública, 23(suppl 4), S579–S587. https://doi.org/10.1590/S0102-311X2007001600018

Ross, P. D., & Knowlton, W. (1998). Rapid bone loss is associated with increased levels of biochemical markers. Journal of Bone and Mineral Research, 13(2), 297–302. https://doi.org/10.1359/jbmr.1998.13.2.297

Rozier, R. G. (1994). Epidemiologic indices for measuring the clinical manifestations of dental fluorosis. Overview and critique. Advances in Dental Research, 8(1), 39–55. https://doi.org/10.1177/08959374940080010901

Sarvaiya, B. U., Bhayya, D., Arora, R., & Mehta, D. N. (2012). Prevalence of dental fluorosis in relation with different fluoride levels in drinking water among school going children in Sarada tehsil of Udaipur district, Rajasthan. Journal of Indian Society of Pedodontics and Preventive Dentistry, 30(4), 317–322. https://doi.org/10.4103/0970-4388.108929

Saxena, S., Sahay, A., & Goel, P. (2012). Effect of fluoride exposure on the intelligence of school children in Madhya Pradesh, India. Journal of Neuroscience in Rural Practice, 3(2), 144–149. https://doi.org/10.4103/0976-3147.98213

Sebastian, S. T., Soman, R. R., & Sunitha, S. (2016). Prevalence of dental fluorosis among primary school children in association with different water fluoride levels in Mysore district, Karnataka. Indian Journal of Dental Research, 27(2), 151–154. https://doi.org/10.4103/0970-9290.183126

Shankar, P., Ghosh, S., Bhaskarachary, K., Venkaiah, K., & Khandare, A. L. (2013). Amelioration of chronic fluoride toxicity by calcium and fluoride-free water in rats. British Journal of Nutrition, 110(1), 95–104. https://doi.org/10.1017/S0007114512004758

Shanthi, M., Vishnuvardhan Reddy, B., Venkataramana, V., Gowrisankar, S., Thimma Reddy, B. V., & Sireesha, C. (2014). Relationship between drinking water fluoride levels, dental fluorosis, dental caries and associated risk factors in 9-12 years old school children of Nelakondapally mandal of Khammam district, Andhra Pradesh, India: a cross-sectional survey. Journal of International Oral Health, 6(3), 106–110.

Shashi, A., & Singla, S. (2013). Parathyroid function in osteofluorosis. World Journal of Medical Sciences, 8(1), 67–73.

Singh, N., Verma, K. G., Verma, P., Sidhu, G. K., & Sachdeva, S. (2014). A comparative study of fluoride ingestion levels, serum thyroid hormone & TSH level derangements, dental fluorosis status among school children from endemic and non-endemic fluorosis areas. Springer Plus, 3(1), 7. https://doi.org/10.1186/2193-1801-3-7

Srivastava, R. N., Gill, D. S., Moudgil, A., Menon, R. K., Thomas, M., & Dandona, P. (1989). Normal ionized calcium, parathyroid hypersecretion, and elevated osteocalcin in a family with fluorosis. Metabolism, 38(2), 120–124. https://doi.org/10.1016/0026-0495(89)90250-3

Teotia, S. P. S., & Teotia, M. (1973). Secondary hyperparathyroidism in patients with endemic skeletal fluorosis. British Medical Journal, 1(5854), 637–640. https://doi.org/10.1136/bmj.1.5854.637

Tusl, J. (1970). Direct determination of fluoride in human urine using fluoride electrode. Clinica Chimica Acta, 27(1), 216–218. https://doi.org/10.1016/0009-8981(70)90400-6

Whitford, G. M. (1996). The metabolism and toxicity of fluoride. Monographs in Oral Science, 16(Rev 2), 1–153.

Xiang, Q., Chen, L., Liang, Y., Wu, M., & Chen, B. (2009). Fluoride and thyroid function in children in two villages in China. Journal of Toxicology and Environmental Health Sciences, 1, 54–59.

Yu-e Song Tan, H., Liu, K., Zhang, Y., Liu, Y., Lu, C., Yu, D., Tu, J., & Cui, C. (2011). Effect of fluoride exposure on bone metabolism indicators ALP, BALP, and BGP. Environmental Health and Preventive Medicine, 16, 158–163.
Acknowledgements
The authors acknowledge the encouragement and guidance of Director-Incharge, National Institute of Nutrition, ICMR, India.
Funding
The authors thank the UNICEF for financial assistance to conduct the study.
Ethics declarations
Written informed consent was obtained from their school Head Master. All data were managed to ensure the protection of individual rights and maintaining confidentiality. This study was approved by the Institutional Human Ethics Committee, National Institute of Nutrition, (ICMR) Hyderabad, India (IEC No. 15/II/2014).
Conflict of interest
The authors declare that they have no conflict of interest.
About this article
Cite this article
Khandare, A.L., Validandi, V., Gourineni, S.R. et al. Dose-dependent effect of fluoride on clinical and subclinical indices of fluorosis in school going children and its mitigation by supply of safe drinking water for 5 years: an Indian study. Environ Monit Assess 190, 110 (2018). https://doi.org/10.1007/s10661-018-6501-1
Received:

Accepted:

Published:
Keywords
Alkaline phosphatase

Fluoride

Intervention

Nutritional status

Parathyroid hormone

Safe water