Abstract
The city of Greenville, SC is a rapidly expanding urban area located on the Reedy River in the upstate of South Carolina. Historical and current point-source pollutants and runoff from impermeable surfaces have resulted in a contaminated river environment, which through previous studies was demonstrated to be reflected in biological effects in fish species in the river. Because it was not known how much smaller tributaries in the urbanized area were contributing to the pollution of the main stem of the Reedy River, we collected fish (bluehead chub (Nocomis leptocephalus), creek chub (Semotilus atromaculatus), bluegill (Lepomis macrochirus), and redbreast sunfish (Lepomis auritus)) from five smaller urban creeks in the Greenville area and measured several biomarkers of exposure in these animals. Enzymatic activities of cytochrome P450-1A (CYP1A) and glutathione S-transferase (GST) were measured, and bile samples were analyzed for fluorescence caused by polynuclear aromatic hydrocarbons (PAHs) and for excreted estrogenic compounds. The results show that some creeks triggered significant biomarker responses in collected fish, while others were relatively clean. In particular, PAHs appear to be prevalent and caused biochemical effects, while estrogenic compounds were not significantly increased in the bile of fish from these urban creeks. A striking observation was the difference in enzyme activities in chub species compared to sunfish species; sunfish had up to five times higher CYP1A activities than chubs, while the chubs had significantly higher GST activity than sunfish. These species differences should be taken into account when they are incorporated in environmental risk assessment and biological effect monitoring programs.
Access options
Buy single article
Instant access to the full article PDF.
US$ 39.95
Tax calculation will be finalised during checkout.
Subscribe to journal
Immediate online access to all issues from 2019. Subscription will auto renew annually.
US$ 119
Tax calculation will be finalised during checkout.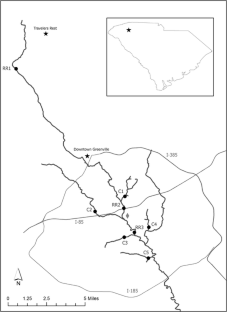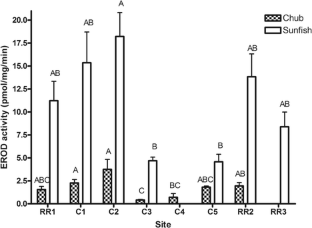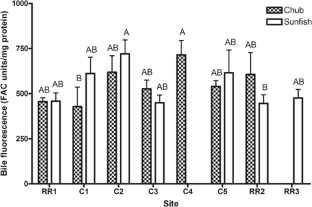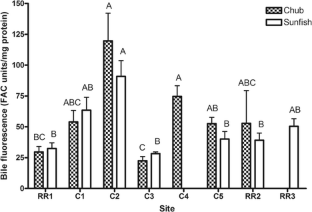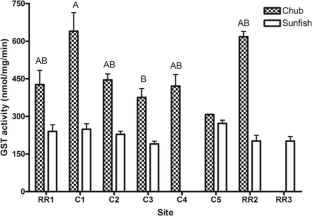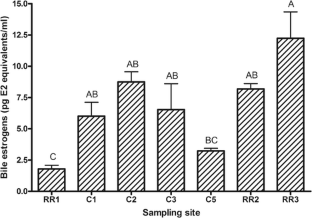 References
Ankley, G. T., & Agosin, M. (1987). Comparative aspects of hepatic UDP-glucuronosyltransferases and glutathione S-transferases in bluegill and channel catfish. Comparative Biochemistry and Physiology B, 87(4), 671–673.

Anonymous (2013). Greenville takes lead in banning controversial pavement coating. Greenville News, Section A.

Brammell, B. F., Price, D. J., Birge, W. J., Harmel-Laws, E. M., Hitron, J. A., & Elskus, A. A. (2010). Differential sensitivity of CYP1A to 3,3′,4′,4-tetrachlorobiphenyl and benzo(a)pyrene in two Lepomis species. Comparative Biochemistry and Physiology Part C: Toxicology and Pharmacology, 152(1), 42–50.

Chandler, D. M., & Lerner, D. N. (2015). A low cost method to detect polluted surface water outfalls and misconnected drainage. Water and Environment Journal, 29, 202–206.

Dubé, M. G., MacLatchy, D. L., Hruska, K. A., & Glozier, N. E. (2006). Assessing the responses of creek chub (Semotilus atromaculatus) and pearl dace (Semotilus margarita) to metal mine effluents using in situ artificial streams in Sudbury, Ontario, Canada. Environmental Toxicology and Chemistry, 25(1), 18–28.

Fitzgerald, D. G., Lanno, R. P., & Dixon, D. G. (1999). A comparison of a sentinel species evaluation using creek chub (Semotilus atromaculatus Mitchill) to a fish community evaluation for the initial identification of environmental stressors in small streams. Ecotoxicology, 8, 33–48.

German, D. P., Nagle, B. C., Villeda, J. M., Ruiz, A. M., Thomson, A. W., Contreras, B. S., & Evans, D. H. (2010). Evolution of herbivory in a carnivorous clade of minnows (Teleostei: Cyprinidae): effects on gut size and digestive physiology. Physiological and Biochemical Zoology, 83(1), 1–18.

González, J. F., Reimschuessel, R., Shaikh, B., & Kane, A. S. (2009). Kinetics of hepatic phase I and II biotransformation reactions in eight finfish species. Marine Environmental Research, 67(4–5), 183–188.

Henshel, D. S., Sparks, D. W., & Simon, T. P. (2006). Age structure and growth of Semotilus atromaculatus (Mitchill) in PCB-contaminated streams. Journal of Fish Biology, 68, 44–62.

Jenkins, R. E., & Burkhead, N. M. (1994). The freshwater fishes of Virginia. Bethesda: American Fisheries Society.

Lohner, T. W., Reash, R. J., Willet, V. E., & Rose, L. A. (2001). Assessment of tolerant sunfish populations (Lepomis sp.) inhabiting selenium-laden coal ash effluents: 1. Hematological and population level assessment. Ecotoxicology and Environmental Safety, 50(3), 217–224.

Mahler, B. J., Van Metre, P. C., & Foreman, W. T. (2014). Concentrations of polycyclic aromatic hydrocarbons (PAHs) and azaarenes in runoff from coal-tar- and asphalt-sealcoated pavement. Environmental Pollution, 188, 81–87.

Martinovic-Weigelt, D., Minarik, T. A., & Curran, E. M. (2013). Environmental estrogens in an urban aquatic ecosystem: I. Spatial and temporal occurrence of estrogenic activity in effluent-dominated systems. Environment International, 61, 127–137.

Meador, M. R., & Carlisle, D. M. (2007). Quantifying tolerance indicator values for common stream fish species of the United States. Ecological Indicators, 7, 329–338.

Mierzejewski, J., Haney, D. C., & van den Hurk, P. (2014). Biomarker responses in sunfish and bass from the Saluda river, SC. Ecotoxicology and Environmental Safety, 110, 8–15.

Oakes, K. D., Sibley, P. K., Martin, J. W., MacLean, D. D., Solomon, K. R., Mabury, S. A., & Van Der Kraak, G. J. (2005). Short-term exposures of fish to perfluorooctane sulfonate: Acute effects on fatty acyl-coa oxidase activity, oxidative stress, and circulating sex steroids. Environmental Toxicology and Chemistry, 24(5), 1172–1181.

Otter, R. R., Schreiber, E. A., van den Hurk, P., & Klaine, S. J. (2012). Assessment of heavy metal and PAH exposure in largemouth bass (Micropterus salmoides) in the Reedy River watershed, South Carolina, USA: a multi-season assessment of metallothionein and bile fluorescence. Environmental Toxicology and Chemistry, 31(12), 2763–2770.

Paul, M. J., & Meyer, J. L. (2001). Streams in the urban landscape. Annual Review of Ecology, Evolution, and Systematics, 32, 333–365.

Schlenk, D., Celander, M., Gallagher, E., George, S., James, M., Kullman, S., van den Hurk, P., & Willett, K. (2008). Biotransformation in fishes. In D. Hinton & R. DiGiulio (Eds.), Toxicology of fishes (pp. 153–234). Boca Raton: CRC Press.

Schorr, M. S., & Backer, J. C. (2006). Localized effects of coal mine drainage on fish assemblages in a Cumberland Plateau stream in Tennessee. Journal of Freshwater Ecology, 21, 17–24.

Schreiber, E. A., Otter, R. R., & van den Hurk, P. (2006). A biomarker approach to measure biological effects of contaminant exposure in largemouth bass from Lake Conestee, SC, USA. Environmental Toxicology and Chemistry, 25, 1829–1835.

Sekabira, K., Origa, H. O., & Basamba, T. A. (2010). Heavy metal assessment and water quality values in urban stream and rain water. International journal of Environmental Science and Technology, 7, 759–770.

Selbig, W. R., Bannerman, R., & Corsi, S. R. (2013). From streets to streams: assessing the toxicity potential of urban sediment by particle size. Science of the Total Environment, 444, 381–391.

Siligato, S., & Boehmer, J. (2002). Evaluation of biological integrity of a small urban stream system by investigating longitudinal variability of the fish assemblage. Chemosphere, 47, 777–788.

Stair, D. M., Tolbert, V. R., & Vaughan, G. L. (1984). Comparison of growth, population-structure, and food of the creek chub Semotilus atromaculatus in undisturbed and surface-mining-disturbed streams in Tennessee. Environmental Pollution Series A, 35, 331–343.

Truman, P. A., & van den Hurk, P. (2010). A biomarker approach examining xenoestrogen exposure in bluegill in the Reedy River watershed, SC, USA. Archives of Environmental Contamination and Toxicology, 58(1), 165–175.

USDA. (2012). National agricultural statistics service cropland data layer [internet]. Washington (DC): USDA-NASS Available from: http://nassgeodata.gmu.edu/CropScape/.

van den Hurk, P. (2006). Bile fluorescence, heme oxygenase induction, and increased biliverdin excretion by mixtures of environmental toxicants. Aquatic Toxicology, 77, 202–209.

van der Oost, R., Beyer, J., & Vermeulen, N. P. E. (2003). Fish bioaccumulation and biomarkers in environmental risk assessment: a review. Environmental Toxicology and Pharmacology, 13, 57–149.

Vandepoele, K., De Vos, W., & Taylor, J. S. (2004). Major events in the genome evolution of vertebrates: Paranome age and size differ considerably between ray-finned fishes and land vertebrates. Proceedings of the National Academy of Sciences USA, 101, 1638–1643.

Wallace, A. M., Croft-White, M. V., & Moryk, J. (2013). Are Toronto's streams sick? A look at the fish and benthic invertebrate communities in the Toronto region in relation to the urban stream syndrome. Environmental Monitoring and Assessment, 185, 7857–7875.

Walsh, C. J., Roy, A. H., Feminella, J. W., Cottingham, P. D., Groffman, P. M., & Morgan, R. P. (2005). The urban stream syndrome: current knowledge and the search for a cure. Journal of the North American Benthological Society, 24, 706–723.

Witter, A. E., Nguyen, M. H., Baidar, S., & Sak, P. B. (2014). Coal-tar-based sealcoated pavement: a major PAH source to urban stream sediments. Environmental Pollution, 185, 59–68.

Yang, Y., Van Metre, P. C., Mahler, B. J., Wilson, J. T., Ligouis, B., Razzaque, M. D., Schaeffer, D. J., & Werth, C. J. (2010). Influence of coal-tar sealcoat and other carbonaceous materials on polycyclic aromatic hydrocarbon loading in an urban watershed. Environmental Science and Technology, 44(4), 1217–1223.

Yang, Y. Y., Toor, G. S., & Williams, C. F. (2015). Pharmaceuticals and organochlorine pesticides in sediments of an urban river in Florida. Journal of Soils and Sediments, 15, 993–1004.
Acknowledgements
Assistance with field sampling was provided by Chisom Onyeuku from Furman University. In addition, field work assistance and some of the biomarker analyses were performed with help from Clemson University graduate students Diana Delach and Phenny Mwaanga. This project was partially funded through a grant from the South Carolina Water Resources Center. Furman University students were financially supported by the Furman Advantage Program.
About this article
Cite this article
van den Hurk, P., Haney, D.C. Biochemical effects of pollutant exposure in fish from urban creeks in Greenville, SC (USA). Environ Monit Assess 189, 211 (2017). https://doi.org/10.1007/s10661-017-5918-2
Received:

Accepted:

Published:
Keywords
Biomarkers

Fish

Urban creeks

PAH