Abstract
Hospital wastewater contains huge amounts of hazardous pollutants which are being discharged daily to environment with or without treatment. Antibiotics were among the important group of pharmaceuticals considered as a potential source of health risk for human and other living creatures. Although the investigations about the existence of antibiotics in hospital wastewater have gained concern for researchers in many countries, there is only one research conducted in Hanoi-Vietnam. Hence, in this study, investigations have been done to fulfill the requirement of real situation in Vietnam by accomplishing survey for 39 health care facilities in Ho Chi Minh City. As results, seven popular antibiotics were detected to exist in all samples such as sulfamethoxazole (2.5 ± 1.9 μg/L), norfloxacin (9.6 ± 9.8 μg/L), ciprofloxacin (5.3 ± 4.8 μg/L), ofloxacin (10.9 ± 8.1 μg/L), erythromycin (1.2 ± 1.2 μg/L), tetracycline (0.1 ± 0.0 μg/L), and trimethoprim (1.0 ± 0.9 μg/L). On the other hand, survey also showed that only 64% of health care facilities using conventional activate sludge (AS) processes in wastewater treatment plants (WWTPs). As a consequence, basic environmental factors (BOD5, COD, TSS, NH4 +-N, or total coliforms) were not effectively removed from the hospital wastewater due to problems relating to initial design or operational conditions. Therefore, 18% effluent samples of the surveyed WWTPs have exceeded the national standard limits (QCVN 28:2010, level B).
This is a preview of subscription content, log in to check access.
Access options
Buy single article
Instant access to the full article PDF.
US$ 39.95
Price includes VAT for USA
Subscribe to journal
Immediate online access to all issues from 2019. Subscription will auto renew annually.
US$ 199
This is the net price. Taxes to be calculated in checkout.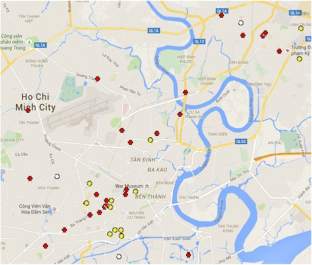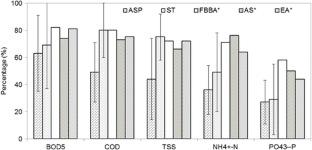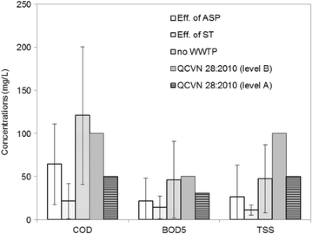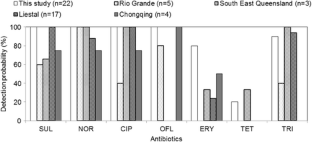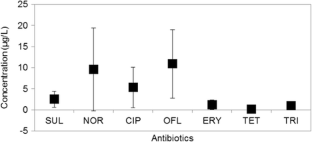 References
Al-Ahmad, A., Daschner, F. D., & Kümmerer, K. (1999). Biodegradability of cefotiam, ciprofloxacin, meropenem, penicillin G, sulfamethoxazole and inhibition of waste water bacteria. Archives of Environmental Contamination and Toxicology, 37(2), 158–163.

APHA (1998). Standard methods for examination of water and wastewater, 20th version. Washington, DC: American Public Health Association.

Brown, K. D. K., Thomson, J., Chapman, B., Timothy, H., Mawhinney, & Douglas, B. (2006). Occurrence of antibiotics in hospital, residential, and dairy effluent, municipal wastewater, and the Rio Grande in New Mexico. Science of the Total Environment, 366(2–3), 772–783.

CEC-Commission of the European Communities (1996). Technical guidance document in support of commission directive 93/67/EEC on risk assessment for new notified substances and commission regulation (EC) No. 1488/94 on risk assessment for existing substances. Part II. Environmental Risk Assessment, Office for Official Publications of the European Communities, Luxemburg.

Chang, X., Meyer, M. T., Liu, X., Zhao, Q., Chen, H., Chen, J.-a., Qiu, Z., Yang, L., Cao, J., & Shu, W. (2010). Determination of antibiotics in sewage from hospitals, nursery and slaughter house, wastewater treatment plant and source water in Chongqing region of three gorge reservoir in China. Environmental Pollution, 158(5), 1444–1450.

Dinh, Q. T., Alliot, F., Moreau-Guigon, E., Eurin, J., Chevreuil, M., & Labadie, P. (2011). Measurement of trace levels of antibiotics in river water using on-line enrichment and triple-quadrupole LC–MS/MS. Talanta, 85(3), 1238–1245.

Duong, H. A. P., Nguyen, N. H., Hoang, H. T., Pham, T. T., Pham, H. V., Berg, V. C., Giger, M., Alder, W., & Alfredo, C. (2008). Occurrence, fate and antibiotic resistance of fluoroquinolone antibacterials in hospital wastewaters in Hanoi, Vietnam. Chemosphere, 72(6), 968–973.

Eguchi, K., Nagase, H., Ozawa, M., Endoh, Y. S., Goto, K., Hirata, K., et al. (2004). Evaluation of antimicrobial agents for veterinary use in the ecotoxicity test using microalgae. Chemosphere, 57(11), 1733–1738.

Eslami, A., Amini, M. M., Yazdanbakhsh, A. R., Rastkari, N., Mohseni-Bandpei, A., Nasseri, S., et al. (2015). Occurrence of non-steroidal anti-inflammatory drugs in Tehran source water, municipal and hospital wastewaters, and their ecotoxicological risk assessment. Environmental Monitoring and Assessment, 187(12), 1–15.

GARP- Vietnam National Working Group (2010). Situation analysis of antibiotic use and resistance in Vietnam. The Center for Disease Dynamics. Washington, DC: Economics & Policy.

Halling-Sørensen, B. (2001). Inhibition of aerobic growth and nitrification of bacteria in sewage sludge by antibacterial agents. Archives of Environmental Contamination and Toxicology, 40(4), 451–460.

Hernando, M. D., Mezcua, M., Fernández-Alba, A. R., & Barceló, D. (2006). Environmental risk assessment of pharmaceutical residues in wastewater effluents, surface waters and sediments. Talanta, 69(2), 334–342.

Hoa, P.T.P., Managaki, S., Nakada, N., Takada, H., Shimizu, A., Anh, D.H., Viet, P.H, Suzuki, S. (2011). Antibiotic contamination and occurrence of antibiotic-resistant bacteria in aquatic environments of northern Vietnam. Science of The Total Environment,409(15), 2894–2901.

Huang, C. H., Renew, J. E., Smeby, K. L., Pinkerston, K., & Sedlak, D. L. (2001). Assessment of potential antibiotic contaminants in water and preliminary occurrence analysis. Journal of Contemporary Water Research and Education, 120(1), 30–40.

Huang, J. J., Hu, H. Y., Lu, S. Q., Li, Y., Tang, F., Lu, Y., & Wei, B. (2012). Monitoring and evaluation of antibiotic-resistant bacteria at a municipal wastewater treatment plant in China. Environment International, 42, 31–36.

Kovalova, L., Siegrist, H., Singer, H., Wittmer, A., & McArdell, C. S. (2012). Hospital wastewater treatment by membrane bioreactor: performance and efficiency for organic Micropollutant elimination. Environmental Science & Technology, 46(3), 1536–1545.

Lin, A. Y. C., Wang, X. H., & Lin, C. F. (2010). Impact of wastewaters and hospital effluents on the occurrence of controlled substances in surface waters. Chemosphere, 81(5), 562–570.

Lindberg, R. H., Jarnheimer, P. A., Olsen, B., Johansson, M., & Tysklind, M. (2004). Determination of antibiotic substances in hospital sewage water using solid phase extraction and liquid chromatography/mass spectrometry and group analogue internal standards. Chemosphere, 57, 1479–1488.

Liu, Q., Zhou, Y., Chen, L., & Zheng, X. (2010). Application of MBR for hospital wastewater treatment in China. Desalination, 250(2), 605–608.

Mesdaghinia, A. R., Naddafi, K., Nabizadeh, R., Saeedi, R., & Zamanzadeh, M. (2009). Wastewater characteristics and appropriate method for wastewater management in the hospitals. Iranian Journal of Public Health, 38(1), 34–40.

MONRE - Ministry of Vietnam Natural Resources and Environment (2010). National technical regulation on health care wastewater. QCVN 28:2010/BTNMT.

Nikolaou, A.M., S. Fatta, D. (2007). Occurrence patterns of pharmaceuticals in water and wastewater environments. Analytical and Bioanalytical Chemistry, 387(4), 1225–1234.

Prasertkulsak, S., Chiemchaisri, C., Chiemchaisri, W., Itonaga, T., & Yamamoto, K. (2016). Removals of pharmaceutical compounds from hospital wastewater in membrane bioreactor operated under short hydraulic retention time. Chemosphere, 150, 624–631.

Prayitno, Z. K., Yanuwiadi, B., & Laksmono, R. W. (2013). Study of hospital wastewater characteristic in Malang City. International Journal of Engineering And Science, 2(2), 13–16.

Radko, L., Minta, M., & Stypuła-Trębas, S. (2013). Influence of fluoroquinolones on viability of Balb/c 3 T3 and HepG2 cells. Bulletin of the Veterinary Institute in Pulawy, 57(4), 599–606.

Robinson, A. A., Belden, J. B., & Lydy, M. J. (2005). Toxicity of fluoroquinolone antibiotics to aquatic organisms. Environmental Toxicology and Chemistry, 24(2), 423–430.

Saigon Times (2010). Over half of clinics in city still discharge wastewater, The Saigon Times Daily. Available at http://english.thesaigontimes.vn/13360/Over-half-of-clinics-in-city-still-discharge-wastewater.html (visited on August, 5th 2016).

Santos, L. H., Gros, M., Rodriguez-Mozaz, S., Delerue-Matos, C., Pena, A., Barceló, D., & Montenegro, M. C. B. (2013). Contribution of hospital effluents to the load of pharmaceuticals in urban wastewaters: identification of ecologically relevant pharmaceuticals. Science of the Total Environment, 461, 302–316.

Seifrtova, M. P., Lino, A., & Solich, C. M. (2008). Determination of fluoroquinolone antibiotics in hospital and municipal wastewaters in Coimbra by liquid chromatography with a monolithic column and fluorescence detection. Analytical and Bioanalytical Chemistry, 391(3), 799–805.

Sharma, P., Mathur, N., Singh, A., Sogani, M., Bhatnagar, P., Atri, R., & Pareek, S. (2015). Monitoring hospital wastewaters for their probable genotoxicity and mutagenicity. Environmental Monitoring and Assessment, 187(1), 1–9.

Sim, W. J., Lee, J. W., Lee, E. S., Shin, S. K., Hwang, S. R., & Oh, J. E. (2011). Occurrence and distribution of pharmaceuticals in wastewater from households, livestock farms, hospitals and pharmaceutical manufactures. Chemosphere, 82(2), 179–186.

Thu, T. A., Rahman, M., Coffin, S., Harun-Or-Rashid, M., Sakamoto, J., & Hung, N. V. (2012). Antibiotic use in Vietnamese hospitals: a multicenter point-prevalence study. American Journal of Infection Control, 40(9), 840–844.

Tin, N. T., Thanh, B. X., Hien, V. T. D., Dat, N. D., Dan, N. P., Chi, D. H. L., Ngo, H. H., & Guo, W. (2016). Performance and membrane fouling of two lab-scale sponge membrane bioreactors for hospital wastewater treatment at low flux condition. Separation & Purification Technology, 165, 123–129.

Topal, M., & Topal, E. I. A. (2015). Occurrence and fate of tetracycline and degradation products in municipal biological wastewater treatment plant and transport of them in surface water. Environmental Monitoring and Assessment, 187(12), 1–9.

Van Boeckel, T. P., Gandra, S., Ashok, A., Caudron, Q., Grenfell, B. T., Levin, S. A., & Laxminarayan, R. (2014). Global antibiotic consumption 2000 to 2010: an analysis of national pharmaceutical sales data. The Lancet Infectious Diseases, 14(8), 742–750.

Verlicchi, P., Galletti, A., & Masotti, L. (2010). Management of hospital wastewaters: the case of the effluent of a large hospital situated in a small town. Water Science & Technology, 61(10).

Watkinson, A. J., Murby, E. J., Kolpin, D. W., & Costanzo, S. D. (2009). The occurrence of antibiotics in an urban watershed: from wastewater to drinking water. Science of the Total Environment, 407(8), 2711–2723.

WHO - World Health Organization (2012). Pharmaceuticals in drinking-water. WHO/HSE/WSH/11.05.
Acknowledgements
The authors would like to thank for the research grant from National Foundation for Science and Technology Development (NAFOSTED) No. 105.99-2015.16, Ministry of Science and Technology – Vietnam. This study has been conducted under the framework of CARE-RESCIF initiative. In addition, the laboratory support of Mr. Tin and Mr. Thao are highly appreciated.
About this article
Cite this article
Vo, T., Bui, X., Cao, N. et al. Investigation of antibiotics in health care wastewater in Ho Chi Minh City, Vietnam. Environ Monit Assess 188, 686 (2016). https://doi.org/10.1007/s10661-016-5704-6
Received:

Accepted:

Published:
Keywords
Antibiotics

Hospital

Wastewater

Ho Chi Minh City