Abstract
Freetown, the capital of Sierra Leone has experienced vast land-cover changes over the past three decades. In Sierra Leone, however, availability of updated land-cover data is still a problem even for environmental managers. This study was therefore, conducted to provide up-to-date land-cover data for Freetown. Multi-temporal Landsat data at 1986, 2001, and 2015 were obtained, and a maximum likelihood supervised classification was employed. Eight land-cover classes or categories were recognized as follows: water, wetland, built-up, dense forest, sparse forest, grassland, barren, and mangrove. Land-cover changes were mapped via post-classification change detection. The persistence, gain, and loss of each land-cover class, and selected land conversions were also quantified. An overall classification accuracy of 87.3 % and a Kappa statistic of 0.85 were obtained for the 2015 map. From 1986 to 2015, water, built-up, grassland, and barren had net gains, whereas forests, wetlands, and mangrove had net loses. Conversion analyses among forests, grassland, and built-up show that built-up had targeted grassland and avoided forests. This study also revealed that, the overall land-cover change at 2001–2015 was higher (28.5 %) than that recorded at 1986–2001 (20.9 %). This is attributable to the population increase in Freetown and the high economic growth and infrastructural development recorded countrywide after the civil war. In view of the rapid land-cover change and its associated environmental impacts, this study recommends the enactment of policies that would strike a balance between urbanization and environmental sustainability in Freetown.
Access options
Buy single article
Instant access to the full article PDF.
US$ 39.95
Tax calculation will be finalised during checkout.
Subscribe to journal
Immediate online access to all issues from 2019. Subscription will auto renew annually.
US$ 119
Tax calculation will be finalised during checkout.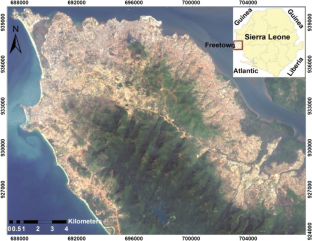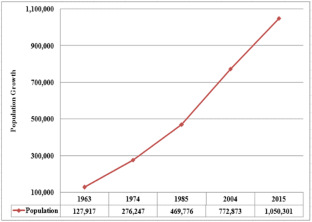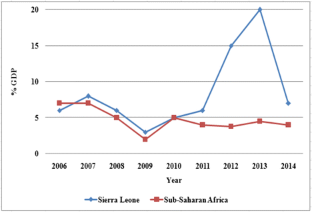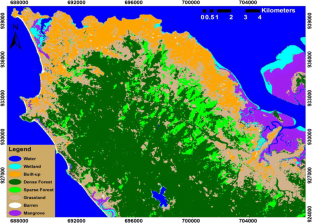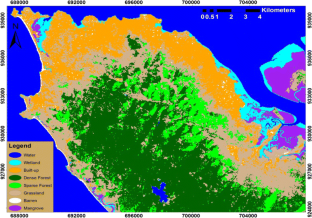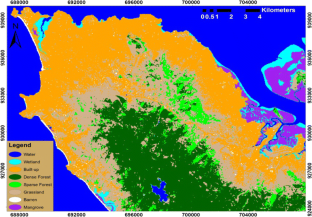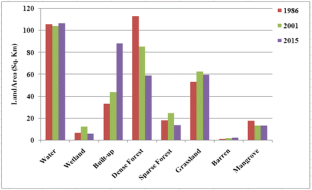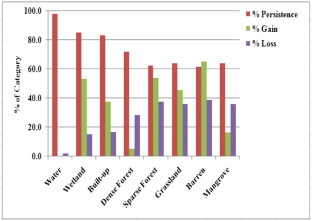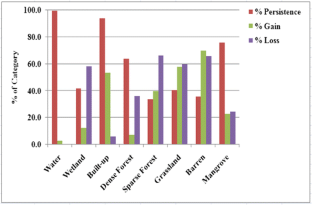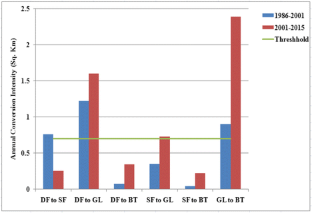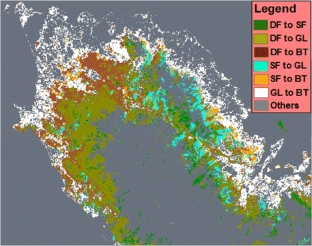 References
Aldwaik, S. Z., & Pontius, R. G. (2012). Intensity analysis to unify measurements of size and stationarity of land changes by interval, category, and transition. Landscape and Urban Planning, 106(1), 103–114.

A. Owojori, & H Xie (2005). Landsat image-based LULC changes of San Antonio, Texas using advanced atmospheric correction and object-oriented image analysis approaches. In 5th International symposium on remote sensing of urban areas, Tempe, AZ.

Bolstad, P. V., & Lillesand, T. M. (1991). Rapid maximum likelihood classification. Photogrammetric Engineering and Remote Sensing, 57(1), 67–74.

Cohen, J. E. (2003). Human population: the next half century. Science, 302(5648), 1172–1175.

Dewan, A. M., & Yamaguchi, Y. (2009). Land use and land cover change in Greater Dhaka, Bangladesh: using remote sensing to promote sustainable urbanization. Applied Geography, 29(3), 390–401.

Dewidar, K. M. (2004). Detection of land use/land cover changes for the northern part of the Nile delta (Burullus region), Egypt. International Journal of Remote Sensing, 25(20), 4079–4089.

F Dixey (1922). The physiography of Sierra Leone. Geographical Journal, 41–61.

Fan, F., Weng, Q., & Wang, Y. (2007). Land use and land cover change in Guangzhou, China, from 1998 to 2003, based on Landsat TM/ETM+ imagery. Sensors, 7(7), 1323–1342.

Foody, G. M., & Mathur, A. (2004). Toward intelligent training of supervised image classifications: directing training data acquisition for SVM classification. Remote Sensing of Environment, 93(1), 107–117.

Forkuor, G., & Cofie, O. (2011). Dynamics of land-use and land-cover change in Freetown, Sierra Leone and its effects on urban and peri-urban agriculture–a remote sensing approach. International Journal of Remote Sensing, 32(4), 1017–1037.

Haregeweyn, N., Tesfaye, S., Tsunekawa, A., Tsubo, M., Meshesha, D. T., Adgo, E., & Elias, A. (2015). Dynamics of land use and land cover and its effects on hydrologic responses: case study of the Gilgel Tekeze catchment in the highlands of northern Ethiopia. Environmental Monitoring and Assessment, 187(1), 1–14.

Huang, J., Pontius, R. G., Li, Q., & Zhang, Y. (2012). Use of intensity analysis to link patterns with processes of land change from 1986 to 2007 in a coastal watershed of Southeast China. Applied Geography, 34, 371–384.

J R Anderson (1976). A land use and land cover classification system for use with remote sensor data (Vol. 964). US Government Printing Office.

Lillesand, T., Kiefer, R. W., & J. Chipman (2014). Remote sensing and image interpretation. John Wiley & Sons.

Long, H., Tang, G., Li, X., & Heilig, G. K. (2007). Socio-economic driving forces of land-use change in Kunshan, the Yangtze River Delta economic area of China. Journal of Environmental Management, 83(3), 351–364.

Malmir, M., Zarkesh, M. M. K., Monavari, S. M., Jozi, S. A., & Sharifi, E. (2015). Urban development change detection based on multi-temporal satellite images as a fast tracking approach—a case study of Ahwaz County, southwestern Iran. Environmental Monitoring and Assessment, 187(3), 1–10.

Misra, A., & Balaji, R. (2015). Decadal changes in the land use/land cover and shoreline along the coastal districts of southern Gujarat, India. Environmental Monitoring and Assessment, 187(7), 1–13.

Mundia, C. N., & Aniya, M. (2005). Analysis of land use/cover changes and urban expansion of Nairobi city using remote sensing and GIS. International Journal of Remote Sensing, 26(13), 2831–2849.

Munyati, C. (2000). Wetland change detection on the Kafue flats, Zambia, by classification of a multitemporal remote sensing image dataset. International Journal of Remote Sensing, 21(9), 1787–1806.

Schlerf, M., Borens, S., Seeling, S., & J Hill (2007). Land use and land cover change analysis in Rhineland-Palatinate based on multi-temporal image classification. Mitteilungen aus der Forschungsanstalt fur Waldokologie und Forstwirtschaft Rheinland-Pfalz, pp., 237, 245.

Seto, K. C., & Kaufmann, R. K. (2003). Modeling the drivers of urban land use change in the Pearl River Delta, China: integrating remote sensing with socioeconomic data. Land Economics, 79(1), 106–121.

Soffianian, A., & Madanian, M. (2015). Monitoring land cover changes in Isfahan Province, Iran using Landsat satellite data. Environmental Monitoring and Assessment, 187(8), 1–15.

Sierra Leone population and housing census; provisional results, Statistics Sierra Leone, 2016.

Sun, Z., Ma, R., & Wang, Y. (2009). Using Landsat data to determine land use changes in Datong basin, China. Environmental Geology, 57(8), 1825–1837.

Wilson, S. A., & Wilson, C. O. (2013). Modelling the impacts of civil war on land use and land cover change within Kono District, Sierra Leone: a socio-geospatial approach. Geocarto International, 28(6), 476–501.

World Bank Report 2014 http://www.tradingeconomics.com/sierra-leone/gdp

Yang, X., & Liu, Z. (2005). Using satellite imagery and GIS for land-use and land-cover change mapping in an estuarine watershed. International Journal of Remote Sensing, 26(23), 5275–5296.

Yousefi, S., Khatami, R., Mountrakis, G., Mirzaee, S., Pourghasemi, H. R., & Tazeh, M. (2015). Accuracy assessment of land cover/land use classifiers in dry and humid areas of Iran. Environmental Monitoring and Assessment, 187(10), 1–10.

Yuan, F., Sawaya, K. E., Loeffelholz, B. C., & Bauer, M. E. (2005). Land cover classification and change analysis of the twin cities (Minnesota) metropolitan area by multitemporal Landsat remote sensing. Remote Sensing of Environment, 98(2), 317–328.
Acknowledgments
This study was financially supported by the Sierra Leone Agricultural Research Institute (SLARI) within the institutional research priority area of: "appropriate mechanisms for managing, sharing and up-scaling environmental information and technologies established and operationalized." The authors wish to express their sincere thanks and appreciation to two anonymous reviewers whose comments and advice were useful in shaping the contents and structure of this manuscript.
About this article
Cite this article
Mansaray, L.R., Huang, J. & Kamara, A.A. Mapping deforestation and urban expansion in Freetown, Sierra Leone, from pre- to post-war economic recovery. Environ Monit Assess 188, 470 (2016). https://doi.org/10.1007/s10661-016-5469-y
Received:

Accepted:

Published:
Keywords
Freetown

Land-cover

Change detection

Civil war

Population growth

GDP growth