Abstract
Twenty-two commonly used pesticides were monitored during autumn, winter, and summer of 2004–2005 in 27 water samples from three sites along the White Nile in Sudan (former Sudan). Sites were selected to reflect pesticides gathered from drainage canals in central Sudan and from upstream sources. Collected samples were extracted and subjected to gas chromatographic analysis. Pesticides levels were measured in nanograms per liter. Pesticides residues were detected in 96 % of the samples with a total residue burden of 4132.6 ng L−1, and an overall mean concentration and range of 50.99 and not detected-1570 ng L−1, respectively. Ororganochlorines were the most frequently detected contaminants, which were found in 70 % of the samples, causing a total burden of 2852.8 ng L−1, followed by pyrethroids 15 % of the samples, with a total burden of 926.5 ng L−1. The tested herbicides were detected in ˂4 % of the samples with a total burden of 353.3 ng L−1, while organophosphorus levels were below the detection limit. The most frequent contaminants were the following: heptachlor and its epoxide (52 % of samples), followed by DDTs (dichlorodiphenyltrichloroethanes) (DDT and DDE, in 19 % of the samples), cypermethrin and fenvalerate (in 11 % of the samples), and pendimethalin (in <4 % of the samples). Residues of hexachlorocyclohexane (HCH) isomers (α, β, γ and δ), endosulfan (α and β), p, p-DDD, λ cyhalothrin, deltamethrin, and oxyfluorfen were not detected in the analyzed samples. Generally, levels were least in autumn, and followed by summer and winter. Sources of contamination might include agricultural lands in central Sudan and upstream sources. Both recent and old contaminations were indicated.
This is a preview of subscription content,
to check access.
Access this article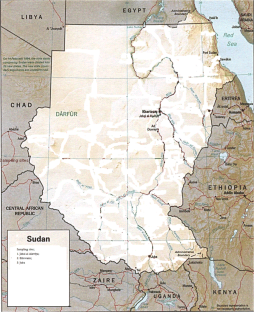 Similar content being viewed by others
References
Abdelbagi, A. O., Elbashir, A. B., Hammad, A. M. A., Elzorgani, G. A., & Laing, M. D. (2015). Organochlorine levels in human blood from residents in areas of limited pesticide use in Sudan. Toxicological and Environmental Chemistry. doi:10.1080/02772248.2015.1031669.

Abdelbagi, A. O. (2005). Level of POPs chemicals in the environment and human exposure, consultancy report, Project: SUD/00014869, HCENR, Sudan and UNIDO.

Abdelbagi, A. O. (2006). Pesticide use and management in the Sudan. National workshop on insecticide resistance and its management. Khartoum: Federal Ministry of Health and WHO.

Abdelbagi, A. O. (2008). Level of POPsin the Sudanese environment. Proceedings of the 28th symposium on the Halogenated Persistent Organic Pollutants (POPs), Birmingham, UK 17–22, Volume 70, pp. 950–953.

Abdelbagi, A. O., Elmahi, A. M., & Osman, D. G. (2003). Organochlorine insecticides residues in Sudanese soil of intensive pesticide use and in surface soil of Qurashi pesticide store. Journal of Agricultural Science, 11, 59–68.

Abdelbagi, A. O., Elmahi, M. A., & Osman, D. G. (2000). Chlorinated hydrocarbon insecticide residues in the Sudanese soils of limited or no pesticide use. Arab Journal of Plant Protection, 18, 35–39.

Abdel-Razik, M. R., Marzouk, M. M. H., Mowafy, L. E., & Abdelkader, M. A. (1988). Pesticide residue in the River Nile water, Egypt. Pakistan Journal of Science and Industrial Research, 31(11), 796–797.

El-Abassy, M. (1986). Monitoring of organic pollution in drinking water in Alexandria. M.Sc. Thesis, Faculty of Agriculture, Alexandria University, Egypt.

Elbashir, A. B., Abdelbagi, A. O., Hammad, A. M. A., Elzorgani, G. A., & Laing, M. D. (2015). Levels of organochlorine pesticides in the blood of people living in areas of intensive pesticide use in Sudan. Environmental Monitoring and Assessment, 187, 68. doi:10.1007/s10661-015-4269-0.

Hamilton, D. J., Ambrus, A., Felsot, A. S., Dieterle, R. M., and Harris, C. A. (2002). The regulatory limits for pesticide residues in water. 10th IUPAC international congress of crop protection, Basil, Switzerland. Book of Abstracts, Vol (2) pp. 250.

Krause M., Loubser J. T., and de Beer P. R. (1986). Residues of aldicarb and fenamiphos in soil, leaves and fruit from a treated vineyard. Journal of Agricultural and Food Chemistry, 34, 717–720.

Matsumura F. 1985.Toxicology of insecticides. New York: Plenum Press, USA

Rotterdam Convention on the Prior Informed Consent (PIC) (2004). Procedure for certain hazardous chemicals and pesticides in the international trade. Text and annexes. Rome: UNEP and FAO.

Shams El-Din, A., El-Mousallamy, A., & Abdel-Gawad, A. A. (1996). Monitoring of pesticide residues in drinking water. Journal of the Egyptian Society of Toxicology, 16, 111–114.

Stockholm Convention on Persistent Organic Pollutants (POPs) (2004). Text and annexes. Rome: UNEP and FAO.

Tomlin, C. D. S. (2003). The e-pesticide manual (12th ed.). Alton, Hampshire: British Crop Protection Council.
About this article
Cite this article
Nesser, G.A.A., Abdelbagi, A.O., Hammad, A.M.A. et al. Levels of pesticides residues in the White Nile water in the Sudan. Environ Monit Assess 188, 374 (2016). https://doi.org/10.1007/s10661-016-5367-3
Received:

Accepted:

Published:

DOI: https://doi.org/10.1007/s10661-016-5367-3
Keywords