Abstract
Gaseous pollutant emissions from brick kiln industries deteriorate the current state of ambient air quality in Pakistan and worldwide. These gaseous pollutants affect the health of plants and may decrease plant growth and yield. A field experiment that was conducted to monitor the concentration of gaseous pollutants emitted mainly from brick kilns in the ambient air and associated impacts on the growth and physiological attributes of the two wheat (Triticum spp.) cultivars. Plants were grown at three sites, including control (Ayub Agriculture Research Institute, AARI), low pollution (LP) site (Small Estate Industry), and high pollution (HP) site (Sidar Bypass), of Faisalabad, Pakistan. Monitoring of ambient air pollution at experimental sites was carried out using the state-of-art ambient air analyzers. Plants were harvested after 120 days of germination and were analyzed for different growth attributes. Results showed that the hourly average concentration of gaseous air pollutants CO, NO2, SO2, and PM10 at HP site were significantly higher than the LP and control sites. Similarly, gaseous pollutants decreased plant height, straw and grain yield, photosynthesis and increased physical injury, and metal concentrations in the grains. However, wheat response toward gaseous pollutants did not differ between cultivars (Galaxy and 8173) studied. Overall, the results indicated that brick kiln emissions could reduce the performance of wheat grown in the soils around kilns and confirm the adverse impacts of pollutants on the growth, yield, and quality of the wheat.
Access options
Buy single article
Instant access to the full article PDF.
US$ 39.95
Tax calculation will be finalised during checkout.
Subscribe to journal
Immediate online access to all issues from 2019. Subscription will auto renew annually.
US$ 119
Tax calculation will be finalised during checkout.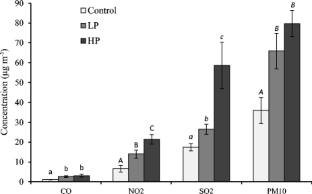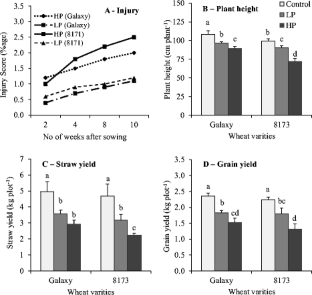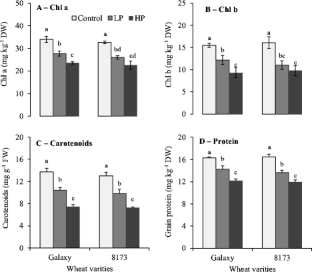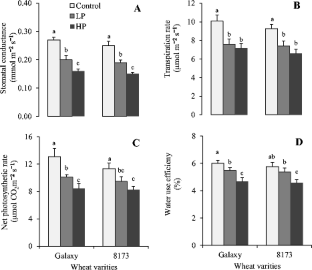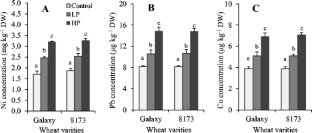 References
Abbas, F. (2013). Analysis of a historical (1981–2010) temperature record of the Punjab province of Pakistan. Earth Interactions, 17, 1–15.

Abbas, F., Ahmad, A., Safeeq, M., Ali, S., Saleem, F., Hammad, H. M., & Farhad, W. (2013). Changes in precipitation extremes over arid to semiarid and sub-humid Punjab, Pakistan. Theoretical and Applied Climatology, 116, 671–680.

Abdalla, I., Abdalla, S. B., El-Siddig, K., Moller, D., & Buerkert, A. (2012). Effects of red brick production on land use, household income, and greenhouse gas emissions in Khartoum, Sudan. J. Agri. Rural Develop. Tropics and Subtropics, 113, 51–60.

Achakzai, K., Sofia, K., & Bibi, A. (2015). Determination of Heavy Metals in Agricultural Soil Adjacent to Functional Brick Kilns: A Case Study of Rawalpindi. Science, Technology and Development, 34, 122–129.

Adrees, M., Saleem, F., Jabeen, F., Rizwan, M., Ali, S., Khalid, S., Ibrahim, M., Iqbal, N., & Abbas, F. (2016). Effects of ambient gaseous pollutants on photosynthesis, growth, yield and grain quality of selected crops grown at different sites varying in pollution levels. Archives of Agronomy and Soil Science doi:10.1080/03650340.2015.

Amacher, M. C. (1996). Nickel, cadmium and lead. In D. L. Sparks (Ed.), Methods of soil analysis. Part 3. Chemical methods (3rd ed., pp. 739–768). Madison: SSSA/ASA.

Anita, S., Rajesh, K. S., Madhoolika, A., & Fiona, M. M. (2010). Health risk assessment of heavy metals via dietary intake of foodstuffs from the wastewater irrigated site of a dry tropical area of India. Food and Chemical Toxicology, 48, 611–619.

Arnon, D. I. (1949). Copper enzymes in isolated chloroplasts. Polyphenoloxidase Beta vulgaris. Plant Physiology, 24, 1–15.

Assadi, A., Abdollah, G. P., Fatemeh, M., Nasrin, T., & Leila, A. (2011). Impact of air pollution on physiological and morphological characteristics of Eucalyptus camaldulensis. Journal of Food, Agriculture and Environment, 9, 676–679.

Azim, M. R., Mahmood, Q., & Ahmad, S. S. (2013). Risk evaluation of brick kiln smoke to kidney bean (Phaseolus Vulgaris). Pakistan Journal of Botany, 45, 1403–1406.

Balkhi, M., Amin, S., & Masood, A. (2009). Effect of aqueous sulphur dioxide on the biochemical and antioxidant properties of Malva sylvestris. Asian Journal of Environmental Sciences, 3, 139–145.

Bouyoucos, G. J. (1962). Hydrometer method improved for making particle-size analyses of soils. Journal of Agronomy, 54, 464–465.

Chauhan, A., & Joshi, P. C. (2010). Effect of ambient air pollutants on wheat and mustard crops growing in the vicinity of urban and industrial areas. New York Journal Science, 3, 52–60.

Chen, Z. M., Chen, Y. X., Du, G. J., Wu, X. L., & Li, F. (2010). Effects of 60-day NO2 fumigation on growth, oxidative stress and antioxidative response in Cinnamomum camphora seedlings. Journal of Zhejiang University. Science. B, 11, 190–199.

Crawley, M. J. (2007). The R book. Oxford, UK: Wiley.

Daresta, B. E., Italiano, F., De Gennaro, G., Trotta, M., Tutino, M., & Veronico, P. (2015). Atmospheric particulate matter (PM) effect on the growth of Solanum lycopersicum cv. Roma plants. Chemosphere, 119, 37–42.

FAO, (2014). ProdStat. Core Production Data Base, Electronic resource under http://faostat.fao.org/ (assed 30.06.2015).

Fatima, I. (2011). Impact of brick kiln emissions on the ambient air quality and vegetation: A case study of district Budgam. M.Phil Dessertation: University of Kashmir.

Ganai, B. A., Zaar, A., Rafiq, S. K., Masood, A., Zargar, M. A., & Kumar, R. (2010). Impact of brick kiln emissions on biochemical parameters of Malva sylvestris Lin. Ad. Plant Sciences, 23, 545–546.

Gheorghe, I. F., & Ion, B. (2011). The effects of air pollutants on vegetation and the role of vegetation in reducing atmospheric pollution. In M. Khallaf (Ed.), The impact of air pollution on health, economy, environment and agricultural sources (pp. 241–280). Europe: In Tech.

Guttikunda, S. K., Begum, B. A., & Wadud, Z. (2013). Particulate pollution from brick kiln clusters in the Greater Dhaka region, Bangladesh. Air Quality, Atmosphere and Health, 6, 357–365.

Hogy, P., Keck, M., Niehaus, K., Franzaring, J., & Fangmeier, A. (2010). Effects of atmospheric CO2 enrichment on biomass, yield and low molecular weight metabolites in wheat grain. Journal of Cereal Science, 52, 215–220.

Hogy, P., Brunnbauer, M., Koehler, P., Schwadorf, K., Breuer, J., Franzaring, J., Zhunusbayeva, D., & Fangmeier, A. (2013). Grain quality characteristics of spring wheat (Triticum aestivum) as affected by free-air CO 2 enrichment. Environmental and Experimental Botany, 88, 11–18.

Hussan, A., Bhat, G. A., & Sheikh, M. A. (2013). Impact of brick kiln and vehicular emissions on lichen diversity in Khanabal Area of Anantnag District (J&K), India. International Research Journal Environmental Science, 2, 30–33.

Irfan, M., Riaz, M., Arif, M. S., Shahzad, S. M., Saleem, F., Van Den Berg, L., & Abbas, F. (2014). Estimation and characterization of gaseous pollutant emissions from agricultural crop residue combustion in industrial and household sectors of Pakistan. Atmospheric Environment, 84, 189–197.

Irshad, A. H., Ahmad, S. F., & Sultan, P. (2011). Effect of sulphur dioxide on the biochemical parameters of spinach (Spinacea oleracea). Trakia Journal Science, 9, 24–27.

Ishaq, M., Khan, M. A., Jan, F. A., & Ahmad, I. (2010). Heavy metals in brick kiln located area using atomic absorption spectrophotometer: a case study from the city of Peshawar, Pakistan. Environmental Monitoring and Assessment, 166, 409–420.

Ishii, S., Marshall, F. M., Bell, J. N. B., & Abdullah, A. M. (2004). Impact of ambient air pollution on locally grown rice cultivars (Oryza sativa L.) in Malaysia. Water, Air, and Soil Pollution, 154, 187–201.

Ismail, M., Muhammad, D., Khan, F., Munsif, F., Ahmad, T., & Ali, S. (2012). Effect of brick kilns emissions on heavy metal (Cd and Cr) content of contiguous soil and plants. Sarhad Journal of Agriculture, 28, 403–409.

Jackson, M. L. (1962). Soil chemical analysis (p. 219). London, UK: Constable and Co. Ltd.

Jahan, S., Falah, S., Ullah, H., & Rauf, N. (2016). Antioxidant enzymes status and reproductive health of adult male workers exposed to brick kiln pollutants in Pakistan. Environmental Science and Pollution Research doi:10.1007/s11356-016-6454-2

Joshi, P. C., & Chauhan, A. (2008). Performance of locally grown rice plants (Oryza sativa L.) exposed to air pollutants in a rapidly growing industrial area of district Haridwar, Uttarakhand. India Life Science Journal, 5, 41–45.

Keller, C., Rizwan, M., Davidian, J. C., Pokrovsky, O. S., Bovet, N., Chaurand, P., & Meunier, J. D. (2015). Effect of Silicon on wheat seedlings (Triticum turgidum L.) grown in hydroponics and exposed to 0 to 30 μM Cu. Planta, 241, 847–860.

Kirk, J., & Allen, R. (1965). Dependence of chloroplast pigment synthesis on protein synthesis: effect of actidione. Biochemical and Biophysical Research Communications, 21, 523–530.

Li, L., & Yi, H. (2012). Effect of sulfur dioxide on ROS production, gene expression and antioxidant enzyme activity in Arabidopsis plants. Plant Physiology and Biochemistry, 58, 46–53.

Liang, S. X., Wu, H., & Sun, H. W. (2015). Determination of trace elements in airborne PM10 by inductively coupled plasma mass spectrometry. International Journal of Environmental Science and Technology, 12, 1373–1378.

Liu, N., Peng, C. L., Lin, Z. F., Lin, G. Z., & Pan, X. P. (2007). Effects of simulated SO2 pollution on subtropical forest succession: toward chlorophyll fluorescence concept. Pakistan Journal of Botany, 39, 1921–1935.

Ma, C., Xin, X. U., Lin, H. A. O., & Jun, C. A. O. (2007). Nitrogen dioxide-induced responses in Brassica campestris seedlings: the role of hydrogen peroxide in the modulation of antioxidative level and induced resistance. Agricultural Sciences in China, 6, 1193–1200.

Monga, V., Singh, L. P., Bhardwaj, A., & Singh, H. (2012). Respiratory health in brick kiln workers. International Journal Physical and Social Sciences, 2, 226–244.

Moodie, C. D., Smith, H. W., & McCreery, R. A. (1959). Laboratory manual for soil fertility. Washington, USA: Washington State College Mimeograph.

Muneer, S., Kim, T. H., Cho, B. C., Lee, B. S., & Lee, J. H. (2014). Effect of CO, NOx and SO2 on ROS production, photosynthesis and ascorbate–glutathione pathwaytoinduce Fragaria × annasa as a hyperaccumulator. Redox Biology, 2, 91–98.

Page, A. L., Miller, R. H., & Keeny, D. R. (1982). Methods of soil analysis. Part 2 (p. 9). Madison, WI, USA: Chemical and microbiological properties. Agron. SSSA.

Pal, P. (2014). Biomonitoring with special reference to visible damages in different plant species due to air pollution–A review. International Letters Natural Sciences, 11, 32–37.

Pandey, S. K., Kim, K. H., & Chung, S. Y. (2008). Long-term study of NOx behavior at urban roadside and background locations in Seoul, Korea. Atmospheric Environment, 42, 607–622.

Pavlík, M., Pavlíková, D., Zemanova, V., Hnilicka, F., Urbanova, V., & Szakova, J. (2012). Trace elements present in airborne particulate matter-stressors of plant metabolism. Ecotoxicology and Environmental Safety, 79, 101–107.

Pawar, K., Dube, B., Maheshwari, R., & Bafna, A. (2010). Biochemical aspects of air pollution induced injury symptoms of some common ornamental road side plants. International Journal Biology and Medical Research, 1, 291–294.

Prajapati, S. K. (2012). Ecological effect of airborne particulate matter on plants. Environment Skeptics Critics, 1, 12–22.

Rai, R., Agrawal, M., & Agrawal, S. B. (2007). Assessment of yield losses in tropical wheat using open top chambers. Atmospheric Environment, 41, 9543–9554.

Raza, A., Qamer, M. F., Afsheen, S., Adnan, M., Naeem, S., & Atiq, M. (2014). Particulate matter associated lung function decline in brick kiln workers of Jalalpur Jattan, Pakistan. Pakistan Journal of Zoology, 46, 237–243.

Rizwan, M., Ali S., Adrees, M., Rizvi, H., Rehman, M. Z., Hannan, F., Qayyum, M. F., Hafeez, F., & OK, Y. S. (2016). Cadmium stress in rice: toxic effects, tolerance mechanisms and management: A critical review. Environmental Science and Pollution Research doi:10.1007/s11356-016-6436-4

Rizwan, M., Meunier, J. D., Hélène, M., & Keller, C. (2012). Effect of silicon on reducing cadmium toxicity in durum wheat (Triticum turgidum L. cv. Claudio W.) grown in a soil with aged contamination. Journal of Hazardous Materials, 209–210, 326–334.

Ryan, P. R., Delhaize, E., & Jones, D. J. (2001). Function and mechanism of organic anion exudation from plant roots. Annual Review of Plant Physiology and Plant Molecular Biology, 52, 527–560.

Siddiqui, R., Samad, G., Nasir, M., & Jalil, H. H. (2012). The impact of climate change on major agricultural crops: evidence from Punjab, Pakistan. The Pakistan Development Reviews, 4, 261–276.

Singh, R. K. (2011). Study of the Effect of Air Pollution on Wheat. Current World Environment, 6, 291–293.

Skinder, B. M., Sheikh, A. Q., Pandit, A. K., & Ganai, B. A. (2014). Brick kiln emissions and its environmental impact: a review. Journal Ecology Natural Environment, 6, 1–11.

Salinity Laboratory Staff, U. S. (1954). Diagnosis and improvement of saline and alkali soils (p. 60). Washington DC: USDA. Handb.

WHO/FAO. (2007). Joint FAO/WHO Food Standard Programme Codex Alimentarius Commission 13th Session. Report of the Thirty-Eight Session of the Codex Committee on Food Hygiene. Houston: United States of America, ALINORM 07/ 30/13.

Zalud, P., Szakova, J., Sysalova, J., & Tlustos, P. (2012). Factors influencing uptake of contaminated particulate matter in leafy vegetables. Central European Journal of Biology, 7, 519–530.
Acknowledgments
The data presented here is part of M. Phil thesis at Government College, University Faisalabad, and authors graciously acknowledge the financial support from the university.
About this article
Cite this article
Adrees, M., Ibrahim, M., Shah, A.M. et al. Gaseous pollutants from brick kiln industry decreased the growth, photosynthesis, and yield of wheat (Triticum aestivum L.). Environ Monit Assess 188, 267 (2016). https://doi.org/10.1007/s10661-016-5273-8
Received:

Accepted:

Published:
Keywords
Air pollution

Brick kiln emissions

Photosynthesis

Wheat cultivars

Yield reduction

Grain quality