Abstract
Tissue heavy metal concentrations in painted (Chrysemys picta) and snapping (Chelydra serpentina) turtles from Lake Michigan coastal wetlands were analyzed to determine (1) whether turtles accumulated heavy metals, (2) if tissue metal concentrations were related to environmental metal concentrations, and (3) the potential for non-lethal sampling techniques to be used for monitoring heavy metal body burdens in freshwater turtles. Muscle, liver, shell, and claw samples were collected from painted and snapping turtles and analyzed for cadmium, chromium, copper, iron, lead, magnesium, manganese, and zinc. Turtle tissues had measurable quantities of all eight metals analyzed. Statistically significant correlations between tissue metal concentrations and sediment metal concentrations were found for a subset of metals. Metals were generally found in higher concentrations in the larger snapping turtles than in painted turtles. In addition, non-lethal samples of shell and claw were found to be possible alternatives to lethal liver and muscle samples for some metals. Human consumption of snapping turtles presents potential health risks if turtles are harvested from contaminated areas. Overall, our results suggest that turtles could be a valuable component of contaminant monitoring programs for wetland ecosystems.
Access options
Buy single article
Instant access to the full article PDF.
USD 39.95
Price includes VAT (USA)
Tax calculation will be finalised during checkout.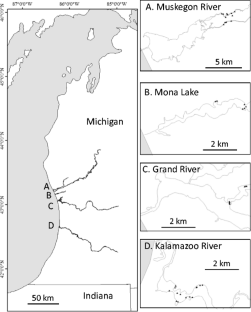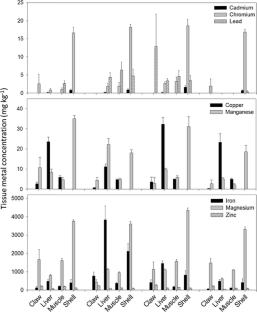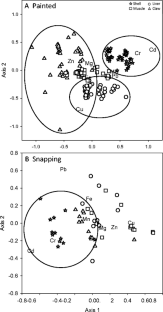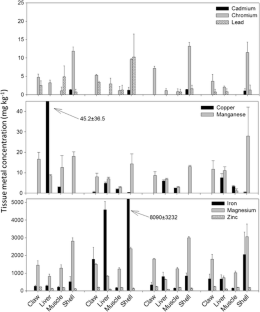 References
Albert, D.A. (2003). Between land and lake: Michigan's great lakes coastal wetlands. Michigan Natural Features Inventory, Michigan State Universtiy Extension, East Lansing, Michigan: Extension Bulletin E–2902.

Anan, Y., Kunito, T., Watanabe, I., Sakai, H., & Tanabe, S. (2001). Trace element accumulation in hawksbill turtles and green turtles from Yaeyama Islands, Japan. Environmental Toxicology and Chemistry, 20(12), 2802–2814.

Bergeron, C. M., Husak, J. F., Unrine, J. M., Romanek, C. S., & Hopkins, W. A. (2007). Influence of feeding ecology on blood mercury concentrations in four species of turtles. Environmental Toxicology and Chemistry, 26(8), 1733.

Body, P. E., Inglis, G., Dolan, P. R., & Mulcahy, D. E. (1991). Environmental lead: a review. Critical Reviews in Environmental Control, 20(5-6), 299–310.

Buchauer, M. J. (1973). Contamination of soil and vegetation near a zinc smelter by zinc, cadmium, copper, and lead. Environmental Science & Technology, 7(2), 131–35.

Calmano, W., Hong, J., & Forstner, U. (1994). Binding and mobilization of heavy metals in contaminated sediments affected by pH and redox potential. Water Science and Technoloy, 28(8), 223–35.

Caurant, F., Bustamante, P., Bordes, M., & Miramand, P. (1999). Bioaccumulation of cadmium, copper and zinc in some tissues of three species of marine turtles stranded along the French Atlantic coasts. Marine Pollution Bulletin, 38(12), 1085–1091.

Chen, C. Y., Stemberger, R. S., Klaue, B., Blum, J. D., Pickhardt, P. C., & Folt, C. L. (2000). Accumulation of heavy metals in food web components across a gradient of lakes. Limnology and Oceanography, 45(7), 1525–1536.

Coleman, A. B. (2008). Effects of heavy metals on freshwater turtles in a sludge-amended lake in South Texas. University of Texas San Antonio: Master of Science in Environmental Science.

Conroy, C. J., Papenfuss, T., Parker, J., & Hahn, N. E. (2009). Use of tricaine methanesulfonate (MS222) for euthanasia of reptiles. Journal of the American Association for Laboratory Animal Science, 48(1), 28–32.

Cooper, M. J., Rediske, R. R., Uzarski, D. G., & Burton, T. M. (2009). Sediment contamination and faunal communities in two subwatersheds of Mona Lake, Michigan. Journal of Environmental Quality, 38(3), 1255–1265.

Dabeka, R. W., Bradley, P., & McKenzie, A. D. (2002). Routine, high-sensitivity, cold vapor atomic absorption spectrometric determination of total mercury in foods after low-temperature digestion. Journal of AOAC International, 85(5), 1136–43.

Dakiky, M., Khamis, M., Manassra, A., & Mer'eb, M. (2002). Selective adsorption of chromium (VI) in industrial wastewater using low-cost abundantly available adsorbents. Advances in Environmental Research, 6(4), 533–540.

De Catanzaro, R., & Chow-Fraser, P. (2010). Relationship of road density and marsh condition to turtle assemblage characteristics in the Laurentian Great Lakes. Journal of Great Lakes Research, 36(2), 357–365.

de Solla, S. R., Fernie, K. J., Letcher, R. J., Chu, S. G., Drouillard, K. G., & Shahmiri, S. (2007). Snapping turtles (Chelydra Serpentina) as bioindicators in Canadian areas of concern in the Great Lakes Basin. Polybrominated diphenyl ethers, polychlorinated biphenyls, and organochlorine pesticides in eggs. Environmental Science & Technology, 41, 7252–7259.

Ernst, C. H., & Lovich, J. E. (2009). Turtles of the United States and Canada (2nd ed.). Baltimore, MD: Johns Hopkins University.

Finkelstein, M. M., & Jerrett, M. (2007). A study of the relationships between Parkinson's disease and markers of traffic-derived and environmental manganese air pollution in two Canadian cities. Environmental Research, 104, 420–432.

Georges, A. (1982). Diet of the Australian freshwater turtle Emydura krefftii (Chelonia: Chelidae), in an unproductive lentic environment. Copeia, 1982, 331–336.

Godley, B. J., Thompson, D. R., & Furness, R. W. (1999). Do heavy metal concentrations pose a threat to marine turtles from the Mediterranean Sea? Marine Pollution Bulletin, 38(6), 497–502.

Hopkins, B. C., Willson, J. D., & Hopkins, W. A. (2013). Mercury exposure is associated with negative effects on turtle reproduction. Environmental Science and Technology, 47, 2416–2422.

Hopkins, W. A., Roe, J. H., Snodgrass, J. W., Jackson, B. P., Kling, D. E., Rowe, C. L., & Congdon, J. D. (2001). Nondestructive indices of trace element exposure in squamate reptiles. Environmental Pollution, 115, 1–7.

Jarup, L., & Åkesson, A. (2009). Current status of cadmium as an environmental health problem. Toxicology and Applied Pharmacology, 238(3), 201–208.

Kruskal, J. B., & Wish, M. (1978). Multidimensional scaling. Beverly Hills, CA: Sage Publications.

Minchin, P. R. (1987). An evaluation of the relative robustness of techniques for ecological ordination. Plant Ecology, 69(1-3), 89–107.

Nagle, R. D., Rowe, C. W., & Congdon, J. D. (2001). Accumulation and selective maternal transfer of contaminants in the turtle Trachemys scripta associated with coal ash deposition. Archives of Environmental Contamination and Toxicology, 40(4), 531–536.

Oksanen, J. (2013). Multivariate analysis of ecological communities in R: vegan tutorial.

Overmann, S. R., & Krajicek, J. J. (1995). Snapping turtles (Chelydra serpentina) as biomonitors of lead contamination of the Big River in Missouri's Old Lead Belt. Environmental Toxicology and Chemistry, 14, 689–695.

Rai, P. K. (2008). Heavy metal pollution in aquatic ecosystems and its phytoremediation using wetland plants: an ecosustainable approach. International Journal of Phytoremediation, 10(2), 133–160.

Ramsey, P. H. (1989). Critical values for Spearman's rank order correlation. Journal of Educational and Behavioral Statistics, 14(3), 245–253.

Rawson, A. J., Patton, G. W., Hofmann, S., Pietra, G. G., & Johns, L. (1993). Liver abnormalities associated with chronic mercury accumulation in stranded bottlenose dolphins. Ecotoxicology and Environmental Safety, 25(1), 41–47.

Spurgeon, D. J., Hopkin, S. P., & Jones, D. T. (1994). Effects of cadmium, copper, lead and zinc on growth, reproduction and survival of the earthworm: assessing the environmental impact of point-source metal contamination in terrestrial ecosystems. Environmental Pollution, 84, 123–130.

Steinman, A.D., Conklin, J., Bohlen, P.J., & Uzarski, D.G. (2003). Influence of cattle grazing and pasture land use on macroinvertebrate communities in freshwater wetlands. Wetlands, 23(4), 877–889.

Tryfonas, A. E., Tucker, J. K., Brunkow, P. E., Johnson, K. A., Hussein, H. S., & Lin, Z. (2006). Metal accumulation in eggs of the red-eared slider (Trachemys scripta elegans) in the Lower Illinois River. Chemosphere, 63, 39–48.

United States Environmental Protection Agency. Protocol Amending the Agreement Between the United States of America and Canada on Great Lakes Water Quality, 1978, as Amended on October 16, 1983,and on November 18, 1987. Resource document.

Wang, H. (2005). Trace Metal Uptake and Accumulation Pathways in Kemp's Ridley Sea Turtles (Lepidochelys Kempii). Diss. Texas A&M University.

Wei, X., & Viadero, R. C. (2007). Synthesis of magnetite nanoparticles with ferric iron recovered from acid mine drainage: implications for environmental engineering. Colloids and Surfaces A: Physicochemical and Engineering Aspects, 294(1-3), 280–286.

Wieten, A. C., Cooper, M. J., Parker, A. D., & Uzarski, D. G. (2012). Great Lakes coastal wetland habitat use by seven turtle species: influences of wetland type, vegetation, and abiotic conditions. Wetlands Ecological Management.

Work, T. M., & Smith, M. R. (1996). Lead exposure in Laysan albatross adults and chicks in Hawaii: prevalence, risk factors and biochemical effects. Archives of Environmental Contamination and Toxicology, 31, 115–119.

Yadollahvand, R., Kami, H.G., Mashroofeh, A., & Bakhtiari, A.R. (2014). Assessment trace elements concentrations in tissues in Caspian Pond Turtle (Mauremys caspica) from Golestan province, Iran. Ecotoxicology and Environmental Safety, 101, 191–195.

Yu, S., Halbrook, R. S., Sparling, D. W., & Colombo, R. (2011). Metal accumulation and evaluation of effects in a freshwater turtle.Ecotoxicology, 20(8), 1801–1812.
Acknowledgments
We thank Michael Brueseke and Jon Loftus for field and laboratory assistance. The University of Notre Dame Center for Environmental Science and Technology provided instrumentation and support for metal analyses. Funding for this study was provided by a College of Science Summer Undergraduate Research Fellowship (COS-SURF) from the University of Notre Dame to DLS and by the Great Lakes National Program Office under the US Environmental Protection Agency (grant number GL-00E00612-0). This research was conducted under University of Notre Dame IACUC protocol 14-039. All applicable international, national, and/or institutional guidelines for the care and use of animals were followed. All procedures performed in studies involving animals were in accordance with the ethical standards of the institution or practice at which the studies were conducted.
About this article
Cite this article
Smith, D.L., Cooper, M.J., Kosiara, J.M. et al. Body burdens of heavy metals in Lake Michigan wetland turtles. Environ Monit Assess 188, 128 (2016). https://doi.org/10.1007/s10661-016-5118-5
Received:

Accepted:

Published:
Keywords
Coastal wetland

Toxicant

Consumption advisory

Non-lethal tissue sampling