Abstract
The aim of this study was to produce a drinking water assessment tool for operators of small distribution systems. A drinking water quality index (DWQI) was developed and applied to small systems based on the water quality index of the Canadian Council of Ministers of Environment. The drinking water quality index was adapted to specific needs by creating four drinking water quality scenarios. First, the temporal and spatial dimensions of drinking water quality variability were taken into account. The DWQI was designed to express global drinking water quality according to different monitoring frequencies. Daily, monthly, and seasonal assessment was also considered. With the data made available, it was possible to use the index as a spatial monitoring tool and express water quality in different points in the distribution system. Moreover, adjustments were made to prioritize the type of contaminant to monitor. For instance, monitoring contaminants with acute health effects led to a scenario based on daily measures, including easily accessible and affordable water quality parameters. On the other hand, contaminants with chronic effects, especially disinfection by-products, were considered in a seasonal monitoring scenario where disinfection by-product reference values were redefined according to their seasonal variability. A sensitivity analysis was also carried out to validate the index. Globally, the DWQI developed is adapted to the needs of small systems. In fact, expressing drinking water quality using the DWQI contributes to the identification of problematic periods and segments in the distribution system. Further work may include this index in the development of a customized decision-making tool for small-system operators and managers.
Access options
Buy single article
Instant access to the full article PDF.
US$ 39.95
Tax calculation will be finalised during checkout.
Subscribe to journal
Immediate online access to all issues from 2019. Subscription will auto renew annually.
US$ 119
Tax calculation will be finalised during checkout.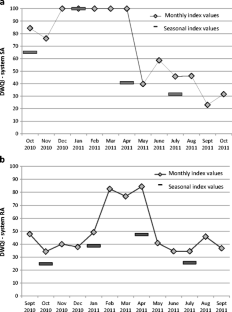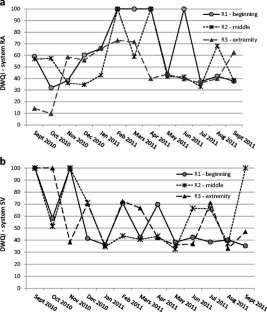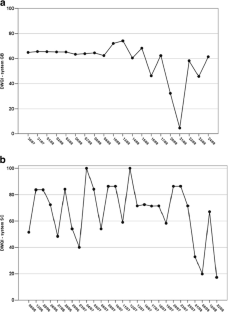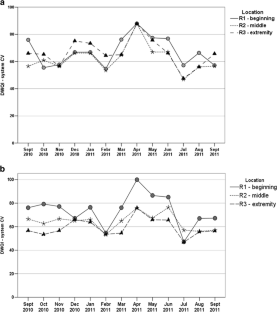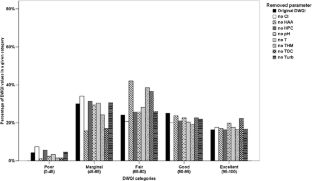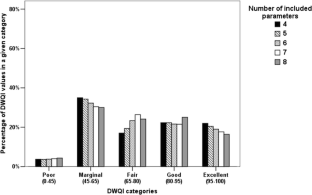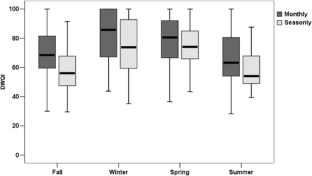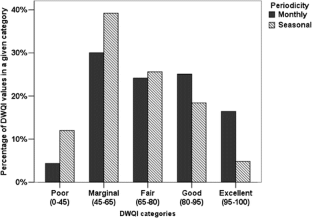 References
Al Khatib, I. (2005). Seasonal variation of bacteriological and chemical quality of drinking water : a case study in a palestinian district. Journal of the Chartered Institution of Water and Environmental Management, 19(3), 154–158.

Allen, M., Edberg, C., & Reasoner, D. (2004). Heterotrophic platecount bacteria - what is their significance in drinking water? International Journal of Food Microbiology, 92, 265–274.

Bolton, P. W., Currie, J., Tervet, D., & Welsh, W. (1978). An index to improve water quality classification. Water Pollution Control, 77(2), 271–284.

Boyacioglu, H. (2007). Development of a water quality index based on a European classification scheme. Water SA, 33(1).

CCME (1999). Canadian water quality guidelines for the protection of aquatic life: Canadian Water Quality Index 1.0 Technical Report. Winnipeg, Manitoba: Canadian environmental quality guidelines.

Cho, S., & Carlson, K. (2006). Using UV254 as a TOC surrogate for intentional contaminant detection in drinking water distribution systems. 8th Annual Water Distribution Systems Analysis Symposium, Cincinnati, Ohio, USA, August 27–30.

Conestoga-Rovers & Associates. (2010). Study on operation and maintenance of drinking water infrastructure in Newfoundland and Labrador.

Coulibaly, H.D., & Rodriguez, M.J. (2003). Spatial and temporal variation of drinking water quality in ten small Quebec utilities. Journal of Environmental Engineering and Science(2), 47–61.

Dobbs, R., Wise, R., & Dean, R. (1972). The use of ultra-violet absorbance for monitoring the total organic carbon content of water and wastewater. Water Research, 6, 1173–1180.

Francisque, A., Rodriguez, M., Miranda-Moreno, L., Sadiq, R., & Proulx, F. (2009). Modeling of heterotrophic bacteria counts in a water distribution system. Water Research, 43, 1075–1087.

Giannoulis, N., Maipa, V., Albanis, T., Konstantinou, I., & Dimoliatis, I. (2004). The quality of drinking water supplies in north-western Greece: a three-year follow-up. International Journal Environmental Analytical Chemistry, 84(1–3), 217–229.

Goshko, M., Pipes, W., & Christian, R. (1983). Coliform occurrence and chlorine residual in small water distribution systems. Journal of the Amercan Water Works Association, 75(7), 371–374.

Gouvernement du Québec. (2012). Règlement sur la qualité de l'eau potable. Gazette Officielle du Québec, 144e année, n°8.

Hamidin, N., Yu, Q., & Connell, D. (2008). Human health risk assessment of chlorinated disinfection by-products in drinking water using a probabilistic approach. Water Research, 42(13), 3263–3274.

Health Canada. (2010). Guidelines for Canadian drinking water quality

Horton, R. (1965). An index number system for rating water quality. Journal of Water Pollution Control Federation, 37(3), 300–306.

Hua, G., & Reckhow, D. A. (2008). DBP formation during chlorination and chloramination: effect of reaction time, pH, dosage, and temperature. Journal of American Water Works Association, 8(100), 82–95.

Khan, A., Paterson, R., & Khan, H. (2004). Modification and application of the Canadian Council of Ministers of the Environment Water Quality Index (CCME WQI) for the communication of drinking water quality data in Newfoundland and Labrador. Water Quality Research Journal of Canada, 9(3), 285–293.

Khan, A., Tobin, A., Peterson, R., Khan, H., & Warren, R. (2005). Application of CCME procedures for derinving site-specific water quality guidelines for the CCME Water Quality Index. Water Quality Research Journal of Canada, 40(4), 448–456.

McCoy, W., & Olson, B. (1986). Relationship among turbidity, particle counts and bacteriological quality within water distribution lines. Water Research, 20(8), 1023–1029.

MDDEFP. (2004). Bilan de la qualité de l'eau potable au Québec 1995–2002.

Morris, R., Audet, A., Angelillo, I., Chalmers, T., & Mosteller, F. (1992). Chlorination, chlorination by-products, and cancer: a meta-analysis. American Journal of Public Health, 7(82), 955–963.

Murray, R., Uber, J., & Janke, R. (2006). Model for estimating acute health impacts from consumption of contaminated drinking water. Journal of Water Ressources Planning and MAnagement, 132, 293–299.

Nieuwenhuijsen, M. (2005). Adverse reproductive health effects of exposure to chlorination disinfection by-products. Global Nest Journal, 7(1), 128–144.

Ott, W. (1978). Water quality indices: a survey of indices used in the United States. USEPA, ETA-60074-78-005.

Ouyang, Y., Nkedi-Kizza, P., Wu, Q., Shinde, D., & Huang, C. (2006). Assessment of seasonal variation in surface water quality. Water Research, 40, 3800–3810.

Parvez, S., Rivera-Nunez, Z., Meyer, A., & Wright, J. M. (2011). Temporal variability in trihalomethane and haloacetic acid concentrations in Massachussetts public drinking water systems. Environmental Research, 111(4), 499–509.

Power, K., & Nagy, I. (1999). Relationship between bacterial regrowth and some physical and chemical parameters within Sydney's drinking water distribution system. Water Research, 33(3), 741–750.

Rickwood, C. J., & Carr, G. M. (2009). Development and sensitivity analysis of a global drinking water quality index. Environmenal Monitoring Assess, 153, 73–90.

Rodriguez, M. J., Sérodes, J., Levallois, P., & Proulx, F. (2007). Chlorinated disinfection by-products in drinking water according to source, treatment, season, and distribution location. Journal of Environmental Engineering, 355–365.

Rook, J. (1974). Formation of haloforms during chlorination of natural waters. Proc. Soc. Water Treat. Exam (23), 234–243.

Sharp, E., Parsons, S., & Jefferson, B. (2006). Seasonal variation in natural organic matter and its impact on coagulation in water treatment. Science of the Total Environment, 363, 183–194.

Silvert, W. (2000). Fuzzy indices of environmental conditions. Ecological Modelling, 130, 111–119.

Singer, P., & Reckhow, D. (1999). Chemical oxidation. In Water quality and treatment (5th ed., ). McGraw Hill, New York, NY: American Water Works Association.

Smith, D. (1990). A better water quality indexing system for rivers and streams. Water Research, 24(10), 1237–1244.

Sowlat, M., Gharibi, H., Yunesian, M., Mahmoudi, M., & Lotfi, S. (2011). A novel, fuzzy-based air quality index (FAQI) for air quality assessment. Atmospheric Environment, 45, 2050–2059.

SPSS Inc. Released (2004). SPSS for Windows, Version 13.0. Chicago, SPSS Inc. 2004.

Summerhayes, R. J., Morgan, G. G., Lincoln, D., Edwards, H. P., Earnest, A., Rahman, M. B., Byleveld, P., Cowie, C. T., & Beard, J. R. (2011). Spatio-temporal variation in trihalométhanes in New South Wales. Water Research, 45(17), 5715–5726.

UNEP GEMS. (2007). Global drinking water quality index development and sensitivity analysis report.

USEPA. (2012). 2012 edition of the drinking water standards and health advisories.

Uyak, V., Soylu, S., Topal, T., Karapinar, N., Ozdemir, K., Ozaydin, S., & Avsar, E. (2014). Spatial and seasonal variations of disinfection byproducts (DBPs) in drinking water distribution systems of Istanbul City, Turkey. Environmental Forencsis, 15(2), 190–205.

Von Gunten, U., Driedger, A., Gallard, H., & Salhi, E. (2001). By-products formation during drinking water disinfection: a tool to assess disinfection efficiency? Water Research, 35(8), 2095–2099.

Wei, Q.-S., Feng, C.-H., Wang, D.-S., Shi, B.-Y., Zhang, L.-T., Wei, Q., & Tang, H.-X. (2008). Seasonal variations of chemical and physical characteristics of dissolved organic matter and trihalomethane precursors in a reservoir: a case study. Journal of Hazardous Materials, 150, 257–264.

Wepener, V., Cyrus, D., Vermeulen, L., O'Brien, G., & Wade, P. (2006). Development of a water quality index for estuarine water quality management in South Africa. WRC Report No. 1163/1/06. Pretoria: Water Research Commision.
Electronic supplementary material
About this article
Cite this article
Scheili, A., Rodriguez, M.J. & Sadiq, R. Development, application, and sensitivity analysis of a water quality index for drinking water management in small systems. Environ Monit Assess 187, 685 (2015). https://doi.org/10.1007/s10661-015-4908-5
Received:

Accepted:

Published:
Keywords
Small systems

Drinking water quality index

Spatio-temporal variability

CCME water quality index

Sensitivity analysis