Abstract
Cover data are used to assess vegetative response to a variety of ecological factors. Estimating cover in the herbaceous layer of forests presents a problem because the communities are structurally complex and rich in species. The currently employed techniques for estimating cover are less than optimal for measuring such rich understories because they are inaccurate, slow, or impracticable. A reference-based approach to estimating cover is presented that compares the area of foliar surfaces to the area of an observer's hand. While this technique has been used to estimate cover in prior studies, its accuracy has not been tested. We tested this hand-area method at the individual plant, population, and community scales in a deciduous forest herbaceous layer, and in a separate farm experiment. The precision, accuracy, observer bias, and species bias of the method were tested by comparing the hand-estimated leaf area index values with actual leaf area index, measured using a leaf area meter. The hand-area method was very precise when regressed against actual leaf area index at the plant, population, and community scales (R 2 of 0.97, 0.93, and 0.87). Among the deciduous sites, the hand-area method overestimated leaf area index consistently by 39.1 % at all scales. There was no observer bias detected at any scale, but plant overestimation bias was detected in one species at the population scale. The hand-area method is a rapid and reliable technique for estimating leaf area index or cover in the forest herbaceous layer and should be useful to field ecologists interested in answering questions at the plant, population, or community level.
Access options
Buy single article
Instant access to the full article PDF.
USD 39.95
Price includes VAT (USA)
Tax calculation will be finalised during checkout.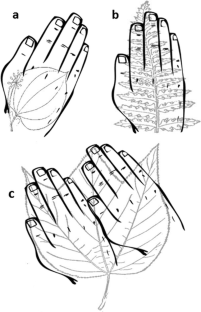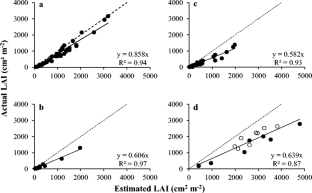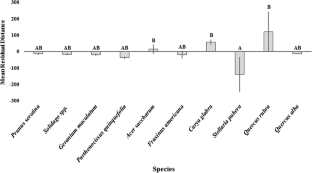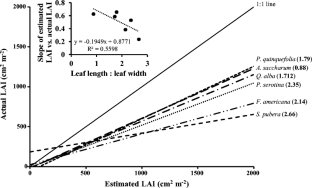 References
Braun-Blanquet, J. (1964). Pflanzensoziologie (3rd ed.). Vienna: Springer.

Britton, N. L., & Brown, A. (1913). An illustrated flora of the northern United States, Canada, and the British possessions. New York: Charles Scribner's Sons.

D'Antonio, C., & Meyerson, L. A. (2002). Exotic plant species as problems and solutions in ecological restoration: a synthesis. Restoration Ecology, 10(4), 703–713.

Daubenmire, R. F. (1959). A canopy coverage method of vegetational analysis. Northwest Science, 35, 43–64.

Didham, R. K., Tylianakis, J. M., Hutchison, M. A., Ewers, R. M., & Gemmell, N. J. (2005). Are invasive species the drivers of ecological change? Trends in Ecology & Evolution, 20(9), 470–474.

Dietz, H., & Steinlein, T. (1996). Determination of plant species cover by means of image analysis. Journal of Vegetation Science, 7(1), 131–136.

Drew, W. B. (1944). Studies on the use of the point-quadrat method of botanical analysis of mixed pasture vegetation. Journal of Agricultural Research, 69, 0289–0297.

Fenner, M. (1997). Evaluation of methods for estimating vegetation cover in a simulated grassland sward. Journal of Biological Education, 31(1), 49–54.

Gilliam, F. S. (2014). Nitrogen biogeochemistry research at Fernow Experimental Forest, West Virginia, USA: soils, biodiversity, and climate change. In M. A. Sutton, K. E. Mason, L. J. Sheppard, H. Sverdrup, R. Haeuber, & W. K. Hicks (Eds.), Nitrogen deposition, critical loads and biodiversity: Proceedings of the INI/CLRTAP/CBD Expert Workshop, 16-18 November 2009. New York, NY: Springer.

Gilliam, F. S., & Christensen, N. L. (1986). Herb-layer response to burning in pine flatwoods of the lower coastal-plain of South-Carolina. Bulletin of the Torrey Botanical Club, 113(1), 42–45.

Gilliam, F. S., Hockenberry, A. W., & Adams, M. B. (2006). Effects of atmospheric nitrogen deposition on the herbaceous layer of a central Appalachian hardwood forest. Journal of the Torrey Botanical Society, 133(2), 240–254.

Gilliam, F. S., & Roberts, M. R. (2003). The herbaceous layer in forests of eastern North America. New York: Oxford University Press.

Gilliam, F. S., & Turrill, N. L. (1993). Herbaceous layer cover and biomass in a young versus a mature stand of central Appalachian hardwood forest. Bulletin of the Torrey Botanicle Club, 120, 445–450.

Gilliam, F. S., Turrill, N. L., & Adams, M. B. (1995). Herbaceous-layer and overstory species in clear-cut and mature central appalachian hardwood forests. Ecological Applications, 5(4), 947–955.

Goodall, D. W. (1953). Point-quadrat methods for the analysis of vegetation. Australian Journal of Botany, 1, 457–461.

Hatton, T. J., West, N. E., & Johnson, P. S. (1986). Relationships of the error associated with ocular estimation and actual total cover. Journal of Range Management, 39(1), 91–92.

Kennedy, K. A., & Addison, P. A. (1987). Some considerations for the use of visual estimates of plant cover in biomonitoring. Journal of Ecology, 75(1), 151–157.

Kent, M., & Coker, P. (1992). Vegetation description and analysis: a practical approach. London: Belhaven Press.

Kercher, S. M., Frieswyk, C. B., & Zedler, J. B. (2003). Effects of sampling teams and estimation methods on the assessment of plant cover. Journal of Vegetation Science, 14(6), 899–906.

Ladwig, L. M., & Meiners, S. J. (2010). Spatiotemporal dynamics of lianas during 50 years of succession to temperate forest. Ecology, 91(3), 671–680.

Leps, J., & Hadincova, V. (1992). How reliable are our vegetation analyses? Journal of Vegetation Science, 3(1), 119–124.

Levy, E. E., & Madden, E. A. (1933). The point method of pasture analysis. New Zealand Agriculture Journal, 46, 267–279.

Macfarlane, C., & Ogden, G. N. (2012). Automated estimation of foliage cover in forest understorey from digital nadir images. Methods in Ecology and Evolution, 3(2), 405–415.

Mueller-Dumbois, D., & Ellenberg, H. (1974). Aims and methods of vegetation ecology. New York: John Wiley and Sons.

SAS Institute (2013). JMP, Version 11. NC: Cary.

Saville, D. J. (1990). Multiple comparison procedures—the practical solution. American Statistician, 44(2), 174–180.

Spellman, F. (2011). Forest-based biomass energy: concepts and applications. Boca Raton: CRC Press.

Stampfli, A. (1991). Accurate determination of vegetational change in meadows by successive point quadrant analysis. Vegetatio, 96(2), 185–194.

Sykes, J. M., Horrill, A. D., & Mountford, M. D. (1983). Use of visual cover assessments as quantitative estimators of some British woodland taxa. Journal of Ecology, 71(2), 437–450.

Tansley, A. G., & Chipp, T. F. (1926). Aims and methods in study of vegetation. London: British Empire Vegetation Committee.

Thomas, S. C., Halpern, C. B., Falk, D. A., Liguori, D. A., & Austin, K. A. (1999). Plant diversity in managed forests: understory responses to thinning and fertilization. Ecological Applications, 9(3), 864–879.

Tonteri, T. (1991). Inter-observer variation in forest vegetation cover assessments. Silva Fennica, 24(2), 189–196.

Vanha-Majamaa, I., Salemaa, M., Tuominen, S., & Mikkola, K. (2000). Digitized photographs in vegetation analysis—a comparison of cover estimates. Applied Vegetation Science, 3(1), 89–94.

Wargo, P. M. (1978). Correlations of leaf area with length and width measurments of leaves of black oak, white oak, and sugar maple. In U. S. D. o. A. Forest Service (Ed.). Broomall, PA: USFS.

Wilson, J. B. (2011). Cover plus: ways of measuring plant canopies and the terms used for them. Journal of Vegetation Science, 22(2), 197–206.

Wintle, B. C., Fidler, F., Vesk, P. A., & Moore, J. L. (2013). Improving visual estimation through active feedback. Methods in Ecology and Evolution, 4(1), 53–62.
Acknowledgments
We thank John Weems and Zach Fowler for permission to sample at the Core Arboretum and Barton Baker and Bobby Clemer at the West Virginia University Agronomy Farm. Also thanks to Phil Crim, Justin Mathias, and Sarah Nunley for their help measuring plant cover and to Donna Ford-Werntz for assistance in the West Virginia University Herbarium. We are grateful to Jennifer Chandler, Mike Elza, Jim McGraw, and Jessi Brie Turner for insightful feedback while writing this manuscript. Funding for this research was provided by the National Science Foundation from their Long Term Research in Environmental Biology (LTREB) program (grant nos. DEB-0417678 and DEB-1019522) and by the West Virginia University Eberly College of Arts and Sciences.
About this article
Cite this article
Walter, C.A., Burnham, M.B., Gilliam, F.S. et al. A reference-based approach for estimating leaf area and cover in the forest herbaceous layer. Environ Monit Assess 187, 657 (2015). https://doi.org/10.1007/s10661-015-4878-7
Received:

Accepted:

Published:
Keywords
Leaf area index

Plant cover

Herbaceous layer

Forest understory

Low-tech sampling