Abstract
Water eutrophication, particularly that caused by phosphorus runoff, is of major concern in China due to the serious threats it poses to watershed environments. We investigated one forested and nine agricultural watersheds with areas of 9–5212 ha in a hilly region of Hunan Province in a subtropical region of southern China from 2010 to 2012 to study total phosphorus (TP) loads and contributing factors. The annual TP loads varied from 35.7 to 222.1 kg P km−2 year−1 among the different watersheds, with the rainy season of spring and summer accounting for 56.3–82.0 % of TP loss. The highest total maximum daily load (TMDL, 0.5 kg P km−2 day−1) and existing exported daily TP loads (DTPL, 1.8 kg P km−2 day−1) were observed under high flow and moist flow conditions in the ten watersheds. However, the target daily reduction ratios for the DTPLs to reach the water quality standard of 0.05 mg P L−1 varied little with flow condition in the stream but depended on the type of watershed, i.e., <50, <80, and 80–90 % for forested, agricultural, and livestock-dominated watersheds, respectively. Gray relational analysis (GRA) suggested that livestock density was the most important factor for watershed TP load under various hydrologic conditions, while livestock density (LD), soil available phosphorous (SAP), cropland percentage, and mean shape index (SHMN) were notable factors for daily reduction rate (DRR) under high and moist flow conditions. Therefore, to protect the local watershed environments, watershed management approaches that include the regulation of livestock production are recommended as the most effective means of reducing P loads at the watershed scale in subtropical areas of southern China.
Access options
Buy single article
Instant access to the full article PDF.
US$ 39.95
Tax calculation will be finalised during checkout.
Subscribe to journal
Immediate online access to all issues from 2019. Subscription will auto renew annually.
US$ 119
Tax calculation will be finalised during checkout.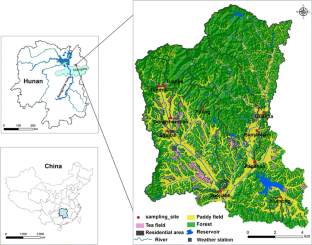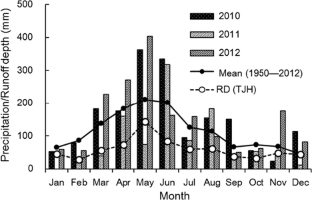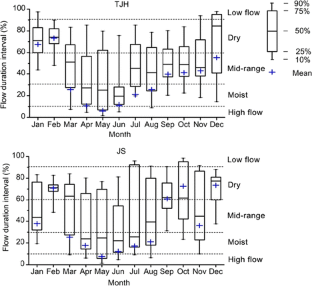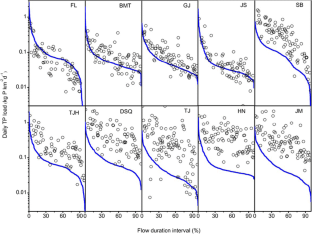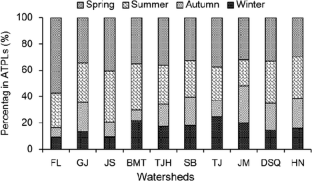 Abbreviations
ATPL:

Annual TP load

DD:

Drainage density

DRR:

Daily reduction rate

DTPL:

Daily TP load

GRA:

Gray relational analysis

GRG:

Gray relational grade

LD:

Livestock density

LDC:

Load duration curve

SAP:

Soil available phosphorous

SHMN:

Shape index

TWI:

Topography wetness index
References
Alexander, R. B., Smith, R. A., Schwarz, G. E., Boyer, E. W., Nolan, J. V., & Brakebill, J. W. (2007). Differences in phosphorus and nitrogen delivery to the Gulf of Mexico from the Mississippi River Basin. Environmental Science & Technology, 42(3), 822–830.

Baker, A. (2005). Land use and water quality. Encyclopedia of Hydrological Sciences.

Bonta, J. V., & Cleland, B. (2003). Incorporating natural variability, uncertainty, and risk into water quality evaluations using duration curves1. JAWRA Journal of the American Water Resources Association, 39, 1481–1496.

Braskerud, B. C. (2002). Factors affecting phosphorus retention in small constructed wetlands treating agricultural non-point source pollution. Ecological Engineering, 19(1), 41–61.

Carey, R. O., Migliaccio, K. W., & Brown, M. T. (2011). Nutrient discharges to Biscayne Bay, Florida: trends, loads, and a pollutant index. Science of the Total Environment, 409(3), 530–539.

Caruso, B. S. (2000). Comparative analysis of New Zealand and US approaches for agricultural nonpoint source pollution management. Environmental Management, 25(1), 9–22.

Chen, H. Y., Teng, Y. G., Wang, J. S., & Song, L. T. (2012). Source apportionment of water pollution in the Jinjiang River (China) using factor analysis with nonnegative constraints and support vector machines. Environmental Forensics, 13(2), 175–184.

Chow, V. T., Maidment, D. R., Mays, L. W. (1988). Applied Hydrology. Tata McGraw-Hill Education. p. 588.

Cleland, B. R. (2002). TMDL development from the "bottom up"—part II: using duration curves to connect the pieces. Proceedings of the Water Environment Federation, 2002(8), 687–697.

Deng, J. L. (1990). A course on grey system theory. Wuhan: Huazhong University of Science and Technology Press.

Forman, R. T. (1995). Land mosaics: the ecology of landscapes and regions. Cambridge University Press.

Fu, C., Zheng, J., Zhao, J., & Xu, W. (2001). Application of grey relational analysis for corrosion failure of oil tubes. Corrosion Science, 43(5), 881–889.

Gao, Y., Zhu, B., Wang, T., & Wang, Y. (2012). Seasonal change of non-point source pollution-induced bioavailable phosphorus loss: a case study of Southwestern China. Journal of Hydrology, 420, 373–379.

Havens, K. E., & Schelske, C. L. (2001). The importance of considering biological processes when setting total maximum daily loads (TMDL) for phosphorus in shallow lakes and reservoirs. Environmental Pollution, 113(1), 1–9.

Huang, J., Lin, J., Zhang, Y., Li, Q., & Hong, H. (2013). Analysis of phosphorus concentration in a subtropical river basin in southeast China: implications for management. Ocean and Coastal Management, 81, 29–37.

Huisman, N. L., & Karthikeyan, K. G. (2012). Using radiometric tools to track sediment and phosphorus movement in an agricultural watershed. Journal of Hydrology, 450, 219–229.

Jin, H., Li, Y., Gao, R., Liu, X., & Wu, J. (2012). Distribution of soil nitrogen, phosphorus and its environmental effects in a small subtropical watershed. Journal of Soil and Water Conservation, 26, 123–126.

Jordan, P., Melland, A. R., Mellander, P. E., Shortle, G., & Wall, D. (2012). The seasonality of phosphorus transfers from land to water: implications for trophic impacts and policy evaluation. Science of the Total Environment, 434, 101–109.

Kang, M. S., Park, S. W., Lee, J. J., & Yoo, K. H. (2006). Applying SWAT for TMDL programs to a small watershed containing rice paddy fields. Agricultural Water Management, 79(1), 72–92.

Kara, E. L., Heimerl, C., Killpack, T., Van de Bogert, M. C., Yoshida, H., & Carpenter, S. R. (2012). Assessing a decade of phosphorus management in the Lake Mendota, Wisconsin watershed and scenarios for enhanced phosphorus management. Aquatic Sciences, 74(2), 241–253.

Kato, T., Kuroda, H., & Nakasone, H. (2009). Runoff characteristics of nutrients from an agricultural watershed with intensive livestock production. Journal of Hydrology, 368(1), 79–87.

Kellogg, R. L., Lander, C. H., Moffitt, D. C., & Gollehon, N. (2000). Manure nutrients relative to the capacity of cropland and pastureland to assimilate nutrients: Spatial and temporal trends for the United States. Proceedings of the Water Environment Federation, 2000(16), 18–157.

Kim, J. S., Oh, S. Y., & Oh, K. Y. (2006). Nutrient runoff from a Korean rice paddy watershed during multiple storm events in the growing season. Journal of Hydrology, 327(1), 128–139.

Krupa, M., Tate, K. W., van Kessel, C., Sarwar, N., & Linquist, B. A. (2011). Water quality in rice-growing watersheds in a Mediterranean climate. Agriculture, Ecosystems & Environment, 144(1), 290–301.

Lam, Q. D., Schmalz, B., & Fohrer, N. (2011). The impact of agricultural best management practices on water quality in a North German lowland catchment. Environmental Monitoring and Assessment, 183(1-4), 351–379.

Lee, S. W., Hwang, S. J., Lee, S. B., Hwang, H. S., & Sung, H. C. (2009). Landscape ecological approach to the relationships of land use patterns in watersheds to water quality characteristics. Landscape and Urban Planning, 92(2), 80–89.

Li, Y., & Shao, M. A. (2004). Experimental study on soil tillage affecting phosphorus loss from slope land. Chinese Journal of Applied Ecology, 15, 443–448.

Li, W., & Xu, X. P. (1999). Hydraulics. Wuhan: The Press of Wu Han Hydraulic and Power University.

Li, P., Tan, T. C., & Lee, J. Y. (1997). Grey relational analysis of amine inhibition of mild steel corrosion in acids. Corrosion, 53(3), 186–194.

Li, Y., Meng, C., Gao, R., Yang, W., Jiao, J. X., Li, Y., Wang, Y., & Wu, J. S. (2014). Study on phosphorus loadings in ten natural and agricultural watersheds in subtropical region of China. Environmental Monitoring and Assessment, 186(5), 2717–2727.

Makarewicz, J. C., D'Aiuto, P. E., & Bosch, I. (2007). Elevated nutrient levels from agriculturally dominated watersheds stimulate metaphyton growth. Journal of Great Lakes Research, 33(2), 437–448.

McDowell, R. W., Sharpley, A. N., & Folmar, G. (2003). Modification of phosphorus export from an eastern USA catchment by fluvial sediment and phosphorus inputs. Agriculture, Ecosystems & Environment, 99(1), 187–199.

McGarigal, K., & Marks, B. J. (1995). Spatial pattern analysis program for quantifying landscape structure. Gen. Tech. Rep. PNW-GTR-351. US Department of Agriculture, Forest Service, Pacific Northwest Research Station.

Meng, C., Li, Y. Y., Xu, X. G., Gao, R., Wang, Y., & Zhang, M. Y. (2013). A case study on non-point source pollution and environmental carrying capacity of animal raising production in subtropical watershed. Acta Scientiae Circumstantiae, 33(2), 635–643.

MEPC (Ministry of Environmental Protection of China). (2002). Water and wastewater monitoring analysis method (4th ed.). Beijing: China Environmental Science Press.

MEPC (Ministry of Environmental Protection of China), National Bureau of Statistics of China, Ministry of Agriculture of China. (2010). First national pollution census bulletin. http://www.gov.cn/jrzg/2010-02/10/content_1532174.htm.

Murphy, J. A. M. E. S., & Riley, J. P. (1962). A modified single solution method for the determination of phosphate in natural waters. Analytica Chimica Acta, 27, 31–36.

Némery, J., Garnier, J., & Morel, C. (2005). Phosphorus budget in the Marne Watershed (France): urban vs. diffuse sources, dissolved vs. particulate forms. Biogeochemistry, 72(1), 35–66.

Ng Kee Kwong, K. F., Bholah, A., Volcy, L., & Pynee, K. (2002). Nitrogen and phosphorus transport by surface runoff from a silty clay loam soil under sugarcane in the humid tropical environment of Mauritius. Agriculture, Ecosystems & Environment, 91(1), 147–157.

Peng, L., & Bai, Y. (2013). Numerical study of regional environmental carrying capacity for livestock and poultry farming based on planting-breeding balance. Journal of Environmental Sciences, 25(9), 1882–1889.

Pionke, H. B., Gburek, W. J., Schnabel, R. R., Sharpley, A. N., & Elwinger, G. F. (1999). Seasonal flow, nutrient concentrations and loading patterns in stream flow draining an agricultural hill-land watershed. Journal of Hydrology, 220(1), 62–73.

Pote, D. H., Daniel, T. C., Moore, P. A., Nichols, D. J., Sharpley, A. N., & Edwards, D. R. (1996). Relating extractable soil phosphorus to phosphorus losses in runoff. Soil Science Society of America Journal, 60(3), 855–859.

Qin, H. L., Quan, Z., Liu, X. L., Li, M. D., Zong, Y., Wu, J. S., & Wei, W. X. (2010). Phosphorus status and risk of phosphate leaching loss from vegetable soils of different planting years in suburbs of Changsha, China. Agricultural Sciences in China, 9(11), 1641–1649.

Rao, N. S., Easton, Z. M., Schneiderman, E. M., Zion, M. S., Lee, D. R., & Steenhuis, T. S. (2009). Modeling watershed-scale effectiveness of agricultural best management practices to reduce phosphorus loading. Journal of Environmental Management, 90(3), 1385–1395.

Ritter, W. F., & Shirmohammadi, A. (Eds.). (2000). Agricultural nonpoint source pollution: watershed management and hydrology. CRC Press.

Sander, T., & Gerke, H. H. (2007). Preferential flow patterns in paddy fields using a dye tracer. Vadose Zone Journal, 6(1), 105–115.

Schindler, D. W. (1977). Evolution of phosphorus limitation in lakes. Science, 195(4275), 260–262.

Schröder, J. J., Scholefield, D., Cabral, F., & Hofman, G. (2004). The effects of nutrient losses from agriculture on ground and surface water quality: the position of science in developing indicators for regulation. Environmental Science & Policy, 7(1), 15–23.

Sharpley, A. N., Daniel, T. C., & Edwards, D. R. (1993). Phosphorus movement in the landscape. Journal of Production Agriculture, 6(4), 492–500.

Sharpley, A., Kleinman, P., & Weld, J. (2004). Assessment of best management practices to minimise the runoff of manure-borne phosphorus in the United States. New Zealand Journal of Agricultural Research, 47(4), 461–477.

Shigaki, F., Sharpley, A., & Prochnow, L. I. (2006). Source-related transport of phosphorus in surface runoff. Journal of Environmental Quality, 35(6), 2229–2235.

Sileika, A. S., Gaigalis, K., Kutra, G., & Smitiene, A. (2005). Factors affecting N and P losses from small catchments (Lithuania). Environmental Monitoring and Assessment, 102(1-3), 359–374.

Sörensen, R., Zinko, U., & Seibert, J. (2006). On the calculation of the topographic wetness index: evaluation of different methods based on field observations. Hydrology and Earth System Sciences Discussions, 10(1), 101–112.

Stein, E. D., & Ackerman, D. (2007). Dry weather water quality loadings in arid, urban watersheds of the Los Angeles Basin, California, USA1. JAWRA Journal of the American Water Resources Association, 43, 398–413.

Stow, C. A., Borsuk, M. E., & Reckhow, K. H. (2011). Nitrogen TMDL development in the Neuse River Watershed: an imperative for adaptive management. Journal of Contemporary Water Research and Education, 122(1), 4.

Turner, R. E., & Rabalais, N. N. (2004). Suspended sediment, C, N, P, and Si yields from the Mississippi River Basin. Hydrobiologia, 511(1-3), 79–89.

USEPA (US Environmental Protection Agency). (2007). An approach for using load duration curves in the development of TMDLs. OFfiCE OF WETLANDS, OCEANS AND WATERSHEDS, EPA 841-B-07-006, Washington, DC.

Vogel, R. M., & Fennessey, N. M. (1994). Flow-duration curves. I: new interpretation and confidence intervals. Journal of Water Resources Planning and Management, 120(4), 485–504.

Wang, Y., Li, Y., Liu, X. L., Liu, F., Li, Y. Y., Song, L. F., Li, H., Ma, Q. M., & Wu, J. S. (2014). Relating land use patterns to stream nutrient levels in red soil agricultural catchments in subtropical central China. Environmental Science and Pollution Research, 21(17), 10481–10492.

Wei, M. J., & Shen, C. (2009). http://www.chinanews.com/cj/cj-hbht/news/2009/11-05/1948982.

Xie, Y. X., Xiong, Z. Q., Xing, G. X., Sun, G. Q., & Zhu, Z. L. (2007). Assessment of nitrogen pollutant sources in surface waters of Taihu Lake region. Pedosphere, 17(2), 200–208.

Yang, J., & Zhang, G. (2003). Quantitative relationship between land use and phosphorus losses in subtropical hilly regions of China. Pedosphere, 13, 67–74.

Zhang, F. S., Wang, J. Q., Zhang, W. F., Cui, Z. L., Ma, W. Q., Chen, X. P., & Jiang, R. F. (2008). Nutrient use efficiencies of major cereal crops in China and measures for improvement. Acta Pedologica Sinica, 45(5), 915–924.

Zhao, Y. H., Deng, X. Z., Zhan, J. Y., Xi, B. D., & Lu, Q. (2010). Progress on preventing and controlling strategies of lake eutrophication in China. Huanjing Kexue yu Jishu, 33(3), 92–98.
Acknowledgments
This study was financially supported by the National Science Fund of China (41171396) and the National Science and Technology Pillar Program (2012BAD14B 17, 2014BAD14B02). The authors thank Mr. Weidong Zhang for his kind assistance in field observations.
About this article
Cite this article
Meng, C., Li, Y., Wang, Y. et al. TMDL for phosphorus and contributing factors in subtropical watersheds of southern China. Environ Monit Assess 187, 514 (2015). https://doi.org/10.1007/s10661-015-4737-6
Received:

Accepted:

Published:
Keywords
Total maximum daily load

Total phosphorus load

Load duration curves

Gray relational analysis

Subtropical watershed

Livestock density

Land use