Abstract
The present study was carried out with the tannery effluent contaminated with heavy metals collected from Ambur industrial area to determine the phycoremediation potential of Arthrospira (Spirulina) platensis. Two different concentrations (50 and 100 %) of heavy metals containing tannery effluent treated with A. platensis were analysed for growth, absorption spectra, biochemical properties and antioxidant enzyme activity levels. The effluent treatments revealed dose-dependent decrease in the levels of A. platensis growth (65.37 % for 50 % effluent and 49.32 % for 100 % effluent), chlorophyll content (97.43 % for 50 % effluent and 71.05 % for 100 % effluent) and total protein content (82.63 % for 50 % effluent and 62.10 % for 100 % effluent) that leads to the reduction of total solids, total dissolved solids and total suspended solids. A. platensis with lower effluent concentration was effective than at higher concentration. Treatment with the effluent also resulted in increased activity levels of antioxidant enzymes, such as superoxide dismutase (14.58 units/g fresh weight for 50 % and 24.57 units/g fresh weight for 100 %) and catalase (0.963 units/g fresh weight for 50 % and 1.263 units/g fresh weight for 100 %). Furthermore, heavy metal content was determined using atomic absorption spectrometry. These results indicated that A. platensis has the ability to combat heavy metal stress by the induction of antioxidant enzymes demonstrating its potential usefulness in phycoremediation of tannery effluent.
Access options
Buy single article
Instant access to the full article PDF.
US$ 39.95
Tax calculation will be finalised during checkout.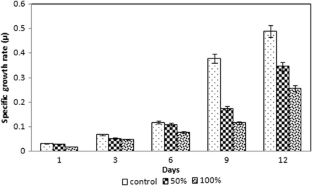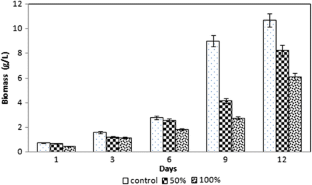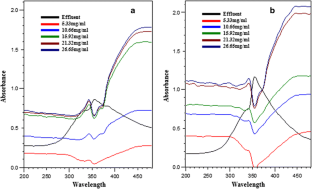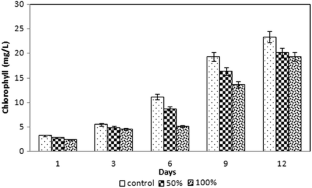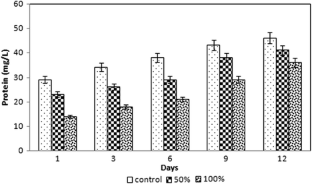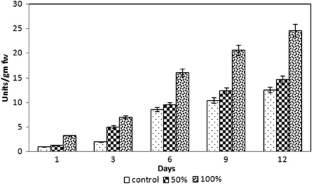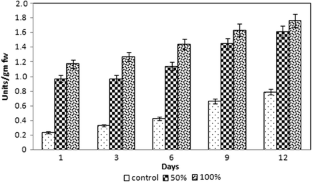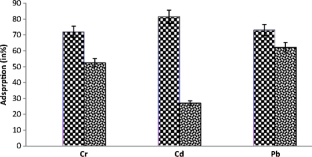 References
Ahluwalia, S. S., & Goyal, D. (2007). Microbial and plant derived biomass for removal of heavy metals from wastewater. Bioresource Technology, 98(2243), 2257.

Ahmad, A., Ghufran, R., & Faizal, W. M. (2010). Cd(II), Pb(II) and Zn(II) removal from contaminated water by bio sorption using activated sludge biomass. Clean - Soil Air Water, 38(153), 158.

Ajayan, K. V., & Selvaraju, M. (2012). Heavy metal induced antioxidant defense system of green microalgae and its effective role in phycoremediation of tannery effluent. Pakistan Journal of Biological Sciences, 15(1056), 1062.

Alam, M. Z., Ahmad, S., Malik, A., & Ahmad, M. (2010). Mutagenicity and genotoxicity of tannery effluent used for irrigation at Kanpur, India. Ecotoxicology and Environmental Safety, 73(1620), 1628.

Ali, N. A., Dewez, D., Didur, O., & Popovic, R. (2006). Inhibition of photosystem II photochemistry by Cr is caused by alteration of both D1 protein and oxygen evolving complex. Photosynthesis Research, 89(81), 87.

Alia, P. S. P., & Mohanty, P. (1993). Proline in relation to free radical production in seedlings of Brassica juncea raised under sodium chloride stress. Plant and Soil, 155(497), 500.

Alscher, R. G., Erturk, N., & Heath, L. S. (2002). Role of superoxide dismutases (SODs) in controlling oxidative stress in plants. Journal of Experimental Botany, 53(1331), 1341.

American Public Health Association (APHA). (1998). Standard methods for examination of water and waste water (20th ed.). Washington: American Public Health Association Inc.

Balaji, S., Kalaivani, T., & Rajasekaran, C. (2014a). Bio sorption of zinc and nickel and its effect on growth on different Spirulina species. Clean - Soil, Air, Water, 42(507), 512.

Balaji, S., Gopi, K., & Muthuvelan, B. (2013). Production of poly hydroxybutyrates from cyanobacteria for the production of bioplastics. Algal Research, 2(278), 285.

Balaji, S., Kalaivani, T., Rajasekaran, C., Shalini, M., Siva, R., Rajan Singh, K., & Asif Akthar, M. (2014b). Arthrospira (Spirulina) species as bio adsorbents for lead, chromium and cadmium removal—a comparative study. Clean - Soil, Air, Water, 42(1), 8.

Baranyi, J., & Pin, C. (1999). Estimating bacterial growth parameters by means of detection times. Applied and Environmental Microbiology, 65(732), 736.

Biotronix, GmbH (2013). Optical densities in biotechnology, (www.biotronix.de).

Brady, D., & Duncan, J. R. (1994). Binding of heavy metals by the cell walls of Saccharomyces cerevisiae. Enzyme and Microbial Technology, 16(633), 638.

Chen, C. T., Chen, T. H., Lo, K. F., & Chiu, C. Y. (2004). Effects of proline on copper transport in rice seedlings under excess copper stress. Plant Science, 166(103), 111.

Chelikani, P., Fita, I., & Loewen, P. C. (2004). Diversity of structures and properties among catalases. Cellular and Molecular Life Sciences, 61(192), 208.

Chidambara Murthy, K. N., Vanitha, A., Rajesha, J., Mahadeva Swamy, M., Sowmya, P. R., & Ravishankar, G. A. (2004). In vivo antioxidant activity of carotenoids from Dunaliella salina—a green microalga. Life Sciences, 76(1381), 1390.

Chojnacka, K. (2010). Biosorption and bioaccumulation in the prospects for practical applications. Environmental International, 36(299), 307.

Choudary, M., Jetley, U. M., Khan, M. A., Zutshi, S., & Fatma, T. (2007). Effect of heavy metal stress on proline, malondialdehyde and superoxide dismutase activity in the cyanobacterium Spirulina platensis-S5. Ecotoxicology and Environmental Safety, 66(204), 209.

Dhindsa, R. H., Plumb–Dhindsa, P., & Thorpe, T. A. (1981). Leaf senescence correlated with increased level of membrane permeability, lipid peroxidation and decreased level of SOD and CAT. Journal of Experimental Botany, 32(93), 101.

Dounmez, G., & Aksu, Z. (2002). Removal of chromium (VI) from saline wastewaters by Dunaliella species. Process Biochemistry, 38(751), 762.

Franklin, N. M., Stauber, J. L., Markich, S. J., & Lim, R. P. (2000). pH-dependent toxicity of copper and uranium to a tropical freshwater alga (Chlorella sp.). Aquatic Toxicology, 48, 289.

Govil, P. K., Reddy, G. L. N., Krishna, A. K., Seshu, C. L. V. N. S., Satya Priya, V., & Sujatha, D. (2004). Inventorization of contaminated sites in India, NGRI technical report no: NGRI-2004-EG-421, pp. 66.

Gowd, S. S., & Govil, P. K. (2008). Distribution of Heavy metals in surface water of Ranipet industrial area in Tamil Nadu, India. Environmental Monitoring Assessment, 136(197), 207.

Gupta, V. K., Arshi, R., Saini, V. K., & Neeraj, J. (2006). Bio sorption of copper (II) from aqueous solutions by Spirogyra species. Journal of Colloidal Interface Science, 296(59), 63.

Hanumantha Rao, P., Ranjith Kumar, R., Raghavan, B. G., Subramanian, V. V., & Sivasubramanian, V. (2011). Application of phycoremediation technology in the treatment of wastewater from a leather-processing chemical manufacturing facility. Water SA, 37(7), 14.

Hazmin, M., Jamaludin, M., Wan, P. A., & Wan, M. T. (2011). Treatment of leachate using cultured Spirulina platensis. International Journal of Engineering and Technology, 8(54), 60.

Indian leather and tanning industry profile. (2010). A report by italian trade commission. (www.italiaindia.com).

Jain, M., Garg, V. K., & Kadirvelu, K. (2013). Chromium removal from aqueous system and industrial wastewater by agricultural wastes. Bioremediation Journal, 17(30), 39.

Johny, C., Oscar, P., Rolando, H., Patricia, V., & Marco, A. (2010). Protective effects of Spirulina maxima on hyperlipidemia and oxidative stress induced by lead acetate in the liver and kidney. Lipids in Health and Disease, 9(29), 35.

Kiran, B., Rani, N., & Kaushik, A. (2008). Chromium (VI) tolerance in two halotolerant strains of Nostoc. Journal of Environmental Biology, 29(155), 158.

Lamaia, C., Kruatrachuea, M., Pokethitiyooka, P., Upathamb, E. S., & Soonthornsarathoola, V. (2005). Toxicity and accumulation of lead and cadmium in the filamentous green alga Cladophora fracta (O.F. Muller ex Vahl) Kutzing: a laboratory study. Science Asia, 31, 127.

Lowry, O. H., Rosenbrough, N. J., Farr, A. L., & Randall, R. J. (1951). Protein measurement with the Folin phenol reagent. The Journal of Biological Chemistry, 193(265), 275.

Luck, H. (1974). Catalase In: Methods in enzymatic analysis. H. U. Bergmeyer, ed., Academic Press, New York, pp. 894.

Ma, M., Zhu, W., Wang, Z., & Witkaamp, G. J. (2003). Accumulation, assimilation and growth inhibition of copper on freshwater alga (Scenedesmus subspicatus 86.81 SAG) in the presence of EDTA and fulvic acid. Aquatic Toxicology, 63, 228.

Mehta, S. K., & Gaur, J. P. (2001). Removal of Ni and Cu from single and binary metal solutions by free and immobilized Chlorella vulgaris. European Journal of Protistology, 37(261), 271.

Pandi, M., Shashirekha, V., & Swamy, M. (2009). Bio absorption of chromium from retan chrome liquor by cyanobacteria. Microbiological Research, 164(420), 428.

Parsons, T. R., & Strickland, J. D. H. (1963). Discussion of spectrophotometric determination of marine-plant pigments, with revised equations for ascertaining chlorophylls and carotenoids. Journal of Marine Research, 21, 163.

Prescott, M. (2005). Lansing, Harley P. Klein A. Donald, Microbiology, sixth edition, McGraw-Hill Higher Education: John.

Rangsayatorn, N., Pokethitiyook, P., Upatham, E. S., & Lanze, G. R. (2004). Cadmium bio sorption by cells of Spirulina platensis TISTR 8217 immobilized in alginate and silica gel. Environmental International, 30(57), 63.

Sharma, S., & Adholeya, A. (2011). Detoxification and accumulation of chromium from tannery effluent and spent chrome effluent by Paecilomyces lilacinus fungi. International Biodeterioration and Biodegradation, 65(309), 317.

Sinha, S., Saxena, R., & Singh, S. (2005). Chromium induced lipid peroxidation in the plants of Pistia stratiotes L.: role of antioxidants and antioxidative enzymes. Chemosphere, 58, 604.

Somashekaraiah, B. V., Padmaja, K., & Prasad, A. R. K. (1992). Phytotoxicity of cadmium ions on germinating seedlings of Mung bean (Phaseolus vulgaris): involvement of lipid peroxides in chlorophyll degradation. Physiologia Plantarum, 63(85), 89.

Toppi, S. D. L., & Gabbrielli, R. (1999). Response to cadmium in higher plants. Environmental and Experimental Botany, 41(105), 130.

Tripathi, B. N., & Gaur, J. P. (2006). Physiological behavior of Scenedesmus sp. during exposure to elevated levels of Cu and Zn and after withdrawal of metal stress. Protoplasma, 229, 9.

Tripathi, B. N., Mehta, S. K., Amar, A., & Gaur, J. P. (2006). Oxidative stress in Scenedesmus sp. during short- and long-term exposure to Cu2+ and Zn2+. Chemosphere, 62, 544.

Vajpayee, P., Rai, U. N., Ali, M. B., Tripathi, R. D., Yadav, V., Sinha, S., & Singh, S. N. (2001). Chromium induced physiologic changes in Vallisneria spiralis L. and its role in phytoremediation of tannery effluent. Bulletin of Environmental Contamination and Toxicology, 67, 256.

Verma, S., & Dubey, R. S. (2003). Lead toxicity induces lipid peroxidation and alters the activities of antioxidative enzymes in growing rice plants. Plant Science, 164(645), 655.

Volesky, B. (1990). Bio sorption and bio sorbents, in bio sorption of heavy metals (pp. 3–5). Boca Raton, Florida: CRC Press.

Wang, J., & Chen, C. (2009). Bio sorbents for heavy metals removal and their future. Biotechnology Advances, 27(195), 226.

Zarrouk, C. (1966). Contribution à l'étude d'une cyanophycée. Influence de divers' facteurs physiques et chimiques sur la croissance et la photosynthèse de Spirulina maxima. Ph.D. Thesis, Université de Paris, Paris.

Zimmo, O. R., Al-Sa'ed, R. M., Van der Steen, N. P., & Gijzen, H. J. (2002). Process performance assessment of algae-based and duckweed-based wastewater treatment systems. Water Science Technology, 45(91), 101.
Acknowledgments
The authors are thankful to the VIT University management for providing the infrastructure, constant support and encouragements. The authors also acknowledge Technology Business Incubator (TBI-VIT), sponsored by the Department of Science and Technology, for the atomic absorption spectrometry analysis.
Conflict of interest
The authors have declared no conflict of interest.
Additional information
T. Kalaivani and C. Rajasekaran contributed equally to this work.
About this article
Cite this article
Balaji, S., Kalaivani, T., Rajasekaran, C. et al. Removal of heavy metals from tannery effluents of Ambur industrial area, Tamilnadu by Arthrospira (Spirulina) platensis . Environ Monit Assess 187, 325 (2015). https://doi.org/10.1007/s10661-015-4440-7
Received:

Accepted:

Published:
Keywords
Arthrospira (Spirulina)

Protective effect

Effluent

Heavy metals

Tanneries