Abstract
The Williston Basin, located in the Northern Great Plains, is experiencing rapid energy development with North Dakota and Montana being the epicenter of current and projected development in the USA. The average single-bore well pad is 5 acres with an estimated 58,485 wells in North Dakota alone. This landscape-level disturbance may provide a pathway for the establishment of non-native plants. To evaluate potential influences of energy development on the presence and abundance of non-native species, vegetation surveys were conducted at 30 oil well sites (14 ten-year-old and 16 five-year-old wells) and 14 control sites in native prairie environments across the Williston Basin. Non-native species richness and cover were recorded in four quadrats, located at equal distances, along four transects for a total of 16 quadrats per site. Non-natives were recorded at all 44 sites and ranged from 5 to 13 species, 7 to 15 species, and 2 to 8 species at the 10-year, 5-year, and control sites, respectively. Respective non-native cover ranged from 1 to 69, 16 to 76, and 2 to 82 %. Total, forb, and graminoid non-native species richness and non-native forb cover were significantly greater at oil well sites compared to control sites. At oil well sites, non-native species richness and forb cover were significantly greater adjacent to the well pads and decreased with distance to values similar to control sites. Finally, non-native species whose presence and/or abundance were significantly greater at oil well sites relative to control sites were identified to aid management efforts.
Access options
Buy single article
Instant access to the full article PDF.
US$ 39.95
Tax calculation will be finalised during checkout.
Subscribe to journal
Immediate online access to all issues from 2019. Subscription will auto renew annually.
US$ 119
Tax calculation will be finalised during checkout.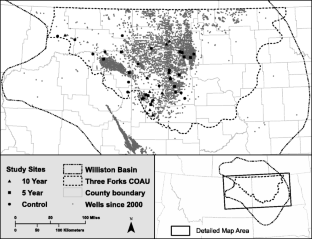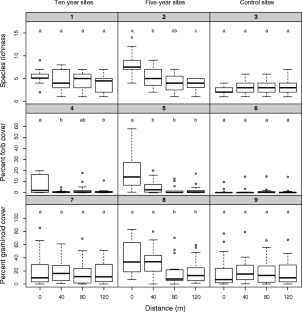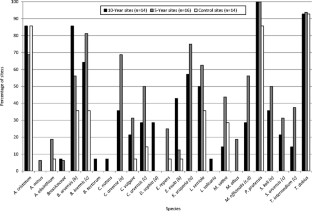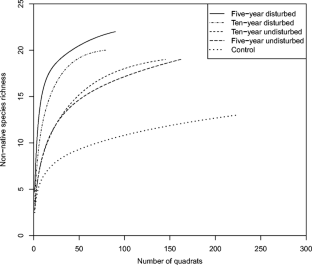 References
Allen, M. F. (1989). Mycorrhizae and rehabilitation of disturbed arid soils: processes and practices. Arid Soil Research, 3, 229–241.

Bergquist, E., Evangelista, P., Stohlgren, T. J., & Alley, N. (2007). Invasive species and coal bed methane development in the Powder River Basin. Wyoming Environmental Monitoring Assessments, 128, 381–394.

Burke, M. J. W., & Grime, J. P. (1996). An experimental study of community invasibility. Ecology, 77, 776–790.

Cully, A. C., Cully, J. F., Jr., & Hiebert, R. D. (2003). Invasion of exotic plants species in tallgrass prairie fragments. Conservation Biology, 17, 900–998.

D'Antonio, C. M., & Vitousek, P. A. (1992). Biological invasions by exotic grasses, the grass/fire cycle, and global change. Annual Review of Ecology and Systematics, 23, 63–87.

D'Antonio, C. M., Levine, J. M., & Thomsen, M. (2001). Ecosystem resistance to invasion and the role of propagule supply: a California perspective. Journal of Mediterranean Ecology, 2, 233–245.

Daubenmire, R. (1959). A canopy-cover method of vegetational analysis. Northwest Science, 33(1), 43–64.

Davies, K. W., & Sheley, R. L. (2007). A conceptual framework for preventing the spatial dispersal of invasive plants. Weed Science, 55(2), 178–184.

DeKeyser, E. S., Meehan, M., Clambey, G., & Krabbenhoft, K. K. (2013). Cool season invasive grasses in the Northern Great Plains natural areas. Natural Areas Journal, 33(1), 81–090.

Duncan, C. (2008). Montana weed management plan: Montana noxious weed summit advisory council (p. 100). Helena: Montana Department of Transportation.

Ellstrand, N., & Schierenbeck, K. A. (2000). Hybridization as a stimulus for the evolution of invasiveness in plants? Proceedings from the National Academy of Sciences, 97, 7043–7050.

Ferguson, D.E., & Craig, C.L. (2010). Response of six non-native plant species to wildfires in the northern Rocky Mountains, USA. Research Paper RMRSRP-78, Fort Collins, CO: U.S. Department of Agriculture, Forest Service, Rocky Mountain Research Station. 12.

Fry, J., Xian, G., Jin, S., Dewitz, J., Homer, C., Yang, L., Barnes, C., Herold, N., & Wickham, J. (2011). Completion of the 2006 national land cover database for the conterminous United States. Photogrammetric Engineering and Remote Sensing, 77(9), 858–864.

Gaswirth, S.B., Marra, K.R., Cook, T.A, Charpentier, R.R., Gautier, D.L., Higley, D.K., Klett, T.R., Lewan, M.D., Lillis, P.G., Schenk, C.J., Tennyson, M.E., & Whidden, K.J. (2013). Assessment of undiscovered oil resources in the Bakken and Three Forks Formations, Williston Basin Province, Montana, North Dakota, and South Dakota, 2013. U.S. Geological Survey Fact Sheet 2013–3013, 4. http://pubs.usgs.gov/fs/2013/3013/.

Gelbard, J. L., & Belnap, J. (2003). Roads as conduits for exotic plant invasions in a semiarid landscape. Conservation Biology, 17(2), 420–432.

Gibson, J. W. (2013). Bombing North Dakota. Earth Island Journal, 27(4), 4.

Gucker, C.L. (2009). Melilotus alba, M. officinalis. In Fire Effects Information System, [Online]. U.S. Department of Agriculture, Forest Service, Rocky Mountain Research Station, Fire Sciences Laboratory (Producer). Available: http://www.fs.fed.us/database/feis/ [2014, September 26].

Holm, L. G., Plucknett, D. L., Pancho, J. V., & Herberger, J. P. (1977). The world's worst weeds: distribution and biology (p. 609). Honolulu: University Press of Hawaii.

Jensen, M.E. (1991). Ecological classification and cumulative soil effects. In Harvey, A.E., Neuenschwander, L.F., compilers. Proceedings—management and productivity of western-montane forest soils; 1990 April 10–12; Boise, ID. General Technical Report INT-280 (pp. 218–223). Ogden, UT: U.S. Department of Agriculture, Forest Service, Intermountain Research Station.

Kurz, G. L., Olson, R.A., & Whitson, T. D. (1995). Ecological implications of Russian knapweed (Centaurea repens L.) infestation: small mammal and habitat associations. Proceedings of the Western Society of Weed Science, 56.

Larson, D. L., Anderson, P. J., & Newton, W. (2001). Alien plant invasion in mixed-grass prairie: effects of vegetation type and anthropogenic disturbance. Ecological Applications, 11(1), 128–141.

Litt, A. R., & Pearson, D. E. (2013). Non-native plants and wildlife in the intermountain west. Wildlife Society Bulletin, 37, 517–526.

Lonsdale, W. M., & Lane, L. A. (1994). Tourist vehicles as vectors of weed seeds in Kakadu National Park, Northern Australia. Biological Conservation, 69, 277–283.

Manier, D. J., Aldridge, C., Anderson, P., Chong, G., & Homer, C. (2011). Land use and habitat conditions across the southwestern Wyoming sagebrush steppe: development impacts, management effectiveness and the distribution of invasive plants. Natural Resources and Environmental Issues, 17, 15–27.

Manier, D. J., Aldridge, C. L., & Schell, S. J. (2014). Human infrastructure and invasive plant occurrence across rangelands of southwestern Wyoming, USA. Rangeland Ecology & Management, 67, 160–172.

Maron, J. L., Pearson, D. E., Potter, T., & Ortega, Y. K. (2012). Seed size and provenance mediate the joint effects of disturbance and seed predation on community assembly. Journal of Ecology, 100, 1492–1500.

Martin, L. J., & Murray, B. R. (2011). A predictive framework and review of the ecological impacts of exotic plant invasions on reptiles and amphibians. Biological Reviews, 86, 407–419.

Nasen, L. C., Noble, B. F., & Johnstone, J. F. (2011). Environmental effects of oil and gas lease sites in a grassland ecosystem. Journal of Environmental Management, 92, 195–204.

Nielsen, S. E., Aldridge, C. L., Hanser, S. E., Leau, M., & Knick, S. T. (2011). Chapter 10: occurrence of non-native plants: the role of anthropogenic features. In S. E. Hanser, M. Leu, S. T. Knick, & C. L. Aldridge (Eds.), Sagebrush ecosystem conservation and management: ecoregional assessment tools and models for the Wyoming Basins (pp. 357–386). Kansas: Allen Press.

North Dakota Department of Agriculture. (2014). Weed survey report: http://agdepartment.vision-technology.com/weedsurvey/report.asp, accessed 9/15/2014.

North Dakota Industrial Commission. (2014). ND producing counties update: https://www.dmr.nd.gov/oilgas/presentations/NDOGCPC091814.pdf, accessed 2/17/2015.

North Dakota Petroleum Council. (2014). Surface Owner Information Center: http://www.ndoil.org/?id=184, accessed 9/15/2014.

Pimentel, D., Zuniga, R., & Morrison, D. (2005). Update on the environmental and economic costs associated with alien-invasive species in the United States. Ecological Economics, 52, 273–288.

Rice, P.M. (2012). INVADERS database system. University of Montana, Division of Biological Sciences, Missoula, Montana, USA. <http://invader.dbs.umt.edu>. Accessed December 10, 2013.

Ringwall, K., Biondini, M., & Grugiel, C. (2000). Effects if nitrogen fertilization in leafy spurge architecture. Journal of Range Management, 53, 228–232.

Rotenberry, J. T. (1985). The role of habitat in avian community composition: physiognomy or floristics? Oecologia, 67, 213–217.

Samuel, M. J., & Hart, R. H. (1994). Sixty-one years of secondary succession on rangelands of the Wyoming high plains. Journal of Range Management, 47, 184–191.

Sinkins, P. A., & Oftinowski, R. (2012). Invasion or retreat? The fate of exotic invaders on the northern prairies, 40 years after cattle grazing. Plant Ecology, 213, 1251–1262.

Sonnenberg, S. A., & Pramudito, A. (2010). Petroleum geology of the giant Elm Coulee field, Williston Basin. American Association of Petroleum Geologists, 93(9), 1127–1156.

Stohlgren, T. J., Chong, G. W., Schell, L. D., Rimar, K. A., Otsuki, Y., Lee, M., Kalkhan, M. A., & Villa, C. A. (2002). Assessing vulnerability to invasion by nonnative plant species at multiple spatial scales. Environmental Management, 9(4), 566–577.

Thompson, M. J. (1996). Winter foraging response to elk to spotted knapweed removal. Northwest Science, 70(1), 10–19.

Thompson, G. G., Withers, P. C., Pianka, E. R., & Thompson, S. A. (2003). Assessing biodiversity with species accumulation curves; inventories of small reptiles by pit-trapping in Western Australia. Austral Ecology, 28, 361–383.

Trammel, M. A., & Butler, J. L. (1995). Effects of exotic plants on native ungulate use of habitat. The Journal of Wildlife Management, 59(4), 808–816.

Ugland, K. I., Gray, J. S., & Ellingsen, K. E. (2003). The species-accumulation curve and estimation of species richness. Journal of Animal Ecology, 72, 888–897.

US Department of Agriculture, National Resources Conservation Service. (2014). The PLANTS database (http://plants.usda.gov ), 1 April 2014), National Plant Data Team, Greensboro, NC 27401–4901 USA.

von der Lippe, M., & Kowarik, I. (2007). Long-distance dispersal of plants by vehicles as a driver of plant invasions. Conservation Biology, 21(4), 986–996.

Watkins, R. Z., Chen, J., Pickens, J., & Brosofske, K. D. (2003). Effects of forest roads on understory plants in a managed hardwood landscape. Conservation Biology, 17(2), 411–419.

Wilcove, D. S., Rothstein, D., Phillips, A., & Losos, E. (1998). Quantifying threats to imperiled species in the United States. BioScience, 48, 607–615.
Acknowledgments
The author wishes to thank the following individuals for their contributions: Tara Chesley-Preston (Montana State University Institute on Ecosystems) assisted in identifying study sites; Karen Newlon (Montana Natural Heritage Program) conducted oversight of the vegetation surveys performed by Nick Smith, Isabel Beavers, and Luke Obermeyer; Joseph Washington (U.S. Forest Service Medora Ranger Station) provided logistical support; and Kathryn Irvine and Robert Diehl (U.S. Geological Survey Northern Rocky Mountain Science Center) provided statistical assistance and general counsel, respectively.
Compliance with ethical standards
The author declares there are no conflicts of interest. This project was fully funded by the U.S. Fish and Wildlife Service Plains and Prairie Potholes Landscape Conservation Cooperative (grant number CFDA 15.669). Manuscript contents have been reviewed by the U.S. Geological Survey and approved for publication. Any use of trade, firm, or product names is for descriptive purposes only and does not imply endorsement by the U.S. Government.
About this article
Cite this article
Preston, T.M. Presence and abundance of non-native plant species associated with recent energy development in the Williston Basin. Environ Monit Assess 187, 200 (2015). https://doi.org/10.1007/s10661-015-4408-7
Received:

Accepted:

Published:
Keywords
Bakken Formation

Energy development

Native prairie

Non-native species

Williston Basin