Abstract
Air pollutants have been linked with a number of adverse health effects. Children are especially sensitive, particularly when they get close to the exhaust emissions of the vehicles on the street. The objective of this study was to measure the different exposure of infants and adults to ultrafine particles (UFP) as a surrogate marker of air pollution and of risk of deleterious health effects. Two different portable P-TRAK® were used to measure simultaneously exposure to UFPs at different heights, one corresponding to the height of an infant in a stroller (0.55 m) and the other one to the height of the face of an adult pedestrian (1.70 m). Measurements were taken on three different streets with high traffic density in Barcelona, in 10 consecutive days during spring, with two sampling sessions of 1 h each day, moving afoot and taking into account temperature, humidity, and wind speed. Fifty-two thousand and eight (52,008) paired values were obtained, and the results showed about 10 % higher levels of UFP concentration at 0.55 m (48,198 ± 25,296 pt/cm3) compared to 1.70 m (43,151 ± 22,517 pt/cm3). Differences between working and nonworking days were observed. Concentration patterns and variation by days of the week and time periods were related to traffic intensity. This study revealed that infants transported by stroller in urban areas are more exposed to air pollution than walking adults. As infants are more vulnerable and UFP have more effects on their health, measures should be taken to protect this population when it is transported in the street.
Access options
Buy single article
Instant access to the full article PDF.
US$ 39.95
Tax calculation will be finalised during checkout.
Subscribe to journal
Immediate online access to all issues from 2019. Subscription will auto renew annually.
US$ 119
Tax calculation will be finalised during checkout.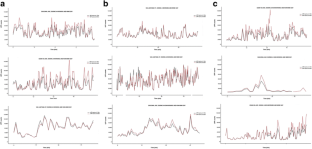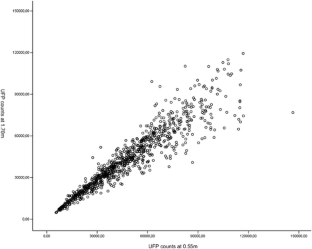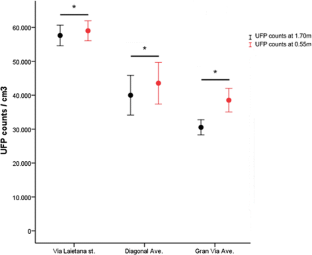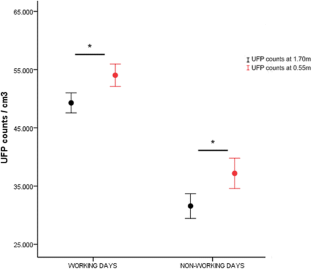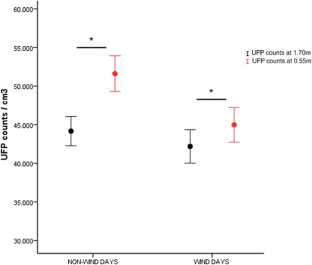 References
Ajuntament de Barcelona. (2009). La Red Básica de la Circulación de la Ciudad de Barcelona.

Akbar-Khanzadeh, F., Ames, A., Bisesi, M., Milz, S., Czajkowski, K., et al. (2012). Particulate matter (PM) exposure assessment-horizontal and vertical PM profiles in relation to agricultural activities and environmental factors in farm fields. Journal of Occupational and Environmental Hygiene, 9, 502–516.

Andersen, Z. J., Wahlin, P., Raaschou-Nielsen, O., Ketzel, M., Scheike, T., et al. (2008). Size distribution and total number concentration of ultrafine and accumulation mode particles and hospital admissions in children and the elderly in Copenhagen, Denmark. Occupational and Environmental Medicine, 65, 458–466.

Boies, A., Hankey, S., Kittelson, D., Marshall, J. D., Nussbaum, P., et al. (2009). Reducing motor vehicle greenhouse gas emissions in a non-California state: a case study of Minnesota. Environmental Science and Technology, 43, 8721–8729.

Burtscher, H., & Schuepp, K. (2012). The occurrence of ultrafine particles in the specific environment of children. Paediatric Respiratory Reviews, 13, 89–94.

Buzzard, N. A., Clark, N. N., & Guffey, S. E. (2009). Investigation into pedestrian exposure to near-vehicle exhaust emissions. Environmental Health, 8, 13.

Cattaneo, A., Garramone, G., Taronna, M., Peruzzo, C., & Cavallo, D. M. (2009). Personal exposure to airborne ultrafine particles in the urban area of Milan. Occupational Preventive Health Division, 151, 1–10.

Esplugues, A., Fernández-Patier, R., Aguilera, I., Iñíguez, C., Garcia, S., et al. (2007). Air pollutant exposure during pregnancy and fetal and early childhood development. Research protocol of the INMA [Childhood and Environment Project]. Gaceta Sanitaria, 21, 162–171.

Estarlich, M., Ballester, F., Aguilera, I., Fernández-Somoano, A., Lertxundi, A., et al. (2011). Residential exposure to outdoor air pollution during pregnancy and anthropometric measures at birth in a multicenter cohort in Spain. Environmental Health Perspectives, 119, 1333–1338.

Ferris, J., Ortega, J. A., López, J., García, J., Aliaga, A., et al. (2003). Autobuses escolares y motores diesel: contaminación atmosférica, exposición pediátrica y efectos adversos en la salud humana. Revista Española de Pediatría, 59, 132–145.

Gidhagen, L., Johansson, C., Langner, J., & Foltescu, V. L. (2005). Urban scale modeling of particle number concentration in Stockholm. Atmospheric Environment, 39, 1711–1725.

Gómez-Moreno, F. J., Pujadas, M., Plaza, J., Rodríguez-Maroto, J. J., Martínez-Lozano, P., et al. (2011). Influence of seasonal factors on the atmospheric particle number concentrationand size distribution in Madrid. Atmospheric Environment, 45, 3169–3180.

Harrison, R. M., & Jones, A. M. (2005). Multisite study of particle number concentrations in urban air. Environmental Science and Technology, 39, 6063–6070.

Harrison RM, Kinnersleya RP. (2004). Pollution, Air. Encyclopedia of Physical Science and Technology. 3rd Edition 539–555.

Hauck, H. (1998). Revision of ambient air quality standards for PM? Toxicology Letters, 96–97, 269–276.

Health Effects Institute (HEI). Understanding the Health Effects of Ambient Ultrafine Particles. HEI Perspectives. 2013. http://pubs.healtheffects.org/getfile.php?u=893 [Accessed December 12, 2013].

Heinrich, J., & Slama, R. (2007). Fine particles, a major threat to children. International Journal of Hygiene and Environmental Health, 210, 617–622.

Holland, W. W. (1994). Effect of air pollution on children. Pediatrics, 53, 839–841.

Kamenetsky, E., & Vieru, N. (1995). Model of air flow and air pollution concentration in urban canyons. Boundary-Layer Meteorology, 73, 203–206.

Kaur, S., & Nieuwenhuijsen, M. J. (2009). Determinants of personal exposure to PM2.5, ultrafine particle counts and CO in a transport microenvironment. Environmental Science and Technology, 43, 4737–4743.

Kaur, S., Nieuwenhuijsen, M. J., & Colville, R. N. (2005). Pedestrian exposure to air pollution along a major road in Central London, UK. Atmospheric Environment, 39, 7307–7320.

Künzli, N., Kaiser, R., Medina, S., Studnicka, M., Chanel, O., et al. (2000). Public-health impact of outdoor and traffic-related air pollution: a European assessment. Lancet, 356, 795–801.

Lacasana, M., Esplugues, A., & Ballester, F. (2005). Exposure to ambient air pollution and prenatal and early childhood health effects. European Journal of Epidemiology, 20, 183–199.

Morawska, L., He, C., Hitchins, J., Gilbert, D., & Parappukkaran, S. (2001). The relationship between indoor and outdoor airborne particles in the residential environment. Atmospheric Environment, 35, 3463–3473.

Ostro, B., Tobias, A., Querol, X., Alastuey, A., Amato, F., et al. (2011). The effects of particulate matter sources on daily mortality: a case-crossover study of Barcelona, Spain. Environmental Health Perspectives, 119, 1781–1787.

Penttinen, P., Timonen, K. L., Tiittanen, P., Mirme, A., Ruuskanen, J., et al. (2001). Number concentration and size of particles in urban air: effects on spirometric lung function in adult asthmatic subjects. Environmental Health Perspectives, 109, 319–323.

Peters, A., Wichmann, H. E., Tuch, T., Heinrich, J., & Heyden, J. (1997). Respiratory effects are associated with the number of ultrafine particles. American Journal of Respiratory and Critical Care Medicine, 155, 1376–1383.

Putaud, J.-P., Van Dingenen, R., Alastuey, A., Bauer, H., Birmili, W., et al. (2010). A European aerosol phenomenology-3: physical and chemical characteristics of particulate matter from 60 rural, urban, and kerbside sites across Europe. Atmospheric Environment, 44, 1308–1320.

Puustinen, A., Hämeri, K., Pekkanen, J., Kulmala, M., De Hartog, J., et al. (2007). Spatial variation of particle number and mass over four European cities. Atmospheric Environment, 41, 6622–6636.

Rodríguez, S., & Cuevas, E. (2007). The contributions of minimum primary emissions and new particle formation enhancements to the particle number concentration in urban air. Journal of Aerosol Science, 38, 1207–1219.

Rodríguez, S., Van Dingenen, R., Putaud, J. P., Dell'Acqua, A., Pey, J., et al. (2007). A study on the relationship between mass concentrations, chemistry and number size distribution of urban fine aerosols in Milan, Barcelona & London. Atmospheric Chemistry and Physics, 7, 2217–2232.

Rodríguez, S., Cuevas, E., González, Y., Ramos, R., Romero, P. M., et al. (2008). Influence of sea breeze circulation and road traffic emissions on the relationship between particle number, black carbon, PM1, PM2.5 and PM2.5-10 concentrations in a coastal city. Atmospheric Environment, 42, 6523–6534.

Rojas L, Garibay V. (2003). Las partículas suspendidas, aeropartículas o aerosoles: ¿hacen daño a la salud?; ¿podemos hacer algo? Gaceta Ecológica 69: 29–44.

Ruuskanen, J., Tuch, T., Ten Brink, H., Peters, A., Khlystov, A., et al. (2001). Concentrations of ultrafine, fine and PM2.5 particles in three European cities. Atmospheric Environment, 35, 3729–3738.

Sannolo, N., Lamberti, M., & Pedata, P. (2010). Human health effects of ultrafine particles. Medicina del Lavoro, 32, 348–351.

Schwartz, J. (2004). Air pollution and children's health. Pediatrics, 13, 1037–1043.

Spira-Cohen, A., Chen, L. C., Kendall, M., Lall, R., & Thurston, G. D. (2011). Personal exposures to traffic-related air pollution and acute respiratory health among Bronx schoolchildren with asthma. Environmental Health Perspectives, 119, 559–565.

Sunyer, J., Castellsague, J., Saez, M., Tobias, A., & Anto, J. M. (1996). Air pollution and mortality in Barcelona. Journal of Epidemiology and Community Health, 50, 76–80.

Terzano, C., Di Stefano, F., Conti, V., Graziani, E., & Petroianni, A. (2010). Air pollution ultrafine particles: toxicity beyond the lung. European Review Medicine Pharmacology Science, 14, 809–821.

United Nations Environment Programme. (2002). Children in the new millennium: environmental impact on health. New York: United Nations Children's Fundation and World Health Organization.

Van Dingenen, R., Raes, F., Putaud, J.-P., Baltensperger, U., Charron, A., et al. (2004). A European aerosol phenomenology-1: physical characteristics of particulate matter at kerbside, urban, rural and background sites in Europe. Atmospheric Environment, 38, 2561–2577.

Weichenthal, S., Dufresne, A., & Infante-Rivard, C. (2007). Indoor ultrafine particles and childhood asthma: exploring a potential public health concern. Biostatistics Occupational Health, 17, 81–91.

World Health Organization. (2006). Regional Office for Europe. Regional risks of particulate matter from long-range trans boundary air pollution. Available http://www.euro.who.int/__data/assets/pdf_file/0006/78657/E88189.pdf [Accessed December 12, 2013].
Acknowledgments
This study was supported by intramural funding of the Neuropsychopharmacologvy Program at IMIM and partially supported by Generalitat de Catalunya (Spain) AGAUR (2009SGR1388), Universitat Autònoma de Barcelona and Red SAMID, RETIC Instituto Carlos III, Madrid, Spain. We want to acknowledge the collaboration of Audrey de Nazelle (IMIM).
No source of support of funding was received.
Conflict of interest
The authors have no conflict of interest and did not receive any funding.
About this article
Cite this article
Garcia-Algar, O., Canchucaja, L., d'Orazzio, V. et al. Different exposure of infants and adults to ultrafine particles in the urban area of Barcelona. Environ Monit Assess 187, 4196 (2015). https://doi.org/10.1007/s10661-014-4196-5
Received:

Accepted:

Published:
Keywords
Infant

Air

Pollution

Environmental exposure

Ultrafine particles

Urban area