Abstract
The projected increase in atmospheric N deposition and air/soil temperature will likely affect soil nutrient dynamics in boreal ecosystems. The potential effects of these changes on soil ion fluxes were studied in a mature balsam fir stand (Abies balsamea [L.] Mill) in Quebec, Canada that was subjected to 3 years of experimentally increased soil temperature (+4 °C) and increased inorganic N concentration in artificial precipitation (three times the current N concentrations using NH4NO3). Soil element fluxes (NO3, NH4, PO4, K, Ca, Mg, SO4, Al, and Fe) in the organic and upper mineral horizons were monitored using buried ion-exchange membranes (PRS™ probes). While N additions did not affect soil element fluxes, 3 years of soil warming increased the cumulative fluxes of K, Mg, and SO4 in the forest floor by 43, 44, and 79 %, respectively, and Mg, SO4, and Al in the mineral horizon by 29, 66, and 23 %, respectively. We attribute these changes to increased rates of soil organic matter decomposition. Significant interactions of the heating treatment with time were observed for most elements although no clear seasonal patterns emerged. The increase in soil K and Mg in heated plots resulted in a significant but small K increase in balsam fir foliage while no change was observed for Mg. A 6–15 % decrease in foliar Ca content with soil warming could be related to the increase in soil-available Al in heated plots, as Al can interfere with the root uptake of Ca.
Access options
Buy single article
Instant access to the full article PDF.
USD 39.95
Price includes VAT (USA)
Tax calculation will be finalised during checkout.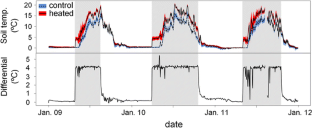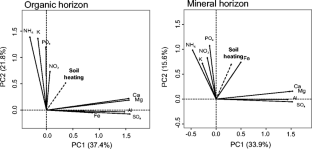 References
Berg, B., & Matzner, E. (1997). Effect of N deposition on decomposition of plant litter and soil organic matter in forest systems. Environmental Reviews, 5, 1–25.

Booth, M. S., Stark, J. M., & Hart, S. C. (2006). Soil-mixing effects on inorganic nitrogen production and consumption in forest and shrubland soils. Plant and Soil, 289, 5–15.

Campbell, J. L., Rustad, L. E., Boyer, E. W., Christopher, S. F., Driscoll, C. T., Fernandez, I. J., et al. (2009). Consequences of climate change for biogeochemical cycling in forests of northeastern North America. Canadian Journal of Forest Research, 39, 264–284.

Chalot, M., & Brun, A. (1998). Physiology of organic nitrogen acquisition by ectomycorrhizal fungi and ectomycorrhizas. FEMS Microbiology Reviews, 22, 21–44.

Cronan, C. S., & Grigal, D. F. (1995). Use of calcium/aluminum ratios as indicators of stress in forest ecosystems. Journal of Environmental Quality, 24, 209–226.

D'Orangeville, L., Houle, D., Côté, B., Duchesne, L., & Morin, H. (2013a). Increased soil temperature and atmospheric N deposition have no effect on the N status and growth of a mature balsam fir forest. Biogeosciences, 10, 4627–4639.

D'Orangeville, L., Côté, B., Houle, D., & Whalen, J. (2013b). Reduced mineralizable carbon in a boreal forest soil after three years of artificial warming. Canadian Journal of Soil Science, 93, 567–572.

Darke, A. K., & Walbridge, M. R. (2000). Al and Fe biogeochemistry in a floodplain forest: implications for P retention. Biogeochemistry, 51, 1–32.

Davidson, E. A., & Janssens, I. A. (2006). Temperature sensitivity of soil carbon decomposition and feedbacks to climate change. Nature, 440, 165–173.

Driscoll, C. T., Lawrence, G. B., Bulger, A. J., Butler, T. J., Cronan, C. S., Eagar, C., et al. (2001). Acidic deposition in the northeastern United States: sources and inputs, ecosystem effects, and management strategies. Bioscience, 51, 180–198.

Duchesne, L., & Houle, D. (2006). Base cation cycling in a pristine watershed of the Canadian boreal forest. Biogeochemistry, 78, 195–216.

Galloway, J. N., Dentener, F. J., Capone, D. G., Boyer, E. W., Howarth, R. W., Seitzinger, S. P., et al. (2004). Nitrogen cycles: past, present, and future. Biogeochemistry, 70, 153–226.

Galloway, J. N., Norton, S. A., & Church, M. R. (1983). Freshwater acidification from atmospheric deposition of sulfuric acid: a conceptual model. Environmental Science & Technology, 17, 541A–545A.

Hobbie, S. E., Nadelhoffer, K. J., & Högberg, P. (2002). A synthesis: the role of nutrients as constraints on carbon balances in boreal and arctic regions. Plant and Soil, 242, 163–170.

Houle, D., Bouffard, A., Duchesne, L., Logan, T., & Harvey, R. (2012). Projections of future soil temperature and water content for three southern Quebec forested sites. Journal of Climate, 25, 7690–7701.

Houle, D., & Carignan, R. (1992). Sulfur speciation and distribution in soils and aboveground biomass of a boreal coniferous forest. Biogeochemistry, 16, 63–82.

Houle, D., Duchesne, L., & Boutin, R. (2009). Effects of a spruce budworm outbreak on element export below the rooting zone: a case study for a balsam fir forest. Annals of Forest Science, 66, 707.

Houle, D., & Moore, J. D. (2008). Soil solution, foliar concentrations and tree growth response to 3-year of ammonium-nitrate addition in two boreal forests of Québec, Canada. Forest Ecology and Management, 255, 2049–2060.

Hutchison, J., & Henry, H. (2010). Additive effects of warming and increased nitrogen deposition in a temperate old field: plant productivity and the importance of winter. Ecosystems, 13, 661–672.

Kenk, G., & Fischer, H. (1988). Evidence from nitrogen fertilisation in the forests of Germany. Environmental Pollution, 54, 199–218.

Likens, G. E., Driscoll, C. T., Buso, D. C., Siccama, T. G., Johnson, C. E., Lovett, G. M., et al. (1994). The biogeochemistry of potassium at Hubbard Brook. Biogeochemistry, 25, 61–125.

Ma, L.-N., Lü, X.-T., Liu, Y., Guo, J.-X., Zhang, N.-Y., Yang, J.-Q., & Wang, R.-Z. (2011). The effects of warming and nitrogen addition on soil nitrogen cycling in a temperate grassland, northeastern China. PLoS ONE, 6, e27645.

MacDonald, N. W., Zak, D. R., & Pregitzer, K. S. (1995). Temperature effects on kinetics of microbial respiration and net nitrogen and sulfur mineralization. Soil Science Society of America Journal, 59, 233–240.

Mäkipää, R., Karjalainen, T., Pussinen, A., & Kellomäki, S. (1999). Effects of climate change and nitrogen deposition on the carbon sequestration of a forest ecosystem in the boreal zone. Canadian Journal of Forest Research, 29, 1490–1501.

McHale, P. J., & Mitchell, M. J. (1996). Disturbance effects on soil solution chemistry due to heating cable installation. Biology and Fertility of Soils, 22, 40–44.

Quinn Thomas, R., Canham, C. D., Weathers, K. C., & Goodale, C. (2010). Increased tree carbon storage in response to nitrogen deposition in the US. Nature Geosciences, 3, 13–17.

R Development Core Team. (2013). R: A language and environment for statistical computing. Vienna, Austria: R Foundation for Statistical Computing.

Rustad, L. E., Campbell, J. L., Marion, G. M., Norby, R. J., Mitchell, M. J., Hartley, A. E., et al. (2001). A meta-analysis of the response of soil respiration, net nitrogen mineralization, and aboveground plant growth to experimental ecosystem warming. Oecologia, 126, 543–562.

Schier, G. A. (1985). Response of red spruce and balsam fir seedlings to aluminum toxicity in nutrient solutions. Canadian Journal of Forest Research, 15, 29–33.

Schwertmann, U. (1991). Solubility and dissolution of iron oxides. Plant and Soil, 130, 1–25.

Shortle, W. C., & Smith, K. T. (1988). Aluminum-induced calcium deficiency syndrome in declining red spruce. Science, 240, 1017–1018.

Ste-Marie, C., & Paré, D. (1999). Soil, pH and N availability effects on net nitrification in the forest floors of a range of boreal forest stands. Soil Biology and Biochemistry, 31, 1579–1589.

Swift, M. J., Heal, O. W., & Anderson, J. M. (1979). Decomposition in terrestrial ecosystems. Berkeley: University of California Press.

Szillery, J., Fernandez, I., Norton, S., Rustad, L., & White, A. (2006). Using ion-exchange resins to study soil response to experimental watershed acidification. Environmental Monitoring and Assessment, 116, 383–398.

Tamm, C.-O. (1991). Nitrogen in terrestrial ecosystems. Berlin: Springer.

Van Cleve, K., Oechel, W. C., & Hom, J. L. (1990). Response of black spruce (Picea mariana) ecosystems to soil temperature modification in interior Alaska. Canadian Journal of Forest Research, 20, 1530–1535.

Yuan, Z. Y., & Chen, H. Y. H. (2010). Fine root biomass, production, turnover rates, and nutrient contents in boreal forest ecosystems in relation to species, climate, fertility, and stand age: literature review and meta-analyses. Critical Reviews in Plant Sciences, 29, 204–221.
Acknowledgments
We would like to thank Mathieu Gélinas-Pouliot and Chloé McMillan for the help with the field maintenance and sampling. The costs associated with this research were covered by a Réal-Décoste doctoral research scholarship to L. D'Orangeville (Ouranos and the Fonds Québécois de la recherche sur la nature et les technologies) and a grant from the Ministère des Forêts, de la Faune et de Parcs du Québec and Le Fond Vert du Ministère du Développement Durable, Environnement et Lutte contre les changements climatiques du Québec within the framework of the Action Plan 2006–2012 on climate change.
About this article
Cite this article
D'Orangeville, L., Houle, D., Côté, B. et al. Soil response to a 3-year increase in temperature and nitrogen deposition measured in a mature boreal forest using ion-exchange membranes. Environ Monit Assess 186, 8191–8202 (2014). https://doi.org/10.1007/s10661-014-3997-x
Received:

Accepted:

Published:

Issue Date:
Keywords
PRS probes

Podzol

Balsam fir

Aluminum

Soil warming

Base cations

Climate change