Abstract
An extensive field survey was employed for assessing the impacts of long-term wastewater irrigation of forage crops and orange orchards in three suburban agricultural areas in Cyprus (areas I, II, and III), as compared to rainfed agriculture, on the soil geochemical properties and the bioaccumulation of heavy metals (Zn, Ni, Mn, Cu, Co) to the agricultural products. Both ryegrass fields and orange orchards in areas I and II were continuously wastewater irrigated for 10 years, whereas clover fields in area III for 0.5, 4, and 8 years. The results revealed that wastewater reuse for irrigation caused a slight increase in soil salinity and Cl− content in areas I and II, and a remarkable increase, having strong correlation with the period in which wastewater irrigation was practiced, in area III. Soil salinization in area III was due to the high electrical conductivity (EC) of the wastewater applied for irrigation, attributed to the influx of seawater to the sewage collection network in area III. In addition, the wastewater irrigation practice resulted in a slight decrease of the soil pH values in area III, while a subtle impact was identified regarding the CaCO3, Fe, and heavy metal content in the three areas surveyed. The heavy metal content quantified in the forage plants' above-ground parts was below the critical levels of phytotoxicity and the maximum acceptable concentration in dairy feed, whereas heavy metals quantified in orange fruit pulp were below the maximum permissible levels (MPLs). Heavy metal phytoavailability was confined due to soil properties (high pH and clay content), as evidenced by the calculated low transfer factor (TF).
This is a preview of subscription content, log in to check access.
Access options
Buy single article
Instant access to the full article PDF.
US$ 39.95
Price includes VAT for USA
Subscribe to journal
Immediate online access to all issues from 2019. Subscription will auto renew annually.
US$ 199
This is the net price. Taxes to be calculated in checkout.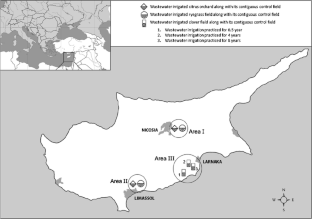 References
Angelakis, A. N., & Durham, B. (2008). Water recycling and reuse in EUREAU countries: trends and challenges. Desalination, 218(1–3), 3–12.

APHA. (1998). Standard method for the examination of water and wastewater (20th ed.). Washington, DC: APHA, AWWA and WEF.

Aycicek, M., Kaplan, O., & Yaman, M. (2011). Effect of cadmium on germination, seedling growth and metal contents of sunflower (Helianthus annuus L.). Asian Journal of Chemistry, 20(4), 2663–2672.

Ayers, R. S., & Westcot, D. W. (Eds.). (1985). Ware quality for irrigation (FAO irrigation and drainage paper 29). Rome: FAO.

Belaid, N., Neel, C., Lenain, J. F., Buzier, R., Kallel, M., Ayoub, T., et al. (2012). Assessment of metal accumulation in calcareous soil and forage crops subjected to long-term irrigation using treated wastewater: case of El Hajeb-Sfax, Tunisia. Agriculture, Ecosystems & Environment, 158, 83–93.

Bixio, D., Thoeye, C., De Koning, J., Joksimovic, D., Savic, D., Wintgens, T., et al. (2006). Wastewater reuse in Europe. Desalination, 187(1–3), 89–101.

Choukr-Allah, R., Ragab, R., & Rodriguez-Clemente, R. (2012). Integrated water resources management in the Mediterranean region—dialogue towards new strategy. Dordrecht: Springer.

Chung, B. Y., Song, C. H., Park, B. J., & Cho, J. Y. (2011). Heavy metals in brown rice (Oryza sativa L.) and soil after long-term irrigation of wastewater discharged from domestic sewage treatment plants. Pedosphere, 21(5), 621–627.

Cui, Y.-J., Zhu, Y.-G., Zhai, R.-H., Chen, D.-Y., Huang, Y.-Z., Qiu, Y., et al. (2004). Transfer of metals from soil to vegetables in an area near a smelter in Nanning, China. Environment International, 30(6), 785–791.

Datta, S. P., Subba Rao, A., & Ganeshamurthy, A. N. (1997). Effect of electrolytes coupled with variable stirring on soil pH. Journal of Indian Society of Soil Science, 45, 185–187.

Day, P. R. (1965). Fractionation and particle size analysis. In C. A. Black (Ed.), Methods of soil analysis. Part I. Agronomy 9 (pp. 545–567). Madison: American Society of Agronomy, Inc.

Di Salvatore, M., Carafa, A. M., & Carratu, G. (2008). Assessment of heavy metals phytotoxicity using seed germination and root elongation tests: a comparison of two growth substrates. Chemosphere, 73(9), 1461–1464.

Dodd, I. C., & Pérez-Alfocea, F. (2012). Microbial amelioration of crop salinity stress. Journal of Experimental Botany, 63(9), 3415–3428.

EEC (1986). Council Directive of 12 June 1986 on the protection of the environment, and in particular of the soil, when sewage sludge is used in agriculture (86/278/EEC). http://eur-lex.europa.eu/legal-content/EN/TXT/PDF/?uri=CELEX:31986L0278&from=EN. Accessed 25 Jun 2013.

European Commission. (2003). Opinion of the scientific committee on animal nutrition on undesirable substances in feed. Brussels: European Commission, Health and Consumer Protection Directorate. European Commission.

García-Ruiz, J. M., López-Moreno, J. I., Vicente-Serrano, S. M., Lasanta-Martínez, T., & Beguería, S. (2011). Mediterranean water resources in a global change scenario. Earth-Science Reviews, 105(3–4), 121–139.

Hanjra, M. A., & Qureshi, M. E. (2010). Global water crisis and future food security in an era of climate change. Food Policy, 35(5), 365–377.

Hering, D., Borja, A., Carstensen, J., Carvalho, L., Elliott, M., Feld, C. K., et al. (2010). The European Water Framework Directive at the age of 10: a critical review of the achievements with recommendations for the future. Science of the Total Environment, 408(19), 4007–4019.

Iglesias, A., Garrote, L., Diz, A., Schlickenrieder, J., & Martin-Carrasco, F. (2011). Re-thinking water policy priorities in the Mediterranean region in view of climate change. Environmental Science & Policy, 14(7), 744–757.

Ingwersen, J., & Streck, T. (2006). Modeling the environmental fate of cadmium in a large wastewater irrigation area. Journal of Environmental Quality, 35(5), 1702–1714.

Kalavrouziotis, I. K. (2011). Basic principles of treated wastewater reuse planning in ecologically sensitive areas. Water, Air, & Soil Pollution, 221(1–4), 159–168.

Kalavrouziotis, I. K., & Koukoulakis, P. H. (2012). Soil pollution under the effect of treated municipal wastewater. Environmental Monitoring and Assessment, 184(10), 6297–6305.

Kalavrouziotis, I. K., Kostakioti, E., Koukoulakis, P. H., Papadopoulos, A. H., Leotsinidis, M., & Sakazli, E. (2011). The impact of Cl × Cd interrelationship on planning wastewater reuse in cabbage. Water, Air, & Soil Pollution, 214(1–4), 565–573.

Kalavrouziotis, I. K., Koukoulakis, P., & Kostakioti, E. (2012). Assessment of metal transfer factor under irrigation with treated municipal wastewater. Agricultural Water Management, 103, 114–119.

Keser, G. (2012). Effects of irrigation with wastewater on the physiological properties and heavy metal content in Lepidium sativum L. and Eruca sativa (Mill.). Environmental Monitoring and Assessment, 185(7), 6209–6217.

Keser, G., & Buyuk, G. (2012). Effects of wastewater irrigation on chemical and physical properties of Petroselinum crispum. Biological Trace Element Research, 146(3), 369–375.

Khan, S., Cao, Q., Zheng, Y. M., Huang, Y. Z., & Zhu, Y. G. (2008). Health risks of heavy metals in contaminated soils and food crops irrigated with wastewater in Beijing, China. Environmental Pollution, 152(3), 686–692.

Klay, S., Charef, A., Ayed, L., Houman, B., & Rezgui, F. (2010). Effect of irrigation with treated wastewater on geochemical properties (saltiness, C, N and heavy metals) of isohumic soils (Zaouit Sousse perimeter, Oriental Tunisia). Desalination, 253(1–3), 180–187.

Leal, R. M. P., Herpin, U., Fonseca, A. F. D., Firme, L. P., Montes, C. R., & Melfi, A. J. (2009). Sodicity and salinity in a Brazilian Oxisol cultivated with sugarcane irrigated with wastewater. Agricultural Water Management, 96(2), 307–316.

Li, P., Wang, X., Allinson, G., Li, X., & Xiong, X. (2009). Risk assessment of heavy metals in soil previously irrigated with industrial wastewater in Shenyang, China. Journal of Hazardous Materials, 161(1), 516–521.

Lin, C., Negev, I., Eshel, G., & Banin, A. (2008). In situ accumulation of copper, chromium, nickel, and zinc in soils used for long-term waste water reclamation. Journal of Environmental Quality, 37(4), 1477–1487.

Maas, E. V., & Hoffman, G. J. (1977). Crop salt tolerance—current assessment. Journal of the Irrigation and Drainage Division. ASCE, 103, 115–134.

Macnicol, R. D., & Beckett, P. H. T. (1985). Critical tissue concentrations of potentially toxic elements. Plant and Soil, 85(1), 107–129.

Mapanda, F., Mangwayana, E. N., Nyamangara, J., & Giller, K. E. (2005). The effect of long-term irrigation using wastewater on heavy metal contents of soils under vegetables in Harare, Zimbabwe. Agriculture, Ecosystems & Environment, 107(2–3), 151–165.

March, H., Therond, O., & Leenhardt, D. (2012). Water futures: reviewing water-scenario analyses through an original interpretative framework. Ecological Economics, 82, 126–137.

Metochis, C. (1997). Assessment of irrigation water needs of main crops of Cyprus. Cyprus Agricultural Research Institute Series. Cyprus: Ministry of Agriculture, Natural Resources and Environment.

Milano, M., Ruelland, D., Fernandez, S., Dezetter, A., Fabre, J., & Servat, E. (2012). Facing climatic and anthropogenic changes in the Mediterranean basin: what will be the medium-term impact on water stress? Comptes Rendus Geoscience, 344(9), 432–440.

Mohammad Rusan, M. J., Hinnawi, S., & Rousan, L. (2007). Long term effect of wastewater irrigation of forage crops on soil and plant quality parameters. Desalination, 215(1–3), 143–152.

Morugán-Coronado, A., García-Orenes, F., Mataix-Solera, J., Arcenegui, V., & Mataix-Beneyto, J. (2011). Short-term effects of treated wastewater irrigation on Mediterranean calcareous soil. Soil and Tillage Research, 112(1), 18–26.

Muchuweti, M., Birkett, J. W., Chinyanga, E., Zvauya, R., Scrimshaw, M. D., & Lester, J. N. (2006). Heavy metal content of vegetables irrigated with mixtures of wastewater and sewage sludge in Zimbabwe: implications for human health. Agriculture, Ecosystems & Environment, 112(1), 41–48.

Muyen, Z., Moore, G. A., & Wrigley, R. J. (2011). Soil salinity and sodicity effects of wastewater irrigation in South East Australia. Agricultural Water Management, 99(1), 33–41.

Ostfeld, A., Barchiesi, S., Bonte, M., Collier, C. R., Cross, K., Darch, G., et al. (2012). Climate change impacts on river basin and freshwater ecosystems: some observations on challenges and emerging solutions. Journal of Water and Climate Change, 3(3), 171–184.

Pedrero, F., Kalavrouziotis, I. K., Alarcón, J. J., Koukoulakis, P., & Asano, T. (2010). Use of treated municipal wastewater in irrigated agriculture—review of some practices in Spain and Greece. Agricultural Water Management, 97(9), 1233–1241.

Pescod, M. B. (Ed.). (1992). Wastewater treatment and use in agriculture-FAO irrigation and drainage paper 47. Rome: FAO.

Rajaganapathy, V., Xavier, F., Sreekumar, D., & Mandal, P. K. (2011). Heavy metal contamination in soil, water and fodder and their presence in livestock and products: a review. Journal of Environmental Science and Technology, 4(3), 234–249.

Rattan, R. K., Datta, S. P., Chhonkar, P. K., Suribabu, K., & Singh, A. K. (2005). Long-term impact of irrigation with sewage effluents on heavy metal content in soils, crops and groundwater-a case study. Agriculture, Ecosystems & Environment, 109(3–4), 310–322.

Shanker, A. K., Cervantes, C., Loza-Tavera, H., & Avudainayagam, S. (2005). Chromium toxicity in plants. Environment International, 31(5), 739–753.

Singh, A., Sharma, R. K., Agrawal, M., & Marshall, F. M. (2010). Health risk assessment of heavy metals via dietary intake of foodstuffs from the wastewater irrigated site of a dry tropical area of India. Food and Chemical Toxicology, 48(2), 611–619.

Smith, C. J., Hopmans, P., & Cook, F. J. (1996). Accumulation of Cr, Pb, Cu, Ni, Zn and Cd in soil following irrigation with treated urban effluent in Australia. Environmental Pollution, 94(3), 317–323.

U.S. Environmental Protection Agency. (1998). Microwave assisted acid digestion of sediments, sludges, soils, and oils. Washington, DC: Office of Solid Waste and Emergency Response, U.S. Government Printing Office.

UN (2013). Water scarcity. http://www.un.org/waterforlifedecade/scarcity.shtml. Accessed 25 Jun 2013.

WHO/FAO (2007). Joint FAO/WHO food standard programme codex alimentarius commission, 13th Session. Report of the thirty eight session of the codex committee on food hygiene. Houston, United States of America, ALINORM 07/30/13.

Xu, J., Wu, L., Chang, A. C., & Zhang, Y. (2010). Impact of long-term reclaimed wastewater irrigation on agricultural soils: a preliminary assessment. Journal of Hazardous Materials, 183(1–3), 780–786.

Yadav, R. K., Goyal, B., Sharma, R. K., Dubey, S. K., & Minhas, P. S. (2002). Post-irrigation impact of domestic sewage effluent on composition of soils, crops and ground water—a case study. Environment International, 28(6), 481–486.

Zheng, S. A., Zheng, X., Zhang, T., Liu, S., & Li, X. (2012). Distribution and fractionation of heavy metals in soil profiles irrigated with wastewater for different periods of time. Fresenius Environmental Bulletin, 21(10), 2881–2890.
Acknowledgments
The authors wish to thank all the personnel of the Cyprus Agricultural Research Institute involved in the study for their excellent technical assistance. This study was undertaken in collaboration with Nireas-International Water Research Center of the University of Cyprus and supported by Cyprus Agricultural Research Institute Internal Grant to Anastasis Christou.
About this article
Cite this article
Christou, A., Eliadou, E., Michael, C. et al. Assessment of long-term wastewater irrigation impacts on the soil geochemical properties and the bioaccumulation of heavy metals to the agricultural products. Environ Monit Assess 186, 4857–4870 (2014). https://doi.org/10.1007/s10661-014-3743-4
Received:

Accepted:

Published:

Issue Date:
Keywords
Electrical conductivity

Forage crops

Heavy metal

Orange

Public health

Wastewater irrigation