Abstract
The McMurdo Dry Valleys of Antarctica are the largest snow/ice-free regions on this vast continent, comprising 1 % of the land mass. Due to harsh environmental conditions, the valleys are bereft of any vegetation. Land surface temperature is a key determinate of microclimate and a driver for sensible and latent heat fluxes of the surface. The Dry Valleys have been the focus of ecological studies as they arguably provide the simplest trophic structure suitable for modelling. In this paper, we employ a validation method for land surface temperatures obtained from Landsat 7 ETM + imagery and compared with in situ land surface temperature data collected from four transects totalling 45 iButtons. A single meteorological station was used to obtain a better understanding of daily and seasonal cycles in land surface temperatures. Results show a good agreement between the iButton and the Landsat 7 ETM + product for clear sky cases. We conclude that Landsat 7 ETM + derived land surface temperatures can be used at broad spatial scales for ecological and meteorological research.
Access options
Buy single article
Instant access to the full article PDF.
USD 39.95
Price excludes VAT (USA)
Tax calculation will be finalised during checkout.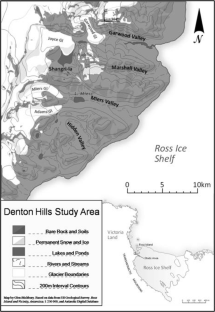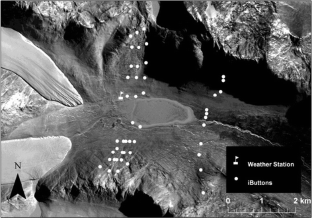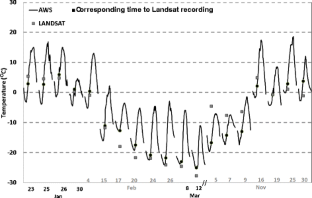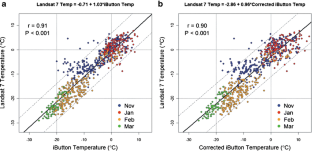 References
Bromwich, D. H., Box, J. E., Fogt, R. L., & Monaghan, A. J. (2007). Contributors to the Antarctic section of 'State of the Climate in 2006'. Bull. Amer. Meteorol. Soc., 88, 72–74.

Callaghan, T. V., Sonesson, M., & Somme, L. (1992). Response of terrestrial plants and invertebrates to environmental change at high latitudes. Philosophical Transactions of the Royal Society of London, 338, 279–288.

Coll, C., Caselles, V., & Galve, J. M. (2005). Ground measurements for the validation of land surface temperatures derived from AATSR and MODIS data. Remote Sensing of Environment, 97, 288–300.

Doran, P. T., McKay, C. P., Clow, G. D., Dana, G. L., Fountain, A. G., Nylen, T., & Lyons, W. B. (2002). Climate observations from the McMurdo Dry Valleys, Antarctica, 1986–2000. Journal of Geophysical Research—Atmospheres, 107, 1–12.

Fitzsimons, S., Campbell, I., Balks, M., Green, T. G. A., & Hawes, I. (2001). The state of the Ross Sea Region terrestrial environment. In E. J. Waterhouse (Ed.), Ross Sea region 2001: a state of the environment report for the Ross Sea region of Antarctica. Christchurch: New Zealand Antarctic Institute.

Fountain, A. G., Lyons, W. B., Burkins, M. B., Dana, G. L., Doran, P. T., Lewis, K. J., McKnight, D. M., Moorhead, D. L., Parsons, A. N., Priscu, J. C., Wall, D. H., Wharton, R. A., Jr., & Virginia, R. A. (1999). Physical controls on the Taylor Valley ecosystem, Antarctica. BioScience, 49, 961–971.

Friedmann, E. I. (1982). Endolithic microorganisms in the Antarctic cold desert. Science, New Series, 215, 1045–1053.

Gooseff, M. N., Barrett, J. E., Doran, P. T., Fountain, A. G., Lyons, W. B., & Parsons, A. N. (2003). Snow-patch influence on soil biogeochemical processes and invertebrate distribution in the McMurdo Dry Valleys, Antarctica. Arctic, Antarctic, and Alpine Research, 35, 91–99.

Hale, R. C., Gallo, K. P., Tarpley, D., & Yu, Y. (2011). Characterization of variability at in situ locations for calibration/validation of satellite-derived land surface temperature data. Remote Sensing Letters, 2, 41–50.

Hemmings, A. (2001). Ross Sea Region Overview. In E. J. In Waterhouse (Ed.), Ross Sea region (2001). A state of the environment report for the Ross Sea region of Antarctica. Christchurch: New Zealand Antarctic Institute.

Hopkins, D. W., Sparrow, A. D., Novis, P. M., Gregorich, E. G., Elberling, B., & Greenfield, L. G. (2006). Controls on the distribution of productivity and organic resources in Antarctic Dry Valley soils. Proceedings of the Royal Society B, 273, 2687–2695.

Horowitz, N. H., Cameron, R. E., & Hubbard, J. S. (1972). Microbiology of the Dry Valleys of Antarctica. Science, New Series, 176, 242–245.

Kennedy, A. D. (1995). Antarctic terrestrial ecosystem response to global environmental change. Annual Review of Ecology and Systematics, 26, 683–704.

Lathrop, R. G., Jr., & Lillesand, T. M. (1987). Calibration of thematic mapper thermal data for water surface temperature mapping: case study on the Great Lakes. Remote Sensing of Environment, 22, 297–307.

Lundquist, J. D., & Lott, F. (2008). Using inexpensive temperature sensors to monitor the duration and heterogeneity of snow-covered areas in complex terrain. Water Resources Research, 44, W00D16, doi:10.1029/2008WR007035.

Peck, L. S., Convey, P., & Barnes, D. K. A. (2006). Environmental constraints on life histories in Antarctic ecosystems: tempos, timings and predictability. Biological Reviews, 81, 75–109.

Schneider, D. P., Steig, E. J., & Comiso, J. C. (2004). Recent climate variability in Antarctica from satellite-derived temperature data. Journal of Climate, 17, 1569–1583.

Shuman, C., & Comiso, J. (2002). In situ and satellite surface temperature records in Antarctica. Annals of Glaciology, 34, 113–120.

Schott, J., Hook, S., Barsic, J., Markhamd, B., Millere, J., Padulaf, F., & Raquenoa, N. (2012). Thermal infrared radiometric calibration of the entire Landsat 4, 5, and7 archive (1982–2010). Remote Sensing of Environment, 122, 41–49.

Suga, Y., Ogawa, H., Ohno, K., & Yamada, K. (2003). Detection of surface temperature from Landsat-7/Etm+. Advances in Space Research, 32(11), 2235–2240.

Turner, J., Colwell, S., Marshall, G., Lachlan-Cope, T., Carleton, A., Jones, P., Lagun, V., Reid, P., & Iagovkina, S. (2005). Antarctic climate change during the last 50 years. International Journal of Climatology, 25, 279–294.

Turner, J., Bindschadler, R., Convey, P., di Prisco, G., Fahrbach, E., Gutt, J., Hodgson, D., Mayewski, P., & Summerhayes, C. (2009). Antarctic climate change and the environment. Scientific Committee on Antarctica Report. Cambridge: Victoire Press.

Van den Broeke, M. R. (2004). On the role of Antarctica as heat sink for the global atmosphere. Journal de Physique IV France, 121, 115–124.

Vincent, W. F. (1997). Polar desert ecosystems in a changing climate: a north–south perspective. In W. B. Lyons, C. Howard-Williams, & I. Hawes (Eds.), Ecosystem processes in Antarctic ice-free landscapes (pp. 3–14). Rotterdam: Balkema.

Walker, B. H. (1997). Preface: global change and terrestrial ecosystems: the GCTE research programme for the Arctic. In B. Sveinbjornsson, (Eds). Global change and arctic terrestrial ecosystems (pp.v–xii). New York: Springer.

Wan, Z., Zhang, Y., Zhang, Q., & Li, Z. L. (2002). Validation of the land-surface temperature products retrieved from Terra Moderate Resolution Imaging Spectroradiometer data. Remote Sensing of Environment, 83, 163–180.

Wan, Z., Zhang, Y., Zhang, Q., & Li, Z. L. (2004). Quality assessment and validation of the MODIS land surface temperature. International Journal of Remote Sensing, 25, 261–274.
Acknowledgements
This research was supported by special International Polar Year funding from the Foundation for Research Science and Technology, New Zealand. Antarctic New Zealand provided logistical support for fieldwork in the study area. Many field assistants helped place and recover iButtons in the field, in particular Charles Lee and Jonathan Banks.
About this article
Cite this article
Brabyn, L., Zawar-Reza, P., Stichbury, G. et al. Accuracy assessment of land surface temperature retrievals from Landsat 7 ETM + in the Dry Valleys of Antarctica using iButton temperature loggers and weather station data. Environ Monit Assess 186, 2619–2628 (2014). https://doi.org/10.1007/s10661-013-3565-9
Received:

Accepted:

Published:

Issue Date:

DOI: https://doi.org/10.1007/s10661-013-3565-9
Keywords
Landsat

Land surface temperature

Dry Valleys

Antarctica