Abstract
Reservoirs are artificial ecosystems with physical, chemical, and biological transitional characteristics between rivers and lakes. Greater water retention time in reservoirs provides conditions for cycling materials inputs from upstream waters through sedimentation, biological assimilation and other biogeochemical processes. We investigated the effects of reservoirs on the water quantity and quality in the Great Plains (Kansas, USA), an area where little is known about these dominant hydrologic features. We analyzed a 30-year time-series of discharge, total phosphorus (TP), nitrate (NO3 −), and total suspended solids (TSS) from six reservoirs and estimated overall removal efficiencies from upstream to downstream, testing correlations among retention, discharge, and time. In general, mean removal of TP (42–74 %), TSS (0–93 %), and NO3 − (11–56 %) from upstream to downstream did not change over 30 years. TP retention was associated with TSS removal, suggesting that nutrient substantial portion of P was adsorbed to solids. Our results indicated that reservoirs had the effect of lowering variance in the water quality parameters and that these reservoirs are not getting more or less nutrient-rich over time. We found no evidence of temporal changes in the yearly mean upstream and downstream discharges. The ratio upstream/downstream discharge was analyzed because it allowed us to assess how much contribution of additional unsampled tributaries may have biased our ability to calculate retention. Nutrient and sediment removal was less affected by hydraulic residence time than expected. Our study demonstrates that reservoirs can play a role in the removal and processing of nutrient and sediments, which has repercussions when valuing their ecological services and designing watershed management plans.
Access options
Buy single article
Instant access to the full article PDF.
USD 39.95
Price excludes VAT (USA)
Tax calculation will be finalised during checkout.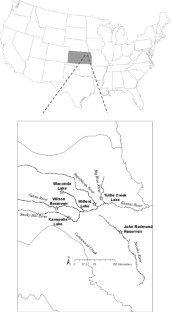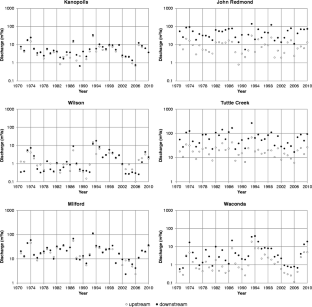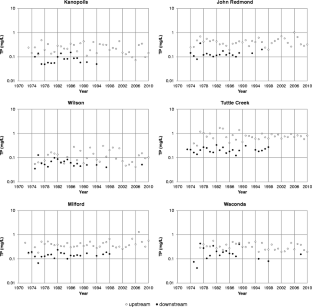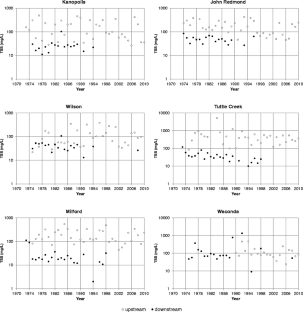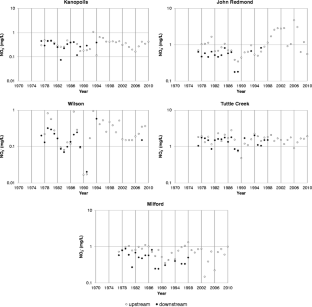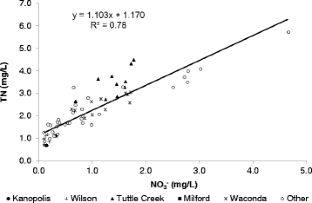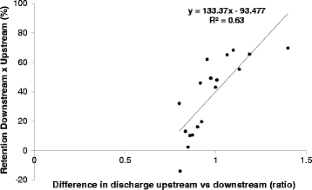 References
Banner, E., Stahl, A., & Dodds, W. (2009). Stream discharge and Riparian land use influence in-stream concentrations and loads of phosphorus from Central Plains Watersheds. Environmental Management, 44(3), 552–565.

Bhuyan, S. J., Koelliker, J. K., Marzen, L. J., & Harrington, J. A., Jr. (2003). An integrated approach for water quality assessment of a Kansas watershed. Environmental Modelling & Software, 18(5), 473–484.

Billota, G. S., & Brazier, R. E. (2008). Understanding the influence of suspended solids on water quality and aquatic biota. Water Research, 42(12), 2849–2861.

Bolin, S. B., Ward, T., & Cole, R. A. (1987). Phosphorus models applied to New Mexico reservoirs. Journal of Water Resources Planning and Management, 113(3), 323–335.

Brikowski, T. H. (2008). Doomed reservoirs in Kansas, USA? Climate change and groundwater mining on the great plains lead to unsustainable surface water storage. Journal of Hydrology, 354(1–4), 90–101.

Bukaveckas, P. A., Guelda, D. L., Jack, J., Koch, R., Sellers, T., & Shostell, J. (2005). Effects of point source loadings, sub-basin inputs and longitudinal variation in material retention on C, N and P delivery from the Ohio River Basin. Ecosystems, 8, 825–840.

Cánovas, C. R., Olias, M., Vazquez-Suñé, E., Ayora, C., & Miguel Nieto, J. (2012). Influence of releases from a fresh water reservoir on the hydrochemistry of the Tinto River (SW Spain). Science of the Total Environment, 416(1), 418–428.

Caraco, N. F., & Cole, J. J. (1999). Human impact on nitrate export: an analysis using major world rivers. Ambio, 28(2), 167–170.

Carney, E. (2009). Relative influence of lake age and watershed land use on trophic state and water quality of artificial lakes in Kansas. Lake and Reservoir Management, 25(2), 199–207.

Chung, S. W., Ko, I. H., & Kim, Y. K. (2008). Effect of reservoir flushing on downstream river water quality. Journal of Environmental Management, 86(1), 139–147.

Cooper, C. M., & Knight, S. S. (1990). Nutrient trapping efficiency of a small sediment detention reservoir. Agricultural Water Management, 18, 149–158.

Cope, V., Mercante, C. T. J., Carmo, C. F., Sendacz, S., & Monteiro Júnior, A. J. (2011). Mass balance of nutrients during the filling phase of two reservoirs of Sistema Produto Alto Tietê (SPAT). Acta Scientiarum Biological Sciences, 33(1), 49–57.

Costigan, K. H., & Daniels, M. D. (2012). Damming the prairie: human alteration of great plains river regimes. Journal of Hydrology, 444–445, 90–99.

Dang, T. H., Coynel, A., Orange, D., Blanc, G., Etcheber, H., & Le, L. A. (2010). Long-term monitoring (1960–2008) of the river-sediment transport in the Red River Watershed (Vietnam): temporal variability and dam-reservoir impact. Science of The Total Environment, 408(20), 4654–4664.

David, M. B., Wall, L. G., Royer, T. V., & Tank, J. L. (2006). Denitrification and the nitrogen budget of a reservoir in an agricultural watershed. Ecological Applications, 16(6), 2177–2190.

Diogo, P. A., Fonseca, M., Coelho, P. S., Mateus, N. S., Almeida, M. C., & Rodrigues, A. C. (2008). Reservoir phosphorous sources evaluation and water quality modeling in a transboundary watershed. Desalination, 226(1–3), 200–214.

Dodds, W. K., & Oakes, R. M. (2008). Headwater influences on downstream water quality. Environmental Management, 41(3), 367–377.

Dodds, W. K., Carney, E., & Angelo, R. T. (2006). Determining ecoregional reference conditions for nutrients, secchi depth and chlorophyll a in Kansas Lakes and reservoirs. Lake and Reservoir Management, 22(2), 151–159.

Drummond, M. A., Auch, R. F., Karstensen, K. A., Sayler, K. L., Taylor, J. L., & Loveland, T. R. (2012). Land change variability and human–environment dynamics in the United States Great Plains. Land Use Policy, 29, 710–723.

Dzialowski, A. R., Wang, S. H., Lim, N. C., Spotts, W. W., & Huggins, D. G. (2005). Nutrient limitation of phytoplankton growth in central plains reservoirs, USA. Journal of Plankton Research, 27(6), 587–595.

Friedl, G., & Wüest, A. (2002). Disrupting biogeochemical cycles—consequences of damming. Aquatic Sciences, 64, 55–65.

Gelbrecht, J., Lengsfeld, H., Pöthig, R., & Opitz, D. (2005). Temporal and spatial variation of phosphorus input, retention and loss in a small catchment of NE Germany. Journal of Hydrology, 304, 151–165.

Harrison, J. A., Maranger, R. J., Alexander, R. B., Giblin, A. E., Jacinthe, P. A., Mayorga, E., et al. (2009). The regional and global significance of nitrogen removal in lakes and reservoirs. Biogeochemistry, 93, 143–157.

Hejzlar, J., Sámalová, K., Boers, P., & Kronvang, B. (2006). Modelling phosphorus retention in lakes and reservoirs. Water, Soil and Air Pollution: Focus, 6(2), 123–130.

Houser, J. N., Bierman, D. W., Burdis, R. M., & Soeken-Gittinger, L. A. (2010). Longitudinal trends and discontinuities in nutrients, chlorophyll, and suspended solids in the Upper Mississippi River: implications for transport, processing, and export by large rivers. Hydrobiologia, 651, 127–144.

James, W. F., & Barko, J. W. (2004). Diffusive fluxes and equilibrium processes in relation to phosphorus dynamics in the Upper Mississippi River. River Research and Applications, 20, 473–484.

Jones, J. R., & Knowlton, M. F. (2005). Suspended solids in Missouri reservoirs in relation to catchment features and internal processes. Water Research, 39(15), 3629–3635.

Jossette, G., Leporcq, B., Sanchez, N., & Philippon. (1999). Biogeochemical mass-balances (C, N, P, Si) in three large reservoirs of the Seine basin (France). Biogeochemistry, 47(2), 119–146.

Kann, J and E. Asarian. 2007. Nutrient budgets and Phytoplankton trends in Iron Gate and Copco Reservoirs, California, May 2005 - May 2006. Final Technical Report to the State Water Resources Control Board, Sacramento, California. 81pp + appendices.

KDHE (1972–2010). Stream chemistry monitoring program quality assurance management plan. Division of Environment, Kansas Department of Health and Environment, Topeka, KS.

Klaver, G., van Os, B., Negrel, P., & Petelet-Giraud, E. (2007). Influence of hydropower dams on the composition of the suspended and riverbank sediments in the Danube. Environmental Pollution, 148(3), 718–728.

Kõiv, T., Nõges, T., & Laas, A. (2011). Phosphorus retention as a function of external loading, hydraulic turnover time, area and relative depth in 54 lakes and reservoirs. Hydrobiologia, 660(1), 105–115.

Kummu, M., & Varis, O. (2007). Sediment-related impacts due to upstream reservoir trapping, the lower Mekong River. Geomorphology, 85(3–4), 275–293.

Liu, S. M., Li, L. W., Zhang, G. L., Liu, Z., Yu, Z., & Ren, J. L. (2012). Impacts of human activities on nutrient transports in the Huanghe (Yellow River) estuary. Journal of Hydrology, 430–431(2), 103–110.

López-Tarazón, J. A., Batalla, R. J., Vericat, D., & Francke, T. (2009). Suspended sediment transport in a highly erodible catchment: the River Isábena (Southern Pyrenees). Geomorphology, 109(3–4), 210–221.

Mayorga, E., Seitzinger, S. P., Harrison, J. A., Dumont, E., Beusen, A. H. W., Bouwman, A. F., et al. (2010). Global nutrient export from water sheds 2 (NEWS 2): Model development and implementation. Environmental Modelling & Software, 25(7), 837–853.

Neal, C., Hilton, J., Wade, A. J., Neal, M., & Wickham, H. (2006). Chlorophyll-a in the rivers of eastern England. Science of the Total Environment, 365, 84–104.

Okereke, V. I., Bauman, E. R., Austin, T. A., & Schulze Lutz, D. (1988). Midwest (USA) reservoir water quality modification. III. Soluble nutrients. Water, Air, & Soil Pollution, 37(3–4), 343–354.

Popovicova, J. (2009). Water quality assessment and ecoregional comparison of a reservoir in east-central Indiana. Lake and Reservoir Management, 25(2), 155–166.

Qu, H. J., & Kroeze, C. (2010). Past and future trends in nutrients export by rivers to the coastal waters of China. Science of the Total Environment, 408(9), 2075–2086.

Reynolds, C. S. (1997). Vegetation processes in the pelagic. ECI, Oldendorf: A model for Ecosystem Theory.

Rueda, F., Moreno-Ostos, E., & Armengol, J. (2006). The residence time of river water in reservoirs. Ecological Modelling, 191(2), 260–274.

Schoch, A. L., Schilling, K. E., & Chan, K. S. (2009). Time-series modeling of reservoir effects on river nitrate concentrations. Advances in Water Resources, 32(8), 1197–1205.

Seitzinger, S. P., Styles, R. V., Boyer, E. W., Alexander, R. B., Billen, G., Howarth, R. W., et al. (2002). Nitrogen retention in rivers: model development and application to watershed in the northeastern USA. Biogeochemistry, 57–58(1), 199–237.

Shantz, M., Dowsett, E., Canham, E., Tavernier, G., Stone, M., & Price, J. (2004). The effect of drawdown on suspended solids and phosphorus export from Columbia Lake, Waterloo, Canada. Hydrological Processses, 18(5), 865–878.

Teodoru, C., & Wehrli, B. (2005). Retention of sediments and nutrients in the Iron Gate I reservoir on the Danube River. Biogeochemistry, 76(3), 539–565.

Tomaszek, J. A., & Koszelnik, P. (2003). A simple model of nitrogen retention in reservoirs. Hydrobiologia, 504(1–3), 51–58.

Traykov, I.T., Boyanovsky, B.B. (2008). Assessment of the nutrient load in the Upper Arda River catchment - Prediction of the trophic state of the Madan Reservoir. Acta Zoologica Bulgarica, 225–232.

USEPA. (1983). Methods for chemical analysis of water and waste (EPA 600/4-79-020). Cincinnati: U.S. Environmental Protection Agency.

Vörösmarty, C. J., Meybeck, M., Fekete, B., Sharma, K., Green, P., & Syvitski, J. P. (2003). Anthropogenic sediment retention: major global impact from registered river impoundments. Global and Planetary Change, 39(1–2), 169–190.

Wang, S. H., Huggins, D. G., Frees, L., Volkman, C. G., Lim, N. C., Baker, D. S., et al. (2005). An integrated modeling approach to total watershed management: water quality and watershed assessment of Cheney reservoir, Kansas, USA. Water, Air, & Soil Pollution, 164(1–4), 1–19.

Whiles, M. R., & Dodds, W. K. (2002). Relationships between stream size, suspended particles, and filter-feeding macroinvertebrates in a Great Plains drainage network. Journal of Environmental Quality, 31(5), 1589–1600.

Whitehead, P. G., & Toms, I. P. (1993). Dynamic modelling of nitrate in reservoirs and lakes. Water Research, 27(8), 1377–1384.

Zahar, Y., Ghorbel, A., & Albergel, J. (2008). Impacts of large dams on downstream flow conditions of rivers: aggradation and reduction of the Medjerda channel capacity downstream of the Sidi Salem dam (Tunisia). Journal of Hydrology, 351(3–4), 318–330.
Acknowledgments
The authors express their gratitude to FAPESP (Fundação de Amparo à Pesquisa do Estado de São Paulo) for the doctoral scholarship to the first author (Process 2009/50842-2) and the financial support to the second author (Process 2008/55636-9). Joanna B. Whittier has kindly provided a map of the studied reservoirs in Kansas State (USA). This is publication # 14-081-J from the Kansas Agricultural Experiment station.
About this article
Cite this article
Cunha, D.G.F., do Carmo Calijuri, M. & Dodds, W.K. Trends in nutrient and sediment retention in Great Plains reservoirs (USA). Environ Monit Assess 186, 1143–1155 (2014). https://doi.org/10.1007/s10661-013-3445-3
Received:

Accepted:

Published:

Issue Date:

DOI: https://doi.org/10.1007/s10661-013-3445-3
Keywords