Abstract
An attempt has been made in this study to evaluate the groundwater quality in two industrial blocks of Ghaziabad district. Groundwater samples were collected from shallow wells, deep wells and hand pumps of two heavily industrialized blocks, namely Bulandshahar road industrial area and Meerut road industrial area in Ghaziabad district for assessing their suitability for various uses. Samples were collected from 30 sites in each block before and after monsoon. They were analyzed for a total of 23 elements, namely, Ag, Al, As, B, Ba, Be, Ca, Cd, Co, Cr, Cu, Fe, K, Mg, Mn, Na, Ni, P, Pb, Se, U, V, and Zn. In addition to these elements, some other parameters were also studied viz: color, odor, turbidity, biological oxygen demand, chemical oxygen demand (COD), dissolved oxygen, total dissolved solids and total suspended solid. The water quality index was also calculated based on some of the parameters estimated. Out of the 23 elements, the mean values of 12 elements, namely, Al, As, Ca, Cd, Cr, Mg, Mn, Na, Ni, Pb, Se, and U, were higher than the prescribed standard limits. The concentrations (in milligram per liter) of highly toxic metals viz., Al, As, Cd, Cr, Ni, Pb, Se, and U, ranged from 1.33–6.30, 0.04–0.54, 0.005–0.013, 4.51–7.09, 0.14–0.27, 0.13–0.32, 0.16–2.11, and 0.10–1.21, respectively, in all groundwater samples, while the permissible limits of these elements as per WHO/BIS standards for drinking are 0.2, 0.01, 0.003, 0.05, 0.07, 0.01, 0.04, and 0.03 mg L−1, respectively. The EC, pH, and COD in all samples varied from 0.74–4.21, 6.05–7.72, and 4.5–20.0 while their permissible limits are 0.7 dS m−1, 6.5–8.5, and 10 mg L−1, respectively. On the basis of the above-mentioned parameters, the water quality index of all groundwater samples ranged from 101 to 491, and 871 to 2904 with mean value of 265 and 1,174 based on two criteria, i.e., physico-chemical and metal contaminations, respectively while the prescribed safe limit for drinking is below 50. The results revealed that the groundwater in the two blocks is unfit for drinking as per WHO/BIS guidelines. The presence of elements like As, Se, and U in toxic amounts is a matter of serious concern.
This is a preview of subscription content,
to check access.
Access this article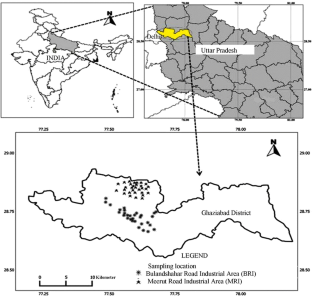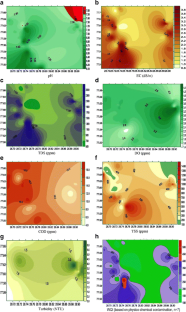 Similar content being viewed by others
References
Abdullah, A., Jin, M. & Zhang, S. (2008). 'Spatio-temporal variability of groundwater quality in Zhengzhou area, China', in: Proceedings of the CGIAR Challenge Program on Water and Food 2nd International Forum on Water and Food, Addis Ababa, Ethiopia. Humphreys, E. et. al. (eds.) Fighting Poverty through Sustainable Water Use: Vol I, November 10–14. The CGIAR Challenge Program on Water and Food, Colombo, 49–52.

Asadi, S. S., Vuppala, P., & Reddy, M. A. (2007). Remote sensing and GIS techniques for evaluation of groundwater quality in municipal corporation of Hyderabad (Zone-V), India. International Journal of Environmental Research and Public Health, 4(1), 45–52.

Bhagure, G. R., & Mirgane, S. R. (2011). Heavy metal concentrations in groundwater and soils of Thane region of Maharashtra, India. Environmental Monitoring and Assessment, 173, 643–652.

BIS (2003). 'Bureau of Indian standard specification for drinking water', IS:10500:91. (Revised 2003), BIS New Delhi.

Brown, R. M., McCleiland, N. J., Deininger, R. A. & O'Connor. M. F. (1972). 'A water quality index crossing the psychological barrier', (Jenkis, S.H. ed.) Proceeding Int. Conf. on Water Poll. Res., Jerusalem 6, 787–797.

Chabukdhara, M., & Nema, A. K. (2013). Heavy metals assessment in urban soil around industrial clusters in Ghaziabad, India: probabilistic health risk approach. Ecotoxicology and Environmental Safety, 87, 57–64.

Chatterjee, R., Tarafder, G., & Paul, S. (2010). Groundwater quality assessment of Dhanbad district, Jharkhand, India. Bulletin of Engineering Geology and the Environment, 69, 137–141.

Fekri, A., Mansouri, B. E., Hammoumi, O. E., & Marrakchi, C. (2012). Impact of Casablanca municipal landfill on groundwater resources. International Water Technology Journal, I(3), 210–216.

Food Standards Agency (2003). 'Safe Upper Levels for Vitamins and Minerals', Food Standards Agency May 2003, p 293–299 (ISBN 1-904026-11-7).

Giri, S., Mahato, M. K., Singh, G., & Jha, V. N. (2012). Risk assessment due to intake of heavy metals through the ingestion of groundwater around two proposed uranium mining areas in Jharkhand, India. Environmental Monitoring and Assessment, 184, 1351–1358.

Haloi, N. & Sarma, H. P. (2011). Heavy metal contaminations in the groundwater of Brahmaputra flood plain: an assessment of water quality in Barpeta district, Assam (India), Environ. Monit. Assess., Published online: 03 November 2011.

IARC (International Agency for Research on Cancer). (1990). IARC monographs on the evaluation of the carcinogenic risk of chemicals to humans: chromium, nickel, and welding (vol. 49). Lyon: IARC, World Health Organization.

Ifegwu, C., & Anyakora, C. (2012). Screen for eight heavy metals from groundwater samples from a highly industrialized area in Lagos, Nigeria. African Journal of Pharmaceutical Sciences and Pharmacy, 3(1), 1–16.

ISI., 1991, 'Indian standard specification for drinking water', IS:10500, New Delhi.

Järup, L. (2003). 'Hazards of heavy metal contamination', Department of Epidemiology and Public Health, Imperial College, London, UK. http://bmb.oxfordjournals.org.

Khan, M. M. A., Umar, R., & Lateh, H. (2010). Study of trace elements in groundwater of western Uttar Pradesh, India. Scientific Research and Essay, 5(20), 3175–3182.

Momodu, M. A., & Anyakora, C. A. (2010). Heavy metal contamination of groundwater: the Surulere case study. Research Journal of Environmental and Earth Sciences, 2(1), 39–43.

NDSU & U.S. Department of Agriculture Cooperation (2011). Drinking water quality: testing and interpreting your results, Web www.ndsu.edu/waterquality.

Omotayo, S. A., Isiaka, A. A., & Yung-Tse, H. (2011). Radioactive element removal from contaminated groundwater by agricultural waste-based activated carbon. International Journal of Water Resources and Arid Environment, 1(1), 71–82.

Pius, A., Jerome, C. & Sharma, N. (2011). Evaluation of groundwater quality in and around Peenya industrial area of Bangalore, South India using GIS techniques, Environmental Monitoring and Assessment, online published 11 August 2011.

Pradhan, S. K., Patnaik, D., & Rout, S. P. (2001). Groundwater quality index for groundwater around a phosphatic fertilizers plant. Indian Journal of Environmental Protection, 21(4), 355–358.

Rajappa, B. (2010). Monitoring of heavy metal concentration in groundwater of Hakinaka Taluk India. Contemporary Engineering Sciences, 3(4), 183–190.

Ramakrishnaiah, C. R., Sadashivaiah, C., & Ranganna, G. (2009). Assessment of water quality index for the groundwater in Tumkur Taluk, Karnataka state, India. E-Journal of Chemistry, 6(2), 523–530.

Ramesh, K. & Elango, L. (2011). 'Groundwater quality and its suitability for domestic and agricultural use in Tondiar river basin, Tamilnadu, India' Environ. Monit. Assess. (Online published 18 August 2011).

Rattan, R. K., Datta, S.P. & Chandra, S. (2002). Heavy metals and environmental quality-Indian scenario, Fertiliser News 47(11), 21–26 and 29–40.

Shaikh, A. M., & Mandre, P. N. (2009). Seasonal study of physico-chemical parameters of drinking water in Khed (Lote) industrial area, Shodh, Samiksha aur Mulyankan. International Research Journal, 2(7), 169–171.

Shankar, B. S., Balasubramanya, N., & Reddy, M. T. M. (2008). Impact of industrialization on groundwater quality—a case study of Peenya industrial area, Bangalore, India. Environmental Monitoring and Assessment, 142, 263–268.

Singh, D. S. H., & Lawrence, J. F. (2007). Groundwater quality assessment of shallow aquifer using geographical information system in part of Chennai city Tamilnadu. Journal of the Geological Society of India, 69, 1067–1076.

Singh, A. K., Mondal, G. C., Kumar, S., Singh, T. B., Tewary, B. K., & Sinha, A. (2008). Major ion chemistry, weathering processes and water quality assessment in upper catchment of Damodar river basin, India. Environmental Geology, 54, 745–758.

UNEP (2007). 'Global Drinking Water Quality Index Development and Sensitivity Analysis Report. Canada', website: http://www.gemswater.org.

Usha, N. M., Jayaram, K. C. & Kantha, H.L. (2008). 'Assessment of Surface and Ground water Quality of Hebbal Lake, Bangalore-Case Study'. Proceeding of the 12th world lake conference: 1737–1741.

Vasanthavigar, M., Srinivasamoorthy, K., Vijayaragavan, K., Ganthi, R.R., Chidambaram, S., Anandhan, P., Manivannan, R. & Vasudevan, S. (2010). 'Application of water quality index for groundwater quality assessment: Thirumanimuttar sub-basin, Tamilnadu, India', Environ. Monit. Assess. (Online published).

WHO (2011). "Guidelines for drinking-water quality"—4th ed. Geneva, Switzerland (http://www.who.int).

WHO (1980). 'Recommended health based limits in occupational exposure to trace metals' Technical Reports Series, no. 647, Vienna Austria.

Wikipedia (2012). http://en.wikipedia.org/wiki/Uranium_poisoning_in_Punjab.
Acknowledgments
The author is extremely grateful to the Project Director, Water Technology Centre, Director, Indian Agricultural Research Institute, New Delhi; and Director, Central Soil Salinity Research Institute, Karnal, for providing the facilities available for carrying out this research work.
About this article
Cite this article
Kumari, S., Singh, A.K., Verma, A.K. et al. Assessment and spatial distribution of groundwater quality in industrial areas of Ghaziabad, India. Environ Monit Assess 186, 501–514 (2014). https://doi.org/10.1007/s10661-013-3393-y
Received:

Accepted:

Published:

Issue Date:

DOI: https://doi.org/10.1007/s10661-013-3393-y
Keywords