Abstract
The tree Prosopis juliflora, introduced to Ethiopia in the 1970s to curb desertification, is imposing significant ecosystem and socioeconomic challenges. The objectives of this study are therefore to analyze the dynamics and associated impacts of the P. juliflora invasion over the period 1973–2004 and to evaluate the effectiveness of the management measures implemented to date. This required the analysis of Landsat images, field surveys, the use of structured questionnaires, and interviews. P. juliflora was found to invade new areas at an average rate of 3.48 km2/annum over the period 1973–2004. The high germination nature of the seed, mechanisms of seed dispersal, and its wide-range ecological adaptability are the main drivers for the high invasion rate. By the year 2020, approximately 30.89 % of the study area is projected to be covered by P. juliflora. The expansion has affected human health, suppressed indigenous plants, and decreased livestock productivity. The management measures that have been implemented are not able to yield the desirable results because of the limited spatial scale, cost, and/or improper planning and implementation. Therefore, the formulation of a strategy for management approaches that include the engagement of the community and the limiting of the number of vector animals within the framework of the current villagization program remain important. Moreover, risk assessment should be completed in the future before an exotic species is introduced into a certain area.
Access options
Buy single article
Instant access to the full article PDF.
US$ 39.95
Tax calculation will be finalised during checkout.
Subscribe to journal
Immediate online access to all issues from 2019. Subscription will auto renew annually.
US$ 119
Tax calculation will be finalised during checkout.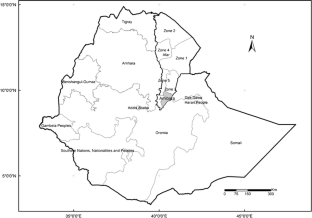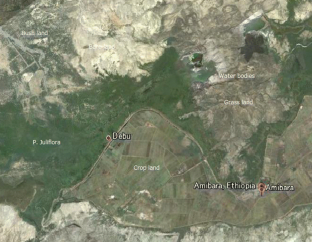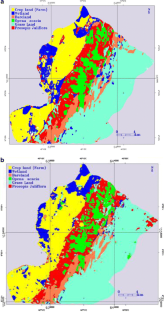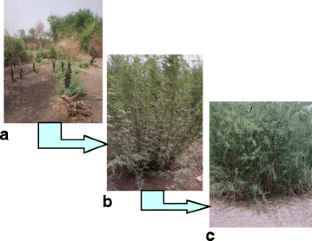 References
Alemayehu, E. (2006). Irrigation management and institutional arrangement: The case of two irrigation scheme, Northeast Ethiopia. MSc thesis, Addis Ababa University, Addis Ababa, Ethiopia

Anagae, A., Reda, F., Tesfaye, G., Admasu, A., Ayalew, Y. (2004). Policy and stakeholder analysis for invasive plants management in Ethiopia. Ethiopian Agricultural Research Organization. Report submitted to CAB International under the PDF-B Phase of the UNEP/GEF-Funded Project: Removing Barriers to Invasive plants Management in Africa, Ethiopia, p. 60.

Asfaw, H., & Thulin, M. (1989). Mimosoideae. In I. Hedberg & S. Edwards (Eds.), Flora of Ethiopia: Pittosporaceae to Araliaceae (Vol. 3). Addis Ababa/Uppsala: Addis Ababa University/Uppsala University.

Bleton, T. (2008). An assessment of this species, and recommendations for management. SAIS Project, RSPB, p 23.

Cacho, O. J., Wise, R. M., Hester, S. M., & Sinden, J. A. (2008). Bioeconomic modeling for control of weeds in natural environments. Ecological Economics, 65, 559–568.

Campbell, J. B. (1987). Introduction to remote sensing. New York: Guilford.

Catford, J. A., Jansson, R., & Nilsson, C. (2009). Reducing redundancy in invasion ecology by integrating hypotheses into a single theoretical framework. Diversity and Distributions, 15, 22–40.

CBD (2010). http://www.cbd.int/invasive. Accessed 15 Feb 2012.

Chapman, P. M. (2012). Global climate change and risk assessment: Invasive species. Integrated Environmental Assessment and Management, 8, 199–200.

Clavero, M., & Garcia-Berthou, E. (2005). Invasive species are a leading cause of animal extinctions. TRENDS in Ecololgy and Evolution, 20(3), 110.

Cohen, J. (1960). A coefficient of agreement for nominal scales. Educational and Psychological Measurement, 20, 3746.

Cronk, Q. C. B., & Fuller, J. L. (2001). Plant invaders: The threat to natural ecosystems. People and plants conservation manual. London: Earthscan.

Daehler, C. C., & Strong, D. R. (1994). Variable reproductive output among clones of Spartina alterniflora (Poaceae) invading San Francisco Bay, California: The influence of herbivory, pollination, and establishment site. American Journal of Botany, 81, 307–313.

FARM-Africa. (2009). A livelihood baseline survey in Amibara and Gewane weredas of Afar region. Dynamic Institute for Consultancy and Training. Final Report, p 121.

Geesing, D., Al-Khawalani, M., & Abba, M. (2004). Management of introduced Prosopis species: Can economic exploitation control an invasive species? Unasylva, 55, 36–44.

Harding, G. B. (1987). The status of Prosopis as a weed. Applied Plant Science, 1, 43–48.

Heady, H. F., & Child, R. D. (1994). Rangeland ecology and management. Oxford: Westview.

Hester, S. M., Odom D. I. S., Cacho, O.J., Sinden J. A. (2004). Eradication of exotic weeds in Australia: Comparing effort and expenditure—Working Paper Series in Agricultural and Resource Economics. Biddeford: University of New England

Hilu, Y. W., Boyd, S., & Felker, P. (1982). Morphological diversity and taxonomy of California mesquites (Prosopis, Lepminosae). Madrono, 29(45), 237–254.

Jorn, L. (2007). Is Prosopis a curse or a blessing?—An ecological–economic analysis of an invasive alien tree species in Sudan. Helsinki: Viikki Tropical Resources Institute (VITRI), University of Helsinki.

Kassahun, Z. (1999). Mesquite (Prosopis juliflora) in Ethiopia. Arem, 5, 96–102.

Kriticos, D. J., & Filmer, M. (2007). Weeds will thrive on climate change. Farming Ahead, 182, 38–40.

Lambin, E. (1997). Modeling and monitoring land-cover change processes in tropical regions. Progress in Physical Geography, 21, 375–393.

Lillesand, T. M., & Kiefer, R. W. (1999). Remote sensing and image interpretation. New York: Wiley.

McGinley, M. (2007). Invasive alien species in Africa: Developing effective responses. http://www.eoearth.org/article. Accessed 23 March 2011

Mesele, S., Gebrekidan, H., Lemma, K., Coppock, D. (2006). Change in land cover and soil conditions for Yabelo district of the Borana plateau, Ethiopia. Pastoral Risk Management Project (PARIMA), Global Livestock Collaborative Research Support Program (GLCRSP), Davis

MoA (Ministry of Agriculture). (1997). Land resource inventory for the Afar National Regional State: Natural Resource Management and Regulatory Department. Addis Ababa: Ministry of Agriculture.

Mohan, M., Pathan, S. K., Narendrareddy, K., Kandya, A., & Pandey, S. (2011). Dynamics of urbanization and its impact on land use/land cover: A case study of Megacity Delhi. Journal of Environmental Protection, 2, 1274–1283.

Mwangi, E., Swallow, B. (2005). Invasion of Prosopis juliflora and local livelihoods: Case study from the lake Baringo area of Kenya. ICRAF Working Paper no. 3. Nairobi: World Agroforestry Centre.

Nakano, H., Fujii, Y., Suzuki, T., Yamada, K., Kosemura, S., Yamamura, S., et al. (2001). A growth-inhibitory substance exuded from freeze-dried mesquite (Prosopis juliflora (Sw.) DC. leaves. Plant Growth Regulation, 33, 165–168.

Pasieczink, N. M. (2002). Prosopis juliflora and related arboreal species: A Monograph. Data base and extension manual, DFID, HDRA—the organic organization, Coventry

Pasiecznik, N. M., Felker, P., & Harris, P. J. C. (2001). The Prosopis juliflora–Prosopis pallida complex: A monograph. Coventry: HDRA.

PCDP. (2005). Final baseline survey report of Gewane District, Afar Regional State, Pastoral Community Development Project, p. 56

Pejchar, L., & Mooney, H. A. (2009). Invasive species, ecosystem services and human wellbeing. Trends in Ecology & Evolution, 24, 497–504.

Pheloung, P. C., Williams, P. A., & Halloy, S. R. (1999). A weed risk assessment model for use as a biosecurity tool evaluating plant introductions. Journal of Environmental Management, 57, 239–251.

Pimentel, D. (2001). Biological invasions: Economic and environmental costs of alien plant, animal and plant microbe species. Boca Raton: CRC.

Pimentel, D., Lach, L., Zuniga, R., & Morrison, D. (2000). Environmental and economic costs of nonindigenous species in the United States. BioScience, 50, 53–65.

Sharma, I. K. (1981). Ecological and economic importance of Prosopis juliflora in the Indian Thar Desert. Journal of Taxonomy and Botany, 2, 245–248.

Shiferaw, H., Teketay, D., Nemomissa, S., & Assefa, F. (2004). Some biological characteristics that foster the invasion of Prosopis juliflora (Sw.) DC. at Middle Awash Rift Valley Area, north-eastern Ethiopia. Journal of Arid Environments, 58, 135–154.

Stefan, A. (2005). Spread of the introduction tree Prosopis juliflora (Sw.) DC in the Lake Baringo area, Kenya. Instituionen for skoglig vegetationsekologi, Grafiska enheten, SLU, Umeå.

Thompson, M. (1996). Standard land cover classification scheme for remote sensing application in South Africa. South African Journal of Science, 92, 34–42.

van Auken, O. W. (2000). Shrub invasion of North American semiarid grasslands. Annual Review of Ecology and Systematics, 31, 197–215.

Versfeld, D. B., Le Maitre, D. C., Chapman, R.A. (1998). Alien invading plants and water resources in South Africa: a preliminary assessment. Report No. TT 99/98, Water Research Commission, Pretoria.

Vitousek, P. M. (1990). Biological change and ecosystem process—Towards an integration of population biology and ecosystem, Vol.1. Main report. Addis Ababa, p. 120.

Warrage, M. O. A., & Al-Humaid, A. I. (1998). Allelopathic effects of Prosopis juliflora foliage on seed germination and seedling growth of Bermuda grass (Cyanodon dactylon). Journal of Arid Environment, 38, 237–243.

WAS (Worer Agrometeorology Section). (2008). Annual Climatic record at Melka-Worer Agricultural Research Center. Annual Report. Worer, Afar, Ethiopia

Witt, A. B. R. (2010). Biofuels and invasive species from an African perspective—A review. GCB Bioenergy, 2, 321–329.

Zimmerman, H. G. (1991). Biological control of mesquite, Prosopis spp. (Fabaceae), in South Africa. Agriculture, Ecosystems and Environment, 37, 175–186.
Acknowledgments
We thank FARM-Africa Project office at Amibara District for providing access to reports on P. juliflora control by Cooperatives. We thank also the district authorities and farmers in the study area for facilitating our fieldwork.
About this article
Cite this article
Haregeweyn, N., Tsunekawa, A., Tsubo, M. et al. Analysis of the invasion rate, impacts and control measures of Prosopis juliflora: a case study of Amibara District, Eastern Ethiopia. Environ Monit Assess 185, 7527–7542 (2013). https://doi.org/10.1007/s10661-013-3117-3
Received:

Accepted:

Published:

Issue Date:
Keywords
P. juliflora invasion

Landsat

P. juliflora management

Exotic species