Abstract
The present study deals with the characterization of industrial effluents released from various industries and distribution of heavy metals in effluent discharge channel and its impact on the river Damodar. The effluent of tamlanala, a natural storm water channel, is extensively used for irrigation for growing vegetables in and around the study area. The heavy metals in water of the study area are in the order of Fe > Mn > Pb > Cd and sediments follow similar trends too. The enrichment of heavy metals in the sediments are in the order of Cd (39.904) > Pb (33.156) > Mn (0.164) > Fe (0.013). The geoaccumulation index values reveal effluent channel is subjected to moderate to high pollution with respect to Cd (4.733) and Pb (4.466). The analyzed data for enrichment factors and the pollution load index (1.305) show that effluent channels have suffered from significant heavy metal contamination following industrialization and urbanization. Compared to baseline values, the surface sediment layers show high enrichment across the channel and at its discharge point. The factor analysis reveals three factors—industrial sources, surface runoff inputs, and background lithogenic factors which clarify the observed variance of the environmental variables. Metal pollution assessment of sediments suggests that pollution from the heavy metals observed is high in the tamlanala which in turn affects the downstream of the river system.
Access options
Buy single article
Instant access to the full article PDF.
USD 39.95
Price excludes VAT (USA)
Tax calculation will be finalised during checkout.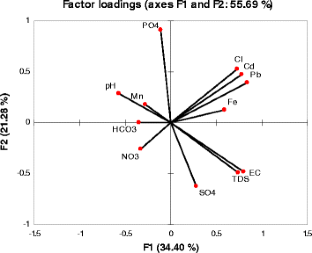 References
Adekola, F. A., & Eletta, O. A. A. (2007). A study of heavy metal pollution of Asa river, Ilorin, Nigeria; trace metal monitoring and geochemistry. Environmental Monitoring and Assessment, 125, 157–163.

American Public Health Association (APHA). (1998). Standard methods for the examination of water and wastewater (20th ed.). Washington, DC: American Public Health Association.

Atkinson, B. W., Bux, F., & Kasan, H. C. (1998). Considerations for application of biosorption technology to remediate metal contaminated industrial effluents. Water SA, 24, 129–135.

Barman, S. C., & Lal, M. M. (1994). Accumulation of heavy metals (Zn, Cu, Cd and Pb) in soils and cultivated vegetables and weeds grown in industrially polluted fields. Journal of Environmental Biology, 15, 107–115.

Çelo, V., Babi, D., Baraj, B., & Çullaj, A. (1999). An assessment of heavy metal pollution in the sediments along the Albanian Coast. Water, Air, and Soil Pollution, 111, 235–250. doi:10.1023/A:1005086208998.

Cook, J. A., Andrew, S. M., & Johnson, M. S. (1990). Lead, zinc, cadmium and fluorspar tailings. Water, Air, and Soil Pollution, 51, 43–54.

De Groot, A. J., Salmons, W., & Allersma, E. (1976). In J. D. Burton & P. S. Liss (Eds.), Processes affecting heavy metals in estuarine sediments. Estuarine Chemistry (pp. 131–153).

Deniseger, J., Erickson, J., Austin, A., Roch, M., & Clarkm, M. J. R. (1990). The effects of decreasing heavy metal concentrations on the Biota of Buttle Lake. Water Research, 24, 403–416. Academic Press, London.

Downing, A. L. (1971). Forecasting the effects of polluting discharges on natural waters—I. Rivers. International Journal of Environmental Studies, 2(1), 101–110. doi:10.1080/00207237108709452.

Dryssen, D., & Wedborg, M. (1980). In E. Olausson & I. Cato (Eds.), Major and minor elements, chemical speciation in estuarine waters. Chemistry and Biogeochemistry of Estuaries (pp. 71–119). Chichester: Wiley.

Farkas, A., Erratico, C., & Viganó, L. (2007). Assessment of the environmental significance of heavy metal pollution in surficial sediments of the River Po. Chemosphere, 68, 761–768.

Forstner, U., & Wittmann, G. T. W. (1983). Metal pollution in the aquatic environment (2nd ed.). Berlin: Springer. 486.

Gupta, S., Satpati, S., Nayek, S., & Garai, D. (2010). Effect of wastewater irrigation on vegetables in relation to bioaccumulation of heavy metals and biochemical changes. Environmental Monitoring and Assessment, 165, 169–177.

Heyvart, A. C., Reuter, J. E., Sloton, D. G., & Goldman, C. R. (2000). Paleo-limnological reconstruction of historical atmospheric lead and Hg deposition at lake Tahoe, California, Nevada. Environmental Science & Technology, 34, 3588–3597.

Horsfall, M., & Spiff, A. I. (2002). Distribution and partitioning of trace metals in sediments of the lower reaches of the new Carlabar river, port Harcourt, Nigeria. Environmental Monitoring and Assessment, 78, 309–326.

Howarth, R. J., & Nombela, M. A. (2003). Metals in the sediments of Ensenada de San Simon (inner Ria de Vigo), Galicia, NW Spain. Applied Geochemistry, 18, 973–996. doi:10.1016/S0883-2927(02)00203-2.

Jain, C. K., Singhal, D. C., & Sharma, U. K. (2005). Metal pollution assessment of sediment and water in the river Hindon, India. Environmental Monitoring and Assessment, 105, 193–207.

Karbassi, A. R., Nouri, J., & Ayaz, G. O. (2007). Flocculation of trace metals during mixing of Talar river water with Caspian seawater. International Journal of Environmental Research, 1(1), 66–73.

Kartal, S., Aydın, Z., & Tokalıǒglu, S. (2006). Fractionation of metals in street sediment samples by using the BCR sequential extraction procedure and multivariate statistical elucidation of the data. Journal of Hazardous Materials, 132, 80–89. doi:10.1016/j.jhazmat.2005.11.091.

Li, X., & Thornton, I. (2001). Chemical partitioning of trace and major elements in soils contaminated by mining and smelting activities. Applied Geochemistry, 16, 1693–1706.

Li, Y., Yu, Z., Song, X., & Mu, Q. (2006). Trace metal concentrations in suspended particles, sediments and clams from Jiaozhou Bay of China. Environmental Monitoring and Assessment, 121, 491–501.

Liaghati, T., Preda, M., & Cox, M. (2003). Heavy metal distribution and controlling factors within coastal plain sediments, Bells Creek Catchment, southeast Queensland, Australia. Environment International, 29, 935–948. doi:10.1016/S0160-4120(03)00060-6.

Liu, C. W., Lin, K. H., & Kuo, Y. M. (2003). Application of factor analysis in the assessment of groundwater quality in a blackfoot disease area in Taiwan. The Science of the Total Environment, 313(1–3), 77–89. doi:10.1016/S0048-9697 (02)00683-6.

McCready, S., Birch, G. F., & Long, E. R. (2006). Metallic and organic contaminants in sediments of Sydney Harbour, Australia and vicinity—a chemical dataset for evaluating sediment quality guidelines. Environment International, 32, 455–465. doi:10.1016/j.envint.2005.10.006.

Mil-Homens, M., Branco, V., Lopez, C., Vale, C., Abrantes, F., Boer, W., & Vicente, M. (2009). Using factor analysis to characterise historical trends of trace metal contamination in a sediment core from the Tagus Prodelta, Portugal. Water, Air, and Soil Pollution, 197, 277–287. doi:10.1007/s11270-008-9810-0.

Morillo, J., Usero, J., & Rojas, R. (2008). Fractionation of metals and As in sediments from a biosphere reserve (Odiel salt marshes) affected by acidic mine drainage. Environmental Monitoring and Assessment, 139, 329–337.

Muller, G. (1969). Index of geoaccumulation in sediments of the Rhine River. GeoJournal, 2, 108–118.

Reimann, C., & de Caritat, P. (2005). Distinguishing between natural and anthropogenic sources for elements in the environment: regional geochemical surveys versus enrichment factors. The Science of the Total Environment, 337, 91–107. doi:10.1016/j.scitotenv.2004.06.011.

Saha, M. K., & Konar, S. K. (1985). Impact of petroleum oil refinery effluent on hooghly estuary ecosystem at Haldia, West Bengal. Environment and Ecology, 3, 524–528.

Salomons, W., & Forstner, U. (1984). Metals in the Hydrocycle. Berlin: Springer-Verlag.

Silveira, M. L., Alleoni, L. R. F., O'Connor, G. A., & Chang, A. C. (2006). Heavy metal sequential extraction methods—a modification for tropical soils. Chemosphere, 64, 1929–1938.

Singh, V. K., Singh, K. P., & Mohan, D. (2005). Status of heavy metals in water and bed sediments of River Gomti—a tributary of the Ganga River, India. Environmental Monitoring and Assessment, 105, 43–67. doi:10.1007/s10661-005-2816-9.

Stoffers, P., Glasby, G. P., Wilson, C. J., Davis, K. R., & Watter, P. (1986). Heavy metal pollution in Wellington Harbour. New Zealand Journal of Marine and Freshwater Research, 20, 495–512.

Sutherland, R. A. (2000). Bed sediment-associated trace metals in an urban stream, Oahu, Hawaii. Environmental Geology, 39, 611–627. doi:10.1007/s002540050473.

Thornton, J. A., McComb, A. J., & Ryding, S. O. (1975). The role of sediments. In A. J. McComb (Ed.), Eutrophic shallow estuaries and lagoons (pp. 205–223). Boca Raton: CRC.

Tomlison, L., Wilson, G., Harris, R., & Jeffrey, D. W. (1980). Problems in the assessments of heavy metal levels in estuaries and formation of pollution index. Helgol Meeresunters, 33, 566–575.

Truu, J., Heinaru, E., Talpsep, E., & Heinaru, A. (2002). Analysis of river pollution data from low-flow period by means of multivariate techniques. ESPR - Environmetal Science & Pollution Research Special Issue, 1, 8–14.

Turekian, K. K., & Wedepohl, K. H. (1961). Distribution of the elements in some major units of the earth's crust. Bulletin of the Geological Society of America, 72, 175–192. doi:10.1130/0016-7606(1961)72[175:DOTEIS]2.0.CO;2.

Verma, S., & Khan, S. A. (2007). Water quality criteria and Arpna river water of Bilaspur city (C.G.). Current World Environment, 2(2), 199–204.

Wang, M., Webber, M., Finlayson, B., & Barnett, J. (2008). Rural industries and water pollution in China. Journal of Environmental Management, 86, 648–659. doi:10.1016/j.jenvman.2006.12.019.

Widmeyer, J. R., & Bendell-Young, L. I. (2008). Heavy metal levels in suspended sediments, Crassostrea gigas, and the risk to humans. Archives of Environmental Contamination and Toxicology, 55, 442–450. doi:10.1007/s00244-007-9120-3.

Yang, H., & Rose, N. L. (2003). Distribution of Hg in the lake sediments across the UK. Science of the Total Environment, 304, 391–404.

Zheng, N., Wang, Q., Liang, Z., & Zheng, D. (2008). Characterization of heavy metal concentrations in the sediments of three freshwater rivers in Huludao City, Northeast China. Environmental Pollution, 154, 135–142. doi:10.1016/j.envpol.2008.01.001.
Acknowledgments
The authors wish to thank Prof. J.K. Datta, Prof A.R. Ghosh, and Dr N.K. Mondal, Dept. of Environmental Science, The University of Burdwan, West Bengal for their valuable suggestions and cooperation throughout this research work. USB thankfully acknowledges Prof. H Lahiri, Dept of English, The University of Burdwan and Mr. J Mondal, Asst. teacher, Mohanpur High School, Burdwan, West Bengal, India for their suggestions to improve the manuscript. The comments of the reviewers are highly appreciated.
About this article
Cite this article
Banerjee, U.S., Gupta, S. Impact of industrial waste effluents on river Damodar adjacent to Durgapur industrial complex, West Bengal, India. Environ Monit Assess 185, 2083–2094 (2013). https://doi.org/10.1007/s10661-012-2690-1
Received:

Accepted:

Published:

Issue Date:

DOI: https://doi.org/10.1007/s10661-012-2690-1
Keywords