Abstract
The long-term application of phosphate fertilizers on vegetable production fields has raised concerns about the potential health risks of heavy metal contamination of crops grown on contaminated soils in the Hamadan province, western Iran. This study found that long-term fertilizer use led to a growing accumulation of heavy metals in soils. High concentrations of elemental As, Cd, Cr, Cu, Pb, and Zn were found in potatoes sampled from overused phosphate-fertilized soils, which increased the daily intake of metals in food. However, the ingestion of potatoes from soils affected by phosphate fertilizers posed a low health risk when compared with the health risk index of <1 for heavy metals. Nevertheless, heavy metal concentrations should be periodically monitored in vegetables grown in these soils. It would also be beneficial to implement effective remediation technologies to minimize possible impacts on human health.
Access options
Buy single article
Instant access to the full article PDF.
US$ 39.95
Tax calculation will be finalised during checkout.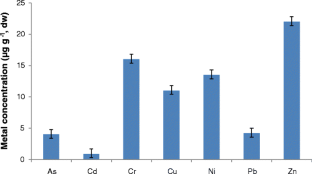 References
Adriano, D. C. (1992). Biogeochemistry of trace metals (p. 513). Boca Raton: Advance in Trace Substances Research.

Agrawal, G. D. (1999). Diffuse agricultural water pollution in India. Water Science and Technology, 39(3), 33–47.

Allen, S. E., Grimshaw, H. M., & Rowland, A. P. (1986). Chemical analysis. In P. D. Moore & S. B. Chapman (Eds.), Methods in plant ecology (pp. 285–344). London: Blackwell Scientific.

Alloway, B. (1995). Heavy metals in soils. London: Blackie Academic Professional.

Arora, M., Kiran, B., Rani, S., Rani, A., Kaur, B., & Mittal, N. (2008). Heavy metal accumulation in vegetables irrigated with water from different sources. Food Chemistry, 111(4), 811–815.

Bonierbale, M., Amoros, W., Burgos, G., Salas, E., & Juarez, H. (2007). Prospects for enhancing the nutritional value of potato by plant breeding. African Potato Association Conference Proceedings, 7(2), 26–46.

Cajuste, L. J., Garcia, O. C., & Cruz, D. J. (2006). Distribution and availability of heavy metals in raw and acidulated phosphate rock-amended soils. Communications in Soil Science and Plant Analysis, 37(5), 2541–2552.

Chary, N. S., Kamala, C. T., & Raj, D. S. (2008). Assessing risk of heavy metals from consuming food grown on sewage irrigated soils and food chain transfer. Ecotoxicology and Environment Safety, 69(3), 513–524.

Chen, W., Chang, A. C., & Wu, L. (2007). Assessing long-term environmental risks of trace elements in phosphate fertilizers. Ecotoxicology and Environment Safety, 67(2), 48–58.

Cheraghi, M., Lorestani, B., & Merikhpour, H. (2011). Investigation of the effects of phosphate fertilizer application on the heavy metal content in agricultural soils with different cultivation patterns. Biological Trace Element Research. doi:10.1007/s12011-011-9161-3.

D'Mello, J. P. F. (2003). Food safety: Contaminants and toxins (p. 480). Wallingford: CABI Publishing.

Dogheim, S. M., Ashraf, E. M. M., Gad Alla, S. A., Khorshid, M. A., & Fahmy, S. M. (2004). Pesticides and heavy metals levels in Egyptian leafy vegetables and some aromatic medicinal plants. Food Additives and Contaminants, 21(4), 323–330.

Dong, W. Q. R., Cui, Y., & Liu, X. (2001). Instances of soil and crop heavy metal contamination in China. Soil and Sediment Contamination, 10(5), 497–510.

Duruibe, J. O., Ogwuegbu, M. O. C., & Egwurugwu, J. N. (2007). Heavy metal pollution and human biotoxic effects. International Journal of Physical Science, 2(5), 112–118.

Fries, G. F. (1995). A review of the significance of animal food products as potential pathways of human exposures to dioxins. Journal of Animal Science, 73(6), 1639–1650.

Ge, K. Y. (1992). The status of nutrient and meal of Chinese in the 1990s (pp. 415–434). Beijing: Beijing People's Hygiene.

Gopalani, M., Shahare, M., Ramteke, D. S., & Wate, S. R. (2007). Heavy metal content of potato chips and biscuits from Nagpur City, India. Bulletin of Environmental Contamination and Toxicology, 79(9), 384–387.

Graham, R. D., Welch, R. M., Saunders, D. A., Ortiz-Monasterio, I., Bouis, H. E., & Bonierbale, M. (2006). Nutritious subsistence food systems. Advances in Agronomy, 92(3), 1–74.

Johnston, A. E., & Jones, K. C. (1992). The cadmium issue long-term changes in the cadmium content of soils and the crops grown on them. International workshop on phosphate fertilizers and the environment (pp. 255–269). Tampa: International Fertilizer Development Center.

Khan, S., Cao, Q., Zheng, Y. M., Huang, Y. Z., & Zhu, Y. G. (2008). Health risks of heavy metals in contaminated soils and food crops irrigated with wastewater in Beijing, China. Environmental Pollution, 152(3), 686–692.

Kumar, N., Hiren Soni, J. I., & Kumar, R. N. (2007). Characterization of heavy metals from market vegetables using inductive coupled plasma analyzer. Journal of Applied Sciences and Environmental Management, 11(3), 75–79.

Lim, H. S., Lee, J. S., Chon, H. T., & Sager, M. (2008). Heavy metal contamination and health risk assessment in the vicinity of the abandoned Songcheon Au–Ag mine in Korea. Journal of Geochemical Exploration, 96(2–3), 223–230.

Lin, C. G. (1996). Soil pollution and its control (in Chinese) (pp. 44–58). Beijing: Chinese Agricultural.

Liu, W. H., Zhao, J. Z., Ouyang, Z. Y., Söderlund, L., & Liu, G. H. (2005). Impacts of sewage irrigation on heavy metal distribution and contamination in Beijing, China. Environment International, 31(4), 805–812.

Lu, R. K. (2000). Soil and agricultural chemistry analysis (in Chinese) (pp. 321–330). Beijing: Chinese Agricultural.

Markert, B. (1996). Instrumental element and multi-element analysis of plant samples—methods and applications. Chichester: Wiley.

Mendil, D., Tuzen, M., Yazici, K., & Soylak, M. (2005). Heavy metals in lichens from roadsides and an industrial zone in Trabzon, Turkey. Bulletin of Environmental Contamination and Toxicology, 74(1), 190–194.

Merian, E. (1991). Metals and their compound in the environment: Occurrence, analysis, and biological relevance (p. 1438). Weinheim: VCH.

Narin, I., Tuzen, M., Sari, H., & Soylak, M. (2005). Heavy metal content of potato and corn chips from Turkey. Bulletin of Environmental Contamination and Toxicology, 74(6), 1072–1077.

Panda, B. B., & Panda, K. K. (2002). Genotoxicity and mutagenicity of metals in plants. In K. N. V. Prasad & K. Strzalka (Eds.), Physiology and biochemistry of metal toxicity and tolerance in plants (pp. 395–414). Netherlands: Kluwer Academic Publishers.

Paraíba, L. C., & Kataguiri, K. (2008). Model approach for estimating potato pesticide bioconcentration factor. Chemosphere, 73(8), 1247–1252.

Qishlaqi, A., Moore, F., & Forghani, G. (2008). Impact of untreated wastewater irrigation on soils and crops in Shiraz suburban area, SW Iran. Environmental Monitoring and Assessment, 141(2–3), 257–273.

Rattan, R. K., Datta, S. P., Chhonkar, P. K., Suribabu, K., & Singh, A. K. (2005). Long-term impact of irrigation with sewage effluents on heavy metal content in soils, crops and groundwater—a case study. Agriculture, Ecosystems & Environment, 109(3–4), 310–322.

Saleem, M., Hussain, S. A., Maqsood, A., & Jaffar, M. (1987). Assessment of the toxicity level of an industrial eco-system for its hazardous metals. Pakistan Journal of Scientific and Industrial Research, 30(2), 05–09.

Schroeder, H. A. (1973). The trace elements and nutrition. London: Faber and Faber.

Sharma, R. K., Agrawal, M., & Marshall, F. (2007). Heavy metal contamination of soil and vegetables in suburban areas of Varanasi, India. Ecotoxicology and Environment Safety, 66(2), 258–266.

Tekin, T., Tekin, D., & Bayramoglu, M. (2001). Effect of ultrasound on the dissolution kinetics of phosphate rock in HNO3. Ultrasonics Sonochemistry, 8(4), 373–377.

Tricker, A. R., & Preussmann, R. (1990). Chemical food contaminants in the initiation of cancer. Proceedings of Nutritional Society, 49, 133–144.

US-EPA, IRIS (2002). United States, Environmental Protection Agency, Integrated Risk Information System. http://www.epa.gov/iris/subst. Accessed 25 Feb 2010.

Wang, X., Sato, T., Xing, B., & Tao, S. (2005). Health risks of heavy metals to the general public in Tianjin, China via consumption of vegetables and fish. Science of the Total Environment, 350(11), 28–37.

White, P. A., & Claxton, L. D. (2004). Mutagens in contaminated soil: A review. Mutation Research, 567(2–3), 227–345.

Xue, Z. J., Liu, S. Q., Liu, Y. L., & Yan, Y. L. (2011). Health risk assessment of heavy metals for edible parts of vegetables grown in sewage-irrigated soils in suburbs of Baoding City, China. Environmental Monitoring and Assessment, 11(4), 2204–2206.
About this article
Cite this article
Cheraghi, M., Lorestani, B., Merrikhpour, H. et al. Heavy metal risk assessment for potatoes grown in overused phosphate-fertilized soils. Environ Monit Assess 185, 1825–1831 (2013). https://doi.org/10.1007/s10661-012-2670-5
Received:

Accepted:

Published:

Issue Date:
Keywords
Health risk

Heavy metals

Phosphate fertilizer

Potato

Iran