Abstract
The wildlife populations of northern Central African Republic (CAR) have long suffered intense uncontrolled hunting. Socio-political turmoil in northern CAR that started in 2002 resulted in a rebellion in 2006. An aerial sample count was carried out in northern CAR after the ceasefire to assess the impact of this troubled period on wildlife. The survey was flown at the end of the dry season in February–March 2010. It covered a landscape complex of 95,000 km² comprising national parks, hunting reserves and community hunting areas. Comparison with earlier surveys revealed a dramatic decline of wildlife: the numbers of large mammals fell by 94% in 30 years, probably due to poaching, loss of habitat and diseases brought by illegal movements of cattle. Elephant (Loxodonta africana), Reduncinae and topi (Damaliscus lunatus) populations showed the greatest decline (each over 90%). Other species declined by 70–80% during the same period. The future of wildlife in this area is dark without a strong commitment to provide adequate funding and quickly implement of determined field management. Reinforced cooperation with neighbouring Chad and Sudan is required since they are facing similar problems.
This is a preview of subscription content,
to check access.
Access this article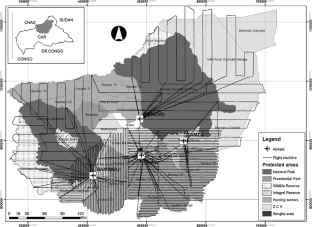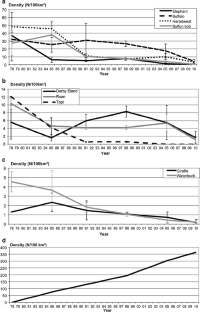 References
Bailey, N. T. J. (1995). Statistical methods in biology (3rd ed.). Cambridge, UK: Cambridge University Press.

Bouché, Ph. (2007). III. Les éléphants du Ranch de Gibier de Nazinga. In Nazinga (eds W. Delvingt & C. Vermeulen), pp. 257–268. Région Wallonne, Presse Agronomique de Gembloux, Nature+, APEFE, Ministère de l'Environnement et du Cadre de Vie, Burkina Faso.

Bouché, Ph, Renaud, P.-C., Lejeune, Ph, Vermeulen, C., Froment, J.-M., et al. (2010a). Has the final countdown for wildlife extinction in northern Central African Republic begun? African Journal of Ecology, 48, 994–1003.

Bouché, Ph, Bache, A. X., Yakata, M., Chenda, A., Nzapa Beti Mangue, R., & Zowoya, F. (2010b). Les Zones Cynégétiques Villageoises du Nord de la République Centrafricaine: 15 ans déjà! Parcs et Réserves., 65(2), 4–11.

Bouché, Ph, Douglas-Hamilton, I., Wittemyer, G., Nianogo, A. J., Doucet, J.-L., et al. (2011). Will elephants soon disappear from West African savannahs? PloS One, 6(6), e20619. doi:10.1371/journal.pone.0020619.

Chardonnet, Ph, & Boulet, H. (2008). Des éléphants dans la tourmente. République Centrafricaine, 2007. Bois et Forêts des Tropiques, 295, 91–96.

Craig, C. (2004). Aerial survey standards for the MIKE Programme. CITES-MIKE.

Delvingt, W. & Lobão Tello, J. L. P. (2004). Découverte du Nord de la Centrafrique. Sur les terres de la grande faune. ECOFAC Programme. EU AGRECO-GEIE

Fargeot, C. (2004). La chasse commerciale et le négoce de la venaison en Afrique Centrale forestière. Game and Wildlife Science, 21(4), 817–833.

Foguekem, D., Tchamba, M. N., & Omondi, P. (2010). Aerial survey of Elephants (Loxodonta africana africana), other large mammals and human activities in Waza National Park, Cameroon. African Journal of Environmental Science and Technology, 4(6), 401–411.

Haessler, C., Djimadoum, A., & Duteurtre, G. (2003). Développement du cheptel au sud du Tchad : quelles politiques pour l'élevage des savanes ? In Savanes africaines : des espaces en mutation, des acteurs face à de nouveaux défis (eds Jamin J.Y., Seiny Boukar L. & Floret C.). Actes du colloque, mai 2002, Garoua, Cameroun. Prasac, N'Djamena, Tchad –Cirad, Montpellier, France. Available: hal.archives-ouvertes.fr/docs/00/13/91/…/T310Haessler.pdf. Accessed 30 April 2010

Hendrikx, P., Dufour, B., Tulasne, J. J., & Kondolas, G. (2001). Analyse qualitative du risque d'épizootie de peste bovine en République Centrafricaine à partir du Tchad et du Soudan. Epidémiol. et santé anim., 40, 83–94.

Hibert, F., Calenge, C., Fritz, H., Maillard, D., Bouché, Ph, et al. (2010). Spatial avoidance of invading pastoral cattle by wild ungulates: insights from using point process statistics. Biodiversity and Conservation. doi:10.1007/s10531-010-9822-0.

Kock, R. A., Wambua, J. M., Mwanzia, J., Wamwayi, H., Ndungu, E. K., et al. (1999). Rinderpest epidemic in wild ruminants in Kenya 1993–97. Veterinary Record, 145, 275–283.

Milliken, T., Burn, R.W., & Sangalakula, L. (2009). The Elephant Trade Information System (ETIS) and the illicit trade in ivory. CITES. Available: www.cites.org/common/cop/15/doc/E15-44-01A.pdf Accessed: 30 April 2010

Norton-Griffiths, M. (1978). Counting animals. 2nd edition, handbook n°1. Nairobi: African Wildlife Foundation.

Pennycuick, C. J. (1973). The shadowmeter: a simple device for controlling an aircraft's height above the ground. East African Wildlife Journal, 11(1), 109–112.

PNUE (2002) L'état de l'environnement mondial. A. de Boeck Université

Poilecot, P. (2010). Le braconnage et la population d'éléphants au Parc National de Zakouma (Tchad). Bois et Forêts des Tropiques, 303(1), 93–102.

Prins, H. T. T. (1992). The pastoral road to extinction: competition between wildlife and traditional pastoralism in East Africa. Environment Conservation, 19(2), 117–123.

UNEP (2006). Sudan post conflict environmental assessment. Evaluation UNEP

Roulet, P. A. (2004). Chasseur blanc. Cœur Noir. La chasse sportive en Afrique Centrale. Une analyse de son rôle dans la conservation de la faune sauvage et le développement rural au travers des programmes de gestion de la chasse communautaire. PhD Thesis. University of Orleans, France.

Ruggiero, R. G. (1984). Central African Republic hit by poachers. Pachyderm, 4, 12–13.

Sam, M. K., Haizel, C. A. K., & Barnes, R. F. W. (2002). Do cattle determine elephant distribution in Red Volta Valley? Pachyderm, 33, 39–41.

Spinage, C. A. (1986). The rhinos of the Central African Republic. Pachyderm, 6, 10–13.

Wasser, S., Poole, J., Lee, P., Lindsay, K., et al. (2010). Elephants, ivory, and trade. Science, 327(5971), 1331–1332. doi:10.1126/science.1187811.
Unpublished reports
Douglas Hamilton, I., Froment, J.-M., Doungoube, G. & Root, J. (1985). Recensement aérien de la faune dans la zone Nord de la République Centrafricaine. Aménagement de la faune. République Centrafricaine. Unpublished report (FAO. FO CAF/78/006). Document de travail 5.

Froment, J.-M. (1985). L'Exploitation des éléphants. Bangui: FAO/Haut Commissariat Charge du Tourisme des Eaux Forêts Chasses et Pêches. Unpublished report (FAO:CAF/78/006) (Document de travail no 3).

Loevinsohn, M. E., Spinage, C. A. & Ndoute, J. (1978). Analyse des résultats de survol aérien 1978. CAF/72/010. Document de travail 10. FAO. Rome.

PDRN (1998). Situation de la faune de grande taille dans les zones protégées du Nord de la RCA. 22–69 in. Rapport annuel. Unpublished report. UE/FED. NORCADEV, RCA.

Potgieter, D., Dogringar, S., Djimet, B & Lamoureaux, S. (2011). Dry season aerial total count. Zakouma National Park. Chad. Unpublished report .WCS. New York.

Spinage, C. A., Loevinsohn, M. E., & Ndoute, J. (1977). Etudes additionnelles du Parc National Bamingui Bangoran. Unpublished report. CAF/72/010. Document de travail 8. FAO. Rome
Acknowledgements
The authors would like to thank the Ministry in charge of the Environment of Central African Republic, the European Union, the ECOFAC (Conservation et Utilisation Rationelle des Ecosystèmes Forestiers d'Afrique Centrale) IV and Central Africa's CITES-MIKE (Convention of International Trade of Endangered Species of wild fauna and flora-Monitoring the Illegal Killing of Elephants) programmes and their respective staff, for providing technical, financial and logistical support facilities during this survey. Special thanks to RFW Barnes and an anonymous reviewer for the review of an earlier draft.
About this article
Cite this article
Bouché, P., Nzapa Mbeti Mange, R., Tankalet, F. et al. Game over! Wildlife collapse in northern Central African Republic. Environ Monit Assess 184, 7001–7011 (2012). https://doi.org/10.1007/s10661-011-2475-y
Received:

Accepted:

Published:

Issue Date:

DOI: https://doi.org/10.1007/s10661-011-2475-y
Keywords