Abstract
Biomonitoring of multi-element atmospheric deposition using terrestrial moss is a well-established technique in Europe. Although the technique is widely known, there were very limited records of using this technique to study atmospheric air pollution in Malaysia. In this present study, the deposition of 11 trace metals surrounding the main petroleum refinery plant in Kerteh Terengganu (eastern part of peninsular Malaysia) has been evaluated using two local moss species, namely Hypnum plumaeforme and Taxithelium instratum as bioindicators. The study was also done by means of observing whether these metals are attributed to work related to oil exploration in this area. The moss samples have been collected at 30 sampling stations in the vicinity of the petrochemical industrial area covering up to 15 km to the south, north, and west in radius. The contents of heavy metal in moss samples were analyzed by energy dispersive x-ray fluorescence technique. Distribution of heavy metal content in all mosses is portrayed using Surfer software. Areas of the highest level of contaminations are highlighted. The results obtained using the principal components analysis revealed that the elements can be grouped into three different components that indirectly reflected three different sources namely anthropogenic factor, vegetation factor, and natural sources (soil dust or substrate) factor. Heavy metals deposited mostly in the distance after 9 km onward to the western part (the average direction of wind blow). V, Cr, Cu, and Hg are believed to have originated from local petrochemical-based industries operated around petroleum industrial area.
Access options
Buy single article
Instant access to the full article PDF.
USD 39.95
Price excludes VAT (USA)
Tax calculation will be finalised during checkout.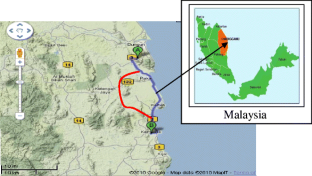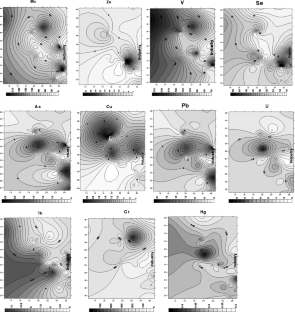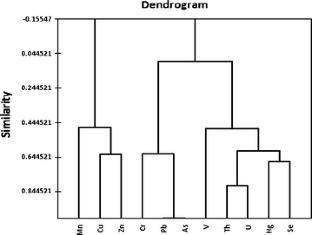 References
Balarama, K. M. V., Kurunasagar, D., & Arunachalam, J. (2003). Study of mercury pollution near a thermometer factory using lichen and mosses. Environmental Pollution, 124, 357–360.

Baldi, F. (1987). Mercury pollution in the soil and mosses around a geothermal plant. Air Soil Pollution, 176, 111–119.

Bargagli, R., Battisti, E., Cardaili, E., Formichi, P., & Nelli, L. (1994). La deposizione atmosferica dim elementi in trace in Italia. Prime rivelevazioni mediante muschi. Inquinamento, 2, 45–58.

Berg, T., & Steinnes, E. (1997). Recent trends in atmospheric deposition of trace elements in Norway as evident from the 1995 moss survey. The Science of the Total Environment, 208, 197–206.

Celine, S., Lan, L., Xiangdong, L., Gan, Z., Xinzhi, P., & Li, Z. (2005). Biomonitoring of trace metals in the atmosphere using moss (Hypnum plumaeforme) in the Nanling Mountains and the Pearls River Delta, Southern China. Atmospheric Environment, 39, 397–407.

Chiarenzelli, J., Aspler, L., Dunn, C., Cousens, B., Ozarko, D., & Powis, K. (2001). Multi-element and rare earth element composition of lichens, mosses and vascular plants from the Central Barrenlands, Nunavut, Canada. Applied Geochemistry, 16, 245–270.

Lide, D.R. (1998). Handbook of chemistry and physics. 78th edition. Chemical Abstract No. (CAS#) 7440-62-2.

Dragović, S., Nedić, O., Stanković, S., & Bácić, G. (2004). Radiocesium accumulation in mosses from highlands of Serbia and Montenegro. Journal of Environmental Radioactivity, 77, 381–388.

Faus-Kessler, T., Dietl, C., Tritschler, J., & Peichl, L. (2001). Correlation patterns of metals in the epiphytic moss Hypnum cupressiforme in Bavaria. Atmospheric Environment, 35, 427–439.

Figueira, R., Sérgio, C., & Sousa, A. J. (2002). Distribution of trace metals in moss biomonitors and assessment of contamination sources in Portugal. Environmental Pollution, 118, 153–163.

Gombert, S., Rausch de Traubenberg, C., Losno, R., Leblond, S., Colin, J. L., & Cossa, D. (2004). Biomonitoring of element deposition using mosses in the 2000 French Survey: identifying sources and spatial trends. Journal of Atmospheric Chemistry, 49, 479–502.

Kaiser, H. F. (1960). The application of electronic computers to factor analysis. Educational and Physiological Measurement, 20, 141–151.

Kuik, P., & Wolterbeck, H. T. (1995). Factor analysis of atmospheric trace-element deposition data in the Netherlands obtained by moss monitoring. Water, Air, and Soil Pollution, 84, 323–346.

Markert, B. (2007). Definitions and principles for bioindication and biomonitoring of trace metals in the environment. Journal of Trace Elements in Medicine and Biology, 21, 77–82.

Markert, N., Wuenschmann, S., Fraenzle, S., Wappelhorst, O., Weckert, V., Breulmann, G., et al. (2008). On the road from environmental biomonitoring to human health aspects: monitoring atmospheric heavy metal deposition by epiphytic/epigeic plants: present status and future needs. International Journal of Environment and Pollution, 32(4), 486–498.

Økland, T., Økland, R. H., & Steinnes, E. (1999). Element concentrations in the boreal forest moss Hylocomium splendens: variation related to gradients in vegetation and local environmental factors. Plant and Soil, 209, 71–83.

Oprea, C. D., & Mihul, A. C. (2003). Accumulation of specific pollutants in various media in the area affected by a petrochemical center. Romanian Reports in Physics, 55(2), 82–90.

Pacyna, J. M., Munch, J., & Axenfeld, F. (1991). European inventory of trace metal emission to the atmosphere (pp. 1–20). Amsterdam: Elsevier.

Pesch, R., & Schroeder, W. (2006). Mosses as bioindicators for metal accumulation: statistical aggregation of measurement data to exposure indices. Ecological Indicators, 6, 137–152.

Poikolainen, J., Kubin, E., Piispanen, J., & Karhu, J. (2004). Atmospheric heavy metal deposition in Finland during 1985–2000 using mosses as bioindicators. The Science of the Total Environment, 318, 171–185.

Puxbaum, H. (1991). Metal compounds in the atmosphere. In E. Merian (Ed.), Metals and their compounds in the environment. Occurrence, analysis and biological relevance (pp. 176–257). VCH: Weinheim.

Ruhling, A. (1994). Atmospheric heavy metal deposition in Europe-estimation based on moss analysis. NORD, 9, 53.

Ruhling, A. (2001). A European survey of atmospheric heavy metal deposition in 2000–2001. Environmental Pollution, 120(1), 23–25.

Samecka-Cymerman, A., Kolon, K., Kempers, A. J., Jansen, J., & Boonen, B. (2005). Bioaccumulation of elements in bryophytes from Serra da Estrela, Portugal and Veluwezoom, the Netherlands. Environmental Science and Pollution Research, 12, 71–79.

Schaug, J., Rambaek, J., Steinnes, E., & Henry, R. C. (1990). Multivariate analysis of trace element data from moss samples used to monitor atmospheric deposition. Atmospheric Environment, 24A, 2625–2631.

SPSS (1999). SPSS 17.0 for Windows, SPSS Inc., Chicago, United States. http://www.spss.com/.

Steinnes, E. (1993). Some aspects of biomonitoring of air pollutants using mosses, as illustrated by the 1976 Norwegian study. In B. Markert (Ed.), Plants as biomonitors: indicators for heavy metals in the terrestrial environment (pp. 381–394). VCH: Weinheim.

Steinnes, E. A. (1995). Critical evaluation of the use of naturally growing moss to monitor the deposition of atmospheric metals. The Science of the Total Environment, 160/161, 243–249.

Steinnes E. (2000). Use of mosses as biomonitors of atmospheric deposition of trace elements. BioMAP. IAEA-TECDOC-1152. pp 100–107.

Thomas, W., Ruhling, A., & Simon, H. (1984). Accumulation of airborne pollutants (PAH, chlorinated hydrocarbons, heavy metals) in various plant species and humus. Environmental Pollution (Series A), 36, 295–310.

Turkan, I., Henden, E., Celik, U., & Kivilcim, S. (1995). Comparison of moss and bark samples as biomonitors of heavy metals in a highly industrialized area in Izmir, Turkey. The Science of the Total Environment, 166, 61–67.

WHO (2000). Air hygiene report no. 10, WHO Collaborating Centre for Air Quality Management and Air Pollution Control. Berlin, pp 165.

Wolterbeek, H. T., Garty, J., Reis, M. A., & Freitas, M. C. (2003). Biomonitors in use: lichens and metal air pollution. In B. A. Markert, A. M. Breure, & H. G. Zechmeister (Eds.), Bioindicators & biomonitors: principles, concepts and applications (pp. 3–39). Amsterdam: Elsevier.

Zechmeister, H. G., Grodzińska, K., & Szarek-Lukaszewska, G. (2003). Bryophytes. In B. A. Markert, A. M. Breure, & H. G. Zechmeister (Eds.), Bioindicators & biomonitors: principles, concept and applications (pp. 329–375). Amsterdam: Elsevier.

Zechmeister, H., Riss, A., & Hanus-illnar, A. (2004). Biomonitoring of atmospheric heavy metal deposition by mosses in the vicinity of industrial sites. Journal of Atmospheric Chemistry, 49, 461–477.

Zoller, W., Gladney, E. S., & Duce, R. A. (1974). Atmospheric concentrations and sources of trace metals at the South Pole. Science, 183, 198–200.
About this article
Cite this article
Abdullah, M.Z.B., Saat, A.B. & Hamzah, Z.B. Assessment of the impact of petroleum and petrochemical industries to the surrounding areas in Malaysia using mosses as bioindicator supported by multivariate analysis. Environ Monit Assess 184, 3959–3969 (2012). https://doi.org/10.1007/s10661-011-2236-y
Received:

Accepted:

Published:

Issue Date:

DOI: https://doi.org/10.1007/s10661-011-2236-y
Keywords
Heavy metals

Mosses

Multivariate analysis

Principal component

EDXRF