Abstract
We examine auctions for identical items with different surcharges. We find an inverted U-shape relationship between the surcharge amount and the price premium for the auction with the higher surcharge. To explain this pattern, we fit an empirical model with a two-stage process for the consideration of surcharges. In the first stage, consumers choose between two identical auctions, and in the second stage, they determine whether to place a bid. Using a novel online auction dataset that includes search and bids, we find the determinants of both search and bid, and map the relationship between surcharge and expected revenue. We note that the optimal surcharge changes inversely with bidders' level of experience and the expected number of bidders. The findings show conditions under which consumers fail to accurately process price and surcharge differences.
Access options
Buy single article
Instant access to the full article PDF.
US$ 39.95
Tax calculation will be finalised during checkout.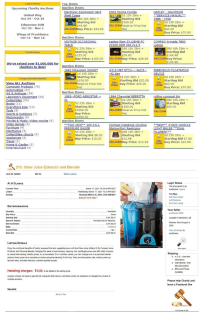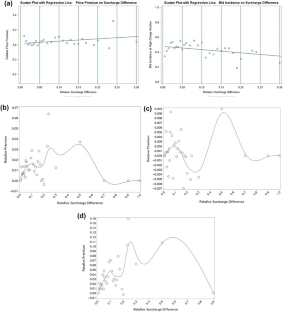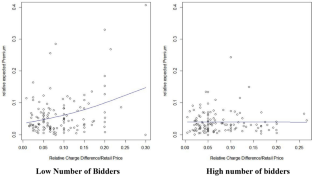 References
1.

Boone, T., & Ganeshan, R. (2013). Exploratory analysis of free shipping policies of online retailers. International Journal of Production Economics, 143(2), 627–632.

2.

Bertini, M., Ofek, E., & Ariely, D. (2009). The impact of add-on features on consumer product evaluations. Journal of Consumer Research, 36(1), 17–28.

3.

Brown, J., Hossain, T., & Morgan, J. (2010). Shrouded attributes and information suppression: Evidence from the field. Quarterly Journal of Economics, 125(2), 859–876.

4.

Burman, B., & Biswas, A. (2007). Partitioned pricing: Can we always divide and prosper? Journal of Retailing, 83(4), 423–436.

5.

Carlson, J., & Weathers, D. (2008). Examining differences in consumer reactions to partitioned prices with a variable number of price components. Journal of Business Research, 61(7), 24–731.

6.

Cheema, A. (2008). Surcharges and seller reputation. Journal of Consumer Research, 35(1), 167–177.

7.

Clark, J. M., & Ward, S. G. (2008). Consumer behavior in online auctions: An examination of partitioned prices on eBay. Journal of Marketing Theory and Practice, 16(1), 57–66.

8.

Dertwinkel-Kalt, M., Köster, M., & Sutter, M. (2019). To buy or not to buy? Shrouding and partitioning of prices in an online shopping field experiment. In CESIFO working paper 7475.

9.

Greenleaf, E. A., Johnson, E. J., Morwitz, V. G., & Shalev, E. (2016). The price does not include additional taxes, fees, and surcharges: A review of research on partitioned pricing. Journal of Consumer Psychology, 1(26), 105–124.

10.

Haruvy, E., & Popkowski Leszczyc, P. T. L. (2010). Search and choice in online consumer auctions. Marketing Science, 29(6), 1152–1164.

11.

Häubl, G., & Popkowski Leszczyc, P. T. L. (2003). Minimum prices and product valuations in auctions. Marketing Science Institute Reports, Issue 3, No. 03-117, pp. 115–141.

12.

Heckman, J. J. (1976). The common structure of statistical models of truncation, sample selection and limited dependent variables and a simple estimator for such models. Annals of Economic and Social Measurement, 5(4), 475–492.

13.

Hossain, T., & Morgan, J. (2006). Plus shipping and handling: Revenue (non) equivalence in field experiments on ebay. Advances in Economic Analysis & Policy, 5(2).

14.

Hou, J., & Blodgett, J. (2012). Do bidders compensate for shipping fees in online auctions? Journal of Services Marketing, 26(6), 435–443.

15.

Koukova, N. T., Srivastava, J., & Steul-Fischer, M. (2012). The effect of shipping fee structure on consumers' online evaluations and choice. Journal of the Academy of Marketing Science, 40(6), 759–770.

16.

Kukar-Kinney, M., & Close, A. G. (2010). The determinants of consumers' online shopping cart abandonment. Journal of the Academy of Marketing Science, 38(2), 240–250.

17.

Lee, Y. H., & Han, C. Y. (2002). Partitioned pricing in advertising: Effects on brand and retailer attitudes. Marketing Letters, 13(1), 27–40.

18.

Lewis, M. (2006). The effect of shipping fees on customer acquisition, customer retention, and purchase quantities. Journal of Retailing, 82(1), 13–23.

19.

Lewis, M., Singh, V., & Fay, S. (2006). An empirical study of the impact of nonlinear shipping and handling fees on purchase incidence and expenditure decisions. Marketing Science, 25(1), 51–64.

20.

Morwitz, V., Greenleaf, E. A., & Johnson, E. J. (1998). Divide and prosper: Consumers' reaction to partitioned prices. Journal of Marketing Research, 35, 453–463.

21.

Orr, A. (2001). E-tailers shifting to for-profit shipping to bolster bottom line. Chicago Tribune, Section, 5(4), 61.

22.

Sheng, S., Bao, Y., & Pan, Y. (2007). Partitioning or bundling? Perceived fairness of the surcharge makes a difference. Psychology & Marketing, 24(12), 1025–1041.

23.

Schindler, R. M., Morrin, M., & Bechwati, N. N. (2005). Shipping charges and shipping-charge skepticism: Implications for direct marketers' pricing formats. Journal of Interactive Marketing, 19(1), 41–53.

24.

Wathieu, L., & Bertini, M. (2007). Price as a stimulus to think: The case for willful overpricing. Marketing Science, 26(1), 118–129.

25.

Xia, L., & Monroe, K. B. (2004). Price partitioning on the internet. Journal of Interactive Marketing, 18(4), 63–73.

26.

Yao, Y., & Zhang, J. (2012). Pricing for shipping services of online retailers: Analytical and empirical approaches. Decision Support Systems, 53(2), 368–380.
Acknowledgements
The authors acknowledge support from Grant No. 435-2016-0250 from the Social Sciences and Humanities Research Council of Canada.
Supplementary Information
Below is the link to the electronic supplementary material.
About this article
Cite this article
Haruvy, E., Lim, B. & Leszczyc, P.T.L.P. The effect of surcharge on price in online auctions. Electron Commer Res (2021). https://doi.org/10.1007/s10660-021-09508-6
Keywords
Partitioned pricing

Surcharges

Internet auctions

Field study