Abstract
We extend the peridynamic model to inherit irreversible damage. The governing equation is both nonlocal in time and in space and yields an abstract differential equation of Volterra type. We present conditions under which unique global solutions exist.
Access options
Buy single article
Instant access to the full article PDF.
USD 39.95
Price includes VAT (USA)
Tax calculation will be finalised during checkout.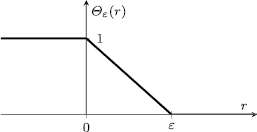 References
1.

Emmrich, E., Lehoucq, R.B., Puhst, D.: Peridynamics: a nonlocal continuum theory. In: Griebel, M., Schweitzer, M.A. (eds.) Meshfree Methods for Partial Differential Equations VI. Lect. N. Comput. Sci. Eng., vol. 89. Springer, Berlin (2013)

2.

Emmrich, E., Puhst, D.: Well-posedness of the peridynamic model with Lipschitz continuous pairwise force function. Commun. Math. Sci. 11, 1039–1049 (2013)

3.

Emmrich, E., Puhst, D.: Measure-valued and weak solutions to the nonlinear peridynamic model in nonlocal elastodynamics. Nonlinearity 28, 285–307 (2015)

4.

Gajewski, H., Gröger, K., Zacharias, K.: Nichtlineare Operatorgleichungen und Operatordifferentialgleichungen. Akademie-Verlag, Berlin (1974)

5.

Lipton, R.: Cohesive dynamics and fracture. arXiv:1411.4609v4 (2014)

6.

Silling, S.A.: Reformulation of elasticity theory for discontinuities and long-range forces. J. Mech. Phys. Solids 48, 175–209 (2000)
Acknowledgements
The authors would like to thank Robert Lipton for all the valuable discussions.
About this article
Cite this article
Emmrich, E., Puhst, D. A Short Note on Modeling Damage in Peridynamics. J Elast 123, 245–252 (2016). https://doi.org/10.1007/s10659-015-9550-5
Received:

Published:

Issue Date:
Keywords
Nonlocal continuum mechanics

Nonlinear models

Peridynamics

Damage

Existence
Mathematics Subject Classification (2010)