Abstract
Biocontrol agents and plant growth promoting microbes have emerged as promising tools for the management of plant diseases and in sustainable crop production. The present study was made to explore the potential metabolites of actinomycetes and endophytes of rice (Oryza sativa L.) and to assay the induced defence reactions in rice plants against bacterial blight (BB) of rice (Xanthomonas oryzae pv. oryzae). In-vitro studies revealed that few promising rhizospheric Streptomyces (S. fimicarius and S. laurentii) and endophytes (Pseudomonas putida and Metarhizium anisopliae) could suppress Xoo effectively in dual culture assay. P. putida + S. fimicarius + S. laurentii showed the highest (58.71%) inhibition of BB. Multiple growth promoting characteristics were assayed for these effective isolates. The effectiveness of the cell suspension (107 cfu/ml) of P. putida, M. anisopliae, S. fimicarius and S. laurentii in suppressing BB of rice was tested in planta by applying as seed treatment, root treatment, soil treatment and spray application. Lowest disease incidence was observed in plants treated with the combination of P. putida + S. fimicarius + S. laurentii (10.29%) as compared to other treatments. To understand the resistance mechanisms of rice plants against Xoo, few effective secondary metabolites were assayed where the total phenol content of the treated plants showed higher concentration (2.52%). Antibiotics were recorded at a higher peak of retention time, such as pyrisulfoxin B (12.26 min), APHE 4 (13.42 min), kanamycin C (22.22 min), nitracidomycin B (15.40 min), clavulanic acid (7.89 min), neothramycin A (16.22 min), nitracidomycin A (17.78 min) and furaquinocin E (24.74 min).
Access options
Buy single article
Instant access to the full article PDF.
USD 39.95
Price excludes VAT (USA)
Tax calculation will be finalised during checkout.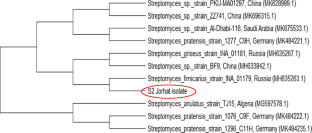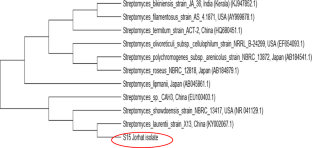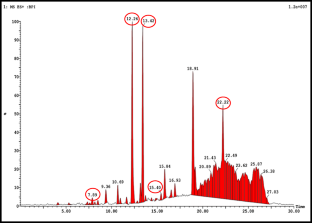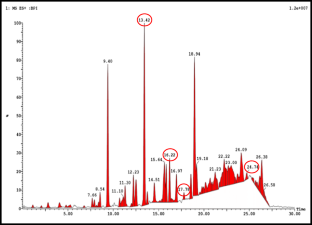 References
Al-Samarrai, T. H., & Schmid, J. (2000). A simple method for extraction of fungal genomic DNA. Letters in Applied Microbiology, 30(1), 53–56.

Altschul, S., Gish, W., Miller, W., Myers, E. W., & Lipman, D. J. (1990). Basic alignment search tools. Journal of Molecular Biology, 215(3), 403–410.

Anwar, S., Ali, B., & Sajid, I. (2016). Screening of rhizospheric actinomycetes for various in vitro and in vivo plant growth promoting (PGP) traits and for agroactive compounds. Frontiers in Microbiology, 7, 13–34.

Aspiras, R.B., & Cruz, A.R. (1985). Potential biological control of bacterial wilt in tomato and potato with Bacillus polymyxa Fu 6 and Pseudomonas fluorescens. In : Bacterial wilt disease in Asia and South pacific. Persley, G.D. (ed.). ACIAR Proceedings, Sydney, 13, pp. 89–92.

Bakker, A. W., & Schipper, B. (1987). Microbial cyanide production in the rhizosphere in relation to potato yield reduction and Pseudomonas spp. mediated plant growth stimulation. Soil Biology and Biochemistry, 19, 451–457.

Baliah, N. T., Pandiarajan, G., & Kumar, B. M. (2016). Isolation, identification and characterization of phosphate solubilizing bacteria from different crop soils of Srivilliputtur Taluk, Virudhunagar District, Tamil Nadu. Tropical Ecology, 57(3), 465–474.

Bapiri, A., Asgharzadeh, A., Mujallali, H., Khavazi, K., & Pazira, E. (2012). Evaluation of zinc solubilization potential by different strains of fluorescent pseudomonads. J. Appl. Sci. Envt. Mngt. Journal of Applied Sciences and Environmental Management, 16(3), 295–298.

Bora, L. C., Kataki, L., Talukdar, K., Nath, B. C., & Sarkar, R. (2015). Molecular characterizations of microbial antagonists and development of bioformulations for management of bacterial wilt of Naga chilli (Capsicum chinense Jacq.) in Assam. Journal of Experimental Biology, 3(2), 109–122.

Bora, L. C., Kataki, L., Talukdar, K., & Khan, P. (2016). Yield enhancement and bacterial wilt suppression in Bhut Jolokia (Capsicum assamicum) using consortia of microbial antagonists. Biopesticides International, 12(2), 165–171.

Bray, H. G., & Thorpe, W. V. (1954). Analysis of phenolic compounds of interest in metabolism. Methods of Biochemical Analysis, 1, 27–52.

Bric, J. M., Bostock, R. M., & Silverstone, S. E. (1991). Rapid in situ assay for indole acetic acid production by bacteria immobilized on a nitrocellulose membrane. Applied and Environmental Microbiology, 57(2), 535–538.

Cardinal, M. J., Meghrous, J., Lacroix, C., & Simard, R. E. (1997). Isolation of Lactococcus lactis strain producing inhibitory activity against Listeria. Food Biotechnology, 11(2), 129–146.

de Lima Procopio, R. E., da Silva, I. R., Martins, M. K., de Azevedo, J. L., & de Araújo, J. M. (2012). Antibiotics produced by Streptomyces. The Brazilian Journal of Infectious Diseases, 16(5), 466–471.

Dinic, Z., Ugrinovic, M., Bosnic, P., Mijatovic, M., Zdravkovic, J., Miladinovic, M., & Jošic, D. (2014). Solubilization of inorganic phosphate by endophytic Pseudomonas sp. from French bean nodules. Ratarstvo i povrtarstvo, 51(2), 100–105.

El-Abyad, M. S., El-Sayed, M. A., El-Shanshoury, A. R., & El-Sabbagh, S. M. (1993). Towards the biological control of fungal and bacterial diseases of tomato using antagonistic Streptomyces spp. Plant and Soil, 149(2), 185–195.

Etesami, H., Emami, S., & Alikhani, H. A. (2017). Potassium solubilizing bacteria (KSB): Mechanisms, promotion of plant growth, and future prospects A review. Journal of Soil Science and Plant Nutrition, 17(4), 897–911.

Fasim, F., Ahmed, N., Parsons, R., & Gadd, G. M. (2002). Solubilization of zinc salts by a bacterium isolated from the air environment of a tannery. FEMS Microbiology Letters, 213(1), 1–6.

Ganeshan, G., & Manoj Kumar, A. (2005). Pseudomonas fluorescens, a potential bacterial antagonist to control plant diseases. Journal of Plant Interactions, 1(3), 123–134.

Gangwar, G. P., & Sinha, A. P. (2014). Effect of fungal and bacterial bioagent application on total phenolic content in rice leaves pre-inoculated with Xanthomonas oryzae pv. oryzae (Uyeda and Ishiyama) Dowson. Journal of Appied and Natural Science, 6(1), 254–257.

Hastuti, R. D., Lestari, Y., Suwanto, A., & Saraswati, R. (2012). Endophytic Streptomyces spp. as biocontrol agents of rice bacterial leaf blight pathogen (Xanthomonas oryzae pv. oryzae). HAYATI Journal of Biosciences, 19(4), 155–162.

Hop, D. V., Hoa, P. T. P., Quang, N. D., Ton, P. H., Ha, T. H., Hung, N. V., Van, N. T., Hai, T. V., Quy, N. T. K., Dao, N. T. A., & Thom, V. T. (2014). Biological control of Xanthomonas oryzae pv. Oryzae causing Rice bacterial blight disease by Streptomyces toxytricini VN08-A-12, isolated from soil and leaf-litter samples in Vietnam. Biocontrol Science, 19(3), 103–111.

IRRI. (2002). Standard Evaluation System for Rice (SES) (p. 56). International Rice Research Institute: Manila, Philippines.

James, D., & Mathew, K. S. (2015). Evaluation of endophytic microbial consortium for the management of bacterial wilt of tomato caused by Ralstonia solanacearum. Journal of Biological Control, 29(3), 148–156.

Kotra, L. P., Haddad, J., & Mobashery, S. (2000). Aminoglycosides: Perspectives on mechanisms of action and resistance and strategies to counter resistance. Antimicrobial Agents and Chemotherapy, 44(12), 3249–3256.

Kumar, V., Kumar, A., Pandey, K. D., & Roy, B. K. (2015). Isolation and characterization of bacterial endophytes from the roots of Cassia tora L. Annals of Microbiology, 65(3), 1391–1399.

Larkin, R. P., & Fravel, D. R. (1998). Efficacy of various fungal and bacterial biocontrol organisms for control of Fusarium wilt of tomato. Plant Disease, 82(9), 1022–1028.

Law, J. W. F., Ser, H. L., Khan, T. M., Chuah, L. H., Pusparajah, P., Chan, K. G., et al. (2017). The potential of Streptomyces as biocontrol agents against the Rice blast fungus, Magnaporthe oryzae (Pyricularia oryzae). Frontiers in Microbiology, 8, 3.

Lucas, X., Senger, C., Erxleben, A., Grüning, B. A., Döring, K., Mosch, J., Flemming, S., & Günther, S. (2012). StreptomeDB: A resource for natural compounds isolated from Streptomyces species. Nucleic Acids Research, 41(D1), D1130–D1136.

Maketon, M., Apisitsantikul, J., & Siriraweekul, C. (2008). Greenhouse evaluation of Bacillus subtilis AP-01 and Trichoderma harzianum AP-001 in controlling tobacco diseases. Brazilian Journal of Microbiology, 39(2), 296–300.

Maleki, H., Dehnad, A., Hanifian, S., & Khani, S. (2013). Isolation and molecular identification of Streptomyces spp. with antibacterial activity from northwest of Iran. BioImpacts: BI, 3(3), 129–134.

McInroy, J. A., & Kloepper, J. W. (1995). Population dynamics of endophytic bacteria in field-grown sweet corn and cotton. Canadian Journal of Microbiology, 41(10), 895–901.

Mursyida, E., Mubarik, N. R., & Tjahjoleksono, A. (2015). Selection and identification of phosphate-potassium solubilizing Bacteria from the area around the limestone Mining in Cirebon Quarry. Research Journal of Microbiology, 10(6), 270–279.

Neto, A. B., Hirata, D. B., Cassiano Filho, L. C. M., Bellão, C., Badino Júnior, A. C., & Hokka, C. O. (2005). A study on clavulanic acid production by Streptomyces clavuligerus in batch, fed-batch and continuous processes. Brazilian Journal of Chemical Engineering, 22(4), 557–563.

Nicholson, R. L., & Hammerschmidt, R. (1992). Phenolic compound and their role in disease resistance. Annual Review of Phytopathology, 30, 369–389.

Pandey, A., Trivedi, P., Kumar, B., & Palni, L. M. S. (2006). Characterization of a phosphate solubilizing and antagonistic strain of Pseudomonas putida (B0) isolated from a sub-alpine location in the Indian central Himalaya. Current Microbiology, 53(2), 102–107.

Park, S. B., Lee, I. A., Suh, J. W., Kim, J. G., & Lee, C. H. (2011). Screening and identification of antimicrobial compounds from Streptomyces bottropensis suppressing rice bacterial blight. Journal of Microbiology and Biotechnology, 21(12), 1236–1242.

Pikovskaya, R. I. (1948). Mobilization of phosphorus in soil in connection with the vital activity of some microbial species. Mikrobiologiya, 17, 362–370.

Rizk, M., Abdel, R. T., & Metwally, H. (2007). Screening of antagonistic activity in different Streptomyces species against some pathogenic microorganisms. Journal of Biological Sciences, 7(8), 1418–1423.

Santoyo, G., Orozco-Mosqueda, M. D. C., & Govindappa, M. (2012). Mechanisms of biocontrol and plant growth-promoting activity in soil bacterial species of Bacillus and Pseudomonas: A review. Biocontrol Science and Technology, 22(8), 855–872.

Schwyn, B., & Neilands, J. B. (1987). Universal assay for the detection and determination of siderophores. Analytical Biochemistry, 160, 47–56.

Sripreechasak, P., Suwanborirux, K., & Tanasupawat, S. (2014). Characterization and antimicrobial activity of Streptomyces strains from soils in southern Thailand. Journal of Applied Pharmaceutical Science, 4(10), 024–031.

Takeuchi, T., Miyamoto, M., Ishizuka, M., Naganawa, H., Kondo, S., Hamada, M., & Umezawa, H. (1976). Neothramycins A and B, new antitumor antibiotics. The Journal of Antibiotics, 29, 93–96.

Takeuchi, M., Inukai, M., Enokita, R., Takatsu, T., Takamatsu, Y., Takahashi, S., & Haneishi, T. (1989). Nitracidomycins A and B, new enteromycin-group antibiotics. The Journal of Antibiotics, 42(2), 329–332.

Thampi, A., & Bhai, R. S. (2017). Rhizosphere actinobacteria for combating Phytophthora capsici and Sclerotium rolfsii, the major soil borne pathogens of black pepper (Piper nigrum L.). Biological Control, 109, 1–13.

Trejo, W. H., Dean, L. D., Pluscec, J., Meyers, E., & Brown, W. E. (1977). Streptomyces laurentii, a new species producing thiostrepton. The Journal of Antibiotics, 30(8), 639–643.

Xiao, K., Linkel, L. L., & Samac, D. A. (2002). Biological control of Phytophthora root rots on alfalfa and soybean with Streptomyces. Biological Control, 23(3), 285–295.

Yousefi, H., Hassanzadeh, N., Behboudi, K., & Firouzjahi, F. B. (2018). Identification and determination of characteristics of endophytes from rice plants and their role in biocontrol of bacterial blight caused by Xanthomonas oryzae pv. oryzae. Hellenic Plant Protection Journal, 11(1), 19–33.
Acknowledgements
We thank Assam Agricultural University, Assam, India for rendering necessary facilities and support during the tenure of the investigation.
Funding
This work was funded by Directorate of Post Graduate Studies, Assam Agricultural University, Jorhat, Assam.
Ethics declarations
Conflict of interests
All the authors have no conflict of interests in the research that was carried out.
Ethical approval
This article does not contain any work on human participants or animals conducted by the authors.
Informed consent
Informed consent was not relevant to this article since no information regarding individual author was involved in this study.
Additional information
Kakumoni Saikia is regarded as the first author
About this article
Cite this article
Saikia, K., Bora, L.C. Exploring actinomycetes and endophytes of rice ecosystem for induction of disease resistance against bacterial blight of rice. Eur J Plant Pathol 159, 67–79 (2021). https://doi.org/10.1007/s10658-020-02141-3
Accepted:

Published:

Issue Date:

DOI: https://doi.org/10.1007/s10658-020-02141-3
Keywords