Abstract
In summer 2019, perithecia superficial on the leaf sheath near the base of the stem were visually observed on stalks of winter wheat cultivar Ceylon in Southwest Finland. Mycological examination and translation elongation factor 1-alpha gene sequence of single ascospore isolates determined that they were Fusarium verticillioides (Sacc.) Nirenberg (teleomorph: Gibberella moniliformis Wineland). According to the published information, neither the anamorph nor the teleomorph stages of this pathogen have been previously detected in cereals in Finland and Scandinavian countries. The emergence of this fungus is probably caused by the influence of climate change, which may favour the distribution, development and adaptation of introduced mycotoxigenic fungi. Detection of a fumonisin-producing F. verticillioides allows the prediction of changes in the pattern of grain mycotoxin contamination in northern European countries. A mutation in sexual reproduction was also detected. The mature perithecia contained three types of spores: straight one- or three-septate and abnormal rounded ascospores.
Access options
Buy single article
Instant access to the full article PDF.
USD 39.95
Price excludes VAT (USA)
Tax calculation will be finalised during checkout.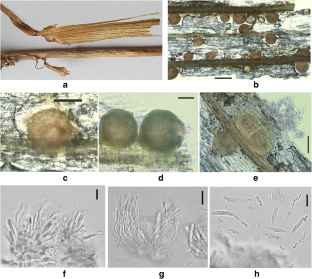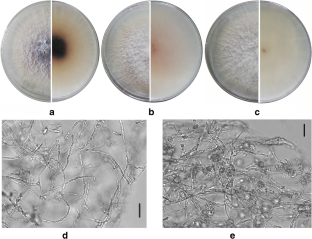 References
Abbas, A., Hussien, T., & Yli-Mattila, T. (2020). A polyphasic approach to compare the genomic profiles of aflatoxigenic and non-aflatoxigenic isolates of Aspergillus section Flavi. Toxins, 12(1), 56. https://doi.org/10.3390/toxins12010056.

Bacon, C. W., Glenn, A. E., & Yates, I. E. (2008). Fusarium verticillioides: Managing the endophytic association with maize for reduced fumonisins accumulation. Toxin Reviews, 27(3), 411–444. https://doi.org/10.1080/15569540802497889.

Battilani, P., Rossi, V., & Pietri, A. (2003). Modelling Fusarium verticillioides infection and fumonisin synthesis in maize ears. Aspects of Applied Biology, 68, 91–100 http://hdl.handle.net/10807/13720.

Bolechová, M., Benešová, K., Běláková, S., Čáslavský, J., Pospíchalová, M., & Mikulíková, R. (2015). Determination of seventeen mycotoxins in barley and malt in the Czech Republic. Food Control, 47, 108–113. https://doi.org/10.1016/j.foodcont.2014.06.045.

Booth, C. (1971). Fusarium: Laboratory guide to the identification of the major species. Kew: The Common Wealth Mycological Institute.

Castoria, R., Lima, G., Ferracane, R., & Ritieni, A. (2005). Occurrence of mycotoxin in Farro samples from southern Italy. Journal of Food Protection, 68, 416–420. https://doi.org/10.4315/0362-028x-68.2.416.

Cendova, E., Chiotta, M. L., Zachetti, V., Chulze, S. M., & Ramirez, M. L. (2018). Fumonisins and fumonisin-producing Fusarium occurrence in wheat and wheat by products: A review. Journal of Cereal Science, 80, 166. https://doi.org/10.1016/j.jcs.2018.02.010.

Chakraborty, S., & Newton, A. C. (2011). Climate change, plant diseases and food security: An overview. Plant Pathology, 60(1), 2–14. https://doi.org/10.1111/j.1365-3059.2010.02411.x.

Commission Regulation (EC) No 1126/2007 of 28 September 2007 amending Regulation (EC) No 1881/2006 setting maximum levels for certain contaminants in foodstuffs as regards Fusarium toxins in maize and maize products. Official Journal of the European Union, L 255/14. http://data.europa.eu/eli/reg/2007/1126/oj

Desjardins, A. E., Plaitner, R. D., Shackelford, D. D., Leslie, J. F., & Nelson, P. E. (1992). Heritability of fumonisin B1 production in Gibberella fujikuroi mating population a. Applied and Environmental Microbiology, 58(9), 2799–2805.

Dill-Macky, R., & Jones, R. K. (2000). The effect of previous crop residues and tillage on Fusarium head blight of wheat. Plant Disease, 84, 71–76. https://doi.org/10.1094/PDIS.2000.84.1.71.

Garrett, K. A., Dendy, S. P., Frank, E. E., Rouse, M. N., & Travers, S. E. (2006). Climate change effects on plant disease: Genomes to ecosystems. Annual Review of Phytopathology, 44, 489–509. https://doi.org/10.1146/annurev.phyto.44.070505.143420.

Gagkaeva, T. Y., Orina, A. S., Gavrilova, O. P., Ablova, I. B., & Bespalova, L. A. (2018). Characterization of resistance of winter wheat varieties to Fusarium head blight. Vavilov Journal of Genetics and Breeding, 22(6), 685–692. https://doi.org/10.18699/VJ18.411.

Gerlach, W., & Nirenberg, H. I. (1982). The genus Fusarium – A pictorial atlas. Land-Forstwirtsch: Mitt. Biol. Bundesanst.

Guo, L., Blatt, A. Z., Geiser, D. M., Jimenez Gasco, M. D. M., & Kuldau, G. A. (2015). Mating type and spore killing characterization of Fusarium verticillioides strains. Mycological Progress, 14(4). https://doi.org/10.1007/s11557-015-1045-z.

Haapalainen, M., Latvala, S., Kuivainen, E., Qiu, Y., Segerstedt, M., & Hannukkala, A. O. (2016). Fusarium oxysporum, F. proliferatum and F. redolens associated with basal rot of onion in Finland. Plant Pathology, 65(8), 1310–1320. https://doi.org/10.1111/ppa.12521.

Logrieco, A., Bottalico, A., Mulé, G., Moretti, A., & Perrone, G. (2003). Epidemiology of toxigenic fungi and their associated mycotoxins for some Mediterranean crops. European Journal of Plant Pathology, 109, 645–667. https://doi.org/10.1023/A:1026033021542.

Magan, N., Medina, A., & Aldred, D. (2011). Possible climate-change effects on mycotoxin contamination of food crops pre-and postharvest. Plant Pathology, 60, 150–163. https://doi.org/10.1111/j.1365-3059.2010.02412.x.

Maiorano, A., Blandino, M., Reyneri, A., & Vanara, F. (2008). Effects of maize residues on the Fusarium spp. infection and deoxynivalenol (DON) contamination of wheat grain. Crop Protection, 27, 182–188. https://doi.org/10.1016/j.cropro.2007.05.004.

Medina, Á., Valle-Algarr, F. M., Mateo, R., Gimeno-Adelantado, J. V., Mateo, F., & Misericordia, J. (2006). Survey of the mycobiota of Spanish malting barley and evaluation of the mycotoxin producing potential of species of Alternaria, Aspergillus and Fusarium. International Journal of Food Microbiology, 108(2), 196–203. https://doi.org/10.1016/j.ijfoodmicro.2005.12.003.

Min, K., Lee, J., Kim, J.-C., Kim, S. G., Kim, Y. H., Vogel, S., Trail, F., & Lee, Y. W. (2010). Novel gene, ROA, is required for normal morphogenesis and discharge of ascospores in Gibberella zeae. Eukaryotic Cell, 9(10), 1495–1503. https://doi.org/10.1128/EC.00083-10.

Munkvold, G. P., & Carlton, W. M. (1997). Influence of inoculation method on systemic Fusarium moniliforme infection of maize plants grown from infected seeds. Plant Disease, 81(2), 211–216. https://doi.org/10.1094/PDIS.1997.81.2.211.

Nirenberg, H. I., & O'Donnell, K. (1998). New Fusarium species and combinations within the Gibberella fujikuroi species complex. Mycologia, 1998(90), 434–458.

O'Donnell, K., Kistler, H. C., Cigelnik, E., & Ploetz, R. C. (1998). Multiple evolutionary origins of the fungus causing Panama disease of banana: Concordant evidence from nuclear and mitochondrial gene genealogies. Proceedings of the National Academy of Sciences of the United States of America, 95, 2044–2049. https://doi.org/10.1073/pnas.95.5.2044.

Pangga, R., Hanan, J., & Chakraborty, S. (2011). Pathogen dynamics in a crop canopy and their evolution under changing climate. Plant Pathology, 60, 70–81. https://doi.org/10.1111/j.1365-3059.2010.02408.x.

Parikka, P., Hakala, K., & Tiilikkala, K. (2012). Expected shifts in Fusarium species' composition on cereal grain in northern Europe due to climatic change. Food Additives & Contaminants: Part A, 29(10), 1543–1555. https://doi.org/10.1080/19440049.2012.680613.

Picot, A., Barreau, C., Pinson-Gadais, L., Caron, D., Lannou, C., & Richard-Forget, F. (2010). Factors of the Fusarium verticillioides-maize environment modulating fumonisin production. Critical Reviews in Microbiology, 36(3), 221–231. https://doi.org/10.3109/10408411003720209.

Proctor, R. H., Brown, D. W., Plattner, R. D., & Desjardins, A. E. (2003). Co-expression of 15 contiguous genes delineates a fumonisin biosynthetic gene cluster in Gibberella moniliformis. Fungal Genetics and Biology, 38, 237–249. https://doi.org/10.1016/s1087-1845(02)00525-x.

Samuels, G.J., Nirenberg, H.I., & Seifert, K.A. (2001). Perithecial species of Fusarium. In: Fusarium. Paul E. Nelson memorial symposium. In: B. A., Summerell, J. F., Leslie, D. Backhouse, W. L., Bryden, & L. W., Burgess (Eds.), American Phytopathological Society, (1-4) St. Paul, MN.

Stanković, S., Levic, J., & Krnjaja, V. (2011). Fumonisin B1 in maize, wheat and barley grain in Serbia. Biotechnology in Animal Husbandry, 27, 631–641. https://doi.org/10.2298/BAH1103631S.

Waalwijk, C., S. Koch, E. Ncube, J. Allwood, B. Flett, I. de Vries et al. (2008). Quantitative detection of Fusarium spp. and its correlation with fumonisin content in maize from South African subsistence farmers. World Mycotoxin Journal, 1, 39–47. https://doi.org/10.3920/WMJ2008.x005.

Ward, T. J., Clear, R. M., Rooney, A. P., O'Donnell, K., Gaba, D., Patrick, S., et al. (2008). An adaptive evolutionary shift in Fusarium head blight pathogen populations is driving the rapid spread of more toxigenic Fusarium graminearum in North America. Fungal Genetics and Biology, 45, 473–484. https://doi.org/10.1016/j.fgb.2007.10.003.
Acknowledgments
The investigation was funded by the Russian Scientific Foundation (project no. 19-76-30005) and supported by the travel grant (no. 324819) from the Academy of Finland.
Ethics declarations
The authors declare that there is no conflict of interest. TG planned and conducted the mycological work in Russia, TY-M planned and conducted the molecular experiments in Finland and applied for the travelling grant from the Academy of Finland for TG. TG led the writing of the manuscript with TY-M contributing in the preparation of the manuscript.
About this article
Cite this article
Gagkaeva, T.Y., Yli-Mattila, T. Emergence of Fusarium verticillioides in Finland. Eur J Plant Pathol 158, 1051–1057 (2020). https://doi.org/10.1007/s10658-020-02118-2
Accepted:

Published:

Issue Date:

DOI: https://doi.org/10.1007/s10658-020-02118-2
Keywords