Abstract
The disease originally named as Coniothyrium canker was observed in Italy for the first time in late summer 2015. The outbreak involved several trees of a hybrid clone of E. camaldulensis × E. viminalis, and few E. camaldulensis trees, while the parental species E. viminalis as well as other eucalypts species, including E. grandis, did not show any symptoms. The pathogen was identified as Teratosphaeria gauchensis on the basis of morphological and molecular evidences, and Koch's postulates were fulfilled. Bayesian phylogenetic analysis of the sole T. gauchensis strains based on four concatenated genes (ITS, β-Tub, TEF-1α, and ATP6) grouped all the Italian isolates together with those from Hawaii, Ethiopia in one paraphyletic group, which included a South-American subclade. A further Bayesian analysis based on two genes (ITS and TEF-1α) which included 81 sequences of closely related species besides T. gauchensis namely, T. stellenboschiana and T. zuluensis, showed a certain level of variability within T. gauchensis clade in which T. stellenboschiana was nested. South-American strains confirmed to be high variable in both analysis. The outbreak of Teratosphaeria stem canker in Italy appears to be as a result of a recent introduction, from several independent introductions. This is consistent with the fact that the Italian isolates do not form a single monophyletic group but are interspersed by other geographical isolates.
This is a preview of subscription content, log in to check access.
Access options
Buy single article
Instant access to the full article PDF.
US$ 39.95
Price includes VAT for USA
Subscribe to journal
Immediate online access to all issues from 2019. Subscription will auto renew annually.
US$ 199
This is the net price. Taxes to be calculated in checkout.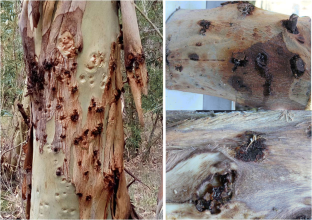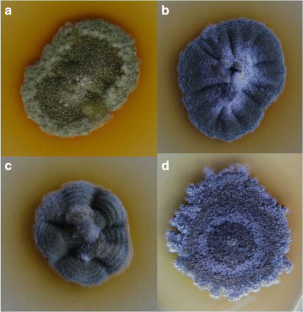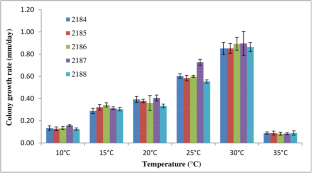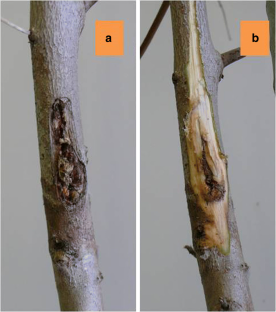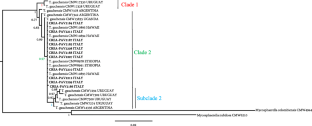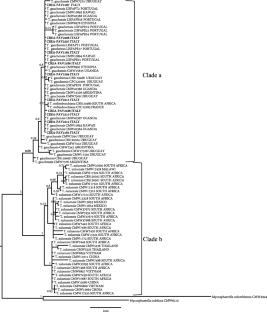 References
Andjic, V., Whyte, G., Hardy, G., & Burgess, T. (2010). New Teratosphaeria species occurring on eucalypts in Australia. Fungal Diversity, 43, 27–38. https://doi.org/10.1007/s13225-010-0033-5.

Capella-Gutiérrez, S., Silla-Martínez, J. M., & Gabaldón, T. (2009). TrimAl: a tool for automated alignment trimming in large-scale phylogenetic analyses. Bioinformatics, 25(15), 1972–1973. https://doi.org/10.1093/bioinformatics/btp348.

Carbone, I., & Kohn, L. (1999). A method for designing primer sets for speciation studies in filamentous ascomycetes. Mycologia, 91, 553–556.

Cortinas, M. N., Koch, N., Thane, J., Wingfield, B. D., & Wingfield, M. J. (2004). First record of the Eucalyptus stem canker pathogen, Coniothyrium zuluense from Hawaii. Australasian Plant Pathology, 33, 309–312.

Cortinas, M. N., Crous, P. W., Wingfield, B. D., & Wingfield, M. J. (2006). Multi-gene phylogenies and phenotypic characters distinguish two species within the Colletogloeopsis zuluensis complex associated with Eucalyptus stem cankers. Studies in Mycology, 55, 133–146.

Cortinas, M. N., Barnes, I., Wingfield, B. D., & Wingfield, M. J. (2011). Unexpected genetic diversity revealed in the Eucalyptus canker pathogen Teratosphaeria gauchensis. Australasian Plant Pathology, 40, 497–503.

Crous, P. W., Groenewald, J. Z., Summerell, B. A., Wingfield, B. D., & Wingfield, M. J. (2009). Co-occurring species of Teratosphaeria on Eucalyptus. Persoonia, 22, 38–48.

Gezahgne, A., Roux, J., Thu, P. Q., & Wingfield, M. J. (2003). Coniothyrium stem canker of Eucalyptus, new to Argentina and Vietnam. South African Journal of Science, 99, 587–588.

Gezahgne, A., Cortinas, M. N., Wingfield, M. J., & Roux, J. (2005). Characterisation of the Coniothyrium stem canker pathogen on Eucalyptus camaldulensis in Ethiopia. Australasian Plant Pathology, 34, 85–90.

Glass, N. L., & Donaldson, G. C. (1995). Development of primer sets designed for use with the PCR to amplify conserved genes from filamentous ascomycetes. Applied and Environmental Microbiology, 61, 1323–1330.

Katoh, K., & Standley, D. M. (2013). MAFFT multiple sequence alignment software version 7: improvements in performance and usability. Molecular Biology and Evolution, 30(4), 772–780.

Kretzer, A., & Bruns, T. D. (1999). Use of ATP6 in fungal phylogenetics: an example from Boletales. Molecular Phylogenetics and Evolution, 13, 483–492.

Kuck, P., & Longo, G. C. (2014). FASconCAT-G: extensive functions for multiple sequence alignment preparations concerning phylogenetic studies. Frontiers in Zoology, 11, 81. https://doi.org/10.1186/s12983-014-0081-x.

Machua, J., Jimu, L., Njuguna, J., Wingfield, M. J., Mwenje, E., & Roux, J. (2016). First report of Teratosphaeria gauchensis causing stem canker of Eucalyptus in Kenya. Forest Pathology, 46(2), 168–170. https://doi.org/10.1111/efp.12264.

Pérez, C. A., Wingfield, M. J., Altier, N. A., & Blanchette, R. A. (2009). Mycosphaerellaceae and Teratosphaeriaceae associated with Eucalyptus leaf diseases and stem cankers in Uruguay. Forest Pathology, 39, 349–360.

Quaedvlieg, W., Binder, M., Groenewald, J. Z., Summerell, B. A., Carnegie, A. J., Burgess, T. I., & Crous, P. W. (2014). Introducing the consolidated species concept to resolve species in the Teratosphaeriaceae. Persoonia, 33, 1–40.

Ronquist, F., & Huelsenbeck, J. P. (2003). MrBayes 3: Bayesian phylogenetic inference under mixed models. Bioinformatics, 19(12), 1572–1574.

Roux, J., Wingfield, M. J., & Cibriàn, D. (2002). First report of Coniothyrium canker of Eucalyptus in Mexico. Plant Pathology, 51, 382.

Silva, M. R. C., Diogo, E., Braganҫa, H., Machado, H., & Phillips, A. J. L. (2015). Teratosphaeria gauchensis associated with trunk, stem and foliar lesions of Eucalyptus globulus in Portugal. Forest Pathology, 45, 224–234.

White, T. J., Bruns, T., Lee, S., & Taylor, J. (1990). Amplification and direct sequencing of fungal ribosomal RNA genes for phylogenetics. In M. A. Innis, D. H. Gelfand, J. J. Sninsky, & T. J. White (Eds.), PCR protocols: A guide to methods and applications (pp. 315–322). San Diego: Academic Press.

Wingfield, M. J., Crous, P. W., & Coutinho, T. A. (1996). A serious canker disease of Eucalyptus in South Africa caused by a new species of Coniothyrium. Mycopathologia, 136, 139–145.
Acknowledgments
We are grateful to Francesco Menta, and Alvaro Pedemonti for their support in the fieldworks.
Ethics declarations
Conflict of interest
The authors declare no conflict of interest.
Ethical statement
We declare herein that our paper is original and unpublished elsewhere, and that this manuscript complies to the Ethical Rules applicable for this journal.
Dr. Alessandra Belisario, on behalf of all the authors in the paper.
About this article
Cite this article
Vitale, S., Luongo, L., Danchin, E.G.J. et al. Teratosphaeria stem canker disease on Eucalypt in Italy. Eur J Plant Pathol 153, 503–515 (2019). https://doi.org/10.1007/s10658-018-1577-6
Accepted:

Published:

Issue Date:
Keywords
Eucalyptus canker

Bayesian inference

Eucalyptus camaldulensis
Teratosphaeria gauchensis