Abstract
Hybrid Bermuda grass (Cynodon dactylon × C. transvaalensis) was observed with an unknown foliar disease during a survey conducted in the golf courses of Hainan Province in southern China (during April 2011 to April 2015). Leaves on affected plants initially had small, dark brown, circular or oblong spots. Frequently, the spots would coalesce into large lesions with dark brownish-black margins. Leaf blight may occur under high disease pressure, resulting in black patches 2–15 cm in diameter on close mown turf such as golf course putting greens and fairways. Symptomatic leaf samples were collected from infected plants and cultured on potato dextrose agar. A sterile, filamentous fungus was isolated in pure culture. On the basis of colony morphology and combined sequences of the internal transcribed spacer regions and intervening 5.8S nrDNA (ITS), partial glyceraldehyde-3-phosphate dehydrogenase gene (GAPDH) and partial translation elongation factor 1-alpha gene (TEF-1α), the fungus was identified as Curvularia malina. Pathogenicity testing showed C. malina isolates were pathogenic to healthy hybrid Bermuda grass and Koch's postulates were fulfilled by re-isolating the pathogen.
Access options
Buy single article
Instant access to the full article PDF.
US$ 39.95
Tax calculation will be finalised during checkout.
Subscribe to journal
Immediate online access to all issues from 2019. Subscription will auto renew annually.
US$ 119
Tax calculation will be finalised during checkout.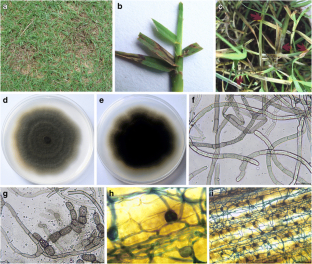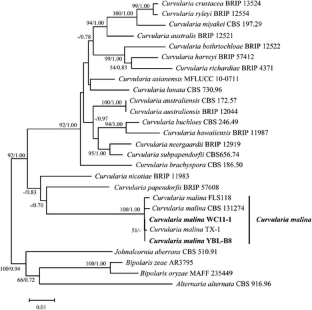 References
Berbee, M., Pirseyedi, M., & Hubbard, S. (1999). Cochliobolus phylogenetics and the origin of known, highly virulent pathogens, inferred from ITS and glyceraldehyde-3-phosphate dehydrogenase gene sequences. Mycologia, 91(6), 964–977.

Edgar, R. C. (2004). MUSCLE: Multiple sequence alignment with high accuracy and high throughput. Nucleic Acids Research, 32(5), 1792–1797.

Hanna, W. W., & Elsner, J. E. (1999). Registration of 'TifEagle' Bermuda grass. Crop Science, 39(4), 1258–1258.

Hanna, W. W., Carrow, R. N., & Powell, A. J. (1997). Registration of 'Tift 94' Bermuda grass. Crop Science, 37(3), 1012–1012.

Huang, J., Zheng, L., & Hsiang, T. (2005). First report of leaf spot caused by Curvularia verruculosa on Cynodon sp. in Hubei, China. Plant Pathology, 54(2), 253–253.

Kim, J. C., Choi, G. J., Kim, H. T., Kim, H. J., & Cho, K. Y. (2000). Pathogenicity and pyrenocine production of Curvularia inaequalis isolated from zoysia grass. Plant Disease, 84(6), 684–688.

Kumar, S., Stecher, G., & Tamura, K. (2016). MEGA7: Molecular evolutionary genetics analysis version 7.0 for bigger datasets. Molecular Biology and Evolution, 33(7), 1870–1874.

Manamgoda, D. S., Rossman, A. Y., Castlebury, L. A., Crous, P. W., Madrid, H., Chukeatirote, E., & Hyde, K. D. (2014). The genus Bipolaris. Studies in Mycology, 79, 221–288.

Ronquist, F., Teslenko, M., van der Mark, P., Ayres, D. L., Darling, A., Höhna, S., Larget, B., Liu, L., Suchard, M. A., & Huelsenbeck, J. P. (2012). MrBayes 3.2: Efficient Bayesian phylogenetic inference and model choice across a large model space. Systematic Biology, 61(3), 539–542.

Schoch, C. L., Crous, P. W., Groenewald, J. Z., Boehm, E. W. A., Burgess, T. I., de Gruyter, J., de Hoog, G. S., Dixon, L. J., Grube, M., Gueidan, C., Harada, Y., Hatakeyama, S., Hirayama, K., Hosoya, T., Huhndorf, S. M., Hyde, K. D., Jones, E. B. G., Kohlmeyer, J., Kruys, A., Li, Y. M., Lucking, R., Lumbsch, H. T., Marvanova, L., Mbatchou, J. S., McVay, A. H., Miller, A. N., Mugambi, G. K., Muggia, L., Nelsen, M. P., Nelson, P., Owensby, C. A., Phillips, A. J. L., Phongpaichit, S., Pointing, S. B., Pujade-Renaud, V., Raja, H. A., Plata, E. R., Robbertse, B., Ruibal, C., Sakayaroj, J., Sano, T., Selbmann, L., Shearer, C. A., Shirouzu, T., Slippers, B., Suetrong, S., Tanaka, K., Volkmann-Kohlmeyer, B., Wingfield, M. J., Wood, A. R., Woudenberg, J. H. C., Yonezawa, H., Zhang, Y., & Spatafora, J. W. (2009). A class-wide phylogenetic assessment of Dothideomycetes. Studies in Mycology, 64, 1–15.

Smiley, R. H., Dernoeden, P. H., & Clarke, B. B. (2005). Compendium of turfgrass diseases. St. Paul, Minesota: American Phytopathological Society.

Tan, Y. P., Madrid, H., Crous, P. W., & Shivas, R. G. (2014). Johnalcornia gen. et. comb. nov., and nine new combinations in Curvularia based on molecular phylogenetic analysis. Australasian Plant Pathology, 43(6), 589–603.

Tomaso-Peterson, M., Jo, Y. K., Vines, P. L., & Hoffmann, F. G. (2016). Curvularia malina sp. nov. incites a new disease of warm-season turfa grasses in the southeastern United States. Mycologia, 108(5), 915–924.

White, T. J., Bruns, T., Lee, S., & Taylor, J. W. (1990). Amplification and direct sequencing of fungal ribosomal RNA genes for phylogenetics. In M. A. Innis, D. H. Gelfand, J. J. Sninsky, & T. J. White (Eds.), PCR protocols: A guide to methods and applications. San Diego (pp. 315–322). Academic Press.

Zhang, W., Liu, J., Huo, P., & Nan, Z. (2017). Curvularia lunata causes a leaf spot on Carpetgrass (Axonopus compressus) in China. Plant Disease, 101(3), 507.
Acknowledgements
We wish to thank the senior editor and the two anonymous reviewers of the manuscript. This research was financially supported by the National Nature Science Foundation of China (31602002), the Key Platform and Research Projects of Education Department of Guangdong Province (2015KQNCX093) and the "Yangfan" Talent Development Support Project of Guangdong Province.
Ethics declarations
All authors have ensured the manuscript complies to the Ethical Rules applicable for this journal.
About this article
Cite this article
Zhang, W., Liu, J., Huo, P. et al. Curvularia malina causes a foliar disease on hybrid Bermuda grass in China. Eur J Plant Pathol 151, 557–562 (2018). https://doi.org/10.1007/s10658-017-1390-7
Accepted:

Published:

Issue Date:
Keywords
Curvularia malina

Foliar disease

Hybrid Bermuda grass

China