Abstract
The genus Puccinia represents rust infections, which are responsible for great productivity losses in crops of commercial and ornamental plants worldwide. This work is aimed at determining the occurrence of Puccinia spp. spores in Madeira Island in order to infer the exposure risks from a phytopathological point of view. A phytopathological analysis was performed in 203 local plant samples between January 2003 and December 2012. During the same period the airborne concentrations of rust spores were monitored following well-established guidelines. Aerobiological data was compared with meteorological records. Based on macro and microscopic analyses, five species of rusts were identified: P. horiana, P. buxi, P. porri, P. pelargonii-zonalis, and P. sorghi, and they were found mostly in spring and summer. A total of 20 samples out of 203 analysed plants (9.8%), were infected with Puccinia spores, i.e., P. horiana (5.9%), P. buxi (1.47%), P. porri and P. pelargonii-zonalis (0.98%), and P. sorghi (0.5%). During the studied period Puccinia spores attained an annual average concentration of 126 spores m−3 and most of them were recorded between March and October. Meteorological factors were determinant in fluctuations in spore concentration. Relative humidity was the parameter that favoured the biggest release and dispersal of the rust spores, whereas rainfall revealed a significant negative effect. Rusts do not represent an important plant pathogen in Madeira Island, as shown by the low infection frequencies and levels of airborne spore concentrations.
This is a preview of subscription content, log in to check access.
Access options
Buy single article
Instant access to the full article PDF.
US$ 39.95
Tax calculation will be finalised during checkout.
Subscribe to journal
Immediate online access to all issues from 2019. Subscription will auto renew annually.
US$ 119
Tax calculation will be finalised during checkout.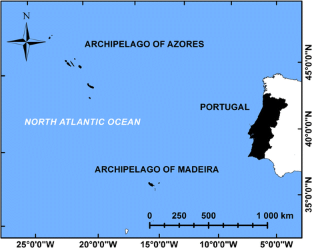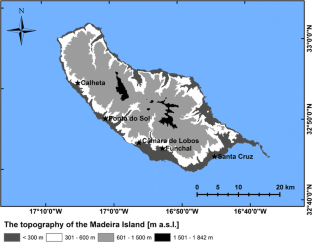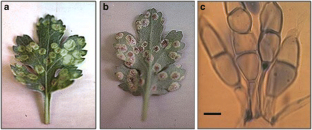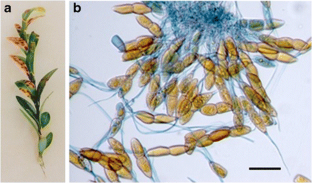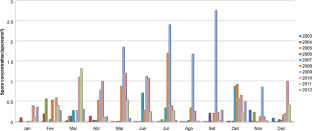 References
Agrios, G. N. (1997). Plant pathology. San Diego: Academic press.

Babadoost, M. (1991). Common rust and southern rust of sweet corn. Report on plant disease. University of Illinois Extension, RPD, (Serial No. 965).

Bonde, M. R., Palmer, C. L., Luster, D. G., Nester, S. E., Revell, J. M., & Berner, D. K. (2014). Viability of Puccinia horiana teliospores under various environmental conditions. Plant Health Progress, 15, 25–28. https://doi.org/10.1094/PHP-RS-13-0117.

Borges, P. A. V., Abreu, C., Aguiar, A. M. F., Carvalho, P., Jardim, R., Melo, I., et al. (2008). A list of the terrestrial fungi, flora and fauna of Madeira and Selvagens archipelagos. Direcção Regional do Ambiente da Madeira and Universidade dos Açores, Funchal and Angra do Heroísmo.

Calderon, C., Lacey, J., McCartney, H. A., & Rosas, I. (1995). Seasonal and diurnal variation of airborne basidiomycete spore concentrations in Mexico City. Grana, 34, 260–268.

Calheta (Madeira) (2017). https://www.infopedia.pt/$calheta-(madeira). Accessed 5 Jan 2017.

D'Amato, G., & Spieksma, F. Th. M. (1995). Aerobiologic and clinical aspects of mould allergy in Europe. European Academy of Allergology and Clinical Immunology Position Paper. Allergy, 50, 870–877.

De Backer, M., Alaei, H., Van Bockstaele, E., Roldan-Ruiz, I., van der Lee, T., Maes, M., et al. (2011). Identification and characterization of pathotypes in Puccinia horiana, a rust pathogen of Chrysanthemum x morifolium. European Journal of Plant Pathology, 130, 325–338.

De Wolf, E., Murray, T., Paul, P., Osborne, L., & Tenuta, A. (2011). Identification and Management of Stem Rust on Wheat and Barley. USDA-CREES Extension IPM 2009-41533-05331. http://plantpath.wsu.edu/wp-content/uploads/2012/10/Stem-Rust-Man-WA1.pdf. Accessed 15 Nov 2016.

Dennis, R. W. G. (1986). Fungi of the Hebrides. Kew: Royal Botanic Garden.

Dunhin, B. J., Pretorius, Z. A., Bender, C. M., Kloppers, F. J., & Flett, B. C. (2004). Description of spore stages of Puccinia sorghi in South Africa, south African. Journal of Plant Soil, 21, 48–52.

Elvira-Rendueles, B., Moreno, J., Garcia-Sanchez, A., Vergara, N., Martinez-Garcia, M. J., & Moreno-Grau, S. (2013). Air-spore in Cartagena, Spain: Viable and non-viable sampling methods. Annals of Agricultural and Environmental Medicine, 20, 664–671.

EPPO/CABI. (1997). Puccinia horiana. In I. M. Smith, D. G. McNamara, P. R. Scott, & M. Holderness (Eds.), Quarantine pests for Europe. Wallingford: CABI.

Farr, D. F., Bills, G. F., Chamuris, G. P., & Rossman, A. Y. (1989). Fungi on plants and plant products in the United States. St. Paul: American Phytopathological Society Press.

Fried, G., Chauvel, B., Reynaud, P., & Sache, I. (2017). Decreases in crop production by non-native weeds, pests, and pathogens. In M. Vilá & P. E. Hulme (Eds.), Impact of biological invasions on ecosystem services (pp. 83–102). Switzerland: Springer International Publishing.

Gage, S. H., Isard, S. A., & Colunga-Garcia, M. (1999). Ecological scaling of aerobiological dispersal processes. Agricultural and Forest Meteorology, 97, 249–261.

Galán, C., Cariñanos, P., Alcázar, P., & Dominguez-Vilches, E. (2007). Spanish aerobiology network (REA) management and quality manual. Córdoba: Servicio de Publicaciones Universidad de Córdoba, Argos Impresores SL.

Galán, C., Smith, M., Thibaudon, M., Frenguelli, G., Oteros, J., Gehrig, R., et al. (2014). Pollen monitoring: Minimum requirements and reproducibility of analysis. Aerobiologia, 30, 385–395.

Geagea, L., Hubera, L., & Sache, I. (1999). Dry-dispersal and rain-splash of brown (Puccinia recondite f.sp. tritici) and yellow (P. striiformis) rust spores from infected wheat leaves exposed to simulated raindrops. Plant Pathology, 48, 472–482.

Ghatge, M. M., Salunkhe, V. S., & Jadhav, R. R. (2013). Diversity of airborne fungi in Kadegaon Tahsil, district Sangli, MS, India. International Research Journal of Environmental Sciences, 2, 26–29.

Gjaerum, H. B. (1982). Rust fungi from Madeira. Boletim do Museu Municipal do Funchal, 34, 1–22.

Glen, M., Alfenas, A. C., Zauza, E. A. V., Wingfield, M. J., & Mohammed, C. (2007). Puccinia psidii: A threat to the Australian environment and economy–a review. Australasian Plant Pathology, 36, 1–16.

Göre, M. E. (2008). Geranium rust disease caused by Puccinia pelargonii-zonalis: First report in Turkey. Plant Pathology, 57, 786.

Goudie, A. S., & Middleton, N. J. (2001). Saharan dust storms: Nature and consequences. Earth-Science Reviews, 56, 179–204.

Gregorio-Cipriano, M. R., Fernández-Pavía, S. P., Rodríguez-Alvarado, G., & Gómez-Dorantes, N. (2013). First report of geranium rust (Puccinia pelargonii-zonalis) in the state of Michoacán, México. Plant Disease, 97(12), 1660 http://apsjournals.apsnet.org/doi/abs/10.1094/PDIS-05-13-0570-PDN. Accessed 14 Nov 2016.

Guarín, F. A., Abril, M. A. Q., Alvarez, A., & Fonnegra, R. (2015). Atmospheric pollen and spore content in the urban area of the city of Medellin, Colombia. Hoehnea, 42, 9–19.

Harrison, J. M. (1987). Observations on the occurrence of telia of Puccinia porri on leeks in the UK. Plant Pathology, 36, 114–115.

Hermansen, J. E., Torp, U., & Prahm, L. P. (1978). Studies of transport of live spores of cereal mildew and rust fungi across the North Sea. Grana, 17, 41–46.

Herut, B., Collier, R., & Krom, M. D. (2002). The role of dust in supplying nitrogen and phosphorus to the Southeast Mediterranean. Limnology and Oceanography, 47(3), 870–878.

Hiratsuka, Y., & Sato, S. (1982). Morphology and taxonomy of rust fungi. In K. Scott & A. K. Chakravorty (Eds.), The rust fungi (pp. 1–36). New York: Academic press.

Hirst, J. M. (1952). An automatic volumetric spore trap. Annals of Applied Biology, 39, 257–265.

Ho, T. M., Tan, B. H., Ismail, S., & Bujang, M. K. (1995). Seasonal prevalence of air-borne pollen and spores in Kuala Lumpur, Malaysia. Asian Pacific Journal of Allergy and Immunology, 13, 17–22.

Holl, F. (1830). Verzeichniss der auf der Insel Madeira beobachteten Pflazen, nebst Beschreibung einiger neuen Arten. Flora, 13, 369–392.

Huerta-Espino, J., Singh, R. P., & Roelfs, A. P. (2014). Rust fungi of wheat. In J. K. Misra, J. P. Tewari, S. K. Deshmukh, & C. Vágvölgyi (Eds.), Fungi from different substrates (pp. 217–259). Boca Raton: CRC press.

Hutchidon, L. J. (1996). Puccinia pelargonii-zonalis (Uredinales: Pucciniaceae), an addition to the rust flora of Canada. Mycoscience, 37, 467–469.

Isard, S. A., & Russo, J. M. (2011). Risk assessment of aerial transport of rust pathogens to the western hemisphere and within North America. In McIntosh, R. (Ed.) Proc BGRI 2011Technical Workshop (pp. 25–34). St. Paul. http://www.globalrust.org/sites/default/files/2011%20BGRI%20plenary%20presentations-ALL.pdf. Accessed 18 May 2017.

Isard, S. A., Gage, S. H., Comtois, P., & Russo, J. M. (2005). Principles of the atmospheric pathway for invasive species applied to soybean rust. Bioscience, 55, 851–861.

Jędryczka, M., Brachaczek, A., Kaczmarek, J., Dawidziuk, A., Kasprzyk, J., Mączyńska, A., et al. (2012). System for forecasting disease epidemics (SPEC) – Decision support system in polish agriculture, based on aerobiology. Alergologia Immunologia, 9, 89–91.

Kadam, R. M., Reddy, N. J. M., & Biradar, R. P. (2010). Air-borne spore population of Puccinia penniseti in relation to rust disease of bajra at Ahmedpur. International Journal of Plant Protection, 3, 160–162.

Kolmer, J. A. (2001). Early research on the genetics of Puccinia Graminis and stem rust resistance in wheat in Canada and the United States. In P. D. Peterson (Ed.), Stem rust of wheat: From ancient enemy to modern foe (pp. 51–82). St Paul: APS press.

Levetin, E., & Horner, W. E. (2002). Fungal aerobiology: Exposure and measurement. Chemical Immunology, 81, 10–27.

Luck, J., Spackman, M., Freeman, A., Trebicki, P., Griffiths, W., Finlay, K., et al. (2011). Climate change and diseases of food crops. Plant Pathology, 60, 113–121.

Ma, L., Hu, X., & Xu, X. (2017). Effect of controlled fluctuating low temperatures on survival of Puccinia striiformis f. sp. Tritici. European Journal of Plant Pathology, 147, 713–716.

Magyar, D., & Manninger, K. (2004). Effects of meteorological conditions on uredo- and teliospores of rusts. In Proceedings of the International Cereal Rusts and Powdery Mildews Conference. Norwich: John Innes Centre, 22-27 August 2004.

Mallaiah, K. V., & Rao, A. S. (1982). Aerial dissemination of urediniospores of groundnut rust. Transactions of the British Mycological Society, 78, 21–28.

Marasas, C. N., Smale, M., & Singh, R. P. (2004). The economic impact in developing countries of leaf rust resistance breeding in CIMMYT-related spring bread wheat. Economics program paper 04–01. Mexico: D. F, CIMMYT.

Morin, L., Aveyard, R., Lidbetter, J. R., & Wilson, P. G. (2012). Investigating the host-range of the rust fungus Puccinia psidii sensu lato across tribes of the family Myrtaceae present in Australia. PloS One, 7, e35434.

Morris, C. E., Sands, D. C., Glaux, C., Samsatly, J., Asaad, S., Moukahel, A. R., et al. (2013). Urediospores of rust fungi are ice nucleation active at >−10 °C and harbor ice nucleation active bacteria. Atmospheric Chemistry and Physics, 13, 4223–4233.

Nagarajan, S., & Singh, D. V. (1990). Long-distance dispersion of rust pathogens. Annual Review of Phytopathology, 28, 139–153.

Pegg, G. S., Giblin, F. R., McTaggart, A. R., Guymer, G. P., Taylor, H., Ireland, K. B., et al. (2014). Puccinia psidii in Queensland, Australia: Disease symptoms, distribution and impact. Plant Pathology, 63, 1005–1021.

Peixoto-Junior, R. F., Creste, S., Landell, M. G. A., Nunes, D. S., Sanguino, A., Campos, M. F., et al. (2014). Genetic diversity among Puccinia Melanocephala isolates from Brazil assessed using simple sequence repeat markers. Genetics and Molecular Research, 13, 7852–7863.

Preece, T. F. (2000). The strange story of the box rust, Puccinia buxi, in Britain. Mycologist, 14(part 3), 104–106.

Pria, M. D., Zagonel, J., & Fernandes, E. C. (2008). Controle de ferrugem na cultura do alho com uma nova mistura de fungicidas. Horticultura Brasileira, 26, 268–270.

Purdy, L. H., Krupa, S. V., & Dean, J. L. (1985). Introduction of sugarcane rust into the Americas and its spread to Florida. Plant Disease, 69, 689–693.

Quintal, R. (2007). Quintas, Parques e Jardins do Funchal - Estudo fitogeográfico. Lisboa: Esfera do Caos Editores.

RHS. (2016). Box problems, Diseases of box. https://www.rhs.org.uk/advice/profile?PID=851. Accessed 2 Nov 2016.

Rivas-Martínez, S. (2001). Bioclimatic map of Europe – Thermotypes. Léon: University of Léon, Cartographic Service.

Rivera-Mariani, F. E., & Bolanños-Rosero, B. (2012). Allergenicity of airborne basidiospores and ascospores: Need for further studies. Aerobiologia, 28, 83–97.

Roelfs, A. P. (1985). Epidemiology in North America. In A. P. Roelfs & W. R. Bushnell (Eds.), The cereal rusts, diseases, distribution epidemiology and control (pp. 403–434). Orlando: Academic Press.

Russi, L., Romani, M., & Pecetti, L. (2009). Susceptibility to rust (Puccinia sp.) in cultivars of Italian and perennial ryegrass grown in two locations of Italy. Italian Journal of Agronomy, 1, 69–77.

Sadyś, M., Adams-Groom, B., Herbert, R. J., & Kennedy, R. (2016). Comparisons of fungal spore distributions using air sampling at Worcester, England (2006–2010). Aerobiologia. https://doi.org/10.1007/s10453-016-9436-4.

Sansford, C., Beal, E. J., Denton, G., & Denton, J. O. (2015). First report of the rust Puccinia porri on cultivated Allium vineale 'Hair'. New Disease Reports, 31, 4. https://doi.org/10.5197/j.2044-0588.2015.031.004.

Scocco, E. A., Walcott, R. R., Jeffers, S. N., & Buck, J. W. (2013). Detection of Puccinia pelargonii-zonalis-infected geranium tissues and Urediniospores. Journal of Phytopathology, 161, 341–347.

Silva, E., Carvalho, R., Nunes, N., Ramos, A. P., & Talhinhas, P. (2016). First report of Puccinia hemerocallidis causing daylily rust in Europe. Plant Disease, 100, 2163. https://doi.org/10.1094/PDIS-02-16-0242-PDN.

Smith, R. S. (1966). The liberation of cereal stem rust uredospores under various environmental conditions in a wind tunnel. Transactions of the British Mycological Society, 49, 33–41.

Talhinhas, P., Silva, E., Nunes, N., & Ramos, A. P. (2016). First report of Puccinia thaliae causing rust on canna spp. in Europe. Plant Disease, 100(6), 1242. https://doi.org/10.1094/PDIS-12-15-1404-PDN.

Tessmanna, D. J., Dianeseb, J. C., Miranda, A. C., & Castro, L. H. R. (2001). Epidemiology of a Neotropical rust (Puccinia psidii): Periodical analysis of the temporal progress in a perennial host (Syzygium Jambos). Plant Patholology, 50, 725–731.

Trejo, F. H., Rodríguez, A. F. M., Molina, F. T., & Palacios, I. S. (2013). Airborne spores of basidiomycetes in Mérida (SW Spain). Annals of Agriculture Environment Medicine, 20, 657–663.

Vodonos, A., Friger, M., Katra, I., Avnon, L., Krasnov, H., Koutrakis, P., et al. (2014). The impact of desert dust exposures on hospitalizations due to exacerbation of chronic obstructive pulmonary disease. Air Quality, Atmosphere and Health. https://doi.org/10.1007/s11869-014-0253-z.

Zadoks, J. C. (1967). International dispersal of fungi. Netherlands Journal of Plant Pathology, Supp. 1, 61–80.

Zanatta, P. (2013). Controle preventivo de doenças foliares em híbridos comerciais de milho com fungicidas em espaçamento reduzido. Master's thesis, Brazil: Universidade Estadual do Centro-Oeste, Unicentro.
Acknowledgements
The authors are grateful to the Portuguese Society of Allergology and Clinical Immunology (SPAIC) for the help and support in the aerobiological study and the Institute of Ocean and Atmosphere (IPMA) - Regional Station in Funchal for providing the meteorological data. Special thanks go to the Center for Invasive Species and Ecosystem Health, USA, for providing selected images of rust species.
Ethics declarations
Conflict of interest
The authors declare that they have no conflict of interest.
About this article
Cite this article
Camacho, I., Leça, R., Sardinha, D. et al. Occurrence of Puccinia spp. spores in Madeira Island and their phytopathological importance. Eur J Plant Pathol 150, 955–969 (2018). https://doi.org/10.1007/s10658-017-1335-1
Accepted:

Published:

Issue Date:
Keywords
Rust

Inoculum detection

Infection conditions

Aerobiology

Portugal