Abstract
Rhizoctonia leguminicola, the traditional name for the causal agent of blackpatch of red clover (Trifolium pratense) and other legumes, produces alkaloids, one of which causes livestock to salivate excessively. Fungal presence is generally confirmed by microscopy, disappearance of symptoms in livestock after removal of suspect forage, and chromatography of the alkaloid slaframine, in legume tissue. Use of the polymerase chain reaction (PCR) to amplify a pathogen-specific DNA fragment would complement the other methods of pathogen identification. Primers were designed to the R. leguminicola ITS region, sequence provided by another laboratory. Two separate primer pairs each amplified a different fragment–one ~250 bp long (expected length 249 bp), and the other 300 to 400 bp long (expected length 368 bp)–in DNA extracted from cultures of R. leguminicola. Under the experimental conditions, the primers to the larger fragment amplified a stronger band, and a minimum of 0.1 ng DNA per reaction was needed to produce a detectable band. With the primers to the 368-bp fragment, a band 300 to 400 bp long was also amplified in DNA extracted from red clover (cultivar Kenland) inoculated with R. leguminicola and harvested 70 h post inoculation. No amplification with this primer set occurred in DNA extracted from mock-inoculated red clover plants, supporting the likelihood that the primers amplified R. leguminicola DNA extracted from inoculated red clover. This primer set did not amplify DNA extracted from a red clover isolate of the legume pathogen Stemphylium sarcinaeforme, or DNA extracted from two isolates of the legume pathogen Colletotrichum trifolii, indicating specificity for R. leguminicola DNA. Lack of amplification of alfalfa DNA indicated that the R. leguminicola primers will be useful for testing for the presence of blackpatch in alfalfa.
Access options
Buy single article
Instant access to the full article PDF.
USD 39.95
Price excludes VAT (USA)
Tax calculation will be finalised during checkout.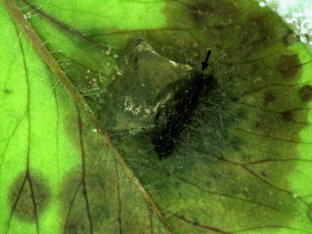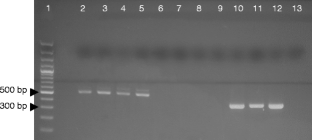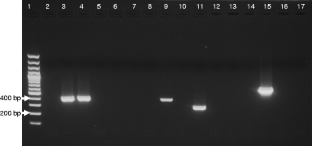 References
Alhawatema, M. S., Sanogo, S., Baucom, D. L., & Creamer, R. (2015). A search for the phylogenetic relationship of the ascomycete Rhizoctonia leguminicola using genetic analysis. Mycopathologia, 179, 381–389.

Andersen, T. F., & Stalpers, J. A. (1994). A check-list of Rhizoctonia epithets. Mycotaxon, 51, 437–457.

Aust, S. D., Broquist, H. P., & Rinehart Jr., K. L. (1968). Slaframine: a parasympathomimetric from Rhizoctonia leguminicola. Biotechnology and Bioengineering, 10, 403–412.

Berkenkamp, B. (1977). Blackpatch of forage legumes. Canadian Plant Disease Survey, 57, 65–67.

Borges, A. S., Oliveira-Filho, J. P., Palumbo, M. I. P., Simon, J. J., & Imerman, P. M. (2012). Slaframine toxicosis in Brazilian horses causing excessive salivation. Equine Veterinary Education, 24, 279–283.

Cook, D., Ralphs, M. H., Welch, K. D., & Stegelmeier, B. L. (2009). Locoweed poisoning in livestock. Rangelands, 31, 16–21.

Cook, D., Gardner, D. R., & Pfister, J. A. (2014). Swainsonine-containing plants and their relationship to endophytic fungi. Journal of Agricultural and Food Chemistry, 62, 7326–7334.

Croom Jr., W. J., Hagler, W. M., Froetschel, M. A., & Johnson, A. D. (1995). The involvement of slaframine and swainsonine in slobbers syndrome: a review. Journal of Animal Science, 73, 1499–1508.

Farr, D.F., & Rossman, A.Y. (2015). Fungal databases. Systematic Mycology and Microbiology Laboratory, ARS, USDA. Retrieved September 2015 from http://nt.ars-grin.gov/fungaldatabases/.

Fonteque, J. H., Souza, A. H., Schade, J., Muller, T. R., & Weinert, N. C. (2015). Slaframine intoxication in horse in Santa Catarina state. Veterinaria e Zootecnia, 22, 375–379.

Hagler, W. M., & Behlow, R. F. (1981). Salivary syndrome in horses: identification of slaframine in red clover hay. Applied and Environmental Microbiology, 42, 1067–1073.

Hoeksema, J. D., Hernandez, J. V., Rogers, D. L., Luna Mendoza, L., & Thompson, J. N. (2012). Geographic divergence in a species-rich symbiosis: interactions between Monterey pines and ectomycorrhizal fungi. Ecology, 93, 2274–2285.

Leach, J. G., & Elliott, E. S. (1951). The blackpatch disease of red clover and other legumes in West Virginia. Phytopathology, 41, 1041–1049.

O'Dell, B. L., Regan, W. O., & Beach, T. J. (1959). A study of the toxic principle in red clover. University of Missouri Research Bulletin, 702, 1–12.

Riet-Correa, F., Rivero, R., Odriozola, E., de Lourdes Adrien, M., Medeiros, R. M. T., & Schild, A. L. (2013). Mycotoxicoses of ruminants and horses. Journal of Veterinary Diagnostic Investigation, 25, 692–708.

Sanderson, J.M. (1985). Rhizoctonia leguminicola: studies on the production of slaframine and swainsonine in the field, host plant susceptibility, and isolate variability. M.S. Thesis. University of Wisconsin-Madison.

Schoch, C. L., Seifert, K. A., Huhndorf, S., Robert, V., Spouge, J. L., Levesque, C. A., et al. (2012). Nuclear ribosomal internal transcribed spacer (ITS) region as a universal DNA barcode marker for Fungi. Proceedings of the National Academy of Sciences USA, 109, 6241–6246.

Smith, O. F. (1937). A leaf spot disease of red and white clovers. Journal of Agricultural Research, 54, 591–599.

Sockett, D. C., Baker, J. C., & Stowe, C. M. (1982). Slaframine (Rhizoctonia leguminicola) intoxication in horses. Journal of the American Veterinary Medical Association, 181, 606.

Taylor, N. L., & Quesenberry, K. H. (1996). Red clover science. Dordrecht: Kluwer Academic Publishers.

Wijnberg, I. D., van der Ven, P. J., & Fink-Gremmels Gehrmann, J. (2009). Outbreak of salivary syndrome on several horse farms in the Netherlands. Veterinary Record, 164, 595–597.
Acknowledgments
I thank the R. Creamer laboratory for providing the sequences of GenBank accessions KM376908, KM376909, and KM376910 prior to release; R. Dinkins for designing primers and providing helpful suggestions; and D. Samac for providing DNA from Colletotrichum trifolii and Medicago sativa, as well as helpful suggestions. This project was funded by the United States Department of Agriculture.
USDA is an equal opportunity employer and provider.
Ethics declarations
Disclaimer
Mention of trade names or commercial products in the article is solely for the purpose of providing specific information and does not imply recommendation or endorsement by the USDA.
About this article
Cite this article
Kagan, I.A. Use of the polymerase chain reaction to help determine the presence of blackpatch (Rhizoctonia leguminicola) in inoculated red clover leaves. Eur J Plant Pathol 147, 1–6 (2017). https://doi.org/10.1007/s10658-016-0977-8
Accepted:

Published:

Issue Date:

DOI: https://doi.org/10.1007/s10658-016-0977-8
Keywords