Abstract
Pyricularia oryzae is a common pathogen in rice fields causing significant yield loss in Kenya. The virulence spectrum of the populations of P. oryzae in irrigated ecosystems in Kenya is not fully understood. Fifty-one rice lines carrying single resistance genes, recurrent parents and 3 local varieties were field-evaluated at Mwea, West Kano and Gamba to characterize virulence spectrum of populations of P. oryzae. West Kano, Mwea and Gamba had 68.63 %, 49.02 % and 40.2 %, respectively of the lines showing susceptibility to the populations of P. oryzae. The virulence spectrum of the populations of P. oryzae varied significantly suggesting the existence of a high pathogenic variability at the three locations. Lines with Piz-t, Pik-s, Pik-p, Pik-h, Piz-5, Piz, Pit, Pish, Pi1, Pi5 (t), Pi12 (t), Pik-m, Pita-2, Pib and Pik were resistant to the population of P. oryzae at various locations. A local variety, BW196 was resistant to the populations of P. oryzae across the locations. Some lines carrying the same resistance genes showed different reaction to the populations of P. oryzae, suggesting existence of additional genes. Variation in resistance reaction was observed for some rice lines carrying the same genes in the CO39 and Lijiangxintuanheigu (LTH) genetic backgrounds. Most promising resistance genes observed in this study would be introgressed into preferred yet susceptible rice varieties in Kenya. Resistance gene(s) in BW196 should be identified for inclusion in breeding programs.
Access options
Buy single article
Instant access to the full article PDF.
US$ 39.95
Tax calculation will be finalised during checkout.
Subscribe to journal
Immediate online access to all issues from 2019. Subscription will auto renew annually.
US$ 119
Tax calculation will be finalised during checkout.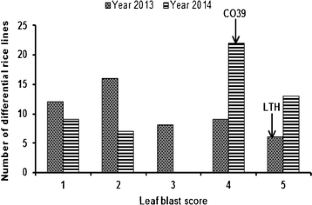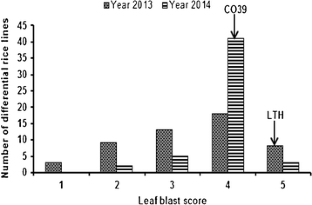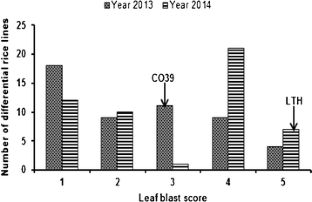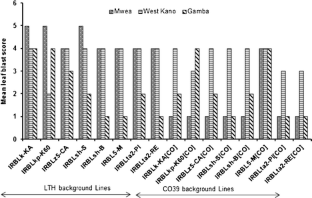 Abbreviations
MOA:

Ministry of Agriculture

GAIN:

Global Agricultural Information Network

IEA:

Institute of Economic Affairs
References
Akator, S. K., Adjata, D. K., Drissa, S., Awande, S., Zadji, L., Sangare, G., et al. (2014). Pathological studies of Pyricularia oryzae at M'be in Coted'ivoire and Ouedeme in Benin. Asian Journal of Plant Pathology, 8(1), 10–17.

Bonman, J. M., Vergel de Dios, T. I., & Khin, M. M. (1986). Physiological specialization of Pyricularia oryzae in the Philippines. Plant Disease, 70, 767–769.

Cesari, S., Thilliez, G., Ribot, C., Chalvon, V., Michel, C., Jauneau, A., et al. (2013). The rice resistance protein pair RGA4/RGA5 recognizes the Magnaporthe oryzae effectors AVR-Pia and AVR1-CO39 by direct binding. Plant Cell, 25, 1463–1481.

Chauhan, R. S., Farman, M. L., Zhang, H. B., & Leong, S. A. (2002). Genetic and physical mapping of a rice blast resistance locus, Pi-CO39(t), that corresponds to the avirulence gene AVR1-CO39 of Magnaporthe grisea. Molecular Genetics and Genomics, 267(5), 603–612.

Chen, H. L., Chen, B. T., Zhang, D. P., Xie, Y. F., & Zhang, Q. (2001). Pathotypes of Pyricularia grisea in rice fields of central and southern China. Plant Disease, 85, 843–850.

Divya, B., Robin, S., Rabindran, R., Manjunath, H., Valarmathi, P., & Joel, A. J. (2014). Resistance reaction of gene introgressed lines against rice blast (Pyricularia oryzae) disease (Abstract). Australasian Plant Pathology, 43(2), 177–191.

Fuentes, J. L., Correa-Victoria, F. J., Escobar, F., Mora, L., Duque, M. C., Deus, J. E., et al. (2003). Genetic diversity analysis of the rice blast pathogen population at two locations in Cuba. Biotecnologia Aplicada, 20, 14–19.

GAIN (2015). 2015 corn, wheat and rice report. United States Department of Agriculture, Foreign Agricultural Services, pp 6.

Ghaley, B. B., Christiansen, J. L., & Andersen, S. B. (2012). Genetic diversity in blast resistance of Bhutan rice landraces. Euphytica, 184(1), 119–130.

Grau, C. R., Radke, V. L., & Gillespie, F. L. (1982). Resistance of soybean cultivars to Sclerotinia sclerotiorum. Plant Disease, 66(6), 506–508.

IEA, Institute of Economic Affairs (2014). Budget highlights 2014/2015: Balancing financing concerns while responding to spending inefficiencies. Budget Guide, page 10.

Jia, Y. (2009). Artificial introgression of a large chromosome fragment around the rice blast resistance gene Pi-ta in backcross progeny and several elite rice cultivars. Heredity, 103(4), 333–339.

Jiang, C. J., Shimomo, M., Sugano, S., Kojima, M., Yazawa, K., Yoshida, R., et al. (2010). Abscisic acid interacts antagonistically with salicylic acid signalling pathway in rice-Magnaporthe grisea interaction. Molecular Plant-Microbe Interactions, 23(6), 791–798.

Kihoro, J., Bosco, N. J., Murage, H., Ateka, E., & Makihara, D. (2013). Investigating the impact of rice blast disease on the livelihood of the local farmers in greater Mwea region of Kenya. Springer Plus, 2, 308.

Klaubauf, S., Tharreau, D., Fournier, E., Groenewald, J. Z., Crous, P. W., De Vries, R. P., et al. (2014). Resolving the polyphyletic nature of Pyricularia (Pyriculariaceae). Studies in Mycology, 79, 85–120.

Koga, H., Dohi, K., & Mori, M. (2004). Abscisic acid and low temperatures suppress the whole plant-specific resistance reaction of rice plants to the infection of Magnaporthe grisea. Physiological and Molecular Plant Pathology, 65(1), 3–9.

Kouko, W. (1997). Review of Kenyan agricultural research (Vol. 15, ISBN 0904567761). Nairobi: Kenya Agricultural Research Institute.

Mekwatanakarn, P., Kositratana, W., Levy, M., & Zeigler, R. S. (2000). Pathotype and avirulence gene diversity of Pyricularia grisea in Thailand as determined by rice lines near-isogenic for major resistance genes. Plant Disease, 84(1), 60–70.

Mizobuchi, R., Sato, H., Fukuoka, S., Yamamoto, S., Kawasaki-Tanaka, A., & Fukuta, Y. (2014). Mapping of a QTL for field resistance to blast (Pyricularia oryzae Cavara) in Ingngoppor-tinawon, a rice (Oryza sativa L.) landrace from the Philippines. Japan Agricultural Research Quartely, 48(4), 425–431.

MOA, Ministry of Agriculture (2014). National rice development strategy (2008–2018). Nairobi, Kenya, pp 1–14.

Mousanejad, S., Alizadeh, A., & Safaie, N. (2009). Effect of weather factors on spore population dynamics of rice blast fungus in Guilan Province. Journal of Plant Protection Research, 49(3), 319–329.

Odjo, T., Ahohuendo, B. C., Onasanya, A., Akator, K., & Séré, Y. (2011). Analysis of Magnaporthe oryzae structure in Benin. African Journal of Agricultural Research, 6(28), 6183–6188.

Onaga, G., Wydra, K., Koopmann, B., Séré, Y., & von Teiedemann, A. (2013). Genome studies on resistance of rice to blast, Magnaporthe oryzae, at rising temperature. Acta Phytopathologica Sinica, 43, 333–334.

Onyango, A. O. (2014). Exploring options for improving rice production to reduce hunger and poverty in Kenya. World Environment, 4(4), 172–179.

Roumen, E., Levy, M., & Notteghem, J. L. (1997). Characterization of the European pathogen population of Magnaporthe grisea by DNA fingerprinting and pathotype analysis. European Journal of Plant Pathology, 103(4), 363–371.

SAS (2004). SAS user's guide: Statistics, release (9.1.3 ed.). Carry: SAS Institute Inc..

Séré, Y., Sy, A. A., Sié, M., Onasanya, A., Akator, S. K., Kabore, B., et al. (2011). Importance of varietal improvement for blast disease control in Africa. JIRCAS Working Report, 70, 77–90.

Taguchi, Y., Elsharkawy, M. M., Hassan, N., & Hyakumachi, M. (2014). A novel method for controlling rice blast disease using fan-forced wind on paddy fields. Crop Protection, 63, 68–75.

Thon, M. R., Pan, H., Diener, S., Papalas, J., Taro, T., Mitchell, T. K., et al. (2006). The role of transposable element clusters in genome evolution and loss of synteny in the rice blast fungus Magnaporthe oryzae. Genome Biology, 7(2), 16.

Tsunematsu, H., Yanoria, M. J. T., Ebron, L. A., Hayashi, N., Ando, I., Kato, H., et al. (2000). Development of monogenic lines of rice for blast resistance. Breeding Science, 50, 229–234.

Xiong, L., & Yang, Y. (2003). Disease resistant and abiotic stress in rice are inversely modulated by an abscisic acid-inducible mitogen-activated protein kinase. Plant Cell, 15(3), 745–759.

Yanagihara, S., Fukuta, Y., Noda, T., Wissuwa, M., & Kumashiro, T. (2010). Genetic improvement of rice varieties for Africa under new research collaboration between JIRCAS and Africa Rice Center. Paper presented at the 2nd Africa rice congress, innovation and partnerships to realize Africa's rice potential, Bamako, Mali, 6.5.1–6.5.6.

Yu, H., Xie, W., Li, J., Zhou, F., & Zhang, Q. (2014). A whole-genome SNP array (RICE6K) for genomic breeding in rice. Plant Biotechnology, 12, 28–37.

Zenbayashi-Sawata, K., Ashizawa, T., & Koizumi, S. (2005). Pi34-AVRPi34: a new gene-for-gene interaction for partial resistance in rice to blast caused by Magnaporthe grisea. Journal of General Plant Pathology, 71, 395–401.
Acknowledgments
This work was supported by the International Rice Research Institute through Japan Breeding Project under Budget code No.PC034J100000240. The authors thank Dr. Casiana M. Vera Cruz, Dr. Hei Leung and Dr. Kenneth McNally for providing a set of differential rice lines. Mwea Irrigation Agricultural Development, West Kano National Irrigation Board and Tana and Athi Rivers Development Authority are acknowledged for providing irrigation facilities and research fields. We are grateful to Dr. John M. Kimani, Ms. Winnie Kore, Mr. Jeremy J. Njoka and Mr. Benjamin Mwakio for assistance during planning and implementing the field activities.
About this article
Cite this article
Nyongesa, B.O., Bigirimana, J., Were, B.A. et al. Virulence spectrum of populations of Pyricularia oryzae in irrigated rice ecosystems in Kenya. Eur J Plant Pathol 146, 911–922 (2016). https://doi.org/10.1007/s10658-016-0969-8
Accepted:

Published:

Issue Date:
Keywords
Blast variability

Differential rice lines

Natural infection

Resistance genes