Abstract
We assessed the use of essential oils in controlling Fusarium wilt in tomato. Clove oil, thyme oil, rosemary oil and their major components, as well as the two commercial products, Bioxeda (based on clove oil) and Sporatec (containing rosemary oil, clove oil and thyme oil) were assessed in vitro and in a greenhouse pot trial. The in vitro tests consisted of evaluating the development of fungal colonies on agar medium supplemented with the tested products (i.e., the oils, their major component, and Bioxeda and Sporatec) at various concentrations. In addition, the percentage of conidia germination was determined after using the products at different concentrations. The greenhouse trial was carried out on 5-week-old tomato seedlings cv. Cuore di Bue di Albenga. Tomato seedlings were transplanted into pots containing pasteurized soil after the roots had been dipped in a conidial suspension of Fusarium oxysporum f. sp. lycopersici. Immediately after transplanting, the treatments were carried out in the soil surrounding the roots of tomato plants with essential oils at various concentrations. Control treatments were also carried out. In vitro tests showed that almost all the investigated products were able to inhibit mycelial growth and conidial germination. The best results were obtained with clove oil and its major component eugenol. Rosemary oil showed the lowest inhibitory activity. Greenhouse pot experiments indicated that all the tested products were able to reduce Fusarium wilt in tomato. The best results were obtained with clove oil, however rosemary oil was also effective in controlling F. oxysporum f. sp. lycopersici. The performance of the essential oils was lower than the performance of the reference product.
Access options
Buy single article
Instant access to the full article PDF.
USD 39.95
Price excludes VAT (USA)
Tax calculation will be finalised during checkout.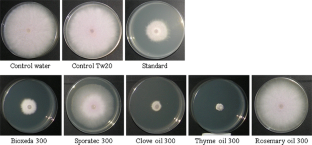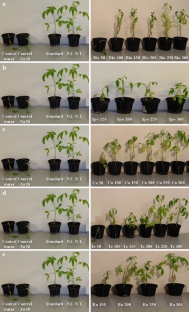 References
Abbott, W. S. (1925). A method for computing the effectiveness of the insecticides. Journal of Economic Entomology, 18, 265–267.

Ajilogba, C. F., & Babalola, O. O. (2013). Integrated management strategies for tomato Fusarium wilt. Biocontrol Science, 18(3), 117–127.

Akritas, M. G., Arnold, S. F., & Brunner, E. (1997). Nonparametric hypotheses and rank statistics for unbalanced factorial designs. Journal of the American Statistical Association, 92, 258–265.

Al-Rahmah, A. N., Mostafa, A. A., Abdel-Megeed, A., Yakout, S. M., & Hussein, S. A. (2013). Fungicidal activities of certain methanolic plant extracts against tomato phytopathogenic fungi. African Journal of Microbiology Research Vol, 7(6), 517–524.

Barrera-Necha, L. L., Bautista-Banos, S., Flores-Moctezuma, H. E., & Rojas, E. A. (2008). Efficacy of essential oils on the conidial germination, Growth of Colletotrichum gloeosporioides (Penz.) Penz. and Sacc and control of postharvest diseases in papaya (Carica papaya L.). Plant Pathology Journal, 7(2), 174–178.

Barrerea-Necha, L. L., Garduño-Pizaña, C., & Garcia-Barrera, L. J. (2009). In vitro antifungal activity of essential oils and their compounds on mycelial growth of F. oxysporum f. sp. gladioli. Plant Pathology Journal, 8(1), 17–21.

Bowers, J. H., & Locke, J. C. (2000). Effect of botanical extracts on population density of Fusarium oxysporum in soil and control of Fusarium wilt in the green house. Plant Disease, 88, 300–305.

Brunner, E., & Puri, M. L. (2001). Nonparametric methods in factorial designs. Statistical Papers, 42, 1–52.

Cheng, S., Liu, J., Chang, E., & Chang, S. (2008). Antifungal activity of cinnamaldehyde and eugenol congeners against wood-rot fungi. Bioresource Technology, 99(11), 5145–5149.

Cosić, J., Vrandečić, K., Poštić, J., Jurković, D., & Ravlić, M. (2010). In vitro antifungal activity of essential oils on growth of phytopathogenic fungi. Poljoprivreda, 16(2), 25–28.

Cram, M. M., & Fraedrich, S. W. (2009). Seed diseases and seedborne pathogens of North America. Tree Planter's Notes, 53(2), 35–44.

Das, K., Tiwari, R. K. S., & Shrivastava, D. K. (2010). Techniques for evaluation of medicinal plant products as antimicrobial agent: current methods and future trends. Journal of Medicinal Plants Research, 4(2), 104–111.

De Cal, A., Pascual, S., Larena, I., & Melgarejo, P. (1995). Biological control of Fusarium oxysporum f. sp. lycopersici. Plant Pathology, 44, 909–917.

Directive 2009/128/EC of the European Parliament and of the Council of 21 October 2009 establishing a framework for Community action to achieve the sustainable use of pesticides. OJ L 309, 24.11.2009: 71–86.

Elgayyar, M., Draughon, F. A., Golden, D. A., & Mount, J. R. (2001). Antimicrobial activity of essential oils from plants against selected pathogenic and saprophytic microorganisms. Journal of Food Protection, 64, 1019–1024.

FAOSTAT (2012). FAO Statistical databases. Agriculture data. http://faostat3.fao.org/home/E.

Fravel, D., Olivain, C., & Alabouvette, C. (2003). Fusarium oxysporum and its biocontrol. New Phytologist, 157, 493–502.

Gale, L. R., Katan, T., & Kistler, H. C. (2003). The probable centre of origin of. Fusarium oxysporum f. sp. lycopersici VCG 0033. Plant Disease, 87(12), 1433–1440.

Gao, S., Hanson, B., Quin, R., Wang, D., & Yates, S. R. (2011). Comparisons of soil surface sealing methods to reduce fumigant emission loss. Journal of Environmental Quality, 40, 1480–1487.

Grover, R. K., & Moore, J. D. (1962). Toximetric studies of fungicides against brown rot organisms, Sclerotia fructicola and S. laxa. Phytopathology, 52, 876–880.

Gullino, M. L., Camponogara, A., Gasparrini, G., Rizzo, V., Clini, C., & Garibaldi, A. (2003). Replacing methyl bromide for soil disinfestation: the Italian experience and the implications for other countries. Plant Disease, 87, 1012–1021.

Iranpour, R., Zhao, J., Wang, A., Yang, F., & Li, X. (2012). The inhibition effects of eugenol and baicalein against the main diseases of Camellia oleifera abel. Advances in Materials Research, 518–523, 5506–5509.

Isman, M. B., & Machial, C. M. (2006). Pesticides based on plant essential oils: from traditional practice to commercialization. In M. Rai & M. C. Carpinella (Eds.), Advances in phytomedicine, 3. Naturally occurring bioactive compounds (pp. 29–44). New York: Elsevier.

Kelly, S., Pereira, F. O., Oliveira, W. A., Lima, I. O., & Lima, E. O. (2012). Antifungal activity of Thymus vulgaris L. essential oil and its constituent phytochemicals against Rhizopus oryzae: interaction with ergosterol. Molecules, 17, 14418–14433.

Koike, S., Gaskell, M., Fouche, C., Smith, R., and Mitchell, J. (2000). Plant disease management for organic crops. Organic Vegetable Production in California Series. Division of Agriculture and Natural Resources. Publication 7252.

La Torre, A., Mandalà, C., Pezza, L., Caradonia, F., & Battaglia, V. (2014). Evaluation of essential plant oils for the control of Plasmopara viticola. Journal of Essential Oil Research, 26(4), 282–291.

Larena, I., Sabuquillo, P., Melgarejo, P., & De Cal, A. (2003). Biocontrol of Fusarium and Verticillium wilt of tomato by Penicillium oxalicum under greenhouse and field conditions. Phytopathology, 151, 507–512.

Lopez-Reyes, J. G., Spadaro, D., Prelle, A., Garibaldi, A., & Gullino, M. L. (2013). Efficacy of plant essential oils on postharvest control of rots caused by fungi on different stone fruits in vivo. Journal of Food Protection, 76(4), 631–639. doi:10.4315/0362-028X.JFP-12-342.

Malafaia, C. B., Silva, T. D., Amaral, D. O. J., Almeida, C. M. A., Silva, M. L. R. B., Correia, M. T. S., & Silva, M. V. (2013). Evaluation of the resistance and differential induction of chitinases in tomato in response to inoculation with Fusarium oxysporum f. sp. lycopersici. Journal of Plant Physiology & Pathology, 1, 3–9.

Mancini, V., & Romanazzi, G. (2014). Seed treatments to control seed-borne fungal pathogens of vegetable crops. Pest Management Science, 70, 860–868.

Marandi, R. J., Hassani, A., Ghosta, Y., Abdollahi, A., Pirzad, A., & Sefidkon, F. (2011). Control of Penicillium expansum and Botrytis cinerea on pear with Thymus kotschyanus, Ocimum basilicum and Rosmarinus officinalis essential oils. Journal of Medicinal Plants Research, 5(4), 626–634.

Mishra, M., & Tiwari, S. N. (1992). Toxicity of Polyalthia longifolia against fungal pathogens of rice. Indian Phytopathology, 45, 56–61.

Momin, R. A., & Nair, M. G. (2001). Mosquitocidal Nematicidal and antifungal compounds from Apium graveolens L., seeds. Journal of Agricultural and Food Chemistry, 49, 142–145.

Nameth, S. T. (1998). Priorities in seed pathology research. Science in Agriculture, 55(special issue Piracicaba), 94–97.

Nega, A. (2014). Review on concepts in biological control of plant pathogens. Journal of Biology, Agriculture and Healthcare, 4(27).

Nene, Y., & Thapilyal, L. (2002). Poisoned food technique of fungicides in plant disease control (3rd ed.). New Delhi: Oxford and IBH Publishing Company.

Numpaque, M. A., Oviedo, L. A., Gil, J. H., Garcia, C. M., & Durango, D. L. (2011). Thymol and carvacrol: biotransformation and antifungal activity against the plant pathogenic fungi Colletotrichum acutatum and Botryodiplodia theobromae. Tropical Plant Pathology, 36, 3–13.

Pina-Vaz, C., Rodrigues, A. G., Pinto, E., Costa-de-Oliveira, S., Tavares, C., Salgueiro, L., Cavaleiro, C., Gonçalves, M. J., & Martinez-de-Oliveira, J. (2004). Antifungal activity of Thymus oils and their major compounds. Journal of the European Academy of Dermatology and Venereology, 18(1), 73–78.

Qin, R., Gao, S., Ajwa, H., Sullivan, D., Wang, D., & Hanson, B. D. (2011). Field evaluation of a new plastic film (Vapor Safe) to reduce fumigant emissions and improve distribution in soil. Journal of Environmental Quality, 40, 1195–1203.

Reis, A., Costa, H., Boiteux, L. S., & Lopre, C. A. (2005). First report of Fusarium oxysporum f. sp. lycopersici race 3 on tomato in Brazil. Fitopatologia Brasileira, 30(4), 426–428.

Satish, S., Mohana, D. C., Ranhavendra, M. P., & Raveesha, K. A. (2007). Antifungal activity of some plant extracts against important seed borne pathogens of Aspergillus sp. Journal of Agricultural Technology, 3, 109–119.

Segvic Klaric, M., Kosalec, I., Mastelic, J., Pieckova, E., & Pepeljnak, S. (2007). Antifungal activity of thyme (Thymus vulgaris L.) essential oil and thymol against moulds from damp dwellings. Letters in Applied Microbiology, 44(1), 36–42.

Srinivasan, K., Gilardi, G., Garibaldi, A., & Gullino, M. L. (2009). Bacterial antagonists from used rockwool soilless ssubstrates suppress Fusarium wilt of tomato. Journal of Plant Pathology, 91(1), 147–154.

Thakore, Y. (2006). The biopesticide market for global agricultural use. Industrial Biotechnology, 2, 194–208.

Tukey, J. W. (1953). The problem of multiple comparisons. Mimeographed monograph. Princeton: Princeton University.

Varma, J., & Dubey, N. K. (2001). Efficacy of essential oils of Caesulia axillaris and Mentha arvensis against some storage pests causing biodeterioration of food commodities. International Journal of Food Microbiology, 68, 207–210.

Vincent, J. H. (1947). Distortion of fungal hyphae in the presence of certain inhibitors. Nature, 159, 850.

Viuda-Maartos, M., Ruiz-Navajas, Y., Fernandez-Lopez, J., & Perez-Alvarez, J. A. (2007). Antifungal activities of thyme, clove and oregano essential oils. Journal of Food Safety, 27(1), 91–101.

Wang, C., Zhang, J., Chen, H., Fan, Y., & Shi, Z. (2010). Antifungal activity of eugenol against Botrytis cinerea. Tropical Plant Pathology, 35(3), 137–143.

Zambonelli, A., Zechini D'aulerio, A., Bianchi, A., & Albasini, A. (1996). Effects of essential oils on phytopathogenic fungi invitro. Journal of Phytopathology, 144, 491–494.
Acknowledgments
The authors wish to thank the Department "Organic farming and National food quality Systems and General Affairs" of the Italian Ministry of Agriculture, which funded the project "Agro-Ecological Management for the Defense of Horticultural Crops in Organic farming– ORTOSUP", which this study was a part of.
The authors wish to thank Dr. Roberto Steri for his contribution to the statistical analysis.
Ethics declarations
Conflict of interest
The authors (Anna La Torre, Federica Caradonia, Antonio Matere and Valerio Battaglia) declare that they have no conflict of interest.
This article does not contain any studies with human or animal subjects.
About this article
Cite this article
La Torre, A., Caradonia, F., Matere, A. et al. Using plant essential oils to control Fusarium wilt in tomato plants. Eur J Plant Pathol 144, 487–496 (2016). https://doi.org/10.1007/s10658-015-0789-2
Accepted:

Published:

Issue Date:

DOI: https://doi.org/10.1007/s10658-015-0789-2
Keywords