Abstract
Strawberry plants exposed to an avirulent isolate of Colletotrichum fragariae acquired strong resistance against a virulent strain of C. acutatum. Biochemical, morphological and molecular markers indicated that the strong defence response was associated with an oxidative burst and a transient accumulation of salicylic acid (SA). A maximum accumulation of H2O2 and O2 − was observed 8 h after inoculation (hai), callose was detected 48 hai, and a peak of SA was observed 48 hai. Biochemical and phytopathogenic analyses carried out in non-treated tissues revealed that the defence response was systemic and remained fully active 60 days after the first inoculation. Experiments also showed that the resistance acquired by mother plants after the inoculation with the avirulent isolate could be passed to daughter plants through runners. Further characterization of the induced systemic resistance showed that the resistance was not only effective against a virulent strain of C. acutatum but also against Botrytis cinerea.
Access options
Buy single article
Instant access to the full article PDF.
US$ 39.95
Tax calculation will be finalised during checkout.
Subscribe to journal
Immediate online access to all issues from 2019. Subscription will auto renew annually.
US$ 119
Tax calculation will be finalised during checkout.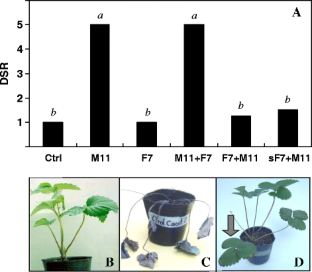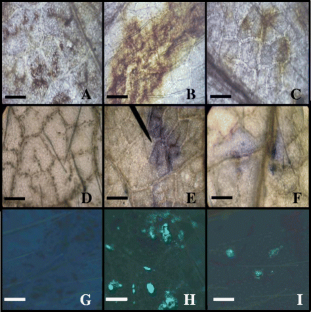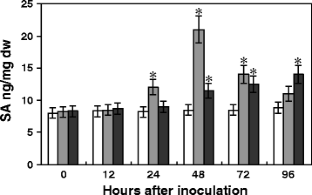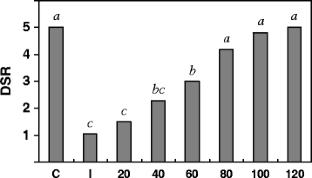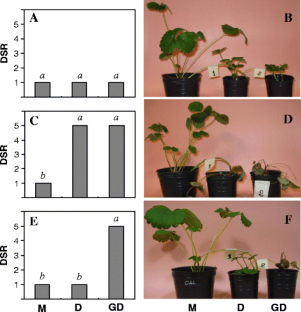 Abbreviations
dai:

Days after inoculation

DSR:

Disease severity rating

hai:

Hours after inoculation

ROS:

Reactive oxygen species

SA:

Salicylic acid

SAR:

Systemic acquired resistance
References
Adaskaveg, J. E., & Hartin, R. J. (1997). Characterization of Colletotrichum acutatum isolates causing anthracnose of almond and peach in California. Phytopathology, 87, 979–987.

Beraha, L., & Wright, W. R. (1973). A new anthracnose of strawberry caused by Colletotrichum dematium. Plant Disease Reporter, 57, 445–448.

Chalfoun, N. R., Castagnaro, A. P., & Díaz Ricci, J. C. (2011). Induced resistance activated by a culture filtrate derived from an avirulent pathogen as a mechanism of biological control of anthracnose in strawberry. Biological Control, 58, 319–329.

Delp, B. R., & Milholland, R. D. (1980). Evaluating strawberry plants for resistance to Colletotrichum fragariae. Plant Disease, 64, 1071–1073.

Doke, N. (1983). Generation of superoxide anion by potato tuber protoplasts during the hypersensitive response to hyphal wall components of Phytopthora infestans and specific inhibition of the reaction by suppressors of hypersensitivity. Physiological Plant Pathology, 23, 359–367.

Freeman, S., & Katan, T. (1997). Identification of Colletotrichum species responsible for anthracnose and root necrosis of strawberry in Israel. Phytopathology, 87, 516–521.

Fulton, R. W. (1986). Practices and precautions in the use of cross protection for plant virus disease control. Annual Review of Phytopathology, 24, 67–81.

Guo, H., & Ecker, J. R. (2004). The ethylene signaling pathway: new insights. Current Opinion in Plant Biology, 7, 40–49.

Hauck, P., Thilmony, R., & He, S. Y. (2003). A Pseudomonas syringae type III effector suppresses cell wall-based extracellular defence in susceptible Arabidopsis plants. Proceedings National Academy of Science USA, 100, 8577–8582.

Howard, C. M., Maas, J. L., Chandler, C. K., & Albregts, E. E. (1992). Anthracnose of strawberry caused by the Colletotrichum complex in Florida. Plant Disease, 76, 976–981.

Iandolino, A. B., Goes da Silva, F., Lim, H., Choi, H., Willams, L. E., & Cook, D. R. (2004). High-quality RNA, cDNA, and derived EST libraries from grapevine (Vitis vinifera L.). Plant Molecular Biology Reporter, 22, 269–278.

Khan, A. A., & Shih, D. S. (2004). Molecular cloning, characterization, and expression analysis of two class II chitinase genes from the strawberry plant. Plant Science, 166, 753–762.

Kuc, J. (1982). Induced immunity to plant disease. Bio Science, 32, 854–860.

Kuc, J. (2001). Concepts and direction of induced systemic resistance in plants and its application. European Journal of Plant Pathology, 107, 7–12.

Kuc, J., & Richmond, S. (1977). Aspect of the protection of cucumber against Colletotrichum lagenarium by Colletotrichum lagenarium. Phytopathology, 67, 533–536.

Manandhar, H. K., Lyngs Jørgensen, H. J., Mathur, S. B., & Smedegaard-Petersen, V. (1998). Suppression of rice blast by preinoculation with avirulent Pyricularia oryzae and the nonrice pathogen Bipolaris sorokiniana. Phytopathology, 88, 735–739.

Métraux, J. P. (2001). Systemic acquired resistance and salicylic acid: current state of knowledge. European Journal of Plant Pathology, 107, 13–18.

Nam, M. H., Jeong, S. K., Lee, Y. S., Choi, J. M., & Kim, H. G. (2006). Effects of nitrogen, phosphorus, potassium and calcium nutrition on strawberry anthracnose. Plant Pathology, 55, 246–249.

Pieterse, C. M. J., Leon-Reyes, A., Van der Ent, S., & Van Wees, S. C. M. (2009). Networking by small-molecule hormones in plant immunity. Nature Chemical Biology, 5, 308–316.

Raskin, I., Turner, I. M., & Melander, W. R. (1989). Regulation of heat production in the inflorescences of an Arum lily by endogenous salicylic acid. Proceeding National Academy of Science USA, 86, 2214–2218.

Rasmussen, J. B., Hammerschmidt, R., & Zook, M. N. (1991). Systemic induction of salicylic acid accumulation in cucumber after inoculation with Pseudomonas syringae pv. syringae. Plant Physiology, 97, 1342–1347.

Richardson, P. T., Baker, D. A., & Ho, L. C. (1982). The chemical composition of cucurbit vascular exudates. Journal of Experimental Botany, 33, 1239–1247.

Ross, A. F. (1961a). Localized acquired resistance to plant virus infection in hypersensitive hosts. Virology, 14, 329–339.

Ross, A. F. (1961b). Systemic acquired resistance induced by localized virus infections in plants. Virology, 14, 340–358.

Ryals, J. A., Uknes, S., & Ward, E. (1994). Systemic acquired resistance. Plant Physiology, 104, 1109–1112.

Ryals, J. A., Neuenschwander, U. H., Willits, M. G., Molina, A., Steiner, H.-Y., & Hunt, M. D. (1996). Systemic acquired resistance. The Plant Cell, 8, 1809–1819.

Salazar, S. M., Castagnaro, A. P., Arias, M. E., Chalfoun, N. R., Tonello, U., & Díaz Ricci, J. C. (2007). Induction of a defence response in strawberry mediated by a avirulent strain of Colletotrichum. European Journal of Plant Pathology, 117, 109–122.

Samac, D. A., Hironaka, C. M., Yallaly, P. E., & Shah, D. M. (1990). Isolation and characterization of the genes encoding basic and acidic chitinase in Arabidopsis thaliana. Plant Physiology, 93, 907–914.

Shetty, N. P., Kristensen, B. K., Newman, M. A., Møller, K., Gregersen, P. L., & Jørgensen, H. J. L. (2003). Association of hydrogen peroxide with restriction of Septoria tritici in resistant wheat. Physiological and Molecular Plant Pathology, 62, 333–346.

Shishido, M., Miwa, C., Usami, T., Amemiya, Y., & Johnson, K. B. (2005). Biological control effficiency of Fusarium wilt of tomato by nonpathogenic Fusarium oxysporum Fo-B2 in different environments. Phytopathology, 95, 1072–1080.

Shoresh, M., Yedidia, I., & Chet, I. (2005). Involvement of jasmonic acid/ethylene signaling pathway in the systemic resistance induced in cucumber by Trichoderma asperellum T203. Phytopathology, 95, 76–84.

Smith, B. J. (1986). First report of Colletotrichum acutatum on strawberry in the United States. Plant Disease, 70, 1074.

Smith, B. J., & Black, L. L. (1990). Morphological, cultural and pathogenic variation among Colletotrichum species isolated from strawberry. Plant Disease, 74, 69–76.

Thordal-Christensen, H., Zhang, Z., Wei, Y., & Collinge, D. B. (1997). Subcellular localization of H2O2 in plants. H2O2 accumulation in papillae and hypersensitive response during the barley-powdery mildew interaction. The Plant Journal, 11, 1187–1194.

Tian, S. P., Yao, H. J., Deng, X., Xu, X. B., Qin, G. Z., & Chan, Z. L. (2007). Characterization and expression of β-1,3-glucanase genes in jujube fruit induced by the microbial biocontrol agent Cryptococcus laurentii. Phytopathology, 97, 260–268.

Vellicce, G. R., Díaz-Ricci, J. C., Hernández-García, L., & Castagnaro, A. P. (2006). Enhanced resistance to Botrytis cinerea mediated by the transgenic expression of the chitinase gene ch5B in strawberry. Transgenic Research, 15, 57–68.

Walters, D., Walsh, D., Newton, A., & Lyon, G. (2005). Induced resistance for plant disease control: maximizing the efficacy of resistance elicitors. Phytopathology, 95, 1368–1373.
Acknowledgments
This work was partially supported by the Consejo de Investigaciones de la Universidad Nacional de Tucumán (CIUNT, 26/D423); Consejo Nacional de Investigaciones Científicas y Técnicas (CONICET) and Agencia Nacional de Promoción Científica y Tecnológica (Préstamo BID PICT 2008–2105). APC and JDR are members of CONICET. SMS is member of INTA; NRCh and CFG are Fellows of CONICET. APC is also member of EEAOC of Tucumán. We are also grateful to Dr. Cecilia Díaz (FAZ, UNT) for data analysis.
Additional information
This paper is part of the first author's doctoral thesis.
About this article
Cite this article
Salazar, S.M., Grellet, C.F., Chalfoun, N.R. et al. Avirulent strain of Colletotrichum induces a systemic resistance in strawberry. Eur J Plant Pathol 135, 877–888 (2013). https://doi.org/10.1007/s10658-012-0134-y
Accepted:

Published:

Issue Date:
Keywords
Anthracnose

Colletotrichum acutatum
Colletotrichum fragariae

Defence

Fragaria × ananassa

Oxidative burst

Systemic acquired resistance