Abstract
The aim of this work was to investigate the role of pericarp phenylpropanoids as resistance factors to F. verticillioides in eleven maize genotypes. Disease severity and kernel fumonisin accumulation were measured after inoculation with F. verticillioides and related to contents of pericarp phenylpropanoids in field trials conducted during 2 years. Grain fumonisin concentrations were highly dependant on disease severity of the genotypes (r = 0.88). A detailed analysis of pericarp phenylpropanoids indicated the presence of trans-ferulic acid (tFA), cis-ferulic acid (cFA), p-coumaric acid (pCA), and five diferulates (DFAs). The most prominent diferulates were 8,5′-diferulic acid benzofuram form (8,5′-DFAbz), followed by 8,5′-DFA and 8,8′-DFA. Except for cFA, the most resistant genotypes exhibited high levels of phenylpropanoids which were related to low levels of disease severity and grain fumonisin concentration (−0.61 > r > −0.90). A stepwise regression analysis revealed that total diferulates was the best explanatory parameter for variability of disease severity (r 2 = 0.71). Grain fumonisin concentration was well depicted by contents of total diferulates, 8,5′DFAbz and pCA (r 2 = 0.82). Our findings suggest that high level of phenylpropanoids in the kernel pericarp is a trait associated to less disease severity and fumonisin accumulation caused by F. verticillioides. Further research is in progress to map quantitative trait loci for these cell wall components in bi-parental populations derived by crossing resistant and susceptible genotypes included in this study.
Access options
Buy single article
Instant access to the full article PDF.
USD 39.95
Price includes VAT (USA)
Tax calculation will be finalised during checkout.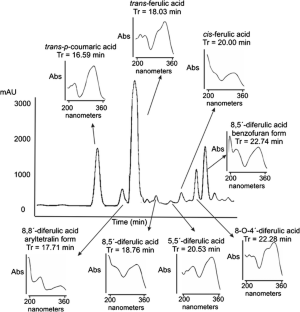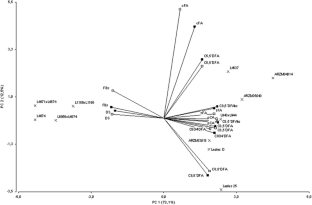 References
Assabgui, R. A., Reid, L. M., Hamilton, R. I., & Arnason, J. T. (1993). Correlation of kernel (E)-ferulic acid content of maize with resistance to Fusarium graminearum. Phytopathology, 83, 949–953.

Beekrum, S., Govinden, R., Padayachee, T., & Odhav, B. (2003). Naturally occurring phenols: a detoxification strategy for fumonisin B1. Food Additives and Contaminants A, 20, 490–493.

Bily, A. C., Reid, L. M., Taylor, J. H., Johnston, D., Malouin, C., Burt, A. J., Bakan, B., Regnault-Roger, C., Pauls, K. P., Arnason, J. T., & Philogène, J. R. (2003). Dehydrodimers of ferulic acid in maize grain pericarp and aleurone: resistance factors to Fusarium graminearum. Phytopathology, 93, 712–719.

Boutigny, A. L., Atanasova-Pénichon, V., Benet, M., Barreau, C., & Richard-Forget, F. (2010). Natural phenolic acids from wheat bran inhibit Fusarium culmorum trichothecene biosynthesis in vitro by repressing Tri gene expression. European Journal of Plant Pathology, 127, 275–286.

Burr, S. J., & Fry, S. C. (2009). Feruloylated arabinoxylans are oxidatively cross-linked by extracellular maize peroxidase but not by horseradish peroxidase. Molecular Plant, 2, 883–892.

Chulze, S. N., Ramirez, M. L., Farnochi, M., Pascale, M., Visconti, A., & March, G. (1996). Fusarium and fumonisins occurrence in Argentinian corn at different ear maturity stages. Journal of Agricultural and Food Chemistry, 44, 2797–2801.

Czembor, E., & Ochodzki, P. (2009). Resistance of flint and dent maize forms for colonization by Fusarium spp. and mycotoxins contamination. Maydica, 54, 263–267.

García-Lara, S., Bergvinson, D. J., Burt, A. J., Al Ramputh, I., Díaz Pontones, D. M., & Arnason, J. T. (2004). The role of pericarp cell wall components in maize weevil resistance. Crop Science, 44, 1546–1552.

Harrison, L. R., Colvin, B. M., Greene, J. T., Newman, L. E., & Cole, J. R. (1990). Pulmonary edema and hydrothorax in swine produced by fumonisin B1, a toxic metabolite of Fusarium moniliforme. Journal of Veterinary Diagnostic Investigation, 2, 217–221.

Hoenish, R. W., & Davis, R. M. (1994). Relationship between kernel pericarp thickness and susceptibility to Fusarium ear rot in field corn. Plant Disease, 78, 517–519.

Loffler, M., Kessel, B., Ouzunova, M., & Miedaner, T. (2010). Population parameters for resistance to Fusarium graminearum and Fusarium verticillioides ear rot among large sets of early, mid-late and late maturing European maize (Zea mays L.) inbred lines. Theoretical and Applied Genetics, 120, 1053–1062.

Maiorano, A., Reyneri, A., Magni, A., & Ramponi, C. (2009). A decision tool for evaluating the agronomic risk of exposure to fumonisins of different maize crop management systems in Italy. Agricultural Systems, 102, 17–23.

Marasas, W. F. O., Riley, R. T., Hendricks, K. A., Stevens, V. L., Sadler, T. W., Gelineau van Waes, J., Missmer, S. A., Cabrera, J., Torres, O., Gelderblom, W. C. A., Allegood, J., Martinez, C., Maddox, J., Miller, J. D., Starr, L., Sullards, M. C., Roamn, A. V., Voss, K. A., Wang, E., & Merrill, A. H., Jr. (2004). Fumonisins disrupt sphingolipid metabolism, folate transport, and neural tube development in embryo culture and in vivo: a potential risk factor for human neural tube defects among populations consuming fumonisin-contaminated maize. Journal of Nutrition, 134, 711–716.

McKeehen, J. D., Busch, R. H., & Fulcher, R. G. (1999). Evaluation of wheat (Triticum aestivum L.) phenolic acids during grain development and their contribution to Fusarium resistance. Journal of Agricultural and Food Chemistry, 47, 1476–1482.

Mesterhazy, A., Lemmens, M., & Reid, L. (2012). Breeding for resistance to ear rots caused by Fusarium spp. in maize – a review. Plant Breeding, 131, 1–19.

Murphy, P. A., Rice, L. G., & Ross, P. F. (1993). Fumonisin B1, B2, and B3 content of Iowa, Wisconsin, and Illinois corn and corn screenings. Journal of Agricultural and Food Chemistry, 41, 263–266.

Nicholson, R. L. (1992). Phenolic compounds and their role in disease resistance. Annual Review of Phytopathology, 30, 369–389.

Norred, W. P., Wang, E., Yoo, H. W., Riley, R. T., & Merril, A. H. (1992). In vitro toxicology of fumonisins and the mechanistic implications. Mycopathologia, 117, 73–78.

Pilu, R., Cassani, E., Sirizzotti, A., Petroni, K., & Tonelli, C. (2011). Effect of flavonoid pigments on the accumulation of fumonisin B1 in the maize kernel. Journal of Applied Genetics, 52, 145–152.

Presello, D. A., Iglesias, J., Botta, G., & Eyhérabide, H. (2007). Severity of Fusarium ear rot and concentration of fumonisin in grain of Argentinian maize hybrids. Crop Protection, 26, 852–855.

Presello, D. A., Botta, G., Iglesias, J., & Eyhérabide, G. H. (2008). Effect of disease severity on yield and grain fumonisin concentration of maize hybrids inoculated with Fusarium verticillioides. Crop Protection, 27, 572–576.

Presello, D. A., Pereyra, A. O., Iglesias, J., Fauguel, C. M., Sampietro, D. A., Fauguel, C. M., & Eyhérabide, G. H. (2011). Responses to selection of S5 inbreds for broad-based resistance to ear rots and grain mycotoxin contamination caused by Fusarium spp. in maize. Euphytica, 178, 23–29.

Reid, L. M., Stewart, D. W., & Hamilton, R. I. (1996). A 4-year study of the association between gibberella ear rot severity and deoxynivalenol concentration. Journal of Phytopathology, 144, 431–436.

Sampietro, D. A., Vattuone, M. A., Presello, D. A., Fauguel, C. M., & Catalán, C. A. N. (2009). The pericarp and its surface wax layer in maize kernels as resistance factors to fumonisin accumulation by Fusarium verticillioides. Crop Protection, 28, 196–200.

Santiago, R., & Malvar, R. A. (2010). Role of dehydrodiferulates in maize resistance to pests and diseases. International Journal of Molecular Sciences, 11, 691–703.

Sgariglia, M. A., Soberón, J. R., Sampietro, D. A., Quiroga, E. N., & Vattuone, M. A. (2010). Isolation of antibacterial components from infusion of Caesalpinia paraguariensis bark. A bio-guided phytochemical study. Food Chemistry, 126, 395–404.

Wit, M., Warzecha, R., Mirzwa-Mroz, E., Jabionska, E., Ochodzki, P., Waskiewicz, A., & Wakulinski, W. (2011). Susceptibility of flint and dent maize ears to Fusarium species. Phytopathologia, 60, 35–45.
Acknowledgments
This research was supported by PICT 77/07 and PIP 0540/08 grants.
About this article
Cite this article
Sampietro, D.A., Fauguel, C.M., Vattuone, M.A. et al. Phenylpropanoids from maize pericarp: resistance factors to kernel infection and fumonisin accumulation by Fusarium verticillioides . Eur J Plant Pathol 135, 105–113 (2013). https://doi.org/10.1007/s10658-012-0069-3
Accepted:

Published:

Issue Date:
Keywords
Fusarium ear rot

Mycotoxins

Plant breeding

Diferulates