Abstract
Based on the observation that the root disease caused by P. cinnamomi on Q. ilex has a low incidence and severity in soils with medium-high Ca2+ content, we studied the ability of Ca2+ fertilizers to induce soil suppressiveness to the pathogen. Studies on cultures of P. cinnamomi exposed to different Ca2+ fertilizers in vitro showed significant inhibition of sporangial, chlamydospore and zoospore production at millimolar concentrations while mycelial growth was mainly unaffected. Experiments performed with artificially infested soil showed that some Ca2+ fertilizers induce a significant decrease on chlamydospore viability. Additionally, greenhouse experiments using artificially infested soils showed a significant reduction of foliar and root symptom severities in Holm oak seedlings growing in soils amended with Ca2+ fertilizers. We suggest that limestone amendments in oak rangelands could enhance the suppressiveness of soils to P. cinnamomi, and it is likely that the inhibition of sporangial production was the main mechanism involved.
Access options
Buy single article
Instant access to the full article PDF.
US$ 39.95
Tax calculation will be finalised during checkout.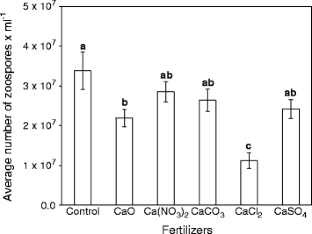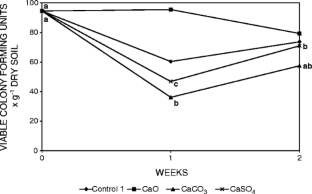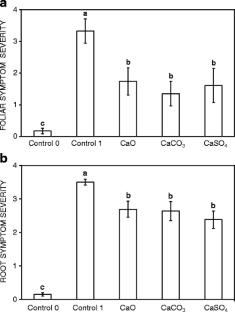 References
Brasier, C. M. (1996). Phytophthora cinnamomi and oak decline in southern Europe. Environmental constraints including climate change. Annals of Forest Science, 53, 347–358.

Broadbent, P., & Baker, K. F. (1974). Behaviour of Phytophthora cinnamomi in soils suppressive and conductive to root rot. Australasian Journal of Agricultural Research, 25, 121–137.

Byrt, P. N., Irving, H. R., & Grant, B. R. (1982). The effect of cations on zoospores of the fungus Phytophthora cinnamomi. Journal of General Microbiology, 128, 1189–1198.

Caetano, P.C.L., Ávila, A., Sánchez, M.E., Trapero, A. & Coelho, A.C. (2009). Phytophthora cinnamomi populations on Quercus forests from Spain and Portugal. pp. 261–269. In: Phytophthoras in Forests and Natural Ecosystems. (USDA-Forest Service. General Technical Report PSW-GTR-221, Albany, CA, USA)

Campanella, V., Ippolito, A., & Nigro, F. (2002). Activity of calcium salts in controlling Phytophthora root rot of citrus. Crop Protection, 21, 751–756.

Carbonero, M. D., Blázquez, A., & Fernández, P. (2004). Producción de fruto y grado de defoliación como indicadores de vigor en Quercus ilex y Quercus suber. Influencia de diferentes condiciones edáficas en su evolución. In B. García, A. García, B. Vázquez, & I. Zabalgogeazcoa (Eds.), Pastos y ganadería extensiva (pp. 715–720). Salamanca, Spain: CSIC.

Dhingra, O. D., & Sinclair, J. B. (1995). Basic plant pathology methods. Boca Raton, FL, USA: CRC Press.

Duvenhage, J. A., & Kotzé, J. M. (1991). The influence of calcium on saprophytic growth and pathogenicity of Phytophthora cinnamomi and on resistance of avocado to root rot. South African Avocado Growers' Association Yearbook, 14, 13–14.

Duvenhage, J. A., Kotzé, J. M., & Maas, E. M. C. (1992). The influence of nitrogen and calcium on mycelial growth and disease severity of Phytophthora cinnamomi and the effect of calcium on resistance of avocado to root rot. South African Avocado Growers' Association Yearbook, 15, 12–14.

Erwin, D. C., & Ribeiro, O. K. (1996). Phytophthora diseases worldwide. St. Paul, MN, USA: APS Press.

Fernández-Rebollo, P., & Carbonero, M. D. (2008). La dehesa como hábitat natural para el Cerdo Ibérico. pp. 103–133. In: El Cerdo Ibérico. Una revisión transversal. (J. Forero, Consejería de Agricultura y Pesca, Junta de Andalucía-Fundación Caja Rural del Sur, Sevilla, Spain).

Gómez-Gutierrez, J. M., & Pérez-Fernández, M. (1996). The dehesas, silvopastoral systems in semiarid Mediterranean regions with poor soils, seasonal climate and extensive utilisation. pp. 55–70 In: Western European silvopastoral systems. (INRA Editions, Paris)

Halsall, D. M., & Forrester, R. I. (1977). Effects of certains cations on the formation and infectivity of Phytophthora zoospores. 1. Effects of calcium, magnesium, potassium and iron ions. Canadian Journal of Microbiology, 23, 994–1001.

Heyman, F., Lindahl, B., Persson, L., Wikström, M., & Stenlid, J. (2007). Calcium concentrations of soil affect suppressiveness against Aphanomyces root rot of pea. Soil Biology and Biochemistry, 39, 2222–2229.

Höper, H., & Alabouvette, C. (1996). Importance of physical and chemical soil properties in the suppressiveness of soils to plant diseases. European Journal of Soil Biology, 32, 41–58.

Hornby, D. (1983). Suppressive soils. Annual Review of Phytopathology, 21, 41–58.

Lowe, S. J., Browne, M., & Boudjelas, S. (2000). 100 of the world's worst invasive alien species. Auckland, New Zealand: ISSG Pub.

Navarro, R. M., Ariza, D., Porras, C., Jorge, I., & Jorrín, J. (2009). Evaluación de la resistencia aparente de individuos de encina a Phytophthora cinnamomi Rands. Boletín de Sanidad Vegetal Plagas, 35, 89–97.

Olea, L., López-Bellido, R. J., & Poblaciones, M. J. (2005). European types of silvopastoral systems in the Mediterranean area: Dehesa. pp. 30–35. In: Silvopastoralism and sustainable land management (CAB International, Trowbridge, UK)

Ribeiro, O. K. (1978). A Sourcebook of the Genus Phytophthora. Vaduz, Germany: J. Cramer.

Romero, M. A., Sánchez, J. E., Jiménez, J. J., Belbahri, L., Trapero, A., Lefort, F., et al. (2007). New Pythium taxa causing root rot on Mediterranean Quercus species in southwest Spain and Portugal. Journal of Phytopathology, 155, 289–295.

Sánchez, M. E., Caetano, P., Ferraz, J., & Trapero, A. (2002). Phytophthora disease of Quercus ilex in southwestern Spain. Forest Pathology, 32, 5–18.

Sánchez, M. E., Andicoberry, S., & Trapero, A. (2005). Pathogenicity of three Phytophthora spp. causing late seedling rot of Quercus ilex ssp. ballota. Forest Pathology, 35, 115–125.

Sánchez, M. E., Caetano, P., Romero, M. A., Navarro, R. M. & Trapero, A. (2006). Phytophthora root rot as the main factor of oak decline in southern Spain. pp. 149–154. In: Progress in Research on Phytophthora Diseases of Forest Trees. (Brasier, T. Jung & W. Oßwald. The Forest Authority, Farnham, UK)

Steel, R. G. D., & Torrie, J. H. (1985). Bioestadística: Principios y procedimientos. Bogotá: McGraw-Hill.

Sugimoto, T., Aino, M., Sugimoto, M., & Watanabe, K. (2005). Reduction of Phytophthora stem rot disease on soybeans by the application of CaCl2 and Ca (NO3)2. Journal of Phytopathology, 153, 536–543.

Tapias, R., Fernández, M., Moreira, A. C., Sánchez, M. E., & Cravador, A. (2006). Posibilidades de la variabilidad genética de encinas y alcornoques en la conservación y recuperación de bosques amenazados por la "seca". Boletín Informativo CIDEU, 1, 45–51.

Trione, E. J. (1974). Sporulation and germination of Phytophthora lateralis. Phytopathology, 64, 1531–1533.

von Broembsen, S. L., & Deacon, J. W. (1997). Calcium interference with zoospore biology and infectivity of Phytophthora parasitica in nutrient irrigation solution. Phytopathology, 87, 522–528.

Weller, D. M., Raaijmakers, J. M., Gardener, B. B., & Thomashow, L. S. (2002). Microbial populations responsible for specific soil suppressiveness to plant pathogens. Annual Review of Phytopathology, 40, 309–348.
Acknowledgements
We acknowledge Spanish Ministry of Science (AGL2009-00530) and Andalusian Agricultural Council (Junta de Andalucía, Spain) for financial support.
About this article
Cite this article
Serrano, M.S., De Vita, P., Fernández-Rebollo, P. et al. Calcium fertilizers induce soil suppressiveness to Phytophthora cinnamomi root rot of Quercus ilex . Eur J Plant Pathol 132, 271–279 (2012). https://doi.org/10.1007/s10658-011-9871-6
Accepted:

Published:

Issue Date:
Keywords
Fertilization

Limestone

Oak decline

Rangelands