Abstract
Bacterial canker caused by Pseudomonas syringae pv. syrinage (Pss) in apricot has widely spread in Turkey, especially in Malatya province, in recent years. The main objective of this study was to determine resistance of apricot cultivars to bacterial canker caused by Pss in apricot cultivars grown in Turkey. During the 2006–2007 growing period, bacterial isolations were taken from diseased apricot trees in Malatya and 53 Pseudomonas syringae isolates were obtained. Forty-two isolates were determined as Pseudomonas syringae pv. syringae and 11 isolates as pv. morsprunorum. In a pathogenicity test, leaves of cv. Hacihaliloğlu were used and five Pss isolates (K24, K25, K43, K47 and K51) were detected to be the most virulent and were used to test for cultivar resistance to Pss. Leaves of fifteen apricot cultivars (Alyanak, Çataloğlu, Çöloğlu, Erken Ağerik, Hacihaliloğlu, Hasanbey, İsmailağa, Kabaaşi, Karacabey, Sakit 2, Soğanci, Şam, Şekerpare, Tokaloğlu (Erzincan) and Turfanda Eski Malatya) were tested for resistance to Pss. Green shoots were spray-inoculated with a concentration of 108 cfu ml−1 Pss mixed culture. Sprayed shoots were covered with moist plastic bags for 3 days and maintained in the growth chamber and monitored for symptom development. Hasanbey, Çöloğlu, Soğanci and Şekerpare apricot cultivars were resistant and Şam, Tokaloğlu (Erzincan) and Erken Ağerik apricot cultivars were susceptible to Pss. This is the first report of a resistance source in apricot cultivars grown in Turkey against Pss.
Access options
Buy single article
Instant access to the full article PDF.
USD 39.95
Price excludes VAT (USA)
Tax calculation will be finalised during checkout.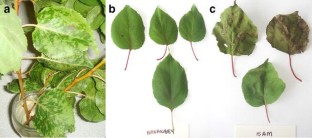 References
Ala, A. (2004). Kuzey Doğu Anadolu Bölgesi'nde yetiştirilen sert çekirdekli meyve ağaçlarinda hastalik oluşturan bakteriyel patojenlerin tanisi. Atatürk Üniv., Fen Bilimleri Enstitüsü. M.Sc. Thesis, s126.

Agrios, G. N. (2005). Plant pathology. California: Academic.

Bassi, D. (1999). Apricot culture: present and future. Acta Horticulturae, 488, 35–40.

Crosse, J. E., & Garrett, C. M. E. (1966). Bacterial canker of stone fruits. VII. Infection experiments with Pseudomonas morsprunorum and P. s. syringae. Annals of Applied Biology, 58, 31–41.

FAO. (2009). Statistical database. www.fao.org.

Foulkes, J. A., & Lloyd, A. B. (1980). Epiphytic populations of Pseudomonas syringae pv. syringae and P. syringae pv. morsprunorum on cherry leaves. Australasian Plant Pathology, 9, 114–116.

Gupta, A. K., & Kashyap, A. S. (1991). Evaluation of apricot and almond fruit germplasm against bacterial gummosis under cold desert conditions of Himachal Pradesh. Agricultural Science Digest (Karnal), 11, 230–232.

Jafarpour, B. (1993). Resistant cultivars of apricot to bacterial canker (Pseudomonas syringae pv. syringae) in Mashhad. Current Plant Science and Biotechnology in Agriculture, 18, 327.

Jindal, K. K., & Rana, H. S. (1992). Studies on germplasm resistance and chemical control of bacterial canker of apricot. Plant Disease Research, 7, 7–10.

Jones, A. L. (1971). Bacterial canker of sweet cherry in Michigan. Plant Disease Reporter, 55, 961–965.

Kavak, H. & Çitir, A. (1995). Malatya ili merkez ilçede kayisilarda görülen hastaliklarin tanilari ve yayginlik oranlari üzerine araştırmalar. (VII. Türkiye Fitopatoloji Bildirileri, Adana). Ekim.

Kennelly, M. M., Cazorla, F. M., de Vincente, A., Ramos, C., & Sundin, G. W. (2007). Pseudomonas syringae diseases of fruit trees, progress toward understanding and control. Plant Disease, 91, 4–17.

King, E. O., Ward, M. K., & Raney, D. E. (1954). Two simple media for the demonstration of pyocyanin and fluorescence. Journal of Laboratory and Clinical Medicine, 44, 301–307.

Klement, Z., Farkas, G. L., & Lourekovich, L. (1966). Hypersensitive reaction induced by phytopathogenic bacteria in tobacco leaf. Phytopathology, 54, 474–477.

Klement, Z., Rudolph, K., & Sands, D. C. (eds). (1990). Methods in phytobacteriology. Budapest: Akademiai Kıado. p568.

Kotan, R., & Sahin, F. (2002). First record of bacterial canker caused by Pseudomonas syringae pv. syringae, on apricot trees in Turkey. Plant Pathology, 51, 798.

Latorre, B. A., & Jones, A. L. (1979). Pseudomonas morsprunorum, the cause of bacterial canker of sour cherry in Michigan, and its epiphytic association with P syringae. Phytopathology, 69, 335–339.

Layne, R. E. C. (1978). Harcot apricot. HortScience, 13, 64–65.

Layne, R. E. C. (1979). Harogem apricot. HortScience, 14, 759.

Layne, R. E. C. (1981a). Hargrand apricot. HortScience, 16, 98.

Layne, R. E. C. (1981b). Harlayne apricot. HortScience, 19, 97.

Lelliott, R. A., & Stead, D. E. (1987). Methods for the diagnosis of bacterial diseases of plants. London: Blacwell Scientific.

Luisetti, J., Prunier, J. P., & Gardan, L. (1972). A medium for the proof of the production of a fluorescent pigment by Pseudomonas morsprunorum f.sp. persicae. Annales de Phytopathologie, 4(3), 295–296.

Narayanasamy, P. (1997). Plant pathogen detection and disease diagnosis. New York: Marcel Dekker Inc.

Ogawa, J. M., Zehr, E. I., Bird, G. W., Ritchie, D. F., Uriu, K., & Uyemoto, J. K. (1995). Compendium of stone fruit disease. Minnesota: APS.

Ram, V., & Bhardwaj, L. N. (2004). Stone fruit diseases and their management. In S. A. M. H. Naqvi (Ed.), Diseases of fruits and vegetables. Diagnosis and management (Vol. II, pp. 484–510). Dordrecht: Kluwer.

Sasser, M. (1990). Identification of bacteria through fatty acid analysis. In Z. Klement, K. Rudolph & D. Sands (Eds.), In methods in phytobacteriology (pp. 199–204). Budapest: Akademiai Kiado.

Schaad, N. W. (1994). Laboratory guide for identification of plant pathogenic bacteria. Minnesota: APS.

Scheck, H. J., Canfield, M. L., Pscheidt, J. W., & Moore, L. W. (1997). Rapid evaluation of pathogenicity in Pseudomonas syringae pv. syringae with a lilac tissue culture bioassay and syringomycin DNA probes. Plant Disease, 81, 905–910.

Scortichini, M., & Morone, C. (1997). Bacterial blister bark of apple trees in Italy. Journal of Phytopathology, 145, 401–403.

Scortichini, M., Pellegrino, S., & Berra, L. (1999). Susceptibility of apricot germplasm to natural infection by Pseudomonas syringae pv. syringae in Piedmont. Rivista di Frutticoltura e di Ortofloricoltura, 61, 83–86.

Singh, H. V., Mir, M. S., & Wani, M. A. (2005). Effect of host genotypes and age of plant on resistance to gummosis disease in apricot of Kargil. Annals of Plant Protection Sciences, 13, 152–155.

Wimalajeewa, D. L. S., & Flett, J. D. (1985). A study of populations of Pseudomonas syringae pv. syringae on stonefruits in Victoria. Plant Pathology, 34, 248–254.

Young, J. M. (1988). Pseudomonas syringae pv. persicae from nectarine, peach and Japanese plum in New Zealand. Bulletin OEPP, 18, 141–151.
About this article
Cite this article
Donmez, M.F., Karlidag, H. & Esitken, A. Identification of resistance to bacterial canker (Pseudomonas syringae pv. syringae) disease on apricot genotypes grown in Turkey. Eur J Plant Pathol 126, 241–247 (2010). https://doi.org/10.1007/s10658-009-9536-x
Received:

Accepted:

Published:

Issue Date:

DOI: https://doi.org/10.1007/s10658-009-9536-x
Keywords
Prunus armeniaca

Bacterial canker

Isolation

Identification

Cultivar response

Resistance