Abstract
Based on data from the EU Justice Scoreboard, we identify a puzzle: National levels of judicial independence (as perceived by the citizens of EU member states) are negatively associated with the presence of formal legislation usually considered as conducive to judicial independence. We try to resolve this puzzle based on political economy explanations and specificities of legal systems, but to no avail. We then ask whether cultural traits can help to put together the puzzle. And indeed, countries with high levels of generalized trust (and to a lesser extent individualistic countries) exhibit increased levels of de facto judicial independence and, at the same time, reduced levels of de jure judicial independence. The combination of these two effects can explain why judicial reforms that should be conducive to an independent judiciary may seem to have adverse consequences. We conclude that cultural traits are of fundamental importance for the quality of formal institutions, even in societies as highly developed as the EU member states.
This is a preview of subscription content, log in to check access.
Access options
Buy single article
Instant access to the full article PDF.
US$ 39.95
Price includes VAT for USA
Subscribe to journal
Immediate online access to all issues from 2019. Subscription will auto renew annually.
US$ 99
This is the net price. Taxes to be calculated in checkout.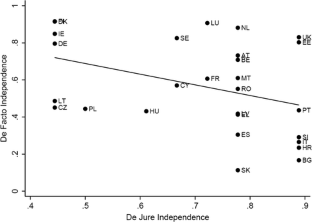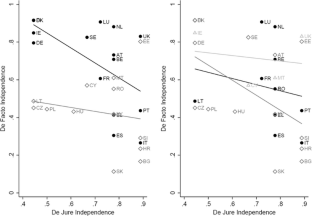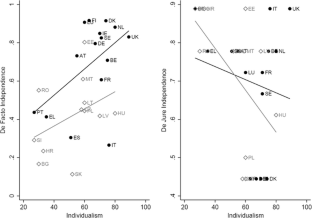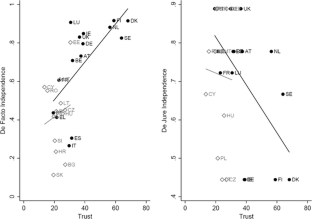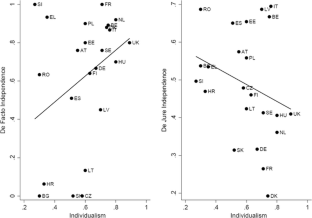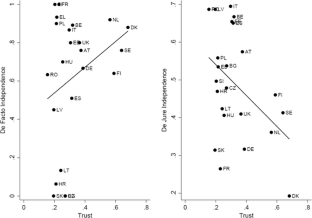 Notes
1.

This would be in line with Bjørnskov's (2015) observation that constitutional property rights protection in these formerly communist countries was, at best, ineffective.
References
Aghion, P., Algan, Y., Cahuc, P., & Shleifer, A. (2010). Regulation and distrust. The Quarterly Journal of Economics,125(3), 1015–1049.

Bjørnskov, C. (2006). Determinants of generalized trust: A cross-country comparison. Public Choice,130(1), 1–21.

Bjørnskov, C. (2015). Constitutional property rights protection and economic growth: Evidence from the post-communist transition. Constitutional Political Economy,26(3), 247–280.

Bjørnskov, C., & Méon, P.-G. (2013). Is trust the missing root of institutions, education, and development? Public Choice,157(3), 641–669.

Bjørnskov, C., & Voigt, S. (2014). Constitutional verbosity and social trust. Public Choice,161(1), 91–112.

European Commission. (2016). The 2016 EU justice scoreboard. Luxembourg: Publications Office of the European Union.

Feld, L. P., & Voigt, S. (2003). Economic growth and judicial independence: Cross-country evidence using a new set of indicators. European Journal of Political Economy,19(3), 497–527.

Gorodnichenko, Y., & Roland, G. (2017). Culture, institutions and the wealth of nations. Review of Economics and Statistics,99(3), 402–416.

Gutmann, J., & Voigt, S. (2017a). Is judicial independence good for business? Paper presented at the annual meeting of the public choice society in New Orleans.

Gutmann, J. & Voigt, S. (2017b). The independence of prosecutors and government accountability. Paper presented at the 4th workshop on the economic analysis of litigation.

Hayo, B., & Voigt, S. (2007). Explaining de facto judicial independence. International Review of Law and Economics,27(3), 269–290.

Helmke, G., & McLean, E. V. (2014). Inducing independence: A strategic model of World Bank assistance and legal reform. Conflict Management and Peace Science,31(4), 383–405.

Hicks, R., & Tingley, D. (2011). Causal mediation analysis. The Stata Journal,11(4), 605–619.

Hofstede, G., Hofstede, G. J., & Minkov, M. (2010). Cultures and organizations: Software of the mind (3rd ed.). London: McGraw-Hill.

Klerman, D. M., Mahoney, P. G., Spamann, H., & Weinstein, M. I. (2011). Legal origin or colonial history? Journal of Legal Analysis,3(2), 379–409.

La Porta, R., Lopez-de-Silanes, F., & Shleifer, A. (2008). The economic consequences of legal origins. Journal of Economic Literature,46(2), 285–332.

Melton, J., & Ginsburg, T. (2014). Does de jure judicial independence really matter? A reevaluation of explanations for judicial independence. Journal of Law and Courts,2(2), 187–217.

Murray, D. R., & Schaller, M. (2010). Historical prevalence of infectious diseases within 230 geopolitical regions: A tool for investigating origins of culture. Journal of Cross-Cultural Psychology,41(1), 99–108.

Nannicini, T., Stella, A., & Tabellini, G. (2013). Social capital and political accountability. American Economic Journal: Economic Policy,5(2), 222–250.

Palumbo, G., Giupponi, G., Nunziata, L., & Sanguinetti, J. S. M. (2013). The economics of civil justice—New cross-country data and empirics. OECD economics department working papers. https://doi.org/10.1787/18151973.

Parsons, J. (2017). The world's flags given letter grades. https://www.joshparsons.net/flags/. Accessed March 2017.

Pinotti, P. (2012). Trust, regulation and market failures. Review of Economics and Statistics,94(3), 650–658.

Pitlik, H., & Kouba, L. (2015). Does social distrust always lead to a stronger support for government intervention? Public Choice,163(3), 355–377.

Pitlik, H., & Rode, M. (2017). Individualistic values, institutional trust, and interventionist attitudes. Journal of Institutional Economics,13(3), 575–598.

Ramseyer, J. M., & Rasmusen, E. B. (2003). Measuring judicial independence: The political economy of judging in Japan. Chicago: The University of Chicago Press.

van Aaken, A., Feld, L. P., & Voigt, S. (2010). Do independent prosecutors deter political corruption? An empirical evaluation across seventy-eight countries. American Law and Economics Review,12(1), 204–244.

van Aaken, A., Salzberger, E., & Voigt, S. (2004). The prosecution of public figures and the separation of powers. Confusion within the executive branch: A conceptual framework. Constitutional Political Economy,15(3), 261–280.

Voigt, S., Gutmann, J., & Feld, L. P. (2015). Economic growth and judicial independence, a dozen years on: Cross-country evidence using an updated Set of indicators. European Journal of Political Economy,38, 197–211.
Acknowledgements
The authors thank Giovanni Ramello for inviting them to participate in the panel in honor of Ted Eisenberg at the 2016 Italian Society of Law and Economics Conference in Turin and participants of the 2017 Danish Public Choice Workshop in Aarhus as well as two anonymous reviewers of this journal for helpful comments.
About this article
Cite this article
Gutmann, J., Voigt, S. Judicial independence in the EU: a puzzle. Eur J Law Econ 49, 83–100 (2020). https://doi.org/10.1007/s10657-018-9577-8
Keywords
Judicial independence

EU justice scoreboard

Informal institutions

Culture
JEL Classification